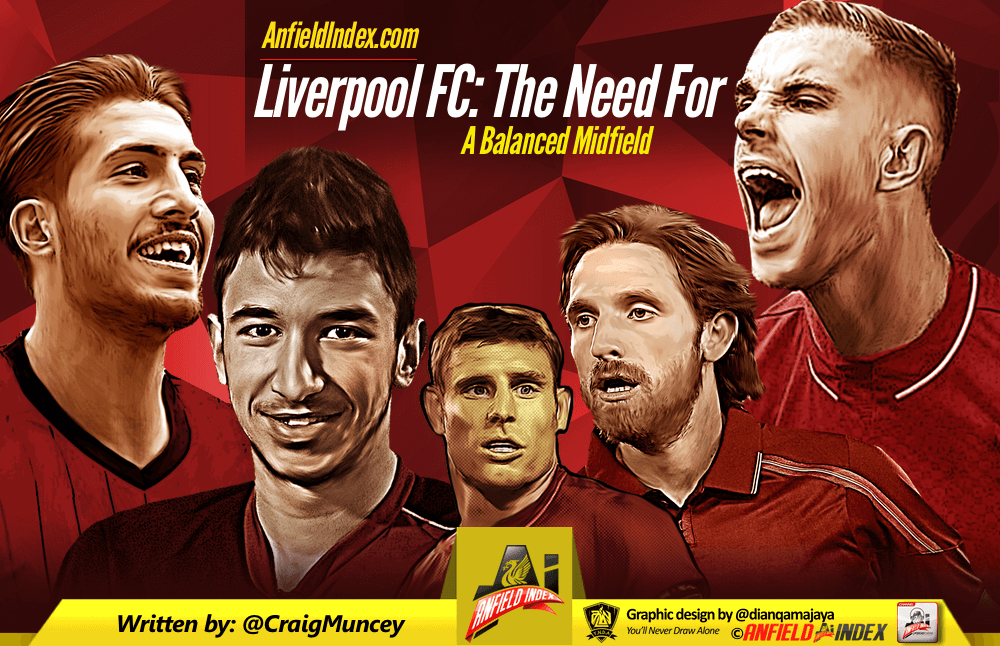 Liverpool FC: The Need for a Balanced Midfield
Jurgen Klopp's favoured formation appears to be 4-2-3-1, so with this attacking format the two central midfielders have a huge role to play in respect of providing cover for the defence. This piece looks at if currently Liverpool have the players to provide that balance and if not, what do they require, to try to provide Liverpool with a ballast against the attacking flair that is evident within the side, to propel the side up the league this upcoming season.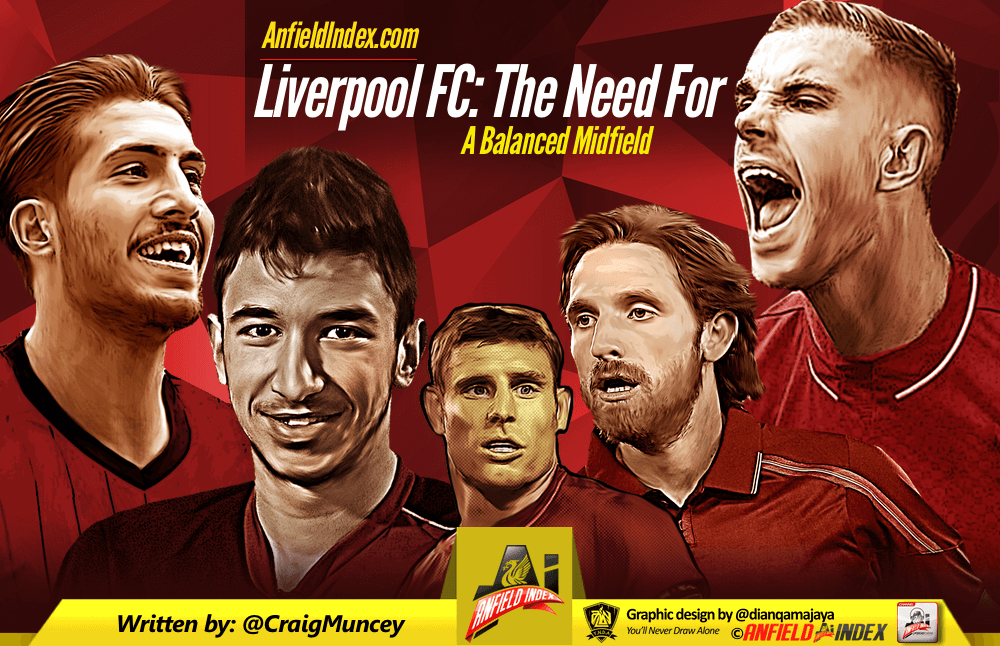 Looking at the squad is it currently stands, it would appear that in a 4-2-3-1 formation, the two central midfielders favourite to start the season is Emre Can and Jordan Henderson. Both energetic footballers who have the athleticism to press, plus provide Liverpool with an outlet in the passing department.  If rumours are true then Joe Allen, who had a fantastic European Championships for Wales is on the move this summer, with his desire to play regular first team football, and also Lucas Leiva, long time servant at the club, could also be on the move.  Both of these players natural games are more suited to sitting in front of a defence, with Lucas he is more of a defensive midfielder who breaks up opposition attacks, whilst Allen likes to control the tempo of a game, and is a better option when Liverpool have the majority of possession in games, and Allen also has a wider passing range.

If Allen and Lucas are leaving, then the option current options are Kevin Stewart, who is very defensively minded but in my view is not ready yet to step up playing regular first team football, James Milner, who again in my view, is not best suited to a two man midfield role and Cameron Brannagan, who does look a real prospect, technically looks very adept, but to ask him to play regularly in the first team is a big task, and for me right now, is asking too much.  Marko Grujic has only just joined the squad and looks a big physical presence, but by all accounts is an attacking minded midfielder.  There are some really talented youngsters on Liverpool's books such as Pedro Chirivella and Ovie Ejaria.  But again, youngsters who need time to grow and play for the academy.
So where does this leave Liverpool's central midfield? Well for me, Emre Can and Jordan Henderson are neither naturally suited to playing in a disciplined manner sitting in front of a defence.  Nathaniel Clyne and Alberto Moreno both like to get forward as often as possible and provide the width to the Liverpool attack, which makes it even more important the role one or both do in that central midfield two.  I am not saying neither can do it, I am just saying it's not their natural game, so there is a real danger that lapses of concentration could happen, where a clever forward thinking player can get in between the lines of midfield and defence and give Liverpool real headaches.  Players such as Chelsea's Eden Hazard, Manchester City's David Silva and Arsenal's Alexis Sanchez, naming just a few.
Both Henderson and Can's strongest attributes are in the final third, even running with the ball, spotting a pass or getting beyond the ball.  Both of them can get up with important goals and or assists.  An example of my point happened recently in the semi final of the European Championships in the match involving France v Germany.  France started with a central two of Paul Pogba and Blaise Matuidi, with a three of Dimitri Payet, Antoine Griezmann and Moussa Sissoko in front of them.  Both Pogba and Matuidi are fine central midfielders, but time and time again, Mesut Ozil and Julian Draxler were finding pockets of space behind the two French players and the French defence, and created many dangerous opportunities, both Pogba and Matuidi natural instincts are not to snuff out danger beyond them. Eventually France did change it and brought on N'Golo Kante, who as we know from last season with Leicester City, is a fantastic defensive shield for his defence.
For me especially if Allen leaves, then Liverpool have to bring in a player whose natural instinct is to provide a shield first and foremost for the reasons I have laid out above. Liverpool have many creative talents further up the pitch such as Philippe Coutinho, Roberto Firmino, Adam Lallana and Sadio Mane, but they need a blend, a balance, someone who is happy to let others play.  There are players out there who I feel Liverpool could attract to the club such as Ignacio Camacho of Malaga who I think would be a fine signing, or a cheaper option, Lassana Diarra of Olympique Marseille.  With one of those in the side and then either Henderson or Can in a two man midfield, immediately I feel the team look more solid.
Being controversial here, but maybe we are not being linked with a defensive minded midfielder is that one is already at the club, and I don't mean one of the potential outgoing players such as Allen or Lucas.  The player potentially who Klopp is looking at to play that role is the new signing Joel Matip.  The Cameroon international has the technique to play the role, plus as a central defender predominantly, has the defensive know how and discipline to do it, and has played the role for previous clubs and for his country.  With Mamadou Sakho now free to play for the club and the way Dejan Lovren ended the season, maybe just maybe Matip could be asked to play in a two man midfield.
What do you think?