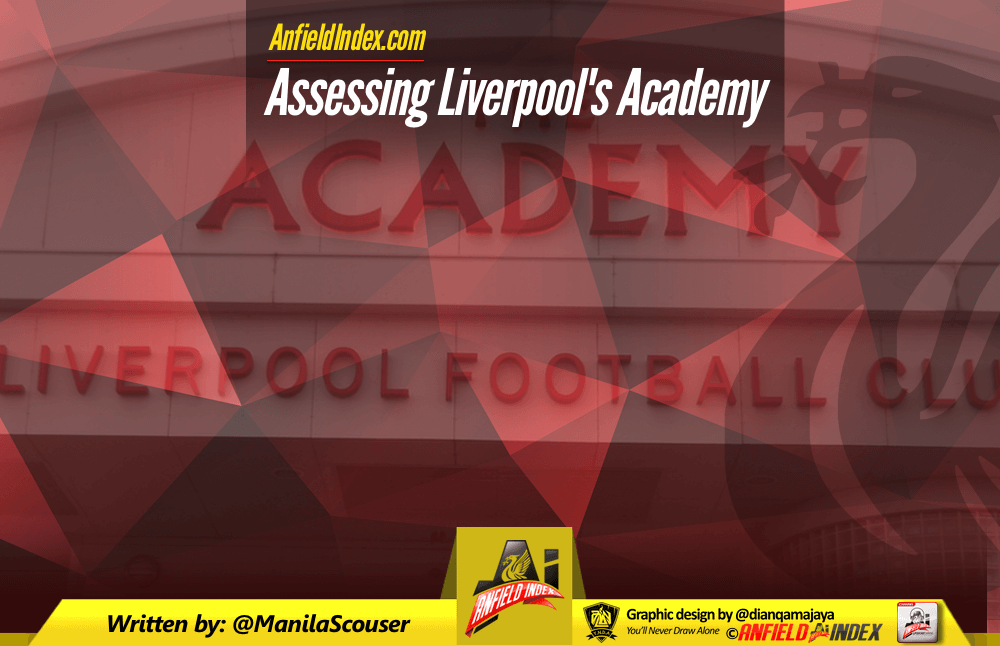 Assessing Liverpool's Academy

As a new season is fast approaching, our fan base will once again, witness a few players from our academy who will make appearances during the preseason or better, graduate and move on to Melwood. While Toni Gomes is a name that's been floating around recently do to a potential professional contract being awarded, there's plenty more names to look forward to.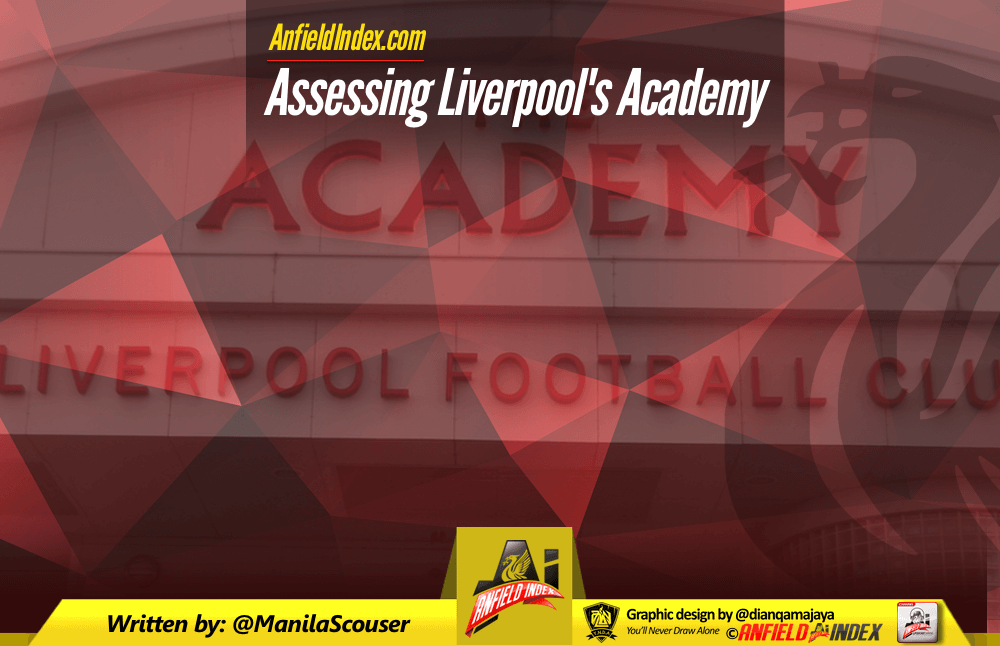 Kirkby is overflowing with bright, young players who have the potential to be something.  Many players over the years have been given the opportunity to train and develop with our senior players, but apart from Jordon Ibe (and that's stretching it slightly), none have really made an impact to the team or give supporters something to look forward to.
There are plenty of reasons why.  Primarily it could be due to the separation of the academy to the senior team.  At a quick glance, our manager focuses on the senior squad, meaning there would be significantly less time he can spend to assess how some of these players perform.  Thankfully, there has been talk about combining both Melwood and Kirkby, which would mean there would be more time for Jurgen Klopp to keep an eye out on the progression of his younger players.
Moreover, I believe that there are players who break into the Melwood at an age where it seems a bit too late. Most of the players who have graduated were between the ages of 18-21, and it would take another few years or so depending on the player to further progress as a senior player, so when we see these players make their professional debut for Liverpool, we're unimpressed despite a decent performance, because they're already at the same age bracket with our younger players in the senior team, such as Emre Can or Divock Origi.
For me personally, the best age to start training at Melwood would be 17 for the exact reasons I've mentioned above, and with Toni Gomes inevitably signing a professional contract as a 17-year old, it not only shows that he's got huge potential, but it also implies significant progress and change coming from Jurgen Klopp with regards to how our Kirkby – Melwood process is being reconstructed, and it only benefits the academy.  At that age, these players would have relatively more time on the training ground with the senior players without any added pressure with regards to them being as old/young as some players who are already putting in regular shifts in the senior team.  This could even be a huge step forward for Liverpool's academy and potentially for football academies all over the UK.  It could soon be at par to how other European clubs handle their young players who go on and become superstars.
That being said, I will mention a few players who are abundant in talent within our academy, and roughly assess them
Ovie Ejaria – Central Midfield
The first preseason tour of the 2016/17 campaign kicked off at Prenton Park and saw Ovie Ejaria given an opportunity to force our manager to make plans for the talented central midfielder.  The 20-year old joined Liverpool in 2014 after a nine-year spell at Arsenal Football Club.  He used his chance very well as we've witnessed a strong, considerably quick midfielder who looks great at interceptions, recycling the ball, and has the ability to burst forward.
He wowed plenty of Liverpool fans who then took to social media saying "Paul Pogba is the French Ovie Ejaria." He would of course have to take massive strides in order to merit his name beside one of the best midfielders in the world at the moment, but there's definitely a talent in him.
Toni Gomes – Striker
The Portuguese born striker arrived in the summer of 2015 and is gifted with pace, good muscle build, an eye for goal, and a decent height as well. Loves to make those forward runs, create space for himself and playing quick one-twos just outside the box.
At his age and output last season for the U-18s considered, there's not much downside I can see to the player.  And although he played incredibly well in the last season, he does however, like any other player stepping up, need to iron out plenty of aspects of his game to be able to compete in the Premier League, as goalkeepers and defenders are obviously significantly wiser and better.
Ben Woodburn – Striker 
Recently made an appearance with Ovie Ejaria against Tranmere Rovers, Ben Woodburn is another talent to watch over the years. Pace and a very direct approach are two things in his arsenal make him highly rated at Kirkby.  Although he had a few decent chances and a debut to be proud about on Friday night, I would love to see him build up some muscle as there were times he's been bullied by some of the defenders at Prenton Park. Scored and assisted in the game on Wednesday night against Fleetwood and looked impressive.
Ryan Kent – Winger
Ryan Kent scored once in 17 (7 starts) appearances during his 4-month loan spell for Coventry City before Jurgen Klopp had recalled some of his loanees to fill the void of the players who were out due to injury. Although the stats seem slightly unconvincing, Kent possesses quick feet and pace, loves to cut inside and take a shot from outside the box just like Philippe Coutinho.  And despite being on a professional contract since 2015, He's another player that needs to bulk up a bit, as well as improving on his ability to take on defenders.
Bobby Adekanye – Winger
If you follow Twitter accounts who focus on LFC, especially their academy, you've most likely heard about Brooks Lennon, the American national who plays in wide areas, making noise around social media with his recent surge in form.  But what you probably don't know is there's another player who is even more highly regarded at the academy, and that's Bobby Adekanye.
The Dutch national, seventeen, has signed from Barcelona in the summer of 2015.  The start of his Liverpool career has been slow, as he was only granted a permit in November adding injuries to the cause of a slow start.  He's another player with great potential that we've taken from FC Barcelona, after Sergi Canos, who's likely to move on to Norwich City.
There is also one other player who, although, did not rise through the ranks of the Liverpool Academy, I feel he should be mentioned somehow as it's only a matter of time before he graces Melwood.
Alan Rodrigues De Souza – Midfielder
Everyone knows about this kid, and rightly so. The 19-year Brazilian has signed from Brazilian side Internacional in 2015, and immediately after was sent on loan to Finnish outfit SJK, scoring two goals in eight appearances and racking a handful of assists for the club who was only formed 8 years prior, helping them win their first ever league and ending HJK Helsinki's six year consecutive title run.
He returned to Liverpool before spending a few weeks on holiday in Brazil, then again sent out on loan to Sint-Truiden in Belgium.  All signs regarding Allan point to positive things, and it seems Klopp has big plans for the young Brazilian, therefore we should expect great things from him in the years to come, should he be able to secure a work permit.