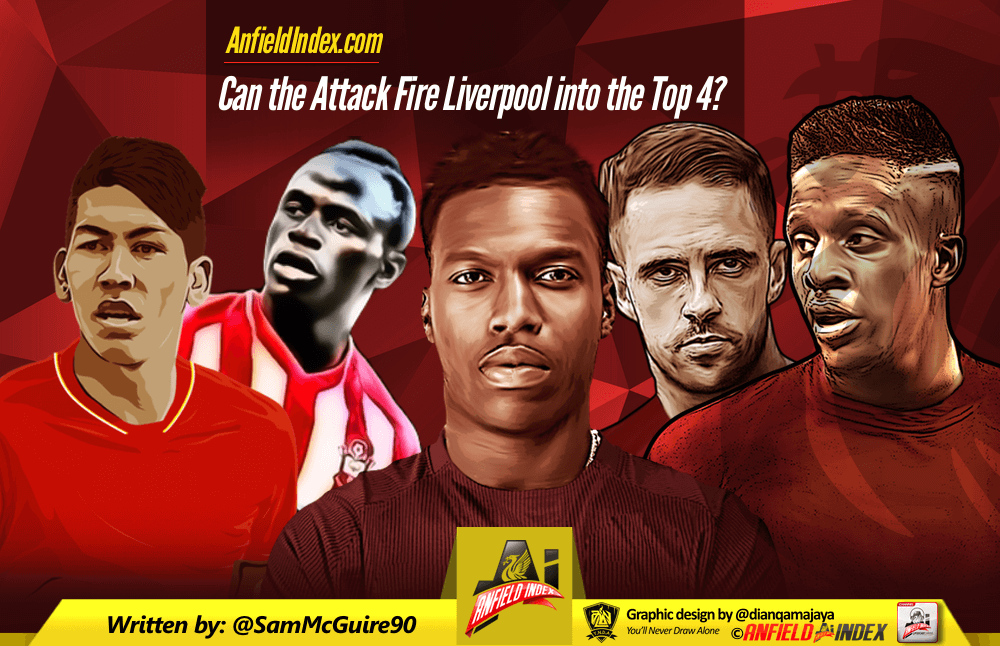 Can the Attack Fire Liverpool into the Top 4?
The Liverpool Echo, more specifically James Pearce, recently published an article informing Liverpool fans that Jurgen Klopp no longer had an interest in Bayern Munich's Mario Gotze and he was happy with his attacking options moving forward into the new season.
Given the Reds were looking to bring in Monaco's Kylian Mbappe and Rennes' Ousmane Dembele it does strike me as odd that after only one attacking signing coming in so far this Summer in Sadio Mane, and with Jordon Ibe on the move to Bournemouth, that Liverpool's business in terms of attacking talent is done. If anything, it implies Lazar Markovic may have a future in the first team squad.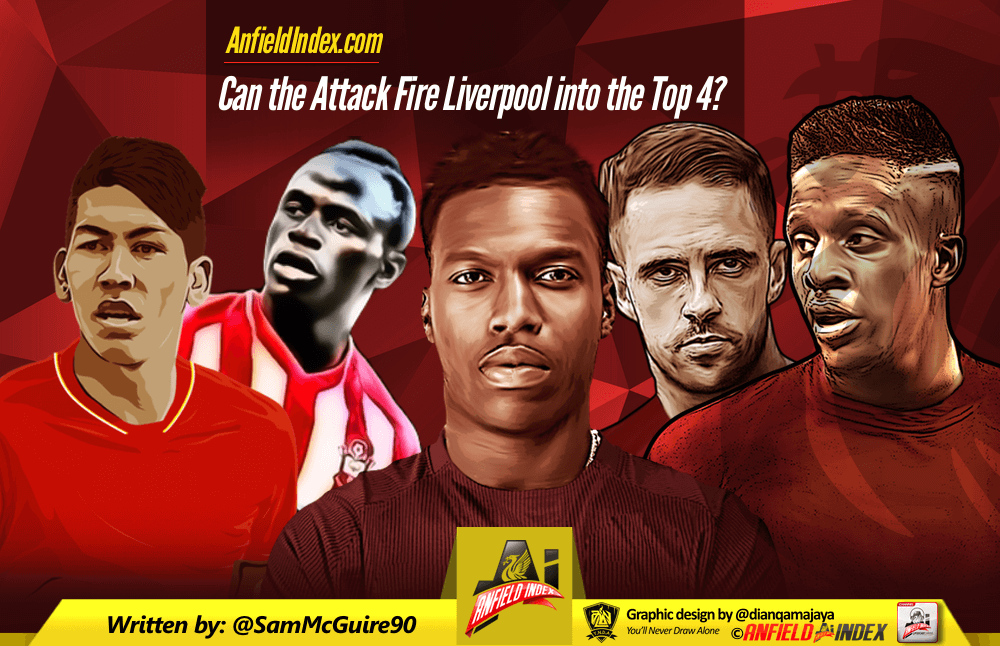 With no European football next season most, if not all, Liverpool fans expect a top 4 finish. With no distractions, a certain Jurgen Klopp at the helm and a full pre season with the squad it's viewed as a minimum requirement by most. Anything less than a Champions League spot for 2017-2018 and there will be a lot of disgruntled Liverpool fans. However, context is necessary and if Liverpool miss out on 4th spot on goal difference with a record number of points then I think the squad would be excused.
If Liverpool are to really challenge for a Champions League position then their aim come the end of the season should be to finish with a +30 goal difference. Over the last eleven seasons only nine (9) teams have managed to finish in a top 4 positions with a goal difference of less than 30. The 'plus 30' theory works under the assumption that the goals are spread evenly throughout the season and you don't just blitz 18 goals in three games and come away with a + 15 GD from those matches but then in the other 35 games in the season only come away with a +15 GD. That doesn't sound too daunting but when you consider in two of the last five seasons Liverpool have failed to have a double digit positive goal difference it really hits home.
| | | | |
| --- | --- | --- | --- |
| Season | Goals Scored | Goals Conceded | Goal Difference. |
| 2011-2012 | 47 | 40 | 7 |
| 2012-2013 | 71 | 43 | 28 |
| 2013-2014 | 101 | 51 | 50 |
| 2014-2015 | 52 | 48 | 4 |
| 2015-2016 | 63 | 50 | 13 |
In the table above you'll see that Liverpool, on average, concede 47 and score 66 goals per season giving them a + 19 GD. It's not ideal but given 2013/2014 was a bit of an anomaly if you remove that season from the table it works out that Liverpool concede 45 and score 59 per season, a +14 GD.  Klopp doesn't have an easy job on his hands.
With Joel Matip an Loris Karius joining the ranks already it seems as though Klopp has acknowledged the need for defensive reinforcements. The average numbers of goals conceded by a top 4 placed team over the last five seasons is 38, 9 fewer than Liverpool if you include 13/14 and 7 fewer if you don't.  Over the past eleven seasons only nine times has a team that has conceded 40 or more finished in the top 4. While a pre season under Klopp and the acquisitions of Karius and Matip will shore up the defence will it be enough to take 9 goals off what's become the norm for a Liverpool defence?
If Liverpool adopt the form of an average top 4 side and concede 38 goals then they're going to need to score at least 68 goals, a feat they've achieved only twice in the seven seasons. So does this Liverpool attack have enough in them to score close to 70 goals, preferably 75?
A system that suits the attackers
With Benteke, Balotelli and Jordon Ibe all looking set to leave it trims down a bulky looking attack. You can't help but look at the options that Klopp has at his disposal now and feel excited about the potential. It has goals throughout the attack and it's because the personnel suit the style Klopp wants to play. There won't be long balls and countless crosses into the box. It'll be fluid and interchangeable. A rotisserie of pressing from the front.
The arrival of Mane and Markovic's return adds much needed pace to what can be a pedestrian attack at times. It was one thing that the team really lacked last season. Liverpool had quick players but not really any players with explosive pace from deeper areas.
With Daniel Sturridge, Divock Origi and Danny Ings all hopefully fit for the majority of the season it's a safe bet to say the three of them will be scoring at least 35 Premier League goals next season. That's working under the assumption Daniel Sturridge starts the majority of games with the other two playing when Sturridge is rested and/or cameo 20 minutes appearances off the bench. It's also important to remember Mane will be heading to the AFCON in January so there may be chances for the pair to get more minutes in that month.
The aforementioned Mane along with Roberto Firmino, Philippe Coutinho, Adam Lallana and Lazar Markovic offer Liverpool a minimum of 25 goals (they should be looking at 30 goals) from those players behind the striker. Klopp likes the team to contribute with goals and last season Lallana, Firmino and Coutinho scored a combined 22 goals in the Premier League.
If the attacking players contribute between 55-60 goals to the team, not an unrealistic figure all things considered, it's a good base to mount a top 4 challenge. The odd goal from the midfielders and defenders and it takes Liverpool over the magic number. Many fans on social media have voiced their frustrations about the business so far being underwhelming and there being a need for Mario Gotze. Of course, a talent like Gotze is always welcomed but looking at the squad as things stand there should be enough firepower to get Liverpool close to a Champions League place next season.