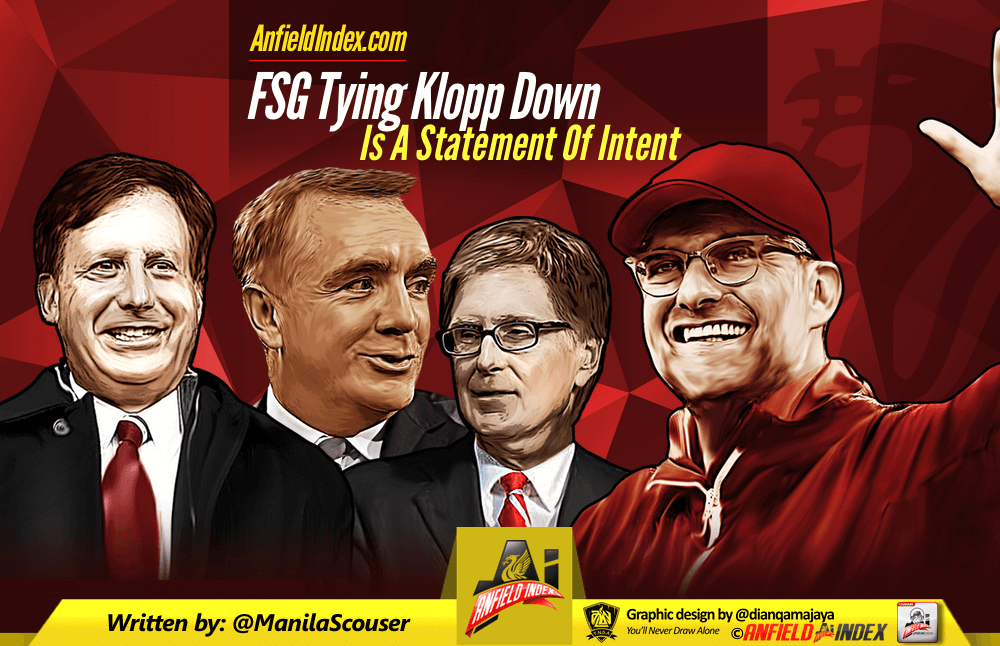 FSG Tying Klopp Down Is A Statement Of Intent
Liverpool Football Club, once a European powerhouse, found itself out of depth when they resurfaced in the Champions League two seasons ago, facing Real Madrid in the group stage, eventually failing to secure a spot in the knockout stages.
The past six or so years, bar a magnificent 13/14 campaign, was a period to forget for us fans. We've only managed to qualify for European's elite competition once in that period. We've been in a state of rebuild since, changing managers four times in six years. That's doesn't scream stability. We're becoming the Real Madrid of the Premier League.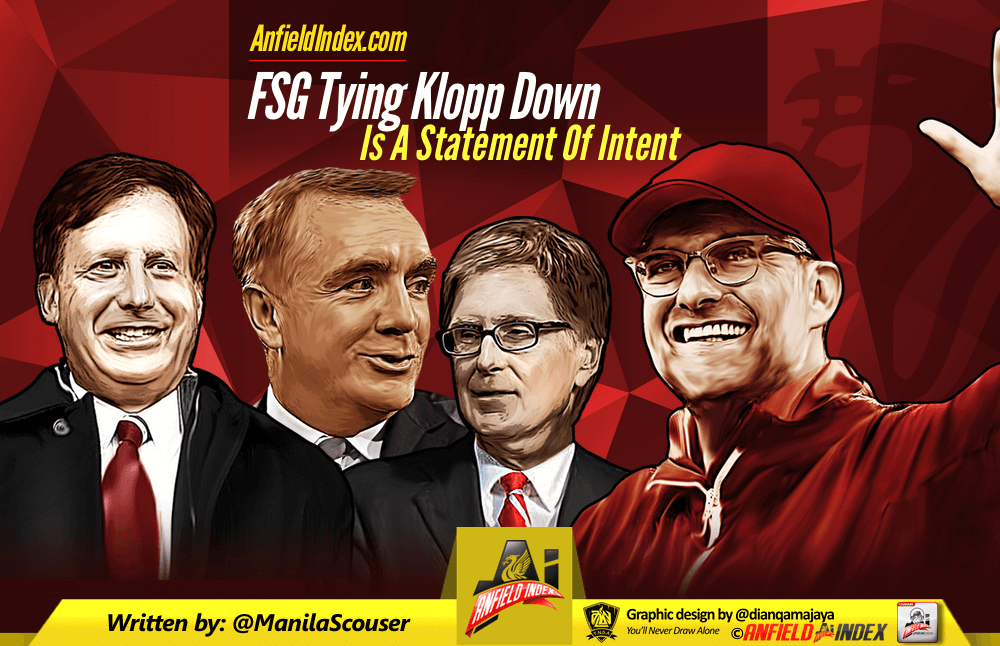 That's not me measuring the comparison by success, rather by how many times we've switched managers over the course of that period. The Madrid based powerhouse has changed managers 13 times since 1999, when Vicente Del Bosque was appointed, and that's the exact reason why Real Madrid have not played football with any notable style. A manager comes in and tries to imprint an identity to the club, but is sacked a year or two down the line.
La Liga isn't really the best example of a competitive league, there are only three teams who are true title contenders: Atletico Madrid, Real Madrid, and Barcelona. That's not me giving a notion that it's an easy league, far from it, in fact. But in the Premier League, you have five or six teams vying for that trophy. I'm not implying it would be more difficult for these three Spanish teams to win trophies if they were based in England, but it is probable.
If you look at football deeper than the money and fame, Spanish giants Real Madrid are not the best examples of a football club to look at and tell ourselves, "We should be like them". I don't see an identity, just like Liverpool since Roy Hodgson took over the club. To be frank, I can honestly say that they should be in a period of rebuilding if it weren't for the ridiculous number of zeroes they have in their accounts, which hides their flaws. Florentino Perez doesn't care either
They're a team full of solo artists who power them to success. Sometimes it brings them the trophies, sometimes it doesn't, and when it doesn't, it's the manager's fault, so Perez sends them packing. Sure the amount of quality in that squad should be regularly winning trophies, but an identity, chemistry and continuity is a big thing. One year you're playing a counter-attacking style, the next it's possession based. It will take time to fully integrate players to a system, and when the time comes start to understand and gel with it, the manager is fired and they have to learn something new again.
Then you have Barcelona, a completely different force of nature. They have an identity, a style of play, and a flawless approach to football. It's a beautiful thing to watch when everything goes their way. Of course, like Real Madrid, they have money for the big expensive players too, the difference is with Barcelona, the players help make the system work in extraordinary fashion, but Real Madrid's system however, is dictated by their players.
The Catalan club's approach to football, money aside, is a resemblance I see for Liverpool under Jurgen Klopp. While Real Madrid goes about buying players for fun no matter the price, Barcelona has built a strong foundation on their academy, and when they do enter the market, it's their identity on the pitch which dictating the players they bring in.
The club has signed four players since our manager arrived, with Sadio Mane being the most expensive signing of the summer so far. Klopp's buying players who will fit his system, regardless of the cost as we've seen with the money we paid for Mané. I've seen glimpses of what our new signing could contribute to Liverpool in his first appearance at Prenton Park. Apart from his pace, his work rate is just astronomical. I've not seen a Liverpool player chase a ball like he did in quite some time. The ball was on its way out of play, but he chased it down like a cheetah sprinting to get its lunch. Many players, despite their pace, would just stop on their tracks and let the ball go out of play for a goal kick, but he never gave up the opportunity, and it nearly rewarded him with a goal. That type of attitude is hard to come by, and it's the attitude our manager has been instilling within our players since he took over the football club.
As I've said before, it shouldn't be about how expensive and popular a piece of the puzzle we should buy, but it should be the piece that fits perfectly to the puzzle the manager is trying to build.
With Jurgen Klopp signing a new six year deal with Liverpool, that to me, despite all the negative comments I've seen, is a testament to the progress FSG has been talking about since they took over almost six years ago. They maintain their philosophy of sustainable success, and with them clearing out the negative balances they've acquired when they bought the club, I think now is the right moment to see if they can walk their talk. They've rejuvenated the club commercially, but now the time has come for them to focus on success on the pitch.