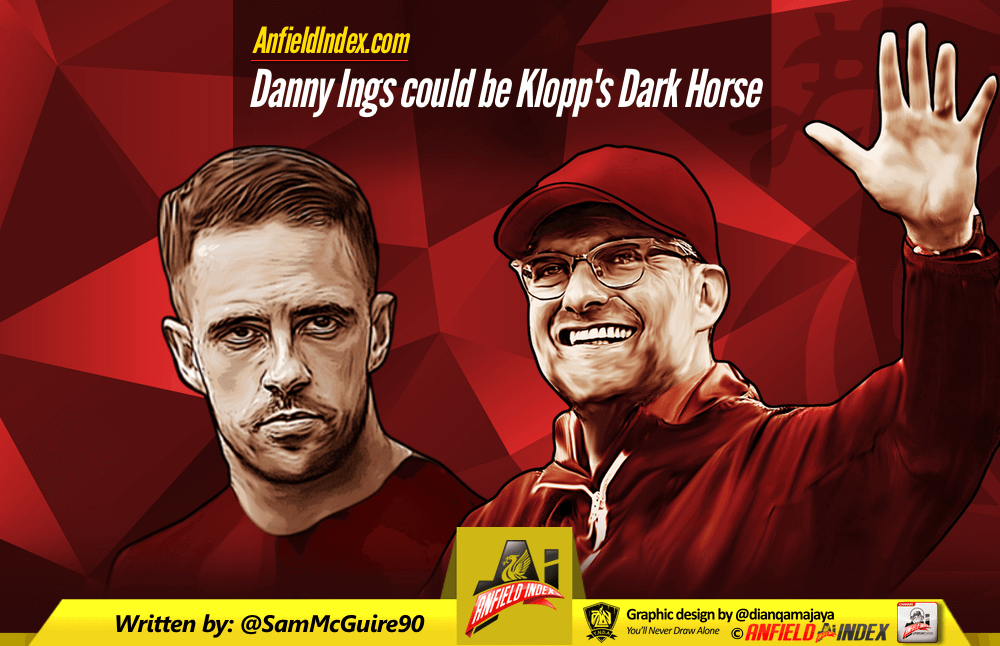 Danny Ings could be Klopp's Dark Horse

Daniel Sturridge is the dancing man and Divock Origi is Big Div. Both have a cult-like following amongst Liverpool fans. They're put on a pedestal and they're fiercely protected. Like a proud Mother saying no girl is good enough for her son, Reds fans respond similarly when other strikers are mentioned.
One such striker is Danny Ings. He's a victim of circumstance purely because he's not Daniel Sturridge or Divock Origi. Already on the books at Liverpool, he's often overlooked when supporters are discussing their ideal XI's for the season ahead. Despite his various strengths, and suitability for a Jurgen Klopp attacker, he's the third choice striker in the eyes of many fans.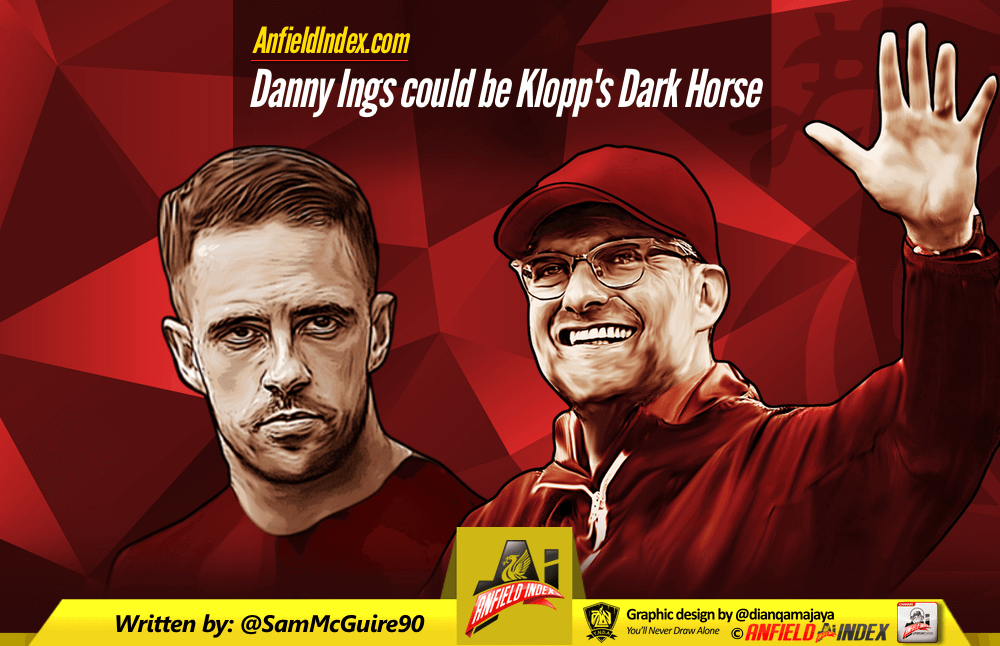 Due to the luxury position the Reds find themselves in (when all the strikers are fit) Danny Ings is easily forgettable. He's not the sexy name. He's not got the groupies that Origi has and he hasn't got the skill, technique and pure genius that Daniel Sturridge offers. He's a bit of an ugly duckling and because of this fans just don't seem to give him any credit.
It's slightly baffling hearing fans saying he's a striker who runs about a lot in a negative way. I'm sure Jurgen Klopp would really hate having a striker who doesn't give the oppositions defence a moments rest. Definitely, yeah.
There have been rumours that Ings may go out on loan with Newcastle being interested but there's a reason to doubt these links. Will Jurgen Klopp really pass up the opportunity to nurture a striker with so many traits to his game that he seemingly looks for in a striker? At 23 years old he's at an ideal age for Klopp to mould him, and if he gets it right he could well be a £25 million striker in today's market.
Why Klopp may like Ings
He's deceptively quick over the first 10-15 yards. He has this burst of pace you wouldn't expect when looking at his general play and, when combined with his clever movement, it leads to chances after he's played off the shoulder of the last man. His quickness lends itself to the pressing game that Klopp likes. Defenders aren't generally the most confident of players on the ball and getting pressurised and harassed will more often than not lead to a turnover of possession. During his final season with Burnley he recovered the ball in the final third every 106 minutes and he also won 1.7 tackles per 90. He puts his team on the front foot.
Although he's not the tallest of strikers, standing at 5 ft 10, he scores an impressive amount of headed goals. Unlike taller strikers who are able to rely on their height to gain an advantage in the air it's Ings' movement and desire that's integral to him getting these chances. Just watch his goals against Everton and Carlisle for Liverpool and the goal against Manchester United for Burnley. He's in 6 yard box when the he needs to be. Many may say desire isn't going to lead to goals but if you watch Ings he breaks his neck to get into the area. How many times have Liverpool fans bemoaned the lack of bodies in the area when the team is attacking?
Goals may not be transferable but if you look at the types of goals the player has scored you can generally get a picture as to whether they'd get chances at your club. He's not scoring 35 yard worldies and he's not limited in the sense he relies on players to create for him. His finishing is instinctive and he's clinical when in the box. Just because the bulk of his goals came in the Championship doesn't mean he's not good enough for this level. If you watch his chances and goals from that prolific season you'll notice they're all chances he could get in the Premier League.
For Burnley he played as a number 10 and on the left of the three behind the striker. No doubt this experience helped his overall game and improved how he brings others into the match. He will drag a centre-back into the channels which would create space for the likes of Roberto Firmino and Sadio Mane to exploit.
He has many traits Klopp looks for but perhaps the one that appeals to the German manager the most is Ings' winning mentality. If Klopp wants to breed a never say die attitude then he needs players with that and Ings has it in a boat load. He's practically missed two of the last four seasons through injury but always seems to come back with even more hunger and desire. It appears he wants to make up for lost time. Even on the pitch you get the impression he's a winner.
It's this trait that will adhere himself to both Klopp and the fans. For all of Luis Suarez's magical moments the Kop adored him because of his fight and desire to win. You could tell he really cared and fans feed off that. Ings has that about him.
Certain fans ridiculed those who praised Ings after he ran back 50 yards to tackle a Norwich player. Why? I want that sort of player in the squad and I'm certain Klopp will too.  If it's the 91st minute in a final and you're winning 2-1 you want to know your striker is going to do everything in his power to stop the opposition scoring.
The Liverpool side have in the past been accused of being too pretty and lacking balls. Danny Ings' brutish ways may be a welcomed addition to the squad as Klopp looks to make Liverpool a formidable team. He could surprise a few fans this season.