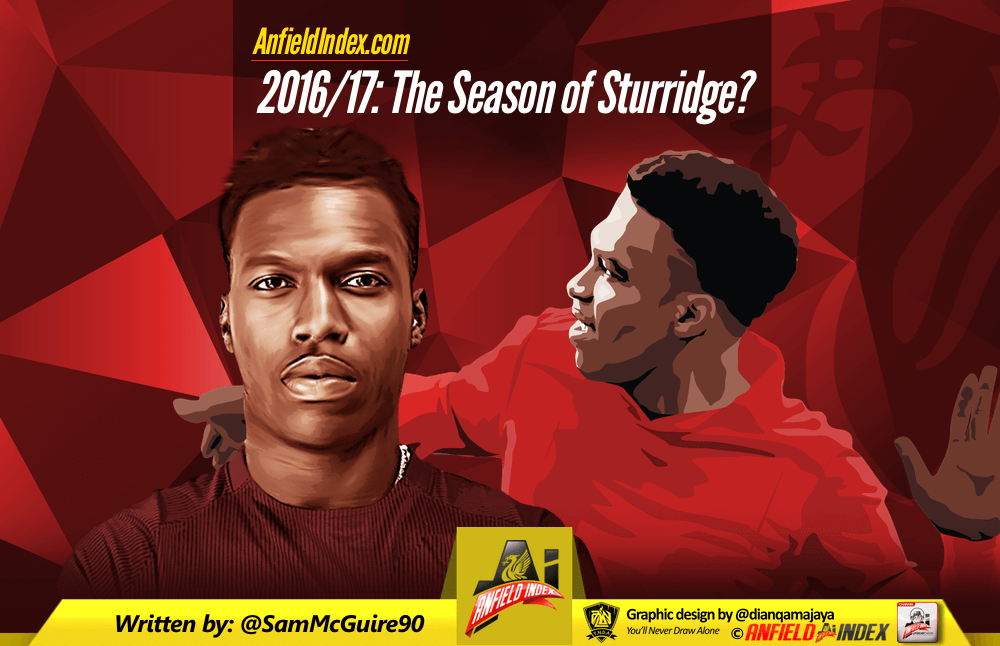 2016/2017 - The Season of Sturridge?
Love him or loathe him we as Liverpool fans have to accept that Daniel Sturridge's Liverpool career has been a bit of an unsolved mystery. The mystery revolves around whether the year Liverpool finished as runners up in the Premier League and Sturridge hit over 20 goals was an anomaly.
As bizarre as it sounds people do loathe Sturridge. They resent the fact we've been so reliant on him and he hasn't been there to shoulder the burden. To them he's mentally weak because he's not carried the team like we've come to expect from our better players. Then there are a section of the fan base who credit Luis Suarez as being the main reason behind Sturridge's prolific 2013/2014 season. Much like they do when talk turns to Rodgers, talk turns to how all of the success is down to Luis Suarez. It's a weird fetish they have.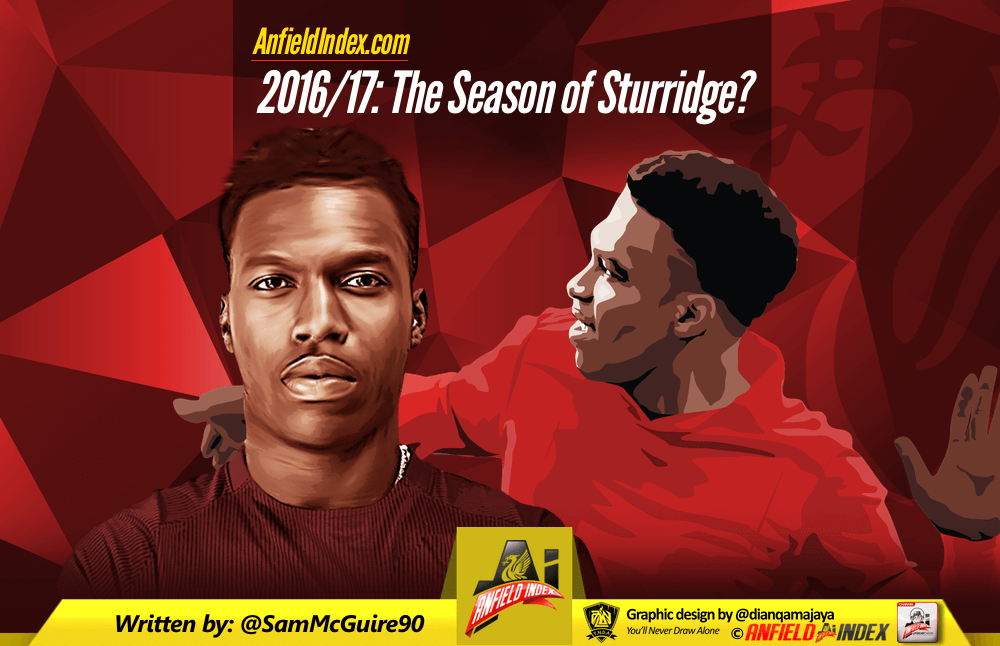 In their mind it's a valid point because Sturridge has not replicated that 2013/2014 form since Suarez left. If you ignore the countless injuries and ill-fitting system he was placed in then yeah, they're absolutely correct. But a lot of things can be manipulated to suit an argument without context. That's one of them.
Even the fiercest Daniel Sturridge loyalist must have doubts as to whether the player will ever have another season like the 13/14 one. Not because Suarez carried him, he didn't, but because his body keeps letting him down. Ability wise Sturridge is up there with the best in the Premier League but he's never going to be hitting 20 goals per season when he's not even featuring in 20 matches.
Those pro-Sturridge cite how much of an impact he had in the games last season. He was effective from the off and finished the season in double figures in just 1300 minutes. The counter argument to that is of course the sample size is too small and there's no guarantee he could have sustained such a level. Both valid points. Unless he repeats/matches/surpasses 13/14 then there will always be lingering doubts. Sturridge needs a season to one and for all, unequivocally, show his class.
The 2016/2017 season could the season for Sturridge. It's been bubbling. After a prolific end to last season and goals against United, Villarreal and Sevilla in the Reds run to the Europa League final Sturridge went to the Euros and regardless of what the British press say, he impressed for England. His form and fitness is the best it's been for close to two years now and he's only going to improve under Jurgen Klopp.
The German manager has only made one attacking signing this Summer, Sadio Mane, but for the first time since Suarez left Sturridge is part of a capable attacking unit. It's a perfect blend of finesse, creativity, pace and clinical finishing that just leaves Liverpool looking much more well rounded in attack. With the countless injuries he's had to deal with he's lost some of his initial explosive pace, it's clear for all those who have watched him since his return from the latest injury. To counter this Klopp signed Mane, brought Markovic back from loan and bulked up Origi so he's suited to the physicality of the Premier League. All three now offer the pace the Liverpool attack lacked in Sturridge's prolonged absence.
For two seasons now Liverpool have been solely reliant on Sturridge's goals firing them into a Champions League place. Their season hinges on Sturridge. Not anymore. Granted, a fully fit Sturridge for the entirety of the season gives the club a better chance but if he did pick up another injury there are still goals in the side. Philippe Coutinho, Roberto Firmino, Sadio Mane, Adam Lallana, Lazar Markovic, Danny Ings and Divock Origi have all got goals in them.
There's now less pressure on him. He's no longer carrying Liverpool and their expectations solely on his shoulders . He will be able to drift in and out of games playing a style that suits him knowing full well there is a fluid attack supporting him. If he drops to pick up the ball Firmino or Mane will occupy the space he's vacated similar to Suarez and Sterling in 13/14.
He has a manager with a degree in Sports Science. Klopp will know how to manage him and his game time effectively. He won't be getting rushed back when he's nowhere near ready. He won't be starting games when there's a chance he's not prepared. Fans can rest assured if he's starting then we're going to witness a capable Daniel Sturridge. At times under Brendan Rodgers you could just tell he wasn't match fit and shouldn't have been playing. You'd imagine that won't be the case under Klopp with his vast knowledge of controlling players the demands on the bodies of his players.
A factor many seem to overlook is the players desire. The club is no longer reliant on him but that doesn't mean he doesn't want to be the main man. Sturridge wants to prove to the world he deserves to be representing a club like Liverpool. You saw the outpouring of emotion after his goal against Villarreall. A man usually so calm losing his shit after scoring. In the build up to that match there was a lot of talk about whether he should even be starting. He seems to thrive on proving people wrong. Long may it continue.
All things considered we could be in for yet another perfect storm of a season.