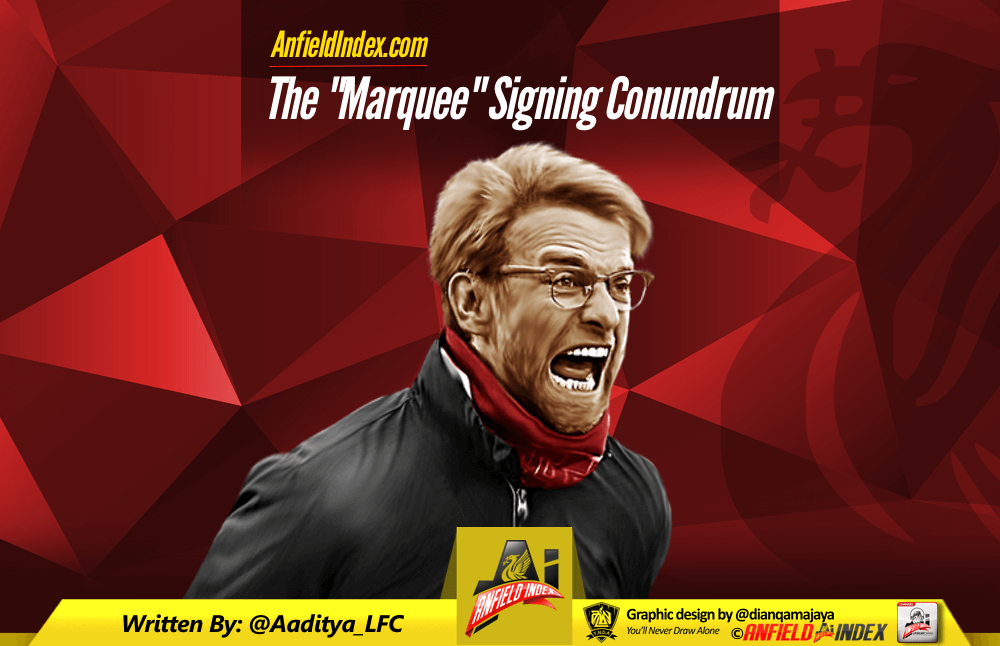 The "Marquee" Signing Conundrum
As a Liverpool fan who uses Twitter as a medium to get most news about the club, life has not been great. The sheer agony amongst our fans over the lack of a big-money signing is astounding.
These are the same guys who were licking their lips at us having signed Jurgen Klopp in October, and given him a contract until 2022, at the beginning of this month. To put it simply then, they were excited about Klopp without knowing how he worked at all.
I say that because if you looked at the way Klopp went about his transfers at Dortmund, he was never the man to throw an empty cheque book at the player he wanted. Not once did Klopp spend more than £20m, with his most expensive purchase being Henrikh Mkhitaryan at £19.25m.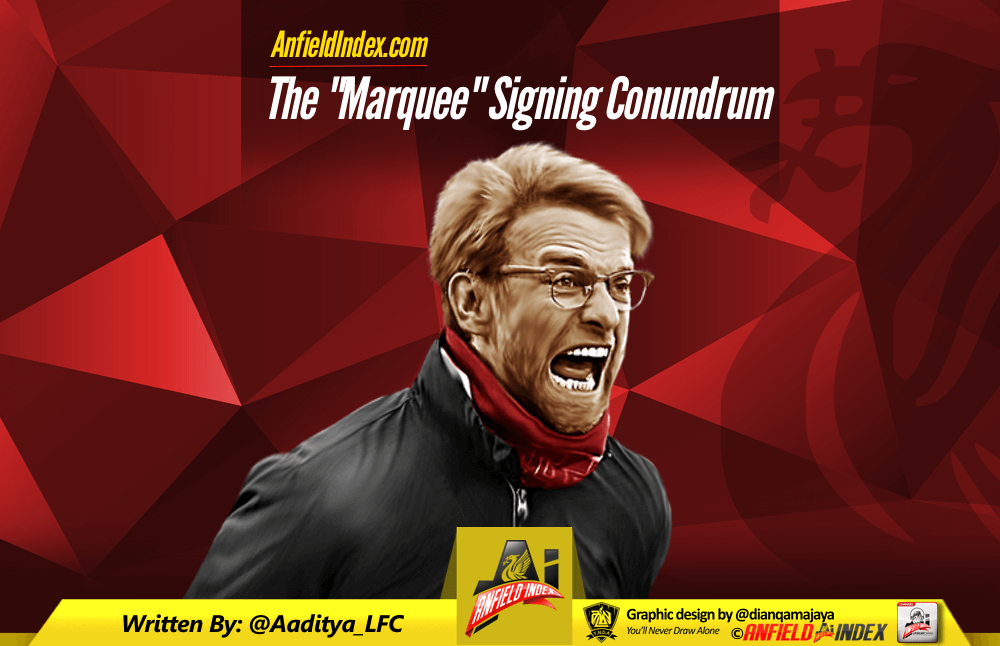 Klopp says, "They only think Manchester United have taken this player or Manchester City have taken this player and we have taken 'what is the name?' and that is it. This moment for us it is about creating and building a team for next year. We have to prove our thoughts about the team work."
That is what Klopp's Dortmund team was always about. Teamwork, building bonds, and a burning desire to fight for each other.
And that meant that Klopp often didn't need the power of big money to sign the players that he needed.
Sample this: £3.3m for Robert Lewandowski. £3m for Mats Hummels. £3.7m for Ilkay Gundogan. £3m for Neven Subotic. Add to this, Shinji Kagawa and Lukasz Piszczek for free.  That was the core of Klopp's Dortmund team. He spent less then £15m on these six players.
Klopp has always spoken about the need to "develop" players, and that being something that he enjoys. If anything, our first two pre-season games have shown that there is plenty of talent for Klopp to work with, as the likes of Trent Alexander-Arnold, Ben Woodburn and Ovie Ejaria have impressed hugely. Additionally, the likes of Cameron Brannagan, Kevin Stewart and Brad Smith are players Klopp saw a lot of, last season, and there is plenty of potential there as well.
Really, if there is an option within the squad that the manager feels he can work with, there should be no need to spend money to reinforce that position.
With our fans these days, there seems to be nothing that can please them. We did splash the money on Sadio Mane, but even that was ridiculed with people resorting to the Southampton argument, but as this piece says, he is a player that fits our system to the T.
The so-called "marquee" or big-name signing didn't always work out for Klopp at Dortmund. After Mkhitaryan, his most expensive signing was Ciro Immobile for £13m and the Italian was an unqualified disaster at Dortmund. Even Pierre-Emerick Aubameyang who he bought for around £9.5m blew hot and cold far too much under Klopp, although the Gabonese International has proved his worth for Dortmund with a flying season under Thomas Tuchel.
What I see from that is a trend emerging. Klopp is far more comfortable working with potentially world-class players, polishing their talent, and giving them their space to flourish. When you spend large sums on a player, there is a lot of pressure from the fans to ensure that the player is a hit. Therefore, as a manager, you might end up over-working the player and that could affect the best of players.
Ultimately, in the transfer market, Klopp has a way in which he works – a structured method. It is a method that has worked for him in the past and brought him grand success. So, there should be no reason for him to change it.
Another argument that Liverpool Twitter seems to be loving is that FSG are not supporting Klopp enough, financially. For God's sake, the man has just signed a contract which will see him work with these owners for six more years. Why would he do that if they didn't support him enough?
The more I delve into some of the reactions on our transfers, the more hilarious it gets. All of us need to calm down, trust the manager, trust the methods that have brought him success and not whine at everything just because we have the opportunity and a medium to do so.