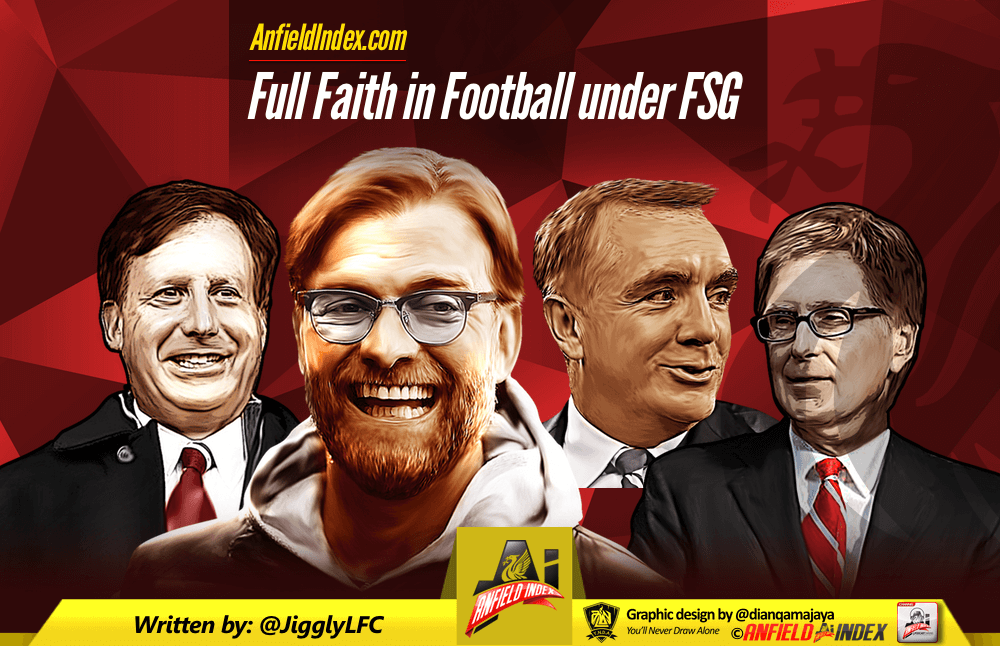 Full Faith in Football under FSG

Football fans are fickle. Liverpool fans seem even more so. Even as I type this out at half-time of our friendly against Wigan, there has been one peak example. Whilst receiving a square ball about 6 yards out from his net, Karius slipped and almost allowed a tap in for a Wigan striker. He recovered, and the ball went out for a corner. Now let me emphasize that this is Karius' third match for us. He's now only played 3 halves of football in a Liverpool shirt, most of which he's had nothing to do. And now, due to one mistake that came to nothing, Twitter is in the midst of a meltdown about Achterberg, Karius, or funniest of all, using this mistake to continue to trash Simon Mignolet. But this superhuman capability of Liverpool supporters to fume, rant, and meltdown isn't just about players. It extends to the club in general. There is an unmistakable air of distrust for the club in general amongst Liverpool fans, and this distrust has evolved into a palpable fear. But as fans we need to have faith in the club for a variety of reasons. We need to remember how to support.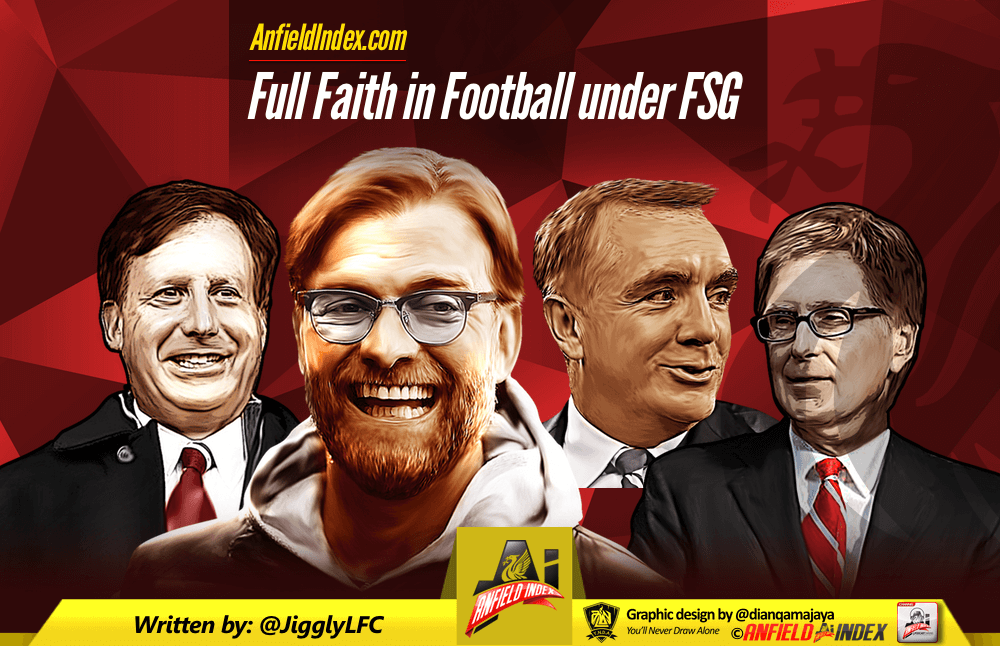 Probably the biggest fear amongst our supporters are our transfers, and by extension, the "transfer committee". But here's a news flash everyone: Every club in the BPL and all top clubs in the world have a "transfer committee". They just don't call it that. Everywhere else it's called scouting. In terms of some of the transfers themselves though, there are certainly some duds. I'll agree with anyone that wants to criticize how we coped with losing Suarez, and obviously our most expensive outlays have been questionable at best, but people also ignore that our very best players right now are also "committee signings" and for the most part, were on the cheap. In fact bar the GK for now, the spine of our best XI (In my opinion) is entirely quality committee signings mostly on the cheap. Having a spine of Sakho, Matip, Can, Coutinho, Firmino, and Sturridge, is in no way, shape, or form, bad business. Every club has bad transfers. That's the reality. On average, only about 50% of signings end up "working out" or showing their value. Certainly you can argue more than half of ours have been bad over recent years, but there are a couple points to consider in that regard.
The first point is that over its entire "existence", the transfer committee has been fighting over targets with the manager at the time, Rodgers. It was well known that Rodgers wanted to buy and play his own players, and to largely ignore the committee. Hence why our best CM right now spent his first year and change at LFC playing CB, and why there were rumours that Rodgers only sanctioned the Firmino transfer if he could spring for Benteke. Situations like that are never going to lead to effective transfer dealings, and as far as we can tell now, the scouting team and Klopp are working together and pulling in the same direction. So there's that problem solved.
The second point here though is less of a problem to be solved. It's not even a problem. It's just reality and perspective. The reality is that even if they've made transfer mistakes in the past, it doesn't mean that every transfer we make from here on out is a mistake. It's not as if every bad transfer increases the likelihood that future transfers will fail. We actually have pretty well respected scouts at Liverpool, as evidenced by some of great bargains we've gotten. But again the issues with Rodgers came around to haunt us. Either way, the point is that our fans write off signings before they've even been confirmed by the club. That's how bad this mentality has gotten. Even before Mane had been announced or pictured in a Liverpool shirt, there were thousands of Liverpool fans writing him off as more wasted money and slagging off FSG, the committee, or anyone else they could think of, purely because of the club he came from. If Mane had never gone to Southampton, and we'd instead bought him at the same quality and price from RB Salzburg, our supporters would be salivating. It's an awful statement about our supporters' mentality that I find myself and a few others needing to convince people why we shouldn't give up on a new signing before they've even played a minute for the club.
Ultimately though with many of our supporters, any gripe, fear, or minor annoyance about something ends up being used as a stick to try and beat FSG with. It's as if they have some voice in their head telling them, "If you tweet 60 times a day about how bad FSG are, they'll hear your voice, sell the club, and we'll win the league." Obviously, that's ludicrous. But the reality is that nobody cares what we think. Liverpool doesn't care what I think of transfers, they don't care what you think of our business model, and they don't care what anybody thinks of how they run their club. And you know why? It's because they're professionals. Yes they are businessmen, but it doesn't mean they don't care about the club. Yes they're Americans that didn't understand the sport very well when they bought us, but they're learning. And it's actually downright ignorant and xenophobic to think that there's no way they can understand because they're Americans.
I could write a whole separate article about the advent of "moneyball" and what it means for sports and LFC in particular, but for now I'll keep it brief. "Moneyball" is not a bad thing for Liverpool, and it doesn't mean that we only care about buying low and selling high. In fact, at this level of the sport spend is largely irrelevant to the philosophy contrary to what the name might tell you. Any spending or profit from transfers are coming directly from Klopp's say so, and not from a philosophy that supporters seem determined to make the victim of a witch hunt.
But that's ultimately the whole point. With this new contract, it looks like Klopp will be undertaking more of a traditional English managerial role where the manager controls most aspects of the clubs day to day functioning. So as the man himself said, "We need to change from doubters to believers." All FSG are doing these days really are signing the checks, and it looks like they'll be remaining pretty hands off to let the club do their thing for the near future. Everyone cries out for these rich Arab or Chinese owners, but if all those owners are doing is signing checks, isn't FSG good enough for that purpose? It really seems to me like fans just determined to be miserable, but like Klopp, and instead would rather scapegoat FSG for stuff that Klopp is doing. Which, if that is the case, there's no helping them. But all is not doom and gloom at Liverpool Football Club. There's still an entire season for us to enjoy. So as I always say, please just try to enjoy it.