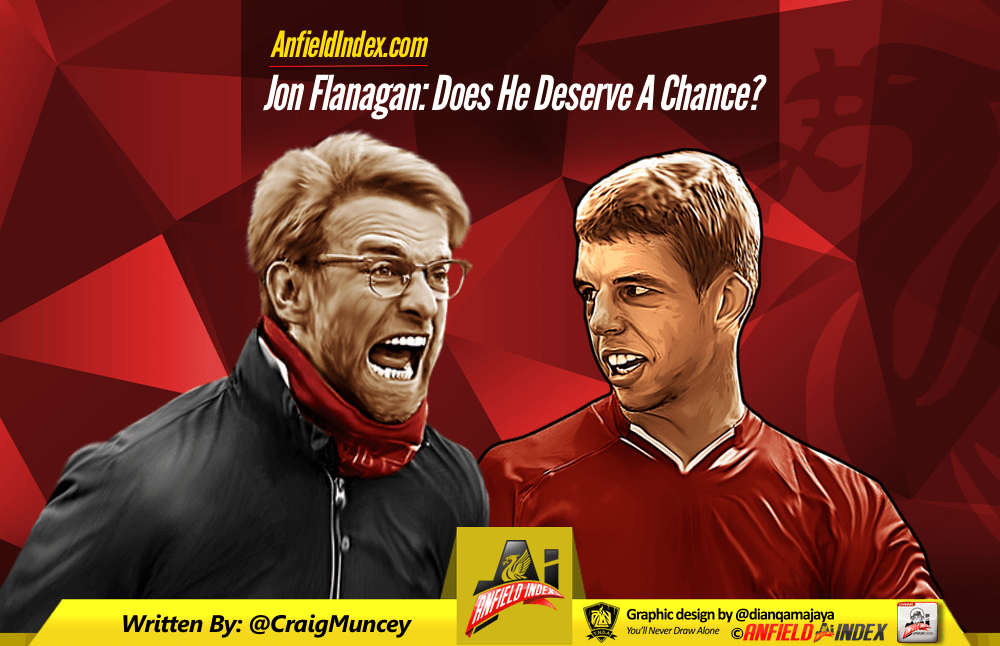 Jon Flanagan: Does He Deserve A Chance?

All fans have their favourites and also those players they feel are not up to the playing standards to play for the club they support passionately. One of those players who divides opinion amongst fans is Liverpool born full-back Jon Flanagan.
Flanagan, 23, has only recently returned to playing following an injury to his left knee which sidelined the player for 18 months.  Even when he returned to playing in January 2016 in an FA Cup match against Exeter City, the coaching staff were quick to advise fans and the media that his playing time would be closely monitored whilst his recuperation continued. He eventually played 8 matches by the end of the season, in one of the games he achieved a life long ambition of captaining his hometown team against Southampton (least we say about that match the better).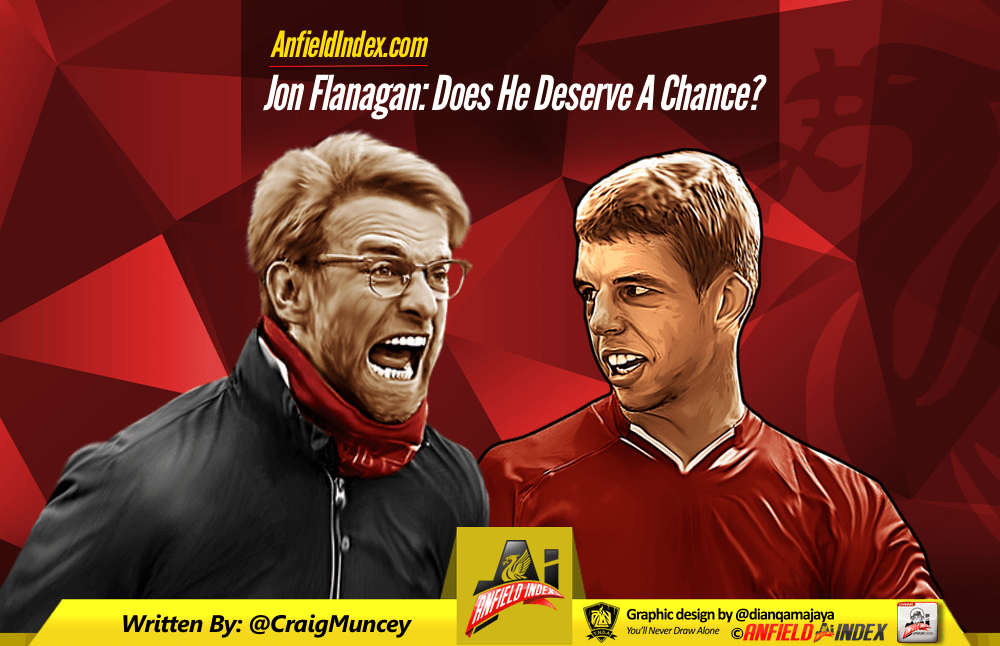 Flanagan was recently linked with a potential move to Glasgow Celtic, but Jurgen Klopp was quick to quell these rumours, stating Flanagan was very much part of his plans for the upcoming season, and this seemed to stir up a number of Liverpool fans on social media who not for the first time, felt it was best to move the player on as he is not up to the standards required to play for this great club.
Editors Note: Since this article was written Flanagan has been left behind by Jurgen Klopp and the Echo are reporting it's because Flanagan is deciding whether or not to move away on loan.
Personally, I feel Flanagan should remain part of the squad for the upcoming season for a number of reasons which I will go through now:
With the current playing squad and in particular the full-back position, Flanagan can play right or left-back.  With Joe Gomez currently sidelined, for me Flanagan is next in line behind Nathaniel Clyne for the right-back position and even on the left side of defence, as in my view Alberto Moreno or Brad Smith are no better than Jon Flanagan.
With the current transfer climate and the players Liverpool can attract with the funds they have and no European football to offer, how much money would they have to use to buy a versatile full-back and then pick up his wages for a player who can do a similar job to Flanagan with his experience at still a tender age?
As mentioned previously, Flanagan has missed a year and a half of football due to injury, he is still only 23 years of age, injuries permitting, he is nowhere near the peak of his abilities.
People can have short memories.  Flanagan was outstanding against Stoke City in first leg of The League Cup semi-final match.  Klopp himself said that Flanagan was man of the match for his performance. We were told his body needed to be properly managed after his long spell on the sidelines.
Don't forget the 2013-14 season, when Flanagan was outstanding during the league run in, and arguably from Christmas onwards the best English right-back in the league and his form was so good he was selected for the standby list for England's 2014 World Cup squad behind Glen Johnson, who shared full-back duties with Flanagan during the league campaign. Flanagan was on the reserve list for that World Cup but not Nathaniel Clyne who was playing regularly for Southampton in the Premier League at the time.
In my view, Flanagan showed when fully fit all the defensive desires we have not really seen at the club since Jamie Carragher retired.  His willingness to throw his body in the way of a shot, his desire to slide into an opposing winger to let him know that he was not going to have an easy day at the office.  His enjoyment of defending at the back post aerially when forwards had tried to isolate him . All rare gifts.
The argument is that all that happened more than 2 years ago, time has moved on, but my counter to that is due to the circumstances of his injury does he not deserve a chance bearing in mind the lack of depth we have in the full-back position currently? If Liverpool feel a season long loan elsewhere to give him match time and opportunity to regain form and fitness then I am all for this but not selling the player.
Fans love to see a local lad, one of their own, achieve things on the pitch that many fans can only dream of, give Jon Flanagan at least a season, let us see if the player Brazilian World Cup legend Cafu, who stated he has the ability to be one the best full-backs in the world, following on from this statement Liverpool fans dubbing him "the Scouse Cafu", the opportunity at Liverpool FC to regain full fitness and try to rediscover that form he had before it was cruelly curtailed by injury. Don't throw away the opportunity please Liverpool FC.