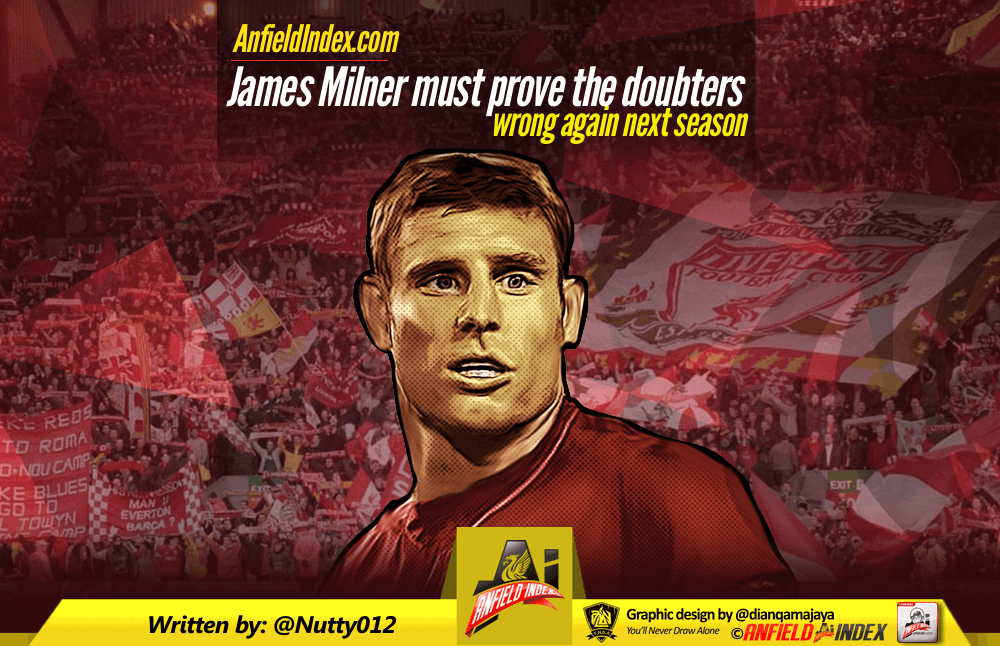 James Milner must prove doubters wrong again next season
When Mamadou Sakho claimed Liverpool's number 3 squad number on Monday morning, curious Liverpool fans glancing down the squad list were perhaps most disappointed when reminded about the incumbent of one shirt in particular – James Milner and the number 7. The previous holder of that shirt had been the magical Luis Suarez, one of very few worthy successors to the shirt of the king of the kop, Kenny Dalglish, over 25 years ago. James Milner, boring, versatile, and honest James Milner, does rather underwhelm given that heritage.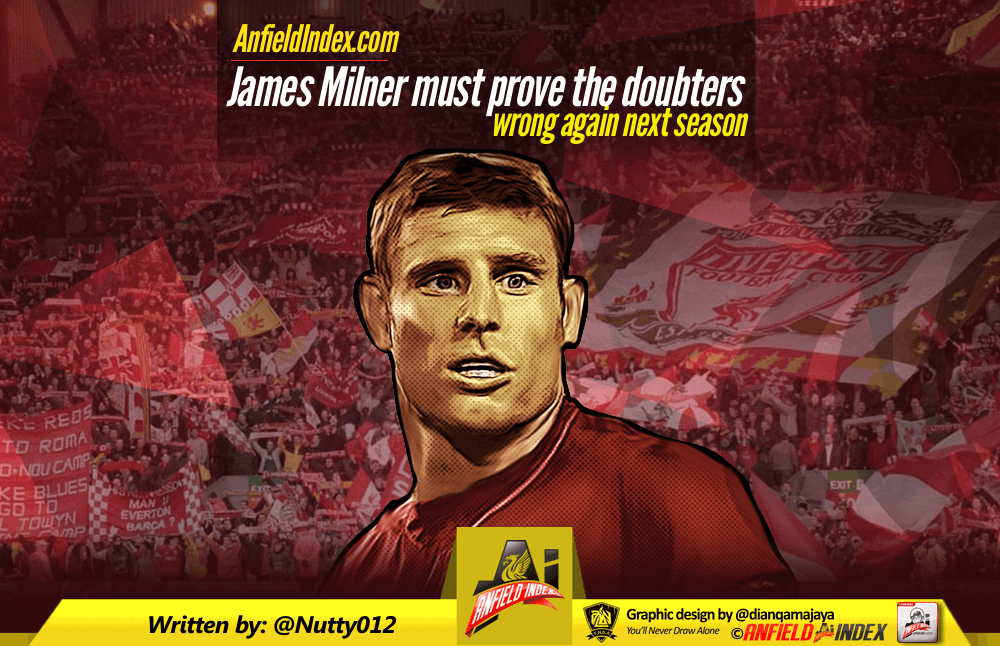 The number 7 shirt implies a seniority within the squad and within the first team Brendan Rodgers at least, plus no doubt Milner himself, thought befitted someone with international and European experience in a squad lacking both. Milner arrived to Liverpool with no great fanfare, and whilst there were the inevitable critics of any non-marquee signing, most reds fans were more than comfortable with the Yorkshireman on a free transfer – a frequent criticism of Liverpool had been that they were not tough enough, were not cynical enough, so a veteran like Milner, accomplished to both the wear and tear of the Premier League, and the elite tactical battles of the Champions League, seemed a good fit.

However, James Milner more than anyone characterised the final days of Brendan Rodgers' Liverpool, a team devoid of the gung-ho naivety that drove 102 goal title push 12 months earlier, but still possessing its defensive fragility. If the innocence of youth, of Sterling, Sturridge, Coutinho, Henderson and Flannagan, once defined Liverpool's attacking verve, the experience of mature James Milner now characterised fears of over committing in attack. The new, supposedly cynical, Liverpool, could not beat teams. Instead of going into matches confident they would score two in the first ten minutes, Liverpool approached games unsure whether they could manage two in the full ninety minutes.
James Milner's role can be debated, but it is certain that when he arrived at Liverpool Rodgers was keen to make him one of his senior players, promoting him to vice-captain and giving him the central midfield position that he had coveted. Milner is as tactically astute as any Liverpool midfielder, but over the first few months of Liverpool's season it became clear that Liverpool needed more, both off and on the ball, from their vice-captain in a deep central role. Then, when Jurgen Klopp arrived, the midfielder's season undertook a transformation that perhaps went unrecognised by some Liverpool fans. Robbed of his automatic status as a key player, Milner found himself being substituted, occasionally starting from the bench, and more importantly, shifted away from that deeper midfield berth to a wider position on the right (at least until injuries at the very back end of the year).
In that withdrawn role, Milner lacks the awareness and touch of Joe Allen, the forward runs and passing range of Jordan Henderson, and the sheer physical presence of Emre Can. Even Lucas Leiva, a far more limited player, is a better defensive shield and transitions possession from defence into attack more effectively than Milner. However, Jurgen Klopp's aggressive new system, which often featured Milner in a wider role, maximised the Yorkshireman's two greatest attributes: his natural fitness, and his crossing. In the end, Milner's first season was probably a personal success, even if it panned out in a slightly different manner to how even he might have predicted. Milner finished with 7 goals and 14 assists for Liverpool in his maiden season – a fine return for any midfielder whether on set pieces or not.
The catch for Milner now is that even though it took a new manager to get the best out of him, that very same new manager may soon be reducing his playing time next season, especially without any European football. This summer Liverpool have recruited Sadio Mane, Marko Grujic, and look likely to add Giorgio Wijnaldum. Whilst Mane's position won't overlap with Milner, one imagines that at least two of those three players will be occupying starting spots in the five places between the main striker and the defence.
Liverpool already possess a large cohort of players who will be vying to make up the rest of this midfield – Coutinho, Firmino, Lallana, Henderson and Can will all be in any first-choice squad next season, injuries permitting. Alongside them, Liverpool still have Lucas, Allen, Markovic, as well as youngsters like Brannagan, Stewart and Ojo, most of whom will probably leave in varying capacities, but no doubt a couple of whom will remain behind too. Even without any of those players, there will be nine others including Milner playing for five spots, or, eight for four if one regards Can is an automatic choice now too. Not to mention Ings, Sturridge and Origi will all be desperate to start, and will contend that there is no reason why two strikers can't play together. Right now it looks very unclear when and where Milner is going to be getting his game time next season, despite his strong finish to the last.
Milner has a history of proving critics wrong, of turning his doubters into believers. Whilst it appears that in Jurgen Klopp he has a manager who believes in him, and who can get the best out of him, questions will still remain over whether boring Jame Milner has the quality or profile to earn the game time he so wanted. The answers that Milner fans may offer to these questions – his experience, versatility, suitability to Klopp's system – have been thrown into doubt by Liverpool's new transfers and depth, in a season with a light fixture list too. Given this, it is yet another occasion for Milner to prove himself, not just for his club career, but also in a new England side that he will hope to be part of until the 2016 World Cup. It is a massive task, but Milner's career has shown that he should never be written off.