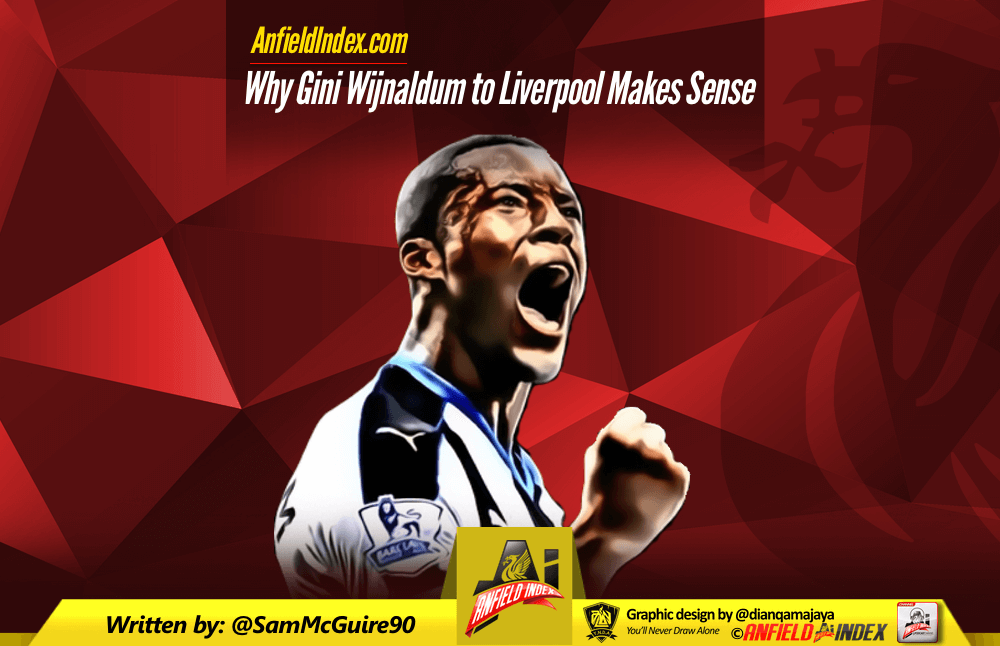 Why Gini Wijnaldum to Liverpool Makes Sense
It's a link that not many saw coming. Newcastle's Gini Wijnaldum is the surprise target for Liverpool as the Reds look to move on from their failed pursuits for Gladbach's Mahmoud Dahoud and Udinese's Piotr Zielinski. Both had been linked heavily with Liverpool for months now but with very little movement in negotiations it appears Jurgen Klopp has got over the pair quick enough as the latest Twitter rumours seem to indicate Wijnaldum will be on the plane with the rest of the squad to America come Thursday.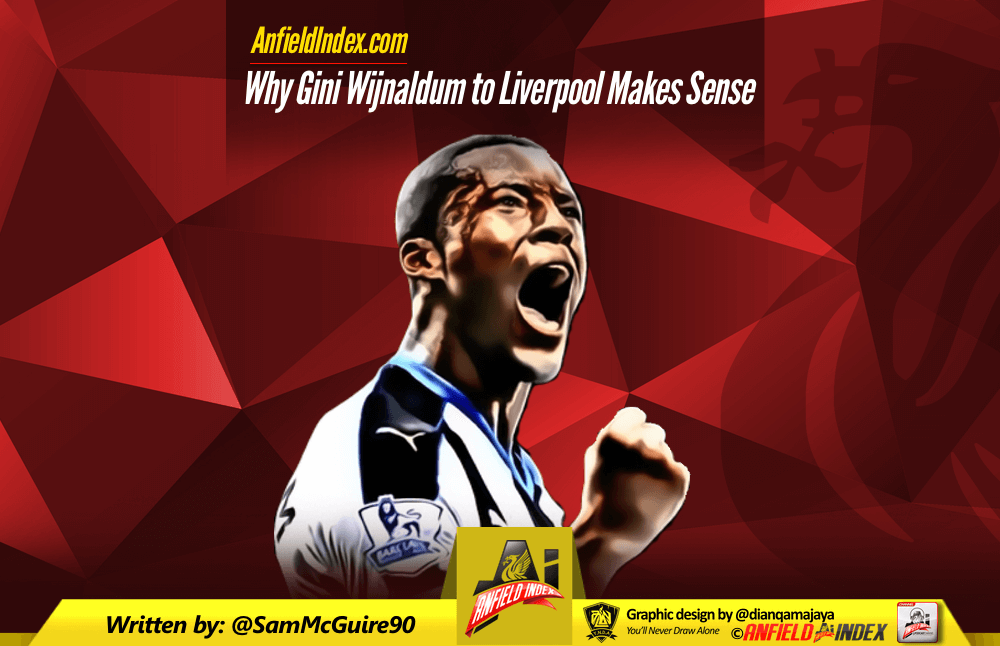 When Newcastle's fate was sealed towards the end of last season Wijnaldum was a player the majority of the Premier League would have been looking at and labelling as a potential bargain. The Dutch International joined Newcastle last Summer for a reported £14.5 Million and although they were relegated it was Wijnaldum who impressed. The versatile midfielder finished the season with 11 goals and 5 assists. Newcastle don't have to sell but why would a player with his talent stick around for a season in the Championship?

With the market exploding as it has done it's little wonder Newcastle are holding out for a reported £27 Million for the irrepressible midfield maverick. Jordon Ibe went for £15 Million less than a week ago, the North East side have every right to expect close to £30 Million for arguably their most prized asset. The player was linked with both Everton and Spurs earlier on in the window and despite Everton being billionaires now it appears they weren't flush enough to pay the price tag slapped on him by Newcastle.
That's where Liverpool come in. Famed for overpaying for Premier League proven/average players to many this seems like a signing right up our street. He's had one good season in the league and because not many supporters think the Eredivise has credibility that's all he's being judged off. The inflated market won't be taken into account and, if he signs, most will lose their minds thinking about the fee. Until he plays that is.
Why Liverpool are keen?
Because he performed so well against Liverpool eh?
Granted, in both games against Liverpool last season he did put in impressive performances. His well taken goal at St James' Park was as clinical as it was creative. He followed that up with an assist in the 2-2 draw at Anfield as Newcastle battled back/Liverpool collapsed. However, he didn't reserve these standout matches for his potential future employers. He was consistent, to an extent.
He was involved in a goal or an assist in 11 of the games he played in last season. He featured in 3169 minutes, which equates to just over 35 full 90 minutes matches. This not only shows consistency but reliability. His debut season in the Premier League and he didn't pick up any knocks while adapting to the physicality of the league? Not many can stick that on their CV.
He's consistent when it comes to stats, too. Over the past two seasons he's averaged an 85% pass success rate. His clever use of the ball makes him an ideal player to counter a press. He's comfortable when pressed and talented enough to dribble his way out of danger (averaging 2 successful dribbles per 90 in the process). An invaluable attribute in England with so many teams now pressing. Impressive given during this period he's played in two leagues and started in a variety of different positions. It implies his standards don't drop no matter where he features. It's a trait that must appeal to Klopp. The signings so far this Summer seem to indicate he's building a multi functional squad capable of changing formations within the match without any substitutions.
Wijnaldum is not only able to play in all of the three striking positions behind the striker, he's also able to play in the centre of midfield whether that be in a midfield two or a midfield three. It's all very much dependant on his partner. With a player like Wijnaldum, Liverpool are seamlessly able to switch from a 4231 to a 4321, a 433, a diamond or a 4411 formation. That functionality is an alluring prospect and definitely hikes his price up when compared to your bog standard Premier League central-midfielder.
Another appealing trait is just how quick he is. Many of his goals in black and white came courtesy of a counter-attack. Charging through the middle of the pitch he seemed to glide past players but even when running at such pace he was able to finish off the sweeping Newcastle attacks. Composure and calmness washes over him. The screenshots above show how he started deep but as soon as the forward dropped to link play he was on the move making the most of the space vacated by the attacker. He lingers on the shoulder of the last man after there is a big switch of play to the right-back before finishing off a well worked team goal.
It's becoming a rarity these days with modern day midfielders but Wijnaldum likes to get into the area in open play. He'll link the play up but instead of just staying outside the area he follows the play further forward and it's this desire coupled with him being a goal threat in general which has led to him finding the net on 27 occasions in the past two seasons. As I've mentioned in the past goals aren't transferable but if you play a style that suits a player the chances will come and if they're a goal threat then they'll put the ball away. It's definitely something Liverpool have lacked in recent years – a goal threat from midfield in open play.
Possible Weaknesses
He scored an unusually high amount of goals with his head for both Newcastle and PSV but outside of the penalty area he's not that dominant in the air, only winning 0.6 headers per 90 over the past two seasons. This may not be an issue given Liverpool have absolute units in Emre Can, Jordan Henderson and Marko Grujic in midfield.
Another area he could improve on is his tackling. He did average 1 tackle per 90 at both Newcastle and PSV but the amount of times he prematurely went to ground before missing a tackle for both teams was alarming. If you go to ground and miss the ball there's a chance of a booking or of the opposition breaking. He did only pick up one yellow card last season but given just how freely he jumps into tackles it's a mystery how he got away with it.
While he has played in a midfield two in the past he does lack a bit of discipline so beside him would have to be a much more defensively switched on midfielder. There are still some question marks over whether Emre Can is ready to do that job on a permanent basis so perhaps this signing is leaning towards Liverpool using a midfield three?
Why it should happen
Gini Wijnaldum for anything over £20 million may seem excessive and you may be able to reel off a list of better value for money players but if Klopp's happy with the player that should be enough. People will no doubt compare the Wijnaldum deal (if he signs) and the Mane deal to Premier League signings Brendan Rodgers made. There is a difference though; with Klopp's signings there's a clear player profile and you can imagine how these players fit into the system already in place effectively.
You're getting a goal threat in midfield, a player with explosive pace, you're getting dribbling from deep which breaks defensive lines and you're getting a player who can create something out of nothing both with and without the ball.