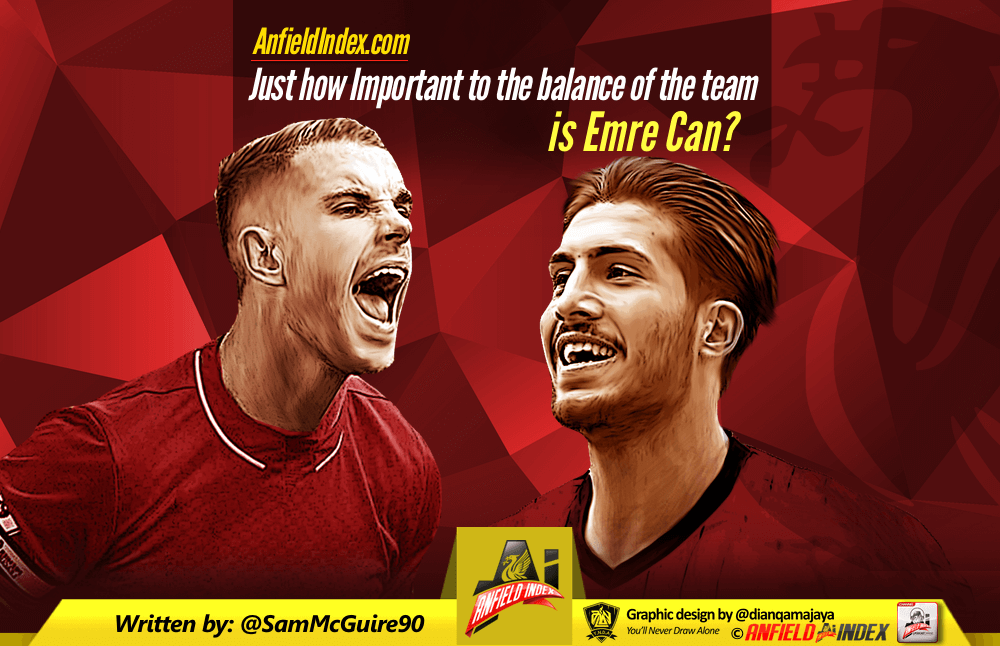 Just how Important to the balance of the team is Emre Can?
Before the transfer window even opened Liverpool manager Jurgen Klopp implied he wanted the bulk of incoming players to be signed before the club flew out to America for their tour. So far the Reds have brought in Loris Karius, Joel Matip, Marko Grujic (although he was signed in January), Sadio Mane Ragnar Klavan and Gini Wijnaldum has joined up with the squad now too.
Although some supporters view these dealings as underwhelming given the earlier links to a certain Mario Gotze, a marquee name that many yearn for, the overall feeling is Klopp has addressed  some of the issues within the squad.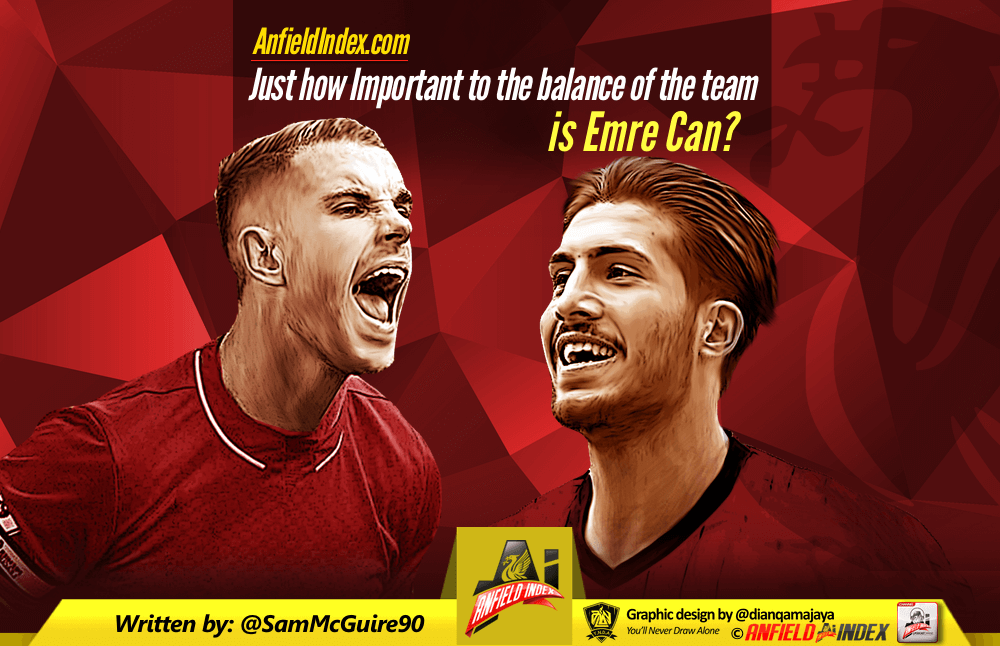 Loris Karius' arrival hopefully signifies the end of Simon Mignolet's reign as Liverpool's unchallenged number 1. The acquisitions of Grujic, Klavan and Matip highlight how Klopp identified just how physically lacking his side was. Matip and Klavan not only add aerial dominance to the defence but their proactive nature fits in well with Klopp's defensive ideas. Sadio Mane adds much needed pace, decisive running and goals.
With recent reports stating Liverpool's pursuit of Gladbach's Mahmoud Dahoud has come to a disappointing end, the news now coming from the club is that it's unlikely a deeper midfielder will be brought in before the transfer window ends.
With this in mind, the general thought on social media is LIverpool are a left-back away from a squad capable of challenging for a Champions League place. There are, of course, areas to upgrade on but not many feel the squad desperately need a certain player. If you ask 100 Liverpool fans to name their starting XI it will inevitably differ from person to person. There will, however, be some constants in the line-ups, Phil Coutinho is a definite starter for most and Emre Can is almost guaranteed to appear in every single line-up.
Emre Can is simultaneously overrated and underrated among the Liverpool fan base. He's a victim of the modern day football fan. Overrated by those who see he ends up being a world class midfielder on Football Manager and underrated by those who, because of the hype, expected Steven Gerrard reincarnated.
Some see his potential and notice the glimpses of genuine impressive midfield play in his game now whereas others see the hype on social media surrounding the player so judge him to higher standards now. Given his age, and the quality of his teammates, it's only natural that he fails to consistently live up to those high expectations so he's viewed as an average player who doesn't deserve the fan fare.
Although he isn't universally rated it's safe to say 99.9% of the fan base acknowledge if Liverpool want to win then Emre Can has to start. There isn't another midfielder in the squad who has a similar playing profile to the German. His fitness is taken for granted and what's worrying is the midfield, and to some extent the balance of the side, hinges on 22 year old Emre Can staying fit.
With all the links to various box-to-box midfielders it seems Emre Can will continue next season as the deepest midfielder for Liverpool. The deep-lying playmaker/defensive midfielder role. Basically screen the defence but start the attacks.
The squad isn't exactly littered with a high end midfield. Joe Allen and Lucas are both set to leave the club this Summer, Marko Grujic is still very raw, James Milner isn't a central midfielder, Kevin Stewart adds balance in a defensive sense but he's limited on the ball and Jordan Henderson would be wasted as a tempo setter.
Love or loathe Jordan Henderson, your bias towards him is irrelevant when you're looking at the bigger picture. You can be the biggest Henderson fan but it doesn't mean his strengths align with what's required from the deepest midfielder in a Jurgen Klopp system. Brendan Rodgers tried Henderson as the deeper midfielder earlier on last season and he seemed restricted, almost limited. The transition between defence and attack was disjointed. The role seemed alien to Henderson. When the onus is on him to create from deep he struggles. He's much more effective further forward.
Henderson limited as the deepest midfielder
In the screenshots above, taken from the Besiktas match, Henderson has time on the ball. There's a pass to Joe Allen clearly on. It's not particularly a hard pass. Allen is positioned to play a first time pass if necessary, perhaps between the two Turkish midfielders and into Adam Lallana on the right. If Henderson isn't confident enough to play that pass he could drive forward with the ball into the space before playing it wide right? Instead he dawdles, gets closed down and tries to cut back onto his right foot and he loses the ball in a dangerous position.
This time it's against Leicester. Henderson has the ball and could play a brave pass into the path of Adam Lallana. He'd have to play it between Ngolo Kante and Christian Fuchs but the pass is on. He could play a backheeled pass into Lucas who could then play it to Emre Can and he could run into the acres of space ahead of him.
Instead Henderson turns back on himself and looks to go backwards. He loses the ball after being pressure by Drinkwater and Okazaki and Leicester are two vs two running at Sakho and Lovren.
These are only two examples but there are plenty more to pick through.
Compare this with Emre Can

The above still is from the Palace match. Can plays the pass before Palace are actually back in their compact formation. The early pass, which does find Firmino, puts Liverpool on the front foot immediately because Liverpool have Henderson, Firmino and Coutinho already in behind the Palace midfield.
The screenshots are from the Capital One Cup final. Emre Can is on the ball and there's no obvious pass on. There are two City players ahead of him and most players in this instance would either punt the ball forward or play it backwards. Instead he plays an almost perfect pass to Firmino who is positioned in the space between both midfield and defence. He brings it down exquisitely and Liverpool are now getting at the Manchester City defence. There are five Liverpool players  against five City players. All because of Emre Can's vision and execution of a pass.
Who else in the Liverpool midfield has the ability to play such passes from deep? It turns defence into attack with one swing of the foot and bypasses any press or any compact midfield lines. No matter how Liverpool line-up, whether it with a midfield three or a midfield two, they need that sort of player.
Emre Can is by no means perfect but he offers a lot of things that nobody else in the current squad can and without him Liverpool lose that aspect of their game and have to go back to the drawing board. There is definitely a thought that Liverpool are now overly reliant on the player but it's this sort of responsibility, pressure and game time that help turn good players into great ones. Klopp is showing a lot of faith in the youngster and hopefully it pays dividends. This could be the season that Emre Can shows the world he deserved the initial hype.