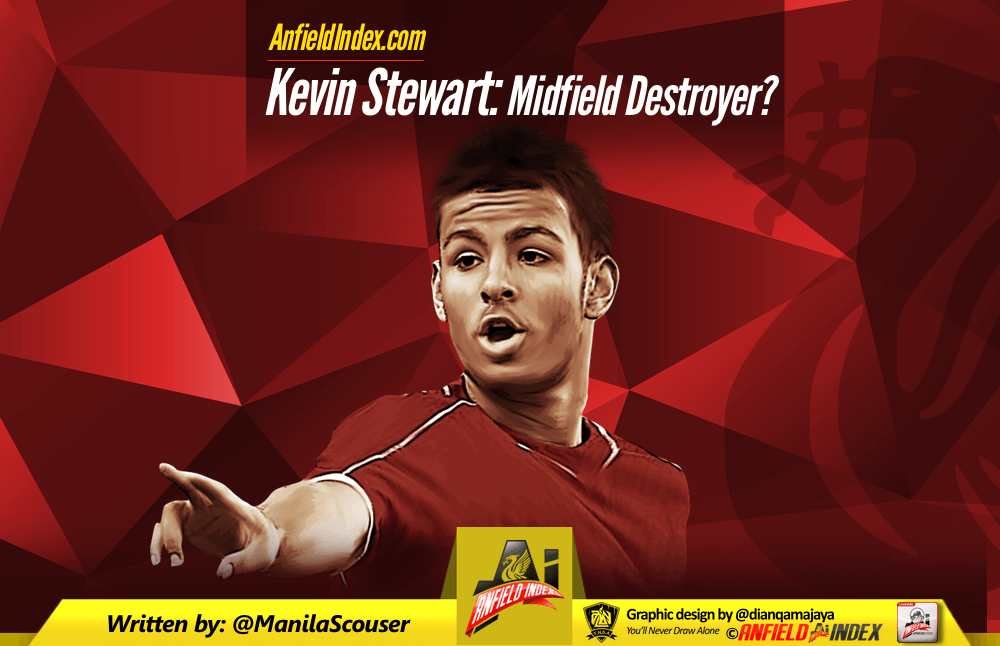 Kevin Stewart: Midfield Destroyer?

For months now, perhaps even years, we analyse our team's strength and weaknesses and form an opinion on what type of player we should target in the upcoming transfer window to bolster our squad, and there was always a constant figure in the equation, a defensive midfielder. Someone who is just a mad bastard in that midfield area, whose main responsibility is to protect the defensive line, making tackle after tackle, covering full-backs who push further up the field or any errors that would prompt a counter-attack. We've been searching for player who just does the dirty work, but that player was just right in front of us: Kevin Stewart.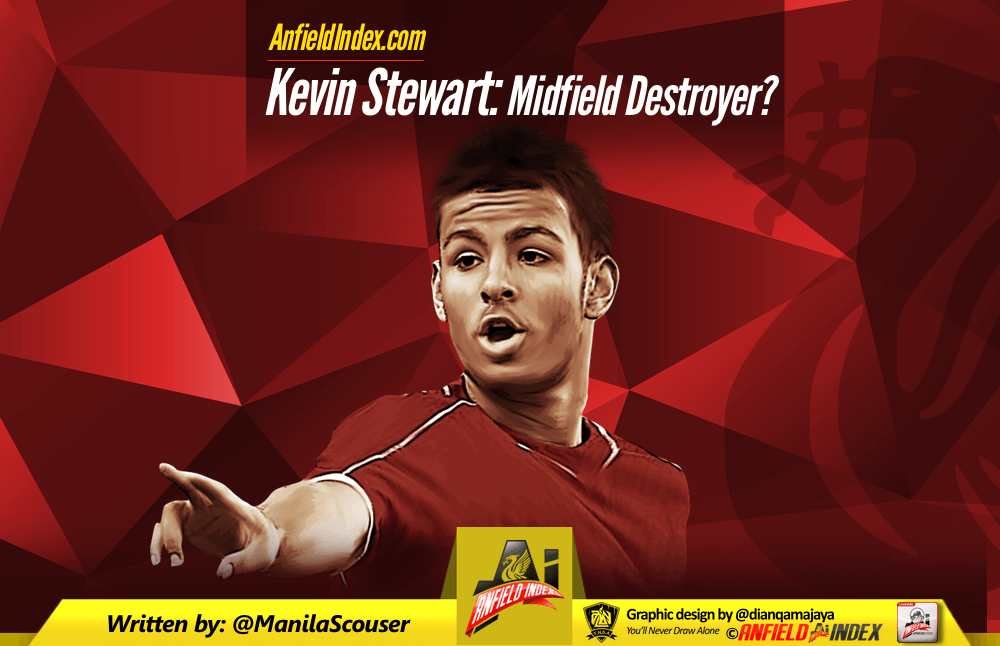 He joined Liverpool on a free transfer in July 2014 from Tottenham Hotspur, where he spent one year there professionally (loaned to Crewe Alexandra), following a three-year stint at their academy. He announced the move on Twitter when he said it's been a childhood dream of his to play for Liverpool Football Club.
Stewart spent six months at Melwood before he was sent out on loan in January 2015 with two other Liverpool reserve players to League 2 side Cheltenham Town. He started his loan spell in great fashion, scoring a goal that secured victory, however it only lasted a month as he was recalled to Liverpool after picking up an injury.
Two more loan spells followed, at Burton Albion where he scored on the final day of their season to secure the club's first League Two title. In 2015 he was loaned out to Swindon Town, but was recalled by Jurgen Klopp in January 2016, following an injury that kept him out for six to nine weeks.
He made his debut for Liverpool when they faced Exeter City, since then has featured 11 times for the club.
Strengths 
Kevin Stewart goes about his business quietly and neatly. He isn't one to steal the spotlight and produce jaw-dropping performances, but if you pay attention to him when he's playing, he's that player who executes performances that influence the outcome of a game.
If you've watched him in the preseason games this year and even when he's played throughout last season, you would notice that his movement and positional sense are remarkable. He occupies the spaces that are left out which could be prone to counter-attacks when the player alongside him busts forward to join the attack, or when full backs move higher up the pitch.
He also finds his way into the final third, running towards the opposition when his teammates lose possession, when more often than not, he puts in a good, strong tackle, or regains possession and recycles the ball. It's a bit of a stretch, but he looks like the Mascherano type we've been lacking.
Weaknesses
While being incredibly astute at recycling the ball, protecting the defence, and preventing attacks, he's the complete opposite on the other side of the pitch. He's not productive offensively. He's not very good with the ball, which is something Jurgen Klopp requires of all his players. He doesn't take on opponents, but instead passes sideways or back to the goalkeeper or centre-half when he's under pressure. He also lacks height to prevent long balls, which is a big weakness of the team.
Basically to sum it up, he's no good offensively, and switches off in the final third.
Kevin Stewart is the midfield destroyer we've been looking for, and he was right there, staring at us, already employed by Liverpool. He's exactly that no-nonsense defender. I would really love for Stewart to become a regular name in the Liverpool squad, but his age is what concerns me. He's suffered a lot of setbacks due to injuries. Turning 23 in a few weeks, he still hasn't properly broken into the squad. Time is running out for him to do so, and he would need to take massive strides to improve, very quickly I must add, if he wants to become a first-team regular at Liverpool.  However, I have faith that Kevin Stewart is a late bloomer rather than a player who's missed years of development.  Furthermore, I believe that Jurgen Klopp can harness his strengths and develop his weaknesses.
But in the event that he's unable to address the aspects of his game that needs improvement, there are quite a few players who are younger, highly regarded, who came from Kirkby. The likes of Pedro Chirivella, Ovie Ejaria, and even Trent Alexander-Arnold (although I do think his best position is at right-back), all who are under the age of 20, who could be developed into the same mould with something to offer offensively.