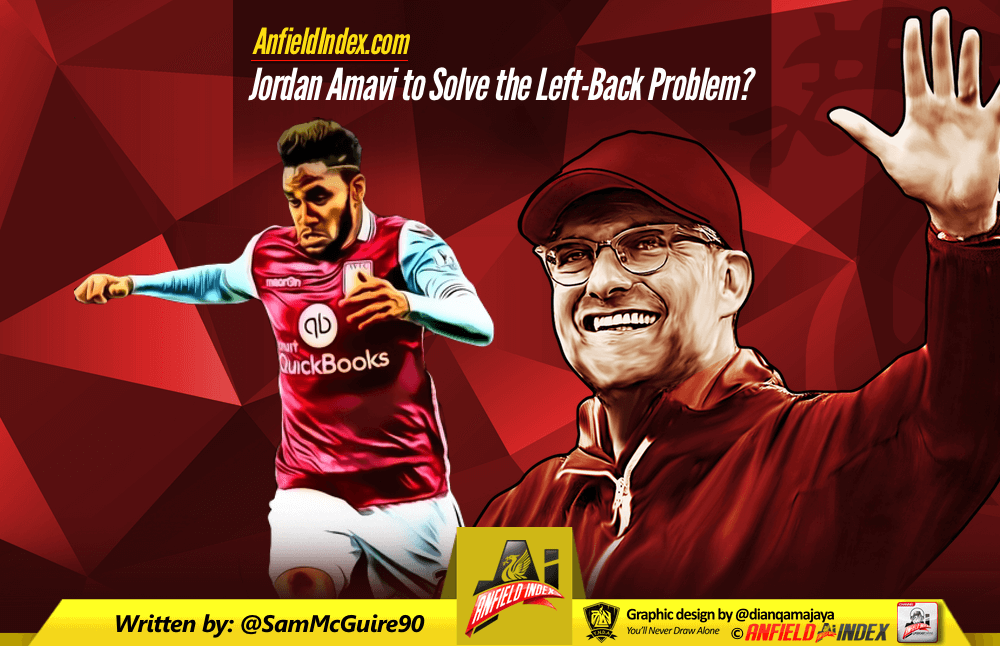 Jordan Amavi to Solve the Left-Back Problem?

French media outlet Le Parisien broke the news on Wednesday evening that Liverpool were reportedly interested in bringing Aston Villa's left-back Jordan Amavi to Anfield. The highly thought of French u21 international only featured on 10 occasions for VIlla following on from his £9 million move from Nice before an ACL tear put a premature end to his debut season in England.
Although he is back fit and in training, VIlla boss Roberto Di Matteo is determined to ease him back slowly and the full-back is yet to feature in any of the clubs preseason matches. However, he has been given the all clear to play and this is nothing more than the club being cautious with a player they feel is valuable, both in a financial sense and a playing capacity.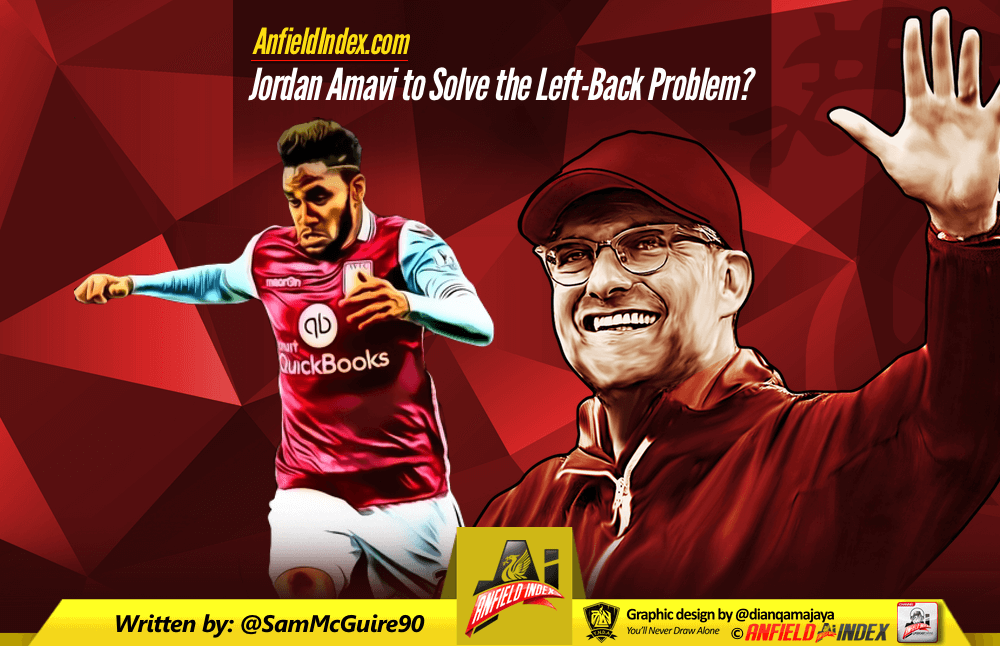 It came as a shock to many when last summer he opted to move to Aston Villa. An underwhelming move given earlier in the transfer window he had been linked with moves to Lyon, Chelsea and Paris Saint-Germain. This was a player touted as a potential starter for France if he kept on progressing at the rate he was. Ultimately the Midlands club were the only team to stump up the money to tempt Nice into selling. It was viewed as a stepping stone move for the talented left-back.
There have been question marks over the incumbent of the left-back position at Liverpool with Alberto Moreno not filling many fans with confidence after a series of unforgettable errors. Now, more often than not Moreno's errors aren't costly and he's fortunate enough to get away with it but they're the sort that stick with supporters and at any given moment these people have a long list of Moreno errors right on the tip of their tongue. The doubt is there and unless there is a dramatic upturn in his productivity it's hard to see the mood changing.
A link to Koln's Jonas Hector didn't come to fruition and the inability to agree a fee with Leicester for Ben Chilwell means Amavi may be top of the list if the club do want to bring in a left-back to rival Moreno.
Why Amavi?
In modern day football it's not often you see a good all-round full-back these days. There is too much emphasis on them being an attacking threat so it means they sacrifice the defensive side of their game or they're defensively solid but forget about the attacking side of the game. Amavi genuinely falls into the all-rounder category.
Villa didn't have the best of seasons but they did at least try to play football unlike some of the other bottom half clubs. Their build up play wasn't the quickest but they did look to get the ball wide and Amavi was an outlet on the left. He supports the attack but not in a reckless manner. It wasn't hoofball or just using the full-backs to put crosses into the box from deep, they tried to work the ball into dangerous areas and Amavi seemed comfortable with the ball at his feet. It's worth noting here that you wouldn't often find Amavi 20 yards ahead of the ball like you would Moreno at times, he tends to push further forward as the play progresses so not to expose his flank and get caught on the counter.
He averaged 38 passes per 90 in those 10 matches for Villa which is in line with his average from his two seasons with Nice. Again when you look at pass completion he's fairly average throughout his career coming in at 78%. Alberto Moreno averaged 41 passes per 90 last season with a 81% pass success rate. Not too dissimilar.
He's quick over long distances but it's his burst of acceleration over the initial 10 yards that gets him away from players. His recovery runs and tackles are what you'd expect from a player with his speed, not many attackers will get away from him and if they do he's going to catch them. He doesn't naively dive in to tackles and looks to stay on his feet when possible.
His stats at both Nice and Villa are impressive.  In his full season at Nice he averaged 3.9 tackles, 4.8 interceptions, 3.9 clearances, won 3.1 aerial duels and was only dribbled past 1.5 times per 90. At Villa those stats didn't drop much – 3.7 tackles, 3.8 interceptions, 3.2 clearances, 2 aerial duels won and dribbled past 1.1 times per 90.
Moreno's stats for 2015/16 – 2.9 tackles, 2 interceptions, 1.5 clearances, 0.5 aerial duels won and he was dribbled past 1.1 times per 90. All stats courtesy of  Opta.
People may not give defensive stats much credibility but even if you just look at aerials won, Klopp looks his teams to be dominant in the air. Amavi's strength in the air is surprisingly good for someone who comes in at just 5ft 9. Then look at interceptions and tackles. If you're winning the ball back more then there's more chance of starting an attack.
Amavi isn't as attacking as Moreno. He averages less key passes per 90 and has fewer shots but he does complete more dribbles and wins more fouls than his Liverpool counterpart.
What's really appealing when it comes to Amavi is his use of the ball. He keeps it simple when in possession and always seems to be in control of the situation. He won't just run down blind alleys and he's happy to make an under-lapping run if a team mate is hanging out wide. He has a peach of a left foot and his delivery would leave Christian Benteke erect. His crosses are dangerous and with the likes of Firmino, Mane, Wijnaldum and Henderson all liking to arrive late into the area his balls into the box could cause chaos for the opposition.
His final ball could be better but aside from that there aren't any obvious weaknesses to his game. Not many that stand out anyway. One concern however is just how well he's recovered from the ACL tear. With Liverpool already having Danny Ings and Joe Gomez in the squad, both coming off the back of ACL tears, adding a third may be seen as a risk. It's also worth remembering that Liverpool were linked with Amavi the summer they signed Moreno, so he's been on the radar for a few years and he's a player who seemingly fits the profile of the 'Transfer Committee'. Given his injury and the lack of apparent interest in the player it's unlikely Villa could command such a high fee for the player, £15 Million may suffice.