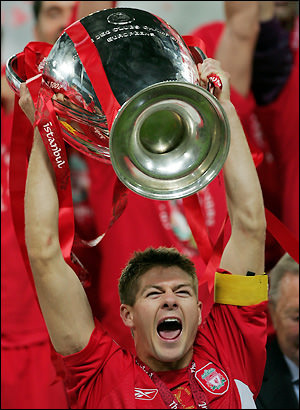 Our best captain of the 2010/11 season
Unlike previous seasons Liverpool have had to use three captains, due to injuries and suspension to our normal candidate Steven Gerrard.
So far in Gerrard's absence Jamie Carragher Liverpool' s vice captain has taken the step up, but in both of their absences fan's favourite Pepe Reina has made the arm band his own.
But which captain has had the most success this season?
Jamie Carragher, has the highest win percentage as skipper at 55%, while Reina is placed in second with a 50% win rate.
 Gerrard trails the pack with only 40% of his matches as captain won.
Our regular captain has been the least successful of this season's three skippers, losing 8 of his games with the arm band (40%).
Pepe Reina then follows him, losing 30% of his matches as captain, Carragher once again leads the pack only losing 22.5% of his games.
But with each player captaining a different amount of games the real test to see who takes home the captain of the season, comes down to points won per game.
Gerrard over his 24 matches as captain has earned on average 1.2 points per match.
Above him is goalkeeper turned leader, Pepe reina earning 1.7 points per match, over his 6 games.
But once again Jamie Carragher leads the pack earning an impressive 1.9 points per match, over the course of his 9 games as captain.