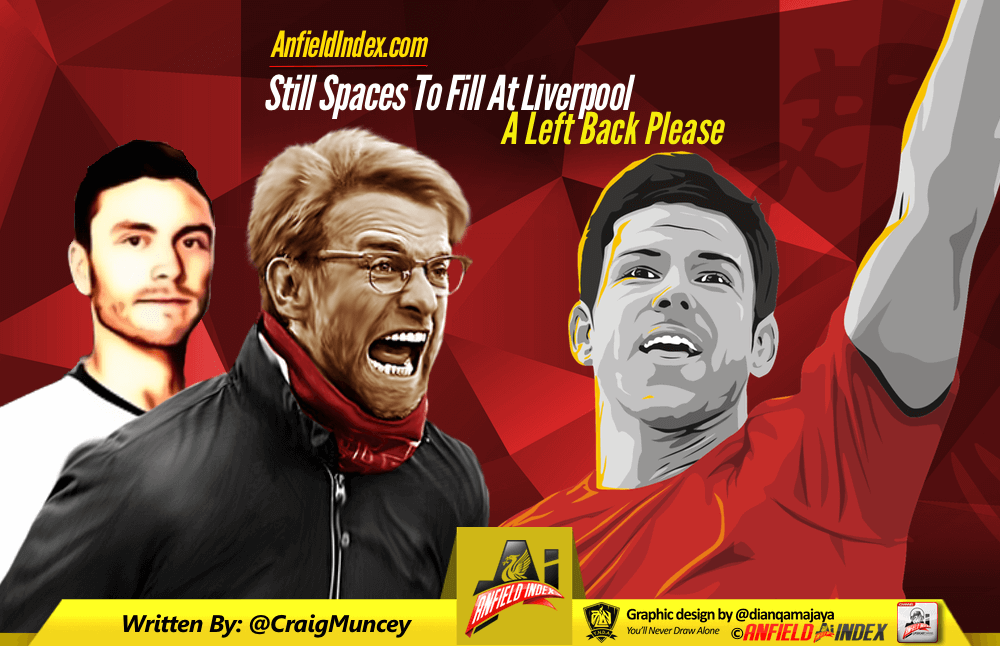 Still Spaces To Fill At Liverpool - A Left Back Please
AI writers have got together and what will follow will be a series of articles where in an ideal world scenario, if we could still have one further acquisition to enhance the Liverpool playing squad who would it be, and what position would that player fill.
As we know Liverpool have been very busy in the off season bringing in a number of players, in attacking positions  we now have numerous options to cause opponents problems, and how Jurgen Klopp manages those options and formations Liverpool play will be fascinating to watch.  We have spent a decent amount of money and have regained some of that money by selling some players, and I am sure there are more players to leave before the end of the transfer window, however, the one position that we have not recruited for, which has been a major surprise to me to date is at left back.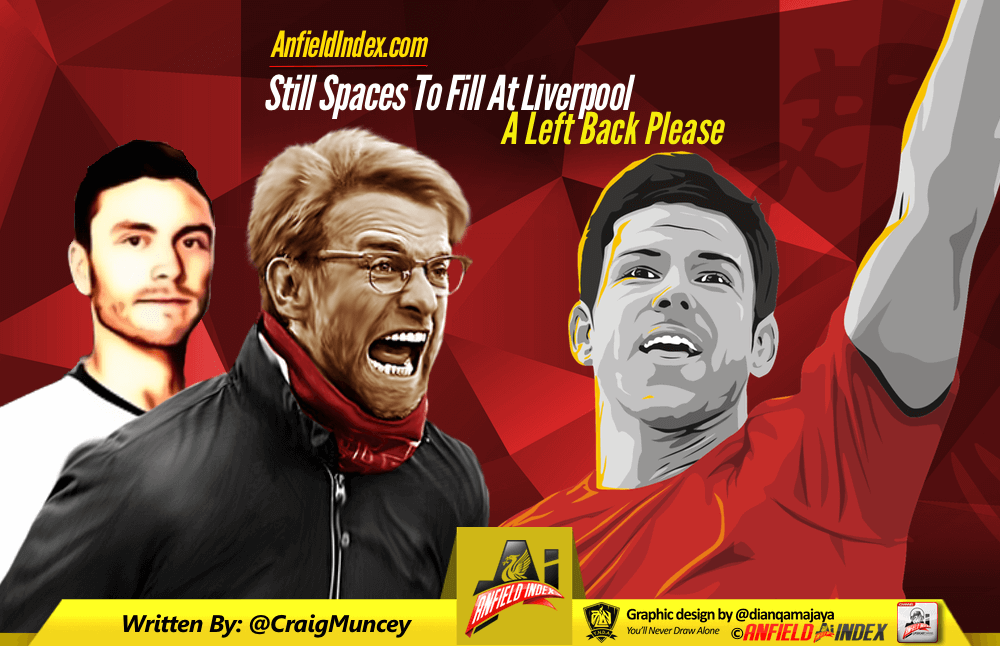 If you have read my articles in the past you will know that I still firmly believe that a full back's first priority before anything else, is the ability to be able to defend. Can the player stop crosses coming into the box?, does he have good positional sense?, Is he alert to identify pending dangers?, and overall, does he show a willing appetite to defend?  In my view, Liverpool have not had a left back who consistently has shown these traits since John Arne Riise, so we are going back to when Riise left Liverpool which was in 2008.
A lot of full backs nowadays are great athletes who can get forward, and in a lot of cases, they provide the only width for a number of sides whose attacking formation is narrower, with no out and out wide players.  Players tuck in, allowing the more creative attacking players to try and link up with a lone striker more centrally. We seem to be in a world of a lot of number 10 type roles, players who like to play just off strikers.  So the full back role has changed a lot, however, in my view if your playing with a lot of creation in attack, with a lot of flair, and not an out and out defensive shield or shields, in front of you, then your full backs need to be able to defend, otherwise, there is real danger when you don't have the ball you will be overrun.  An example of this has been the great Barcelona side of recent years.  Both Dani Alves and Jordi Alba plough forward at every opportunity but they have the knowledge and security that Sergio Busquets will provide the security blanket if they are caught out of position.
As we all know the current incumbent in the left back role for Liverpool, is Spaniard, Alberto Moreno.  The player provides a great outlet in attack, has great pace and can bomb forward on the overlap for the whole match, however, in defensive situations, he is an accident waiting to happen.  Positionally, he gets caught out numerous times, he is not great aerially when isolated by an attacker who is attacking crosses into the box, and numerous times Moreno throws himself into challenges, which are poorly executed and thought out, leaving holes in the Liverpool defence.
Other options currently within the playing squad are Brad Smith, Jon Flanagan, Joe Gomez, Ragnar Klavan, Mamadou Sakho and Dejan Lovren.  Smith for me is not good enough to play regularly at the top level, Flanagan is still fighting his way back to full fitness, Gomez is injured, and Klavan, Sakho and Lovren are all centre backs first and foremost, who have over their respective careers filled in at left back, but that is more of a stop gap than anything else.
Liverpool have been linked with a number of left full backs over recent months, some of the names mentioned have been Ricardo Rodriguez, Ben Chilwell, Aaron Cresswell and most recently, Jordan Amavi.  Chilwell and Amavi are young players with bags of potential, Rodriguez and Cresswell I really rate, both very good left backs, but the player I would choose is another player we have heard mentioned but I left off the above list so I could cover off in more detail, that player being Jonas Hector.
The 20 times capped German international for me, is the best candidate to fulfill the left full back position for Liverpool FC.  The player is 26 years of age, stands at six foot one inches tall, so is a good age for a player in terms of reaching his peak of his playing career soon, and with his height and aerial ability provides yet more defensive cover in our problematic area of set pieces.  Hector can provide an outlet in attack as he recently showed fans in The European Championships for Germany, and is good on the ball with strong distribution.
For me what would make him an outstanding acquisition, is his defensive work.  He is very aware of potential dangers to his team, he uses his body well in tight situations and has a real hunger to defend.  Last season he had the most opposition crosses blocks in The Bundesliga, 20 in total. So he eradicates potential dangers before they even happen, something Liverpool could really do with.
I am really excited by the transfers Liverpool have made for the new season ahead.  Sadio Mane and Georginio Wijnaldum bring real pace, attacking threats and goals into the attack in addition to what we already had.  In terms of where he accommodates Winjaldum in particular will be interesting, will he play him as a double pivot with Emre Can? Or play 3 in midfield of Winjaldum, Can and Jordan Henderson with Can in the most defensive role? Whatever Liverpool play in that midfield, in my view none of those players mentioned naturally sit and play a disciplined role in front of their defence, so for me to have a full back who is strong defensively is imperative, and for me Jonas Hector is worth paying around £25 million for to seriously strengthen Liverpool's hopes of challenging next season.