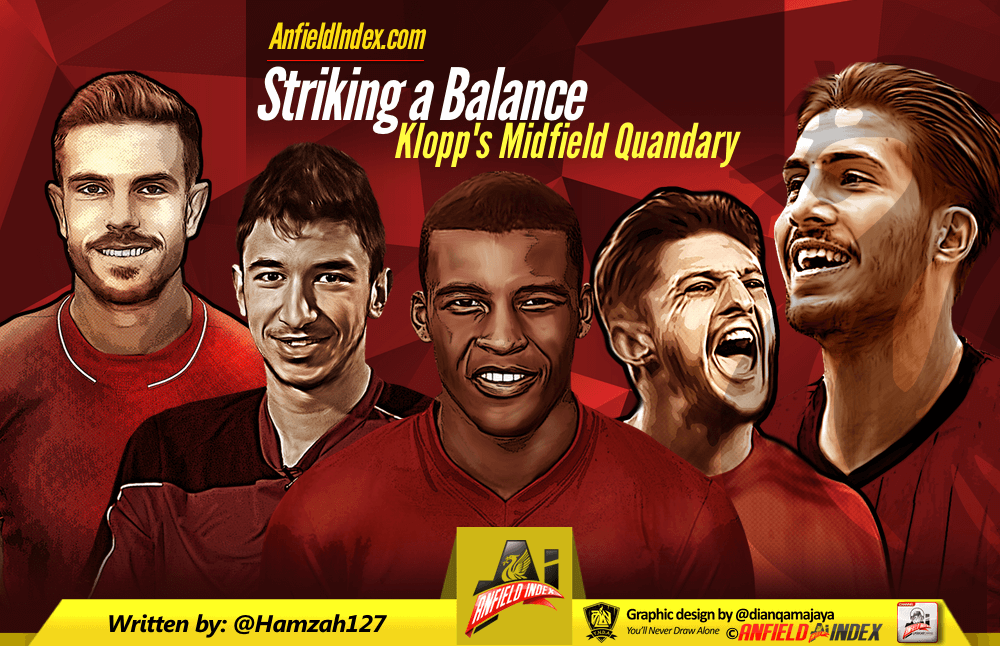 Striking a Balance: Klopp's Midfield Quandary
"It's all about balance."
A few days ago, Jürgen Klopp uttered the phrase above, and whilst I may have contorted and bastardised the quote for the purposes of a tactical discussion, despite it being about transfers, this particular quote resonates with the approach any manager must have when building a successful team. Take for instance, the 4-2-3-1 system, the go-to formation for Klopp, with an inbuilt mechanism for a high energy, fast paced, intensive pressing game; indeed the formation was described by, then Real Madrid manager, José Mourinho, as one of "balance" too, with it providing cover for the offensive full-backs through the defensive midfielders, and support for the striker via the three attacking midfielders. Yet the desired equilibrium in the team is not limited to just the formation, but even more importantly through the personnel employed within that formation. As seen especially so under Brendan Rodgers in 2014/15, without the suitable players in a particular system, the attacking threat of a team can be negated; but arguably much of this came about through a lack of attacking variety in the team. Over the past two seasons, Liverpool fans in particular have witnessed the one-dimensional approach that both Liverpool's midfield and forwards have taken in matches – often becoming frustrated and confounded by defensively minded teams. Much of this comes about through a lack of a secondary plan or style; although do not confuse this with the 'Plan B', long-ball option of Andy Carroll, Rickie Lambert or Christian Benteke – rather this is about some of the players being too similar, and the mindset being too predictable.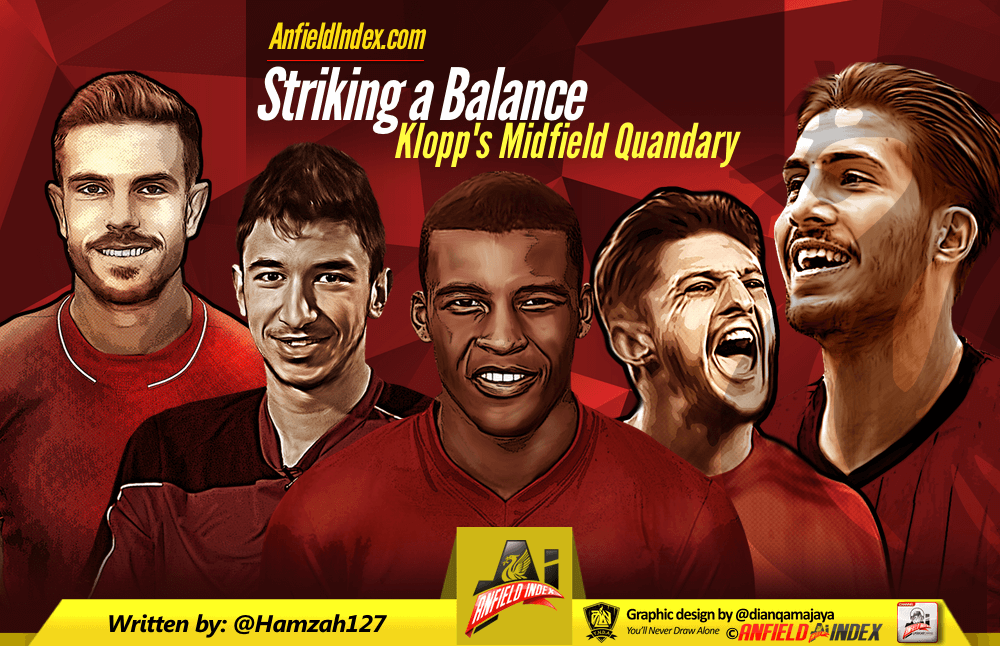 Most importantly though, is that within all teams, there is a basic necessity for variety, and if we were to break 'variety' down into the simplest of forms, we could say in all good teams, there is a requirement for pace (especially out wide, and preferably up front), creativity (in both CM and CAM positions), goals (from all areas of the team, the striker, the attacking midfielders, the defensive midfielders, from time to time, and the defenders too), exceptional dribbling skills and control of the ball (especially from the striker/attacking midfielders) and strength (in both the defence and defensive midfielders). The list could certainly be expanded, but for the purpose of this piece, we shall be looking at the strengths and deficiencies within the midfield, the issues that they have already caused, how they have or have not been addressed, and ultimately how Klopp may look to resolve certain issues.

During the 2015/16 season, in certain games, Liverpool's three attacking midfielders looked almost pedestrian; much of this came through the lack of variety that they offer from each other as individual players. Coutinho, Firmino and Lallana, whilst all impressive players, with fantastic dribbling ability and ball control, lack the blistering pace which more often than not puts opposition defenders on the back foot, and is necessary for both a counter-attacking and counter-pressing style of play. Opposition teams would find it easier to defend against this, and often frustrated Liverpool, who would resort to passing the ball around in the opposition's half of the pitch, but rather aimlessly and lacking a clear approach from a deeper creative midfielder. Herein lies another issue, which will be addressed later; now whilst the signing of Saido Mané appears to have directly addressed the deficiency in pace within the '3' (of the 4-2-3-1 system), there is still an extremely heavy dependence upon the strikers alone to score the goals for Liverpool, especially Daniel Sturridge. As noted earlier, goals from all departments within the team are one of the necessities for a winning side.
Now, back to the issue of the overtly similar composition of the three Liverpool attacking midfielders.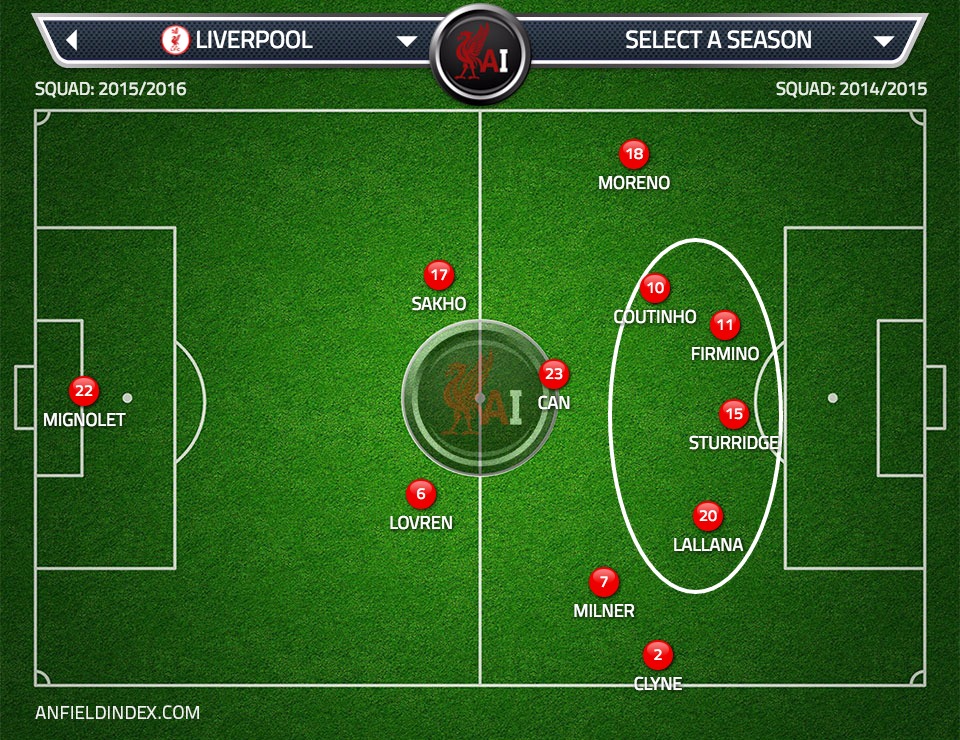 Above is a typical depiction of Liverpool in possession last season, with Coutinho, Firmino and Lallana the three attacking midfielders. Games such as the 2-2 draw against West Brom illustrate perfectly the difficulty Liverpool's attacking midfielders had breaking down defensive teams. As you can see though, their typical positions were far too condensed and central. It is fine for the CAM to sit just off the striker in a 4-2-3-1, and perhaps even the LAM or the RAM not to be too dissimilar to an inside forward, however, the team's play will become very congested if there are three attacking midfielders, all effectively playing as CAMs and all of whom are fairly similar in style.
This is much easier to defend against than say the setup that Manchester City have; where De Bruyne plays the role of the goalscoring midfielder out wide (and a creative one), Silva as the creative CAM, and Navas or Sterling as the fast winger, designated to isolate the full-back, stretch the defence and put crosses into the box. Liverpool on the other hand, during last season, had three players all looking to play the same role, and often neglected the rather important duty of stretching out the opposition's defence (as Coutinho and Lallana, who would both usually be on the left and right sides respectively, came inside far too much and did not take on, or isolate the full-back opposite to them). Which is why, many a time in the season, Moreno and Clyne were relied upon to provide the vast majority of width and pace within the team, and we would often see James Milner moving out wide, and playing closely with Clyne, to fulfil the role that Lallana was meant to do. As noted earlier though, the signing of Mané may well go a long way in addressing this issue of width and pace, but whilst there is now a greater degree of variety in the attributes of the squad, there is still a requirement for a greater tangible contribution from Liverpool's attacking midfielders.
If we were to look at the Premier League statistics from the 2015/16 season, and then compare them to rival players in similar positions, we would see:
Phillipe Coutinho: 26 games, 8 goals, 5 assists – contributing directly to a goal in every 2 matches
Roberto Firmino: 31 games 10 goals, 7 assists – contributing directly to a goal in every 1.82 matches
Adam Lallana: 30 games, 4 goals, 6 assists – contributing directly to a goal in every 3 matches
Sadio Mané: 30 games, 11 goals, 6 assists – contributing directly to a goal in every 1.76 matches
Both Firmino and Mané appear to have chipped in their fair share of goals to the team, and actually compare rather favourably to Alexis Sánchez (30 games, 13 goals, 4 assists – directly involved in a goal every 1.76 matches), and even to the 2014/15 Eden Hazard (38 games, 14 goals, 9 assists – directly involved every 1.65 games), but not as well when compared to Kevin De Bruyne (25 games, 7 goals, 9 assists – directly involved in a goal every 1.4 matches). The outlier here is clearly Adam Lallana, who has notably been criticised in the past for his direct contribution to the team; now whilst Lallana is expected to make way for Mané in the starting XI, he clearly does not offer the impact from the bench that a team requires when chasing a game. In this respect, Klopp may look to secure an attacking midfielder, or winger, known for scoring more goals, to relieve some pressure from Sturridge, Origi or Ings – perhaps Wijnaldum will go some way to solving this concern.
Generally speaking, the attacking midfielders do fairly well in contributing directly to goals, the issue of pace appears to be resolved via Mané, and both Firmino and Coutinho's assist record would support the notion that there is enough creativity within the attacking third of the pitch. However, there is a large issue that so far has still not been addressed by Klopp, even with Grujic and Wijnaldum both adding pace and strength to the midfield – the issue of central/defensive midfield goals and creativity.
Since the departure of Steven Gerrard, and perhaps even before that, the Liverpool midfield has desperately lacked balance and a direct contribution to goals. There is a clear lack of creativity from the heart of the midfield, which is crucial for any team with aspirations for a top 6 finish, let alone the top 4, or the title. Much has been made of the need for a 'strong spine' of the team, but what is more important, is the variety and different qualities offered within that 'spine', and how that contributes to goals, assists and perhaps even more importantly, the overall performance of the team – which indirectly comes through the tempo of the game set by the central/defensive midfielders.
Emre Can, Jordan Henderson, and Marco Grujic, from what I have seen thus far, all are brilliant box-to-box midfielders at their best, however, in the 4-2-3-1 formation that Klopp favours, the '2' central midfielders cannot both be box-to-box players; there needs to be some protection for the defensive line, especially as the Liverpool full-backs push extremely high up the field, but also, a player that can control the game from deep, so Liverpool do not get stagnated when in possession, as we have seen many a time.
If you believe that both Henderson and Can should play together, or that Grujic and Can should instead, despite the issues of the 'one-dimensional midfield' mentioned earlier, perhaps a look at France's 2-0 victory over Albania at Euro 2016 would be suitable. In that particular game, Paul Pogba was dropped from his central defensive midfield position (in a 4-2-3-1 system like Liverpool's), so that both Kante and Matuidi could play together as the holding midfielders. Yet for the entire period that those two played together, France lacked impetus, control and creativity from the heart of midfield, much like Liverpool have in recent years, simply put, they both did the same job and offered nothing extra to the team going forward than if only one of Kante or Matuidi were playing. Eventually Pogba was brought on and added much-needed control to the game, and there was no real loss to the defensive element of the French midfield. Having witnessed the Liverpool attacking midfielders being too similar and the effect that had in games where the forward line appeared defunct, it is of paramount importance that the individual central midfielders offer something different and unique to the team.
The entire midfield as a collective body needs balance, and currently it appears that Liverpool's midfield lacks it. If we were to look at some of the most successful midfields of recent years, we would find that regardless of the system, be it a 4-2-3-1, 3-5-2 or a 4-3-3, the most successful midfields usually have a creative player sitting alongside a more defensive protector of sorts, for example; at Barcelona, Busquets and Xavi, or now Busquets, Iniesta and Rakitic; at Juventus, Pirlo, Marchisio and Pogba; at Real Madrid, Alonso and Khedira, or Kroos, Modric and Casemiro; and Bayern Munich, Vidal, Alonso and Muller. The list of examples could go on, but the point stands, that there is a necessity for different qualities amongst the midfielders, to prevent the team from becoming one-dimensional – an issue Manchester United had, when playing Schneiderlin and Fellaini together, or even with Schweinsteiger – which raised another issue, with the team becoming too slow in midfield – something Liverpool will certainly look to avoid.
Not only is there a lack of creativity; with Can, Henderson and Lucas not famed for their assist record or contribution to goal scoring chances, but there is also a lack of goals from deep too. One aspect of a strong, winning team is that goals can come from a variety of different styled players in alternate positions. Within the group of central midfielders there is not a recognised playmaker, nor is there an established goalscorer – both of which are paramount to a top side, and which also relieves pressure from the attacking midfielders and strikers. The best example of a goalscoring midfielder in recent years is Yaya Toure, and whilst he may now have passed his peak years, in the 2013/14 Premier League season Toure scored an astonishing 20 goals and notched 9 assists, all in 35 games. Now while expecting this from any central midfielder in the current Liverpool squad is both fairly unreasonable and unrealistic, it illustrates the high quality of the players that rival teams possess, and Liverpool will need a midfielder who can control the play from deep, but also one that scores goals too to compete against such teams. Thus it appears that Liverpool may need to sign at least one more midfielder and Can/Henderson/Grujic will all be expected to contribute to the scoreline much more often, to achieve the right balance within the team and avoid the failings of the last two seasons.
It is widely expected that Liverpool's attacking midfielders will be Firmino, Coutinho and Mané; and from the evidence and statistics looked at, that appears to be a group of attacking midfielders that will bring goals, assists and will also trouble most defences in the league. One concern may be the lack of depth in these positions if one of those players were to be injured, but with Ojo, Wijnaldum and Lallana on the bench, and no involvement in European competitions this season, that particular fear can be allayed. One of the main issues though, is how to fit in Henderson, Can and Grujic into a midfield and to get the appropriate defensive protection from one of them – perhaps Grujic will be that man, or Can, if they decide to rein in their offensive instincts – but creativity from the heart of the midfield is arguably the biggest concern Klopp currently faces, and whether to try to bring in another midfielder; or perhaps to nurture Can, Henderson or Grujic into the new midfield maestro Liverpool have been crying out for, with one of the others moulded into a prolific goalscoring box-to-box midfielder, with the last developed into a defensive powerhouse.
Ultimately, time will tell how Klopp approaches this rather intriguing challenge, all while trying to maintain balance and variety within a winning team.