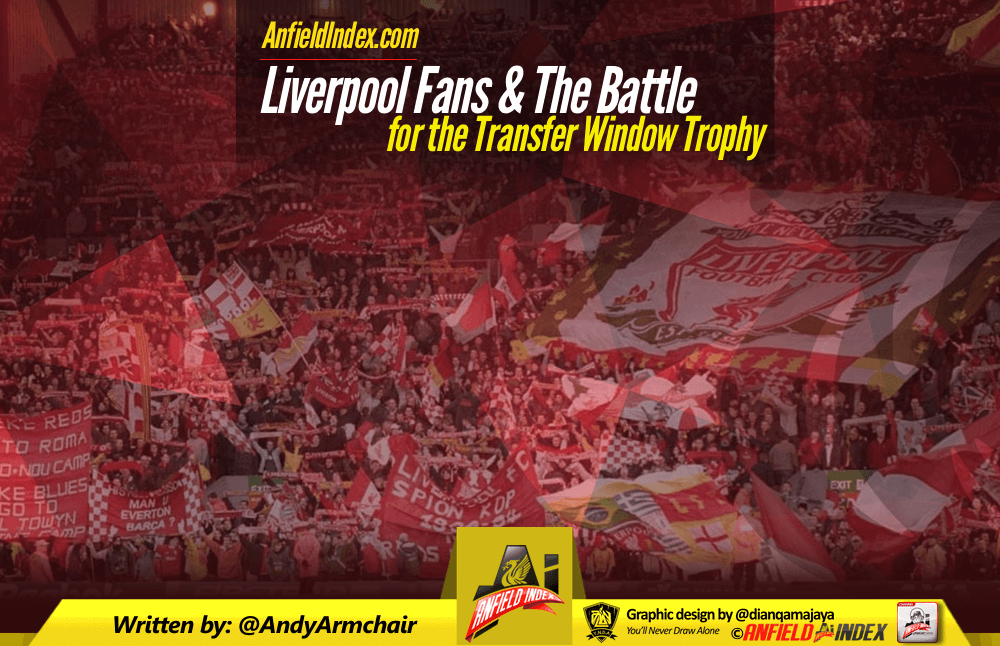 Liverpool Fans & The Battle for the Transfer Window Trophy

It was a year ago that I wrote here on Anfield Index about the Transfer Window Trophy, an imaginary piece of silverware that rival fans battle over with growing ferocity. It seems to me that in the past year, little has changed and if anything, the battle for the Transfer Window Trophy has got worse and more intense.
Social media is full of it, a determination to fight over almost every transfer in the market, regardless of whether or not their respective clubs are involved. The battle appears to be predominantly split into two groups: those who are determined to award their own club this summer's Transfer Window Trophy and those incandescent with rage at what they see as their own club not in with a chance of winning the most prestigious of all cups.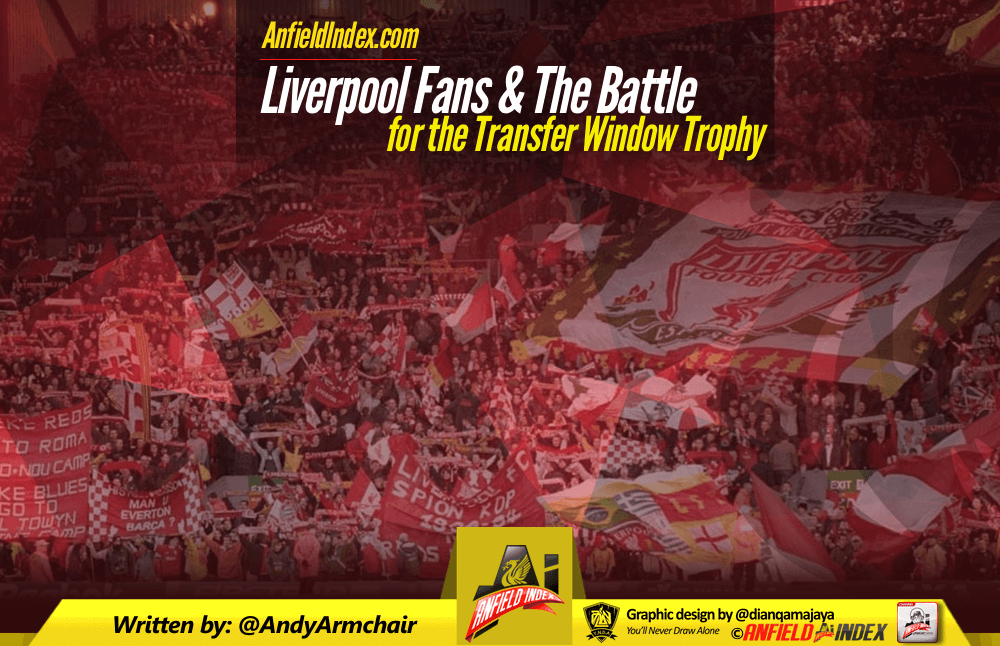 Too often it seems there are some who are caught up in the world of FIFA Ultimate Team, as though they use that as a gauge of a players' value. Like signing players is just about collecting the most glamorous and hyped up names and thinking that guarantees success. How quickly people have forgotten that it was Leicester that won the Premier League, without any star name signings; instead, they had a plan, did their homework, scouted the right type of players to fit their team and with the right spirit and coaching, developed a level of understanding, confidence and belief that carried them to the most unlikely of title wins. Manchester City and the then defending champions Chelsea had, what was on paper, far superior teams and squads, but both flopped. City lacked balance, cohesion and consistency; whilst Chelsea came apart at the seams as they imploded on and off the pitch, costing Jose Mourinho his job. Manchester United were another who spent bigger than anyone else, but failed to look like a cohesive team on the pitch.
Spending big on the big names guarantees nothing and whilst having the best individuals can give you moments of brilliance that can change a game, it doesn't necessarily improve you as a team and the majority of the time, a good team will beat a good collection of individuals.
At times it seems a portion of our fan base are worrying themselves more with who our rivals are signing than the business our club is doing. If United want to spend over £100m on Paul Pogba, then let them get on with it. Excellent player though he is, he wouldn't guarantee success, regardless of the over-inflated fee. I've even seen some of our fans bemoan us not trying to sign Zlatan Ibrahimovic; would you hand over an €18m a year contract to a player fast approaching his 35th birthday and whose work rate and team ethic do not match that of our team? Again, people are being drawn in by name value.
The best transfers are usually players who have been well scouted and researched, whose character, mentality and attributes fit those of the profile for who and what is required within the team and squad overall, irrespective of cost. Sometimes the right signing might be a £40m player, but other times it can turn out to be a shrewd £5m one. United fans have ridiculed Liverpool for spending somewhere in the region of £34m on Sadio Mane, whilst they signed Henrikh Mkhitaryan for €42m (approximately £36m), but what if Mkhitaryan goes the same way of Di Maria and Mane is a success? What if Pogba fails to live up to his huge potential, but Marko Grujic becomes as good as him? Signings should not be judged on hype and name value and certainly not before a ball has even been kicked this season.
So, if Liverpool's current transfer policy bothers you because of abuse you get off rival fans on social media or at work or even down the pub with mates, then grow thicker skin. The Transfer Window Trophy is not a real thing, the real trophies are won towards the end of a season, the same time when signings can really start to be judged. Let the manager and his staff find what they feel are the right players to suit their long term plan and worry less about opponents signing the high profile names that the Sky Sports brigade have heard of.