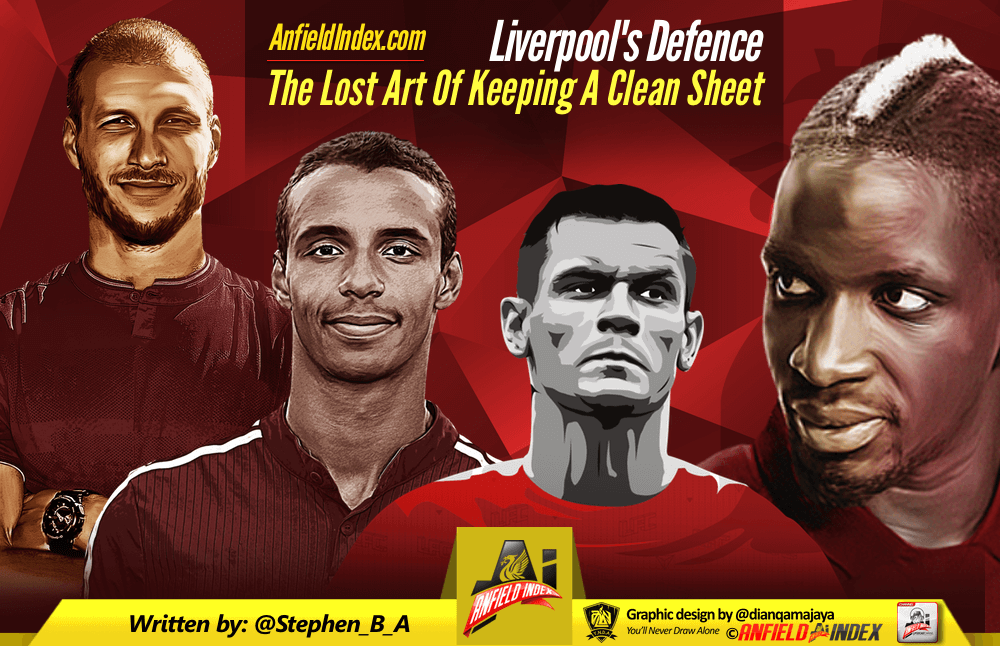 Liverpool's Defence: The Lost Art Of Keeping A Clean Sheet
…And Liverpool's right centre back conundrum.
Ever since the halcyon days of Jamie Carragher's partnerships with Sami Hyypia and Daniel Agger Liverpool fans haven't witnessed a truly balance centre half pairing at Anfield. We've seen Skrtel, Kolo and a selection of left sided centre halves trying to fill the void at right centre back.
The club's transfer committee and last two managers have bought in a growing list of specialist left sided centre backs. Sakho, no doubt the club's best defender. Lovren, a misfit at the club without a pair of defensive midfielders to protect him. Matip, a versatile defender who can play in midfield and the latest recruit, Ragnar Klavan.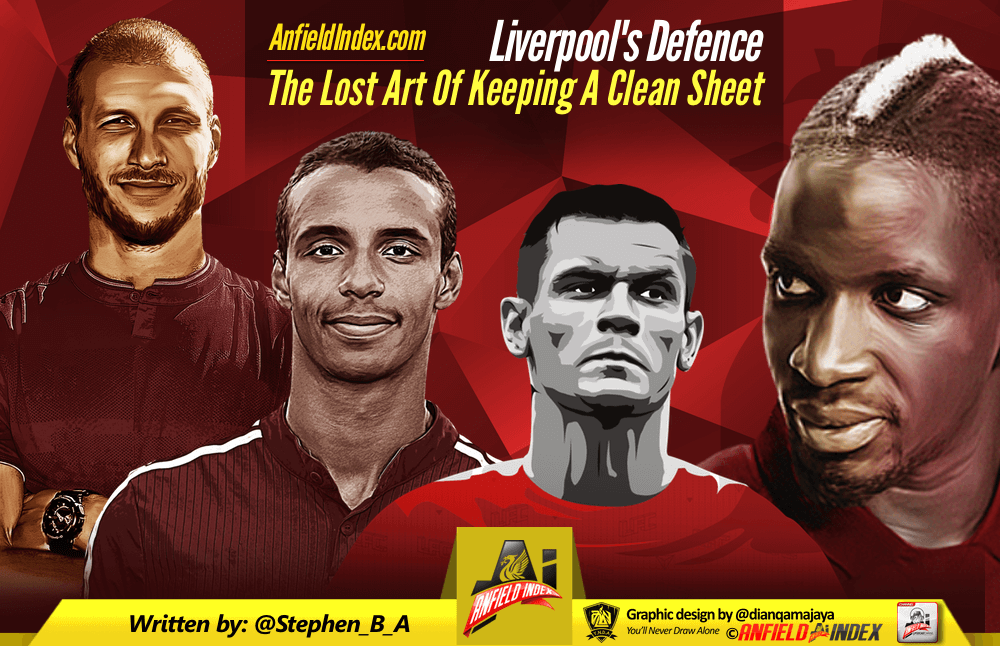 In terms of specialist right sided centre backs we've had just two. Kolo was coming into his twilight, and though a cult hero, he was never going to be a long term option. Skrtel hasn't shone for the  club since breaking his jaw. Both have now left the club.
But why do Liverpool FC keep buying left sided centre halves and what options are we currently left with at the club?
Sakho, for example should never play anywhere but left sided centre back where he can lead the line. From what I've read on Klavan he'll be competing with and covering Sakho during his injuries and rotation.
That leaves Joel Matip and Dejan Lovren. Both players who can play on the right, but more naturally left sided centre halves. Or youngsters such as Joe Gomes, Thiago Ilori and Andre Wisdom.
Gomez is still just 18, and need to be developed over time into a top level player without too much pressure too soon. Wisdom hasn't excelled in his loans at Norwich or West Brom over the past two seasons and Ilori's days look numbers.
From the current team I imagine Matip takes the starting slot and Lovren is the third or fourth choice player battling with Klavan. Matip may surprise fans and become a first XI player, but going off last season unless he's partnering Sakho I'd rather see him in the cup games alongside Gomez.
So, with the window still open and money surely coming into the club in the coming weeks with several players linked with moves away from the club, who could Liverpool look at to shore up the defence?
Since Klopp's arrival Liverpool has been one of the top scoring teams in the Premier League, but since Steve Clarke left the club clean sheets have been hard to come by. Bringing in the right partner for Sakho could be the key to fixing the issue.
The two avenues to pursue are a centre half who can help develop youngsters such as Gomez while complementing Sakho, or someone who could eventually replace Sakho as main man for years to come.
What do Liverpool need from their first choice right centre back? 
With Klopp's higher defensive line, fast paced pressing game and positive counter attacking football there are some key skills. A player with good positioning, hopefully some pace, good passing skills – but not necessarily ball playing centre half –  and a composed, organised player.
My first choice: Daniele Rugani. The young centre half is coming off his first season competing for a place in Juve's defence after a successful season out on loan. He's an Italian international player and has been linked with a move away from the club.
Rugani can play in a two or three man defence. He is right footed player and though generally a right sided centre back could easily cover either side. He's tall, reasonable quick and very composed.
Italy has produced some of the greatest defenders of all time and with Klopp's record of developing under appreciated defenders (think Hummels) he could go on and be a world class player for a decade with the right coaching.
The Rumour Mill: Jonathan Tah. Though I've not seen a great deal of him, at 20 years old he's already playing beyond his years.
He's powerful and composed. He''s a very talented young centre half and could be an emergency right back against the West Broms and Sunderlands of this world. He's also a very popular option among many of the AI Writers and podcasters and has been tentatively linked with the club.
The Curve Ball: Mateo Musacchio. The Argentine is a no nonsense, aggressive centre halve who's also a decent footballer and would offer the brute option alongside Sakho.
Musacchio would give the club the specialist we've missed for a long time. He's decent in the air, doesn't shirk a tackle and tactically he fits. At 25 he's ready to walk into the team, but offers a good 6-7 years as a first choice player too.
The Big Money Signing: Marquinhos. The Brazilian centre back may be open to a new challenge and playing for Jurgen Klopp, thought his fee and wages would be huge no doubt.
Seen as the successor to Thiago Silva, the Brazilian is a footballing centre back, and could again give minutes at right back. He's quick, he's of an attacking mindset and he would very much benefit from Sakho's presence and composure.
The Old Head: Jose Fonte. Premier League proven, check. Plays for Southampton, check. Has won trophies, check.
Fonte is the uninspired choice. But he's a solid defender, plays on the right, know's the Premier League and made Lovren look good! He's not setting the world on fire, but clean sheets and organisation are his bread and butter, and maybe that's what Liverpool need!
I can't see any of the players above singing this summer, which is a shame as for me this is the last major hole to fix under Klopp.
2016/17 is going to see Matip, Lovren and hopefully Gomez fighting it out at right centre back, but if the footballing gods are listening, please sign Rugani…