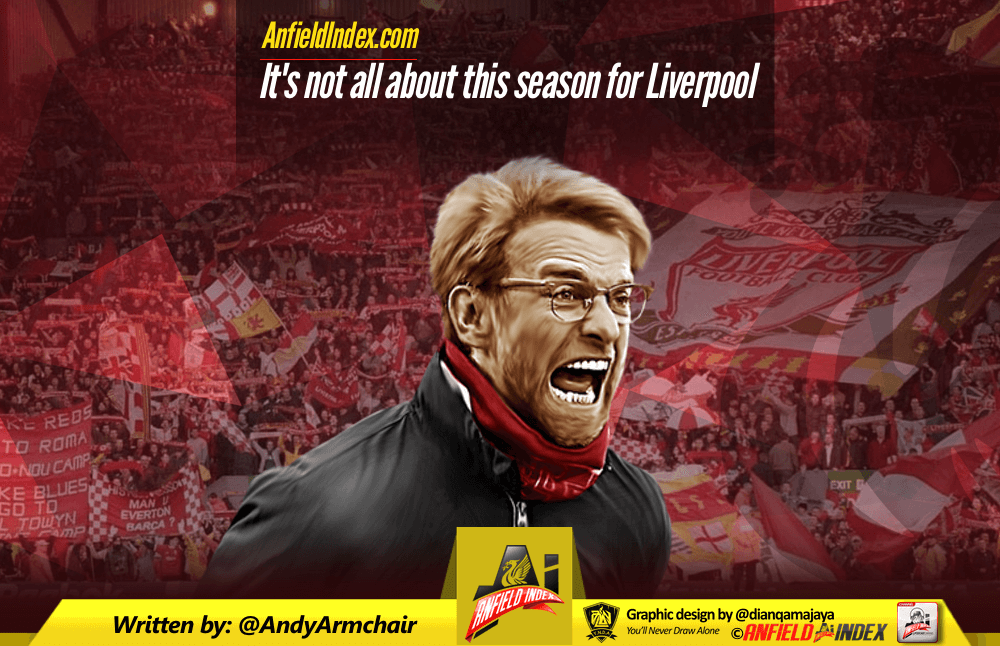 It's not all about this season for Liverpool
Please don't mistake this for a lack of ambition or some kind of attempt to make excuses for an expectation of failure, but I think as fans of Liverpool, we should not get too hung up about this season and place everything on it. Allow me to elaborate.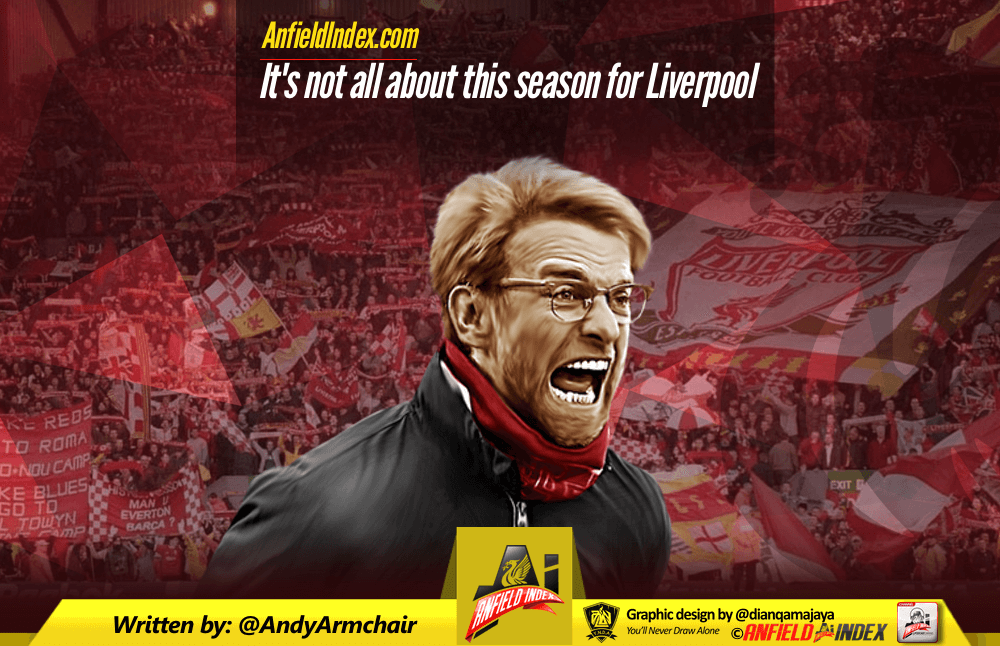 If Liverpool end the 2016/17 season without a trophy and finish 5th or 6th in the Premier League, some will see it as complete failure, many will see it as a disappointment, but realistically, that is exactly what we could be looking at. If indeed that turns out to be the case, hopefully there will be enough positive signs along the way that we are moving in the right direction. My feeling is that for us to have any kind of sustained success again, we have to make incremental steps and not the boom and bust that we've seen in recent years. Lurching from 61 points to 84 points and then back to 62 points is not a foundation for success. If we can concede 5-10 less goals and score 5-10 more goals in this Premier League campaign, an increase in points will naturally follow. The key to sustainability is to continuously improve and if those improvements are not too drastic, they are easier and more likely to be sustained with a solid base.

The 23 point increase we witnessed in 2013/14 was led by one of the world's elite players galvanising the team and building an incredible momentum with attacking play, but there was no solid foundation to it. Defensively, we were still shipping goals, so after Luis Suarez departed and we struggled to score the following season, but still conceded, our points total went back to where it was previously. That is not the recipe for sustained success.
What we have in Jürgen Klopp, is a manager of proven ability who has showed his commitment to the club by recently signing an extended contract, proving he is in this for the long term. Previously, his tenure at Mainz lasted seven years, likewise at Borussia Dortmund – this is not a short term manager looking for a quick fix, he is a man looking to build another legacy. What he achieved at Dortmund was not done overnight, it was a step by step approach that took them from languishing in mid-table, to European contention, to winning trophies. Whilst there are no guarantees that success can be replicated at Anfield, he has enough pedigree to be given ample opportunity to achieve.
There were small positive signs last season: reaching two cup finals with a squad that had previously failed to get past a semi-final was one and despite losing in both finals, that sense of excitement at Anfield and a re-connection between the players and the fans was also encouraging. At Dortmund, Klopp already had an understanding of the club and was obviously fully immersed in the Bundesliga and German football. He didn't have that foundation coming into Liverpool last October, so his first season at the club was a learning curve for him with Liverpool Football Club, the players, the fans and the Premier League. It was a period of assessment and adjustment, so in a sense, there's an argument that his time at the helm really starts now.
Again, this is not about making excuses, just putting things into perspective. Klopp has historically never fast-tracked success and the club is not in the financial position to do so; which means we need to be patient. That can be difficult, given the rich history of the club and the desire and hunger of fans to return to those glory days, but we have to appreciate that to get from where we are to where we want to be will not be easy and it will take time. It certainly won't happen in the space of a year.
That does not mean I am suggesting we write this campaign off before we've even started it; far from it. There are trophies to be won and we should try to win them, something I have no doubt that Klopp will be doing his upmost to achieve, but he's already proved his long term commitment to the club and what he wants to achieve. His track record is to build and succeed over time, he is not a short term fix manager and Liverpool Football Club achieving success again will not be an overnight job. It's important that we, as fans, do not place too much emphasis on one season and try to keep an eye on the bigger picture of what will hopefully be a brighter future.