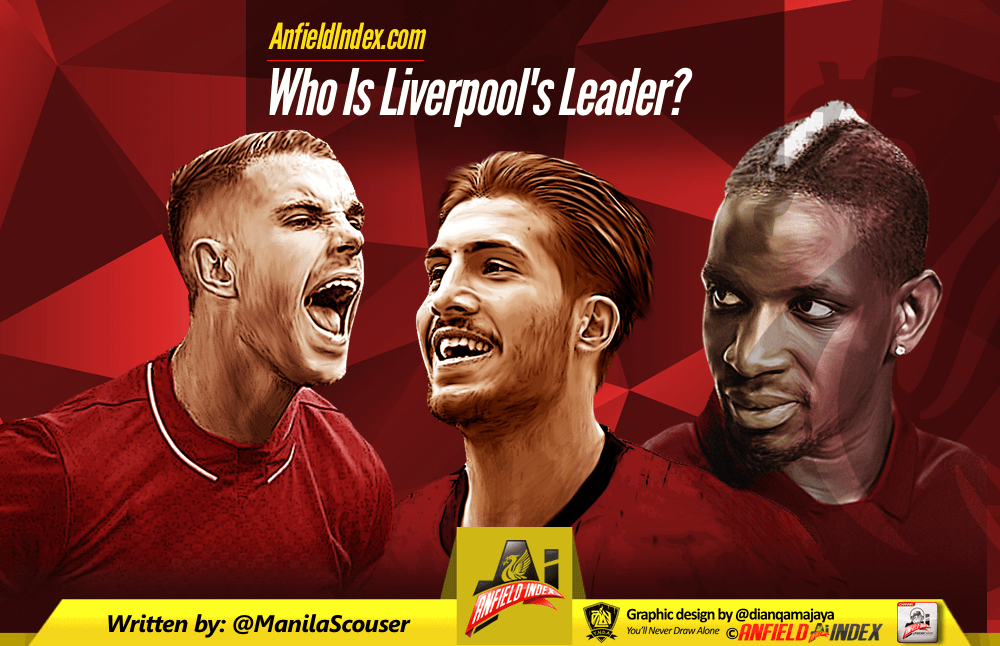 Who is Liverpool's Leader?
There are two types of leadership. First would be a leader who leads by default. He's the type of personality that is allowed to lead or dictate only by his rank. Then you have, in my opinion, the true leader. One who leads and is followed through merit by gaining the utmost respect from his colleagues, teammates, and even a ranking officer.  And you need that on the pitch. You need someone who would only need to stare at you, give you a nod, or just signals "calm down" with his hands to make a player focus or relax when they're under pressure. Who exactly is that? Never mind the armband, but who would be the go-to man to urge his team forward, to start playing football when things don't go their way?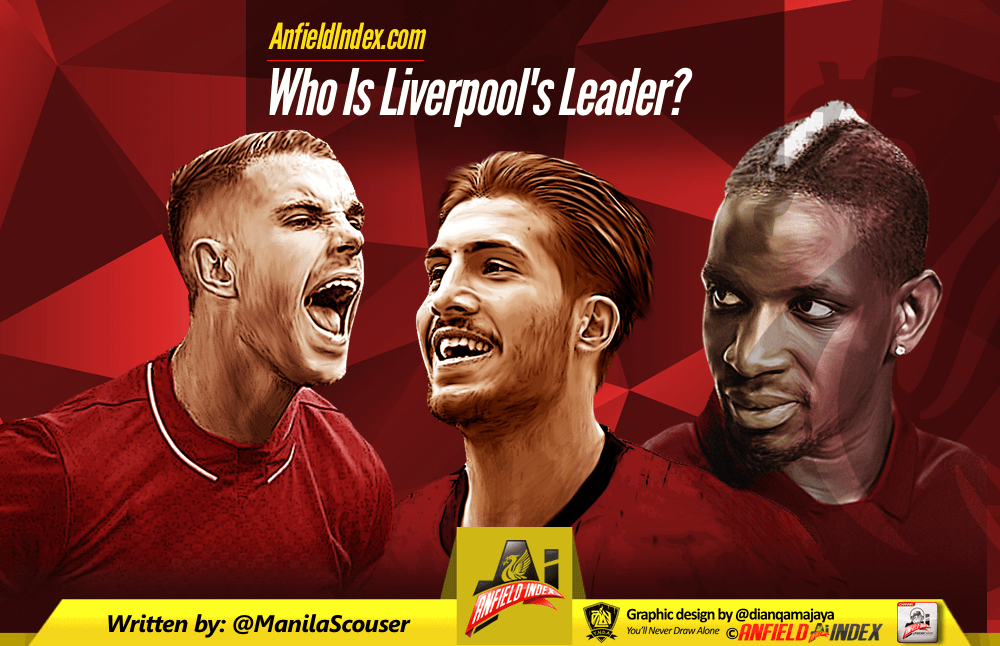 If there's a discussion as to who the leader is on the pitch, there is no doubt that the French-Scouser's name must be included in the conversation. Sakho has been an important figure for Liverpool fans and even his fellow teammates.

Every single minute on the pitch, he's givin' it bifters. His passion for the club, the fans, and the community makes him such a unique figure, and the last time we've seen someone like that was, well, you know, that #8 fella who used to play for Liverpool.  He's a beast, and he looks like something we've lacked since Daniel Agger left the team, and I was thoroughly overjoyed when he penned a new long-term contract with the club. There was a moment in a game (I just can't remember which) where he demanded his teammates to organise and get into formation to defend a set piece.  Hard tackles, amazing blocks, and exquisite passes to link up the defense and midfield are reasons why the Anfield faithful chant his name. The respect he gets from his teammates is also evident when he got injured against Sunderland from a hard tackle. Teammates huddled onto his side while he was about to get stretchered off, and you'd know he's the type of person his teammates will turn to get the ball rolling.
Sakho does seem to get into the spotlight quite often for some negativity, especially in the last few months.  His alleged drug abuse (although he has been rightfully acquitted), and recently, an early return to Melwood from the Reds' preseason tour in the USA because of timekeeping issues.  Situations like these are not the sort of thing you would expect a leader to be implicated in.
Another name that should be up there is Emre Can. He has developed into a fine, fine player after two years at Liverpool. He's very composed on the ball and you can see how much of an asset he is. When he's not playing, you can see the lack of connection and chemistry between the defence, midfield, and the attack, which is what the German brings.
His passion, just like Mamadou Sakho, is undeniable. He brings stability in midfield, likes to take games by the scruff of the neck and tries to make things happen, like you saw when Liverpool scored their first goal against Borussia Dortmund in the second leg.   Two quick one-twos with Milner and Firmino turns into a goal after Emre's run and delicate pass to Origi nod home.
Emre's very young and is at the stage where he still needs to develop. There are plenty of areas for him to improve on, but there's no doubt about the leadership qualities he possesses. He bosses around and is the most important figure in that midfield area as it stands. I'm positive he's respected a lot by his teammates and so I believe he's merited to be in the equation.
Finally, over the past few weeks, there were plenty of criticisms towards this man. Some were very valid and carefully thought, but most were just uncalled for.
It's no one else but Jordan Henderson. He had a decent start to his career at the club, but there was a bit of a decline. He was dubbed as a flop and most wanted him to be sold after a season. He buckled down, insisted he will fight for a place, worked hard, and he did exactly what he said.  He was very good towards the end of the 2012/13 season when Rodgers' team started to take form. And his attitude and work ethics made him a vital piece in our 13/14 title-challenging campaign. In 2014, a very bleak season for the club, he was a focal point in our attack and defence, assuming the responsibility of Gerrard as captain when he was out injured, or on the bench.  We can only speculate that if Jordan Henderson wasn't given a red card against our 3-2 victory against Manchester City at Anfield, we could've gone on to win it.
But what he did after that was something you should expect a leader to do behind closed doors. He knew how much pressure his teammates were facing. He knew Liverpool hadn't won a title since the Premier League era began. So he offered to handle all things media in order to keep his teammates focused solely on football.  He's not performed at his level last season. We know that, and he knows that. But that's a given, considering he's playing through his heel injury, so I don't understand where the criticism is coming from, especially to a man who's playing through pain in order to contribute any way he can
So, all things considered, I would honestly say the leader is …..none of them.  Sadly, there's not been a leader in the squad since Jamie Carragher left the club. The man's cojones was made of pure steel. And you need that type a General on the pitch. The Bootle-born legend would crucify anyone who weren't doing their jobs on the pitch, and would even start a brawl with his teammates if that's what's needed to shape them up. At the same time, there's not one person in that squad who could go, stand up, and get into the referee's earif needed.
Steven Gerrard was the Captain of Liverpool Football Club and he would lead by example. But there was another leader in that era, and it's Jamie Carragher.