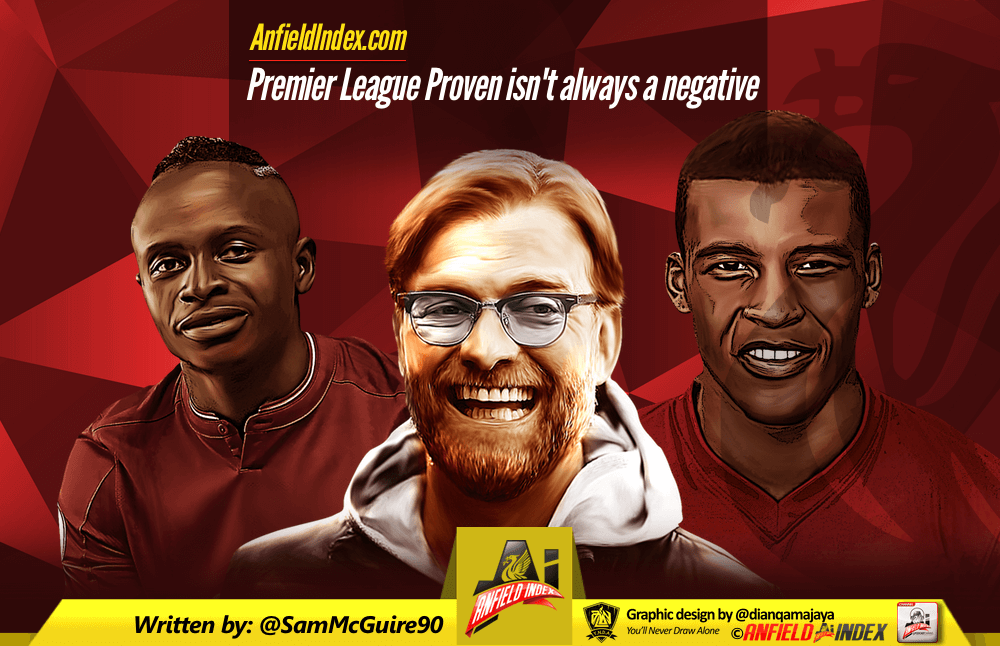 Premier League Proven isn't always a negative
The Transfer Window has been officially open for nearly a month now and Liverpool's two biggest signings have been players from within the Premier League. Both Sadio Mane and Gini Wijnaldum arrived at Anfield for a combined £55 Million. Most Reds fans must have a strong feeling of deja-vu about such deals. Since Fenway Sports Group bought the club Liverpool have spent over £200 Million on Premier League proven players with varied success. Despite the questionable success of this tactic Liverpool persist with it.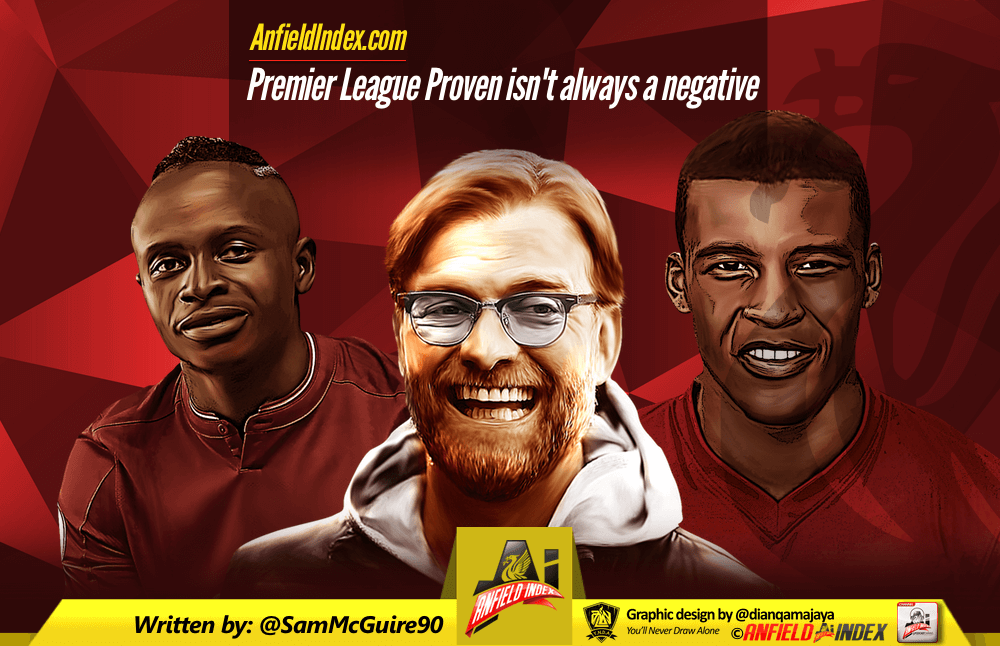 Notable Premier League signings under FSG
| | | |
| --- | --- | --- |
| Player | Reported Cost | Club signed from |
| Andy Carroll | £35 Million | Newcastle |
| Charlie Adam | £6.5 Million | Blackpool |
| Jordan Henderson | £16 Million | Sunderland |
| Stewart Downing | £20 Million | Aston Villa |
| Jose Enrique | £7.5 Million | Newcastle |
| Joe Allen | £15 Million | Swansea |
| Fabio Borini | £11 Million | Roma |
| Daniel Sturridge | £12 Million | Chelsea |
| Adam Lallana | £23 Million | Southampton |
| Dejan Lovren | £20 Million | Southampton |
| Rickie Lambert | £4 Million | Southampton |
| James Milner | Free | Manchester City |
| Danny Ings | £6.5 Million | Burnley |
| Nathaniel Clyne | £12 Million | Southampton |
| Christian Benteke | £32.5 Million | Aston Villa |
Of those 15 signings how many are viewed as universally good signings? Fifty percent if you're being creative? For example, Joe Allen has built up a cult following as of late but throughout his 4 year spell at the club he's only averaged 15 starts per season due to injuries. Liverpool look set to recoup almost what they paid for the player but it doesn't mean he's been a success.

It's because of this dubious record when signing from other Premier League clubs, and how there isn't often value for money in the EPL, that many Liverpool fans are dead against signing players from England even if they're a good fit. They automatically assume the club is going to overpay yet again for another average player when there are plenty of cheaper alternatives abroad.
Before tarring every Premier League proven signing with the same brush it's worth considering a few things.  one of which being, many of these signings arrived at the club under one manager, who may have had a clear plan for the player, but spent the majority of their Liverpool career playing under a different manager.
Kenny Dalglish's Liverpool and Brendan Rodgers' (original version) couldn't have been anymore different. Dalglish's Liverpool were built on a defensive first basis. It was a throwback to the 1980's with a 442 formation, a little and large partnership up-top, quick wingers and no nonsense defenders.
Brendan Rodgers' Liverpool (V 1.0) was a 'pass the opposition to death' type team before the arrival of Philippe Coutinho and Daniel Sturridge saw the team adapt a more blitzkrieg approach. However, after Luis Suarez was sold to Barcelona the signings clashed with the tactic that had worked so well. £53 million spent on Lallana and Benteke, both of whom aren't really players for a traditional counter-attacking side. The all action Rodgers side gave way to a pedestrian, slow build up side.
Jurgen Klopp was appointed as Reds manager and the change in style was noticeable immediately. A high pressing side with emphasis on fluidity and fitness. It was a stark contrast to how the side were playing under Brendan Rodgers and Klopp had to make do with what he was left with.
Brendan Rodgers was fairly inexperienced when he was appointed as manager and had a history of changing his philosophy whenever times were tough – just look at his time at Reading. He was rightly praised for his versatility and flexibility, but it did mean it was hard to build a fully functional squad. The recruitment team spend the summer profiling and signing players for a high pressing 4231 system only for it change to a 343 tactic a few months later and have players playing out of position.
Compare that with Jurgen Klopp, the German has used a variety of tactics and starting formations in his short time at the club but all of these use similar players. It makes recruitment much easier and should, in theory at least, mean there is a higher percentage of successful signings for the club under his leadership.
Style
All of the signings so far; Joel Matip, Loris Karius, Gini Wijnaldum, Sadio Mane, Marko Grujic and Ragnar Klaven all have traits that will suit the style of player Liverpool used in the second half of last season.
For example, Both Klavan and Matip are aerially dominant, they will help defend set pieces which have been the clubs kryptonite for so long, and use the ball well which is integral if the team are to build out from the back. When Sakho was suspended towards the end of the season Liverpool seemed to miss his passing ability.
Then you analyse Mane and Wijnaldum. Both players have similarities – they both have the ability to glide 30 yards without looking like they're breaking a sweat with and without the ball, they both carry the ball forward and can bypass a high press, they're both flexible, and both are goal scoring threats from deep.
It makes the Premier League pair ideal for a Jurgen Klopp side.
Price with context
According to Paul Tomkins of the Tomkins Times, since the summer of 2014 there has been a 60% inflation on what Premier League clubs are paying because of the new TV deal. The current transfer market is volatile, to sign these two players for £55 Million in the current climate isn't as bad as it initially sounds. Mane (24) and Wijnaldum (25) not only have quality to impact the team now but the potential to grow and improve to be better players over the next four/five seasons.
In the same window Watford rejected a reported £30 Million offer from Leicester Troy Deeney, West Ham sold James Tomkins to Crystal Palace for £12 Million and Leicester's 25 year old attacking midfielder Riyad Mahrez has been linked with a £45 Million move to Arsenal the fees paid for Mane and Wijnaldum don't seem that excessive.
Premier League Proven
There is a misconception about buying players who call the Premier League their home. It's fuelled by poor buys in the past but Liverpool, under Klopp, all now seem to be pulling in the right direction. Klopp is different. Liverpool are different. There's a style and a philosophy that isn't going to change for the foreseeable future so any incomings suit the style and will be afforded every single possible opportunity to prove their worth without having to change their style every single season.  If the you profile the correct players then it doesn't matter where they come from.