THE RACE for the Premier League's sole Europa League qualification place has fast become one that neither side really seems to want to win.
Not least because the once beloved UEFA Cup has devolved into a cheap imitation of the Champions League with unenviable jaunts to former Eastern Bloc backwaters, but also the upheaval that would potentially bring to the schedule of either Liverpool or Tottenham.
Kenny Dalglish's side remain in the box seat to secure a fifth-place finish, which would deliver a happy ending to a campaign virtually written off by Roy Hodgson at one stage.

The main objective at Anfield remains to restore the club to the pinnacle of English and European football and with a summer overhaul expected to herald the dawn of Fenway Sports Group's dominance, some perceive Europa League participation an unwelcome distraction.
A season competing in the Champions League has given Tottenham a taste for the finer things and Harry Redknapp's troops will also be eyeing a swift return to the top table therefore keen to avoid its incredibly poor relation for fear of the knock-on effect to the club's season.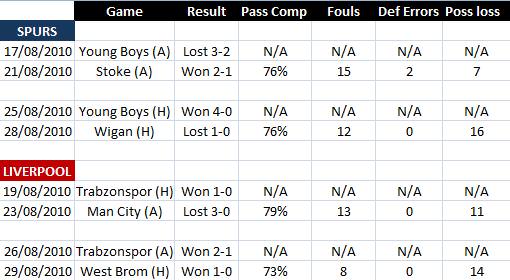 The sides will face off at Anfield on May 15 and both endured mixed fortunes in the games immediately after their final qualifiers back in August, with Spurs succumbing to a home loss to Wigan three days after putting Young Boys to the sword, despite downing Stoke just four days after their first leg defeat to the Swiss outfit.
Similarly, Liverpool failed to follow up their narrow win over Trabzonspor by suffering a 3-0 defeat to Manchester City but fared better on home soil when they took on West Bromwich Albion three days after booking their place in the Europa League group stages.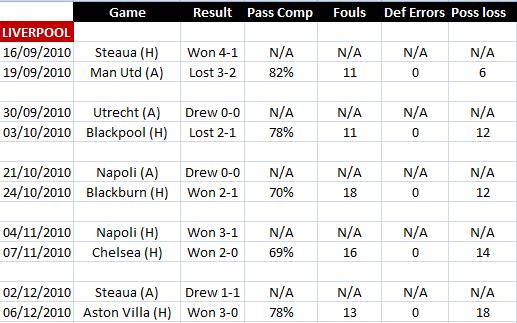 Hodgson emerged from his disastrous and short-lived Anfield tenure with very little credit despite finishing atop Group K as it came with such notable pitfalls as a humiliating Carling Cup exit to lowly Northampton and Liverpool plummeting into the relegation zone.
The culmination of the latter against Blackpool at the beginning of October saw the fans turn the heat up on Hodgson and demanded Dalglish's reinstatement following the defeat to Blackburn, which arrived three days after a frustrating stalemate with Utrecht.
That pressure was alleviated slightly by post-Europa wins against Blackburn, Chelsea and Aston Villa, all on home soil, but defeats to Stoke and Tottenham on their travels did little to help his case.
Only the Big Freeze spared Hodgson further domestic indignation against former club Fulham, who were due to travel to Anfield three days after another dour draw with Utrecht before the game was postponed.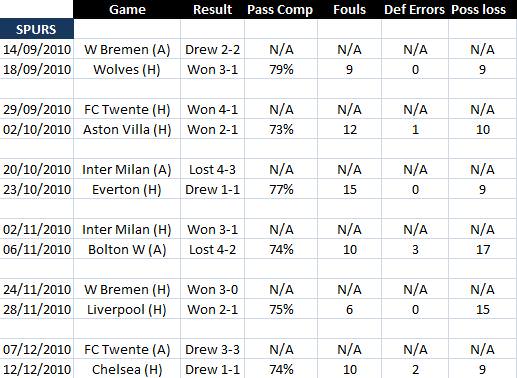 Spurs also topped their group following their European adventures, only coming unstuck after their historic victory over Inter Milan when Bolton Wanderers recorded a 4-2 win at the beginning of November but followed it up with a late win over Liverpool at White Hart Lane.


Although Spurs suffered to a 3-1 reversal Blackpool a week after defeating AC Milan in the Champions League, only Liverpool, now under Kenny Dalglish's leadership, faced an immediate domestic challenge following of their energy-sapping win over Sparta Prague when they were downed by West Ham.

Good fortune saw both sides bounce back in the wake of their exits from their respective competitions with wins whilst neither club suffered greatly overall due to their continental exploits.

Spurs and Liverpool's post-European fortunes were not too dissimilar, with both racked up five wins each although the North Londoners bettered their rivals for fifth spot in concessionary areas.
Carelessness was also in short supply for both with Liverpool making just defensive three errors in all games preceded by Europa League ties compared to Tottenham's eight overall.
Liverpool's domestic ascendancy under Dalglish has seen them defy critics who claim that the Europa League was a key distraction although their currently depleted squad and casualty list would beg to differ.
Both sides yearn to catapult back to the Champions League in the coming seasons, leaving its poor relation behind but, statistically at least, they have proven that their participation in the respective competitions this season has had little impact on their domestic fortunes.