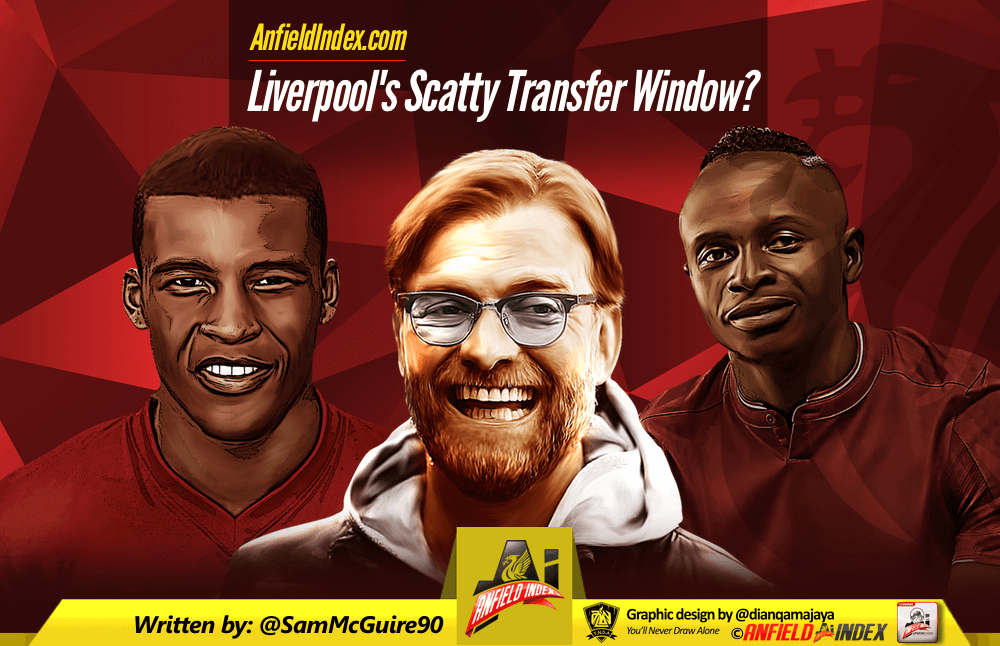 Liverpool's Scatty Transfer Window?
Despite the general consensus being Liverpool have had a fairly solid transfer window there have been questions raised regarding the clubs' strategy and why, to those on the outside, it seems rather disjointed.
The confusion seems to surround the signings of Sadio Mane and Gini Wijnaldum. The pair arrived for a combined £55 Million after the pursuits of other players came to an end. The press had identified the other players as top targets. The likes of Alex Teixeira, Mario Gotze, Mahmoud Dahoud and Piotr Zielinski had all been at the top of Klopp's wanted list before negotiations broke down and Liverpool moved on to alternatives.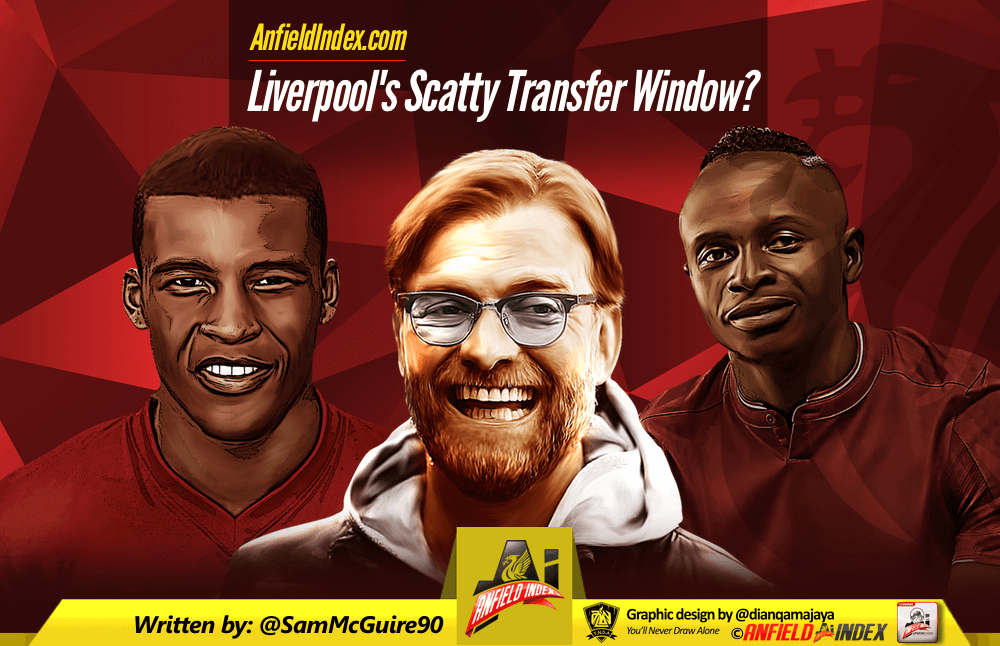 What many are finding difficult to grasp is why the club wouldn't go above £24 Million for Teixera, wouldn't increase their offer of £9.5 Million for Zielinski and haven't as of yet met Leicester's £10 Million valuation of Ben Chilwell but didn't seem to hesitate in paying £30 Million for Sadio Mane and a rumoured £25 Million for Wijnaldum.
Why did the alternatives cost more than the media-labelled top targets?
There have been lots of theories floating around social media. Some people are saying valuation plays a part in a ranking system and of course, to some extent at least, it will. If there are two players who fit the profile of a player that the manager wants but one is available for between £5-10 Million whereas the other would command a fee of between £15-20 Million then the cheaper one is going to top the list. It makes next to no business sense to go for the expensive player, if both have a similar ceiling when it comes to potential, just because he would join with a reputation.
The problem arise, in the eyes of the fans, when the club seemingly drag their feet with the cheaper player, refuse to pay what the selling club want before moving onto the more expensive player and paying that fee.
"If you paid £25 Million for Wijnaldum why not pay Udinese what they wanted for Zielinski?" seems to be a common question.
While I'm not privy to the thought process behind the signing, but one would assume the club look at things other than the profile of a player. If Jurgen Klopp told the transfer committee he wanted a versatile midfielder capable of playing in both a midfield two and three, a goal threat and had good dribbling ability to move the ball forward quickly then Zielinski and Wijnaldum both fit the criteria.
Zielinski, playing for Udinsese and not being that experienced, would be assigned a valuation as in the club are happy to pay X amount for the player as he fits the profile and has potential to mature into a better player. The club won't pay over X amount because there is still a lot of him to work on. Had he signed for £9 Million then there's less pressure on him and people won't expect him to be world class. He'd be able to develop, much like Origi did, without the price tag weighing him down. Had Liverpool paid closer to £20 Million for the Polish international then the pressure is immediately on him to deliver.
It's not Liverpool being cheap.
As soon as the Italians started to ask for upwards of £15 Million Liverpool would have started to negotiate with Newcastle for Wijnaldum. The Dutch midfielder commands a higher fee for various reasons. There's less work needed for him to develop into the player he could potentially be, he's a goal scoring threat,  he's got experience in Europe and has already acclimatised to the English Premier League and he's much more refined in his play.
Wijnaldum offers more so by default is going to cost more. It's a bit like comparing TV's; both may be 32 inch but one is a smart TV and one isn't. Which is going to cost more?
People moan about paying for potential instead of for the now. People moan when you spend money on players for the now instead of paying for potential. The club can't actually do anything right.
Similarly, when looking at the Alex Teixeira and Sadio Mane comparisons there are plenty. Both have blistering pace, both offer goals from deeper, both like to move centrally to exploit the space and both can play anywhere in attack. However, one noticeable difference is Mane's experience of playing in a high press at Red Bull Salzburg. It's notoriously difficult for managers and coaches to teach players pressing triggers so finding one with experience, and if you'd witnessed Salzburg under Schmidt they were like Dortmund on steroids, is going to play a part in how the club values a player. It's the amount of boxes ticked within the player profile which dictates the fee.
It may look like Liverpool are trying to do things on the cheap and there's no logic to how they identify targets but if you break it down properly it all makes a lot of sense. It's a lot more organised than people are used to.