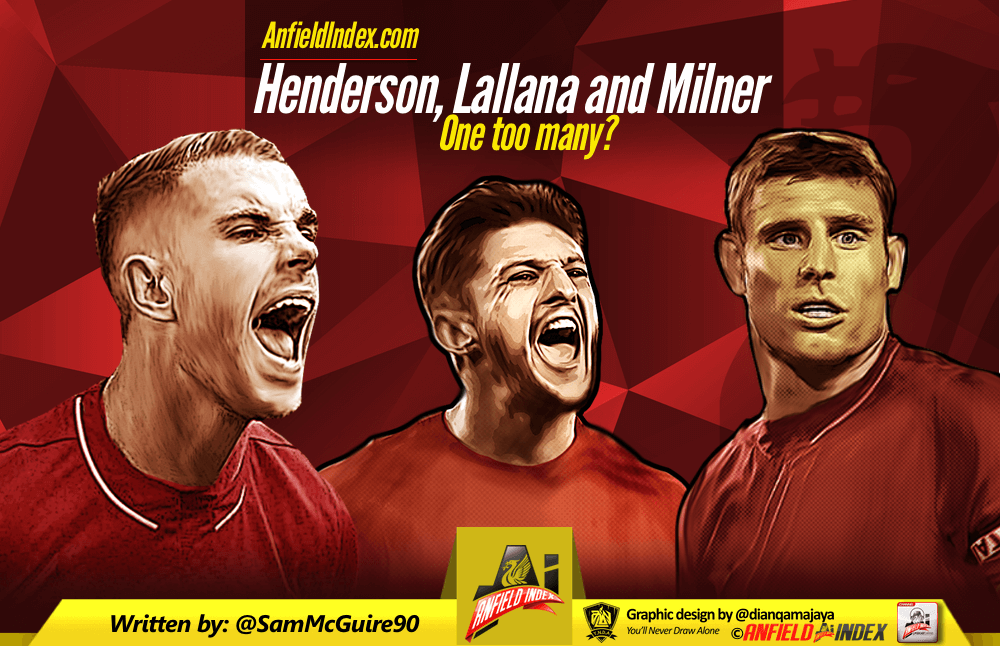 Henderson, Lallana and Milner - One too many?
After being strongly linked with Mahmoud Dahoud many Liverpool supporters assumed the Reds wanted to bring in an orthodox centre-midfielder as opposed to a versatile, jack of all trades master of none type. The signing of Newcastle's Dutch International Gini Wijnaldum caught fans off guard. There's nothing orthodox about the new Liverpool no 5 and his arrival casts a shadow of doubt over the futures of James Milner, Adam Lallana and Jordan Henderson.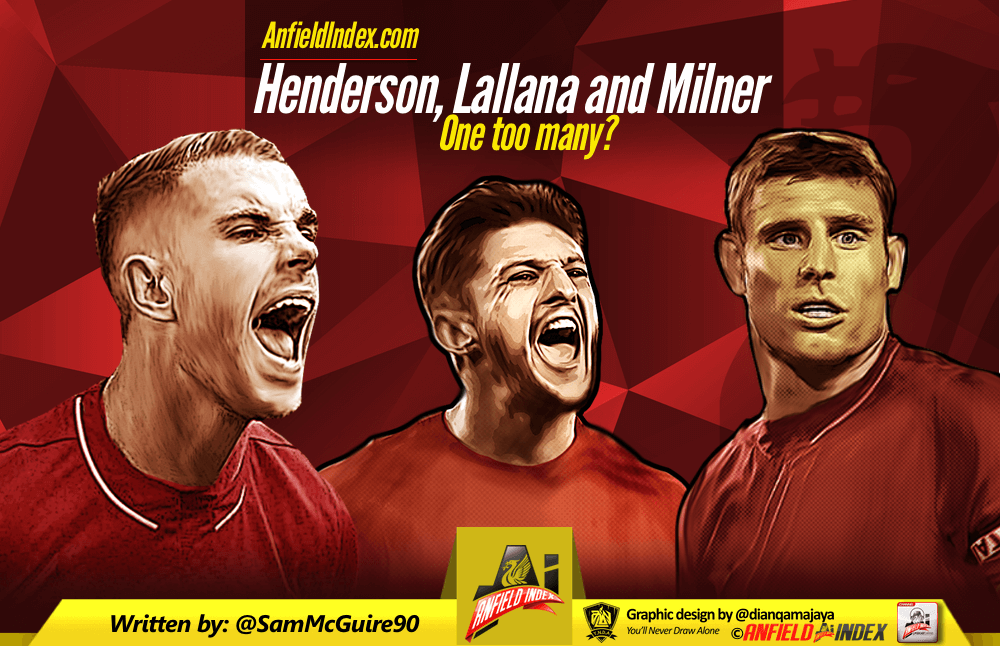 The aforementioned three can all play as part of Klopp's hybrid 433/4231 system in which the man on the right drifts between playing on the right of centre-midfield and on the right of the three behind the striker. However, Sadio Mane's arrival throws a spanner into the works as it looks likely he will call the right-wing spot his home meaning it's Wijnaldum, Milner, Lallana and Henderson are all vying for that third man midfield role or as the second man beside Emre Can. No European football means there aren't as many matches for Klopp to give all of these players the minutes they desire, and Liverpool aren't really the type of club to have players earning a combined £300,000 plus sat on the bench.

There are plenty of reasons to keep all three but given just how ruthless the club have been in the market so far this summer are they likely do to so?
Jordan Henderson
The current captain and arguably the player who divides the fans the most these days. There have been some ridiculous polls on Twitter going round lately asking who should be the third midfielder for Liverpool this season and Marko Grujic has been defeating Henderson with relative ease.
People are getting carried away with Grujic's preseason, they're feeding into the negative Henderson narrative or it's a bit of both. It's naive to think Henderson won't start the season regardless of what formation is used.
He showed in 2013/2014 he could be that third man in midfield, he was a willing runner from deep, helped out defensively and was a creative menace in the final third. Although he's limited in a midfield two and not as effective, there were spells last season that showed he and Emre Can had formed an understanding of sorts.
Klopp has been reluctant to play Phil Coutinho in a withdrawn role so if the Reds did line-up with a three man midfield it could well be a three of Wijnaldum, Henderson and Emre Can. It may need to be tweaked and worked on but it  could work.
Of the three up for discussion within this piece he's undoubtedly the most valuable in terms of resale value. If Klopp doesn't see him being a regular starter he could be one the club cash in on given he's one of the highest earners at the club.
Adam Lallana
Lallana had a resurgent second half of the season under Klopp and is touted as being one of his favourites. Don't know about you but if I'm fond of something I don't go out and buy, not one, but two replacements (Mane and Wijnaldum).
With the signings so far this summer can he really be viewed as a possible starter? Probably not if you're being honest. He was impressive at times off of the bench last season and that may be how Jurgen Klopp views him. Imagine having a fresh Adam Lallana to come on around the 65th minute mark to press and harass the opposition. His arrival off the bench would change the dynamic, he's nothing like Sadio Mane but it's that switch that may be necessary in certain matches.
It's unlikely Klopp would feel comfortable fielding him as a third centre-midfielder given just how easy he's knocked off the ball from time to time. The German wants physicality in there and although Lallana showed some snidery in his game towards the end of the season it's not the same as what the likes of Emre Can, Jordan Henderson and Marko Grujic can offer.
He does have value but at 28 he isn't going to retain such a high fee for long, especially if he drops down to becoming a squad player. Could Klopp be tempted into cashing in now?
James Milner
The man didn't seem to do much last season other than pop up with assists in big games. An impressive trait to have but he needed to bring much more to his game. He's not disciplined enough to play centrally in midfield as was often out of position even when he was playing as part of that hybrid three. He's rash and is drawn to the ball far too often. He's not an intelligent presser of the ball and his tackling leaves a lot to be desired.
Despite all of this it's unlikely Milner will be sold due to his high wage. It is worth noting his versatility may be his one saving grace in the eyes of Jurgen Klopp. The fact he can do a job basically anywhere aside from centre-back means he's a swiss army knife that most managers want to have. The ultimate utility man.
When you break it down all three do have a role in the squad. Game time may be limited without European football but if all goes to plan the club will be back in the Champions League the following season and will need the squad depth.