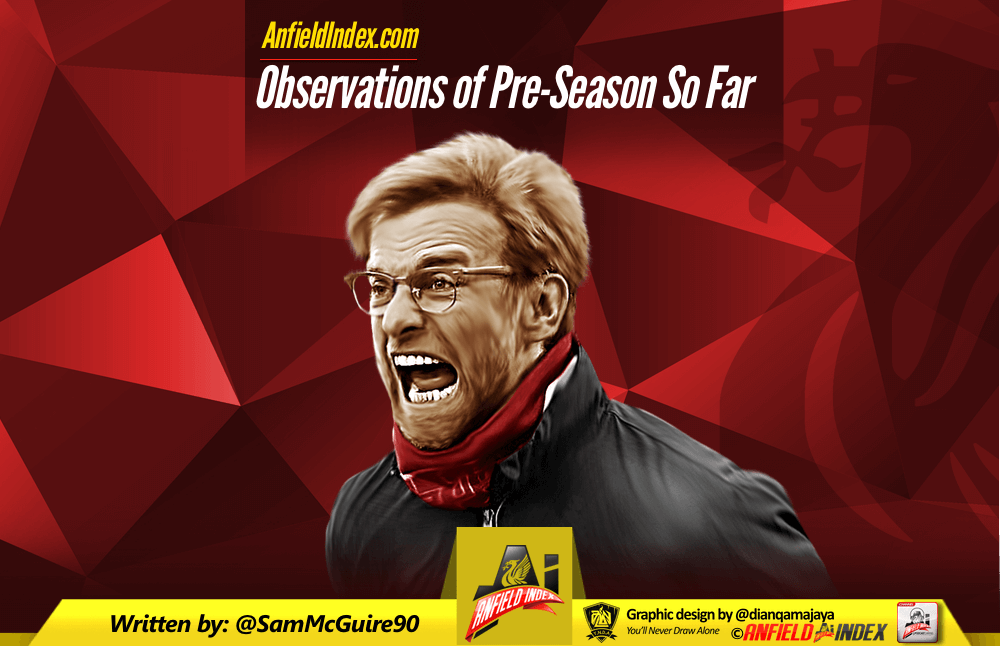 Observations from Pre-Season so far

Liverpool's pre-season is well under way now and after four consecutive clean sheets to go alongside four straight wins the mood around the squad seems buoyant. Reds boss Jurgen Klopp has used these matches to try out different formations, tweaked line-ups and contrasting tactics. After the emphatic 5-0 win against Fleetwood Town he said results aren't important and it's about familiarising the team with how he wants them to play in the new season.
Now, normally you take everything from pre-season with a pinch of salt but given the manager has openly spoke about the importance of style in these games it is worth looking at some of the positives from the four matches the Reds played before their tour of America began.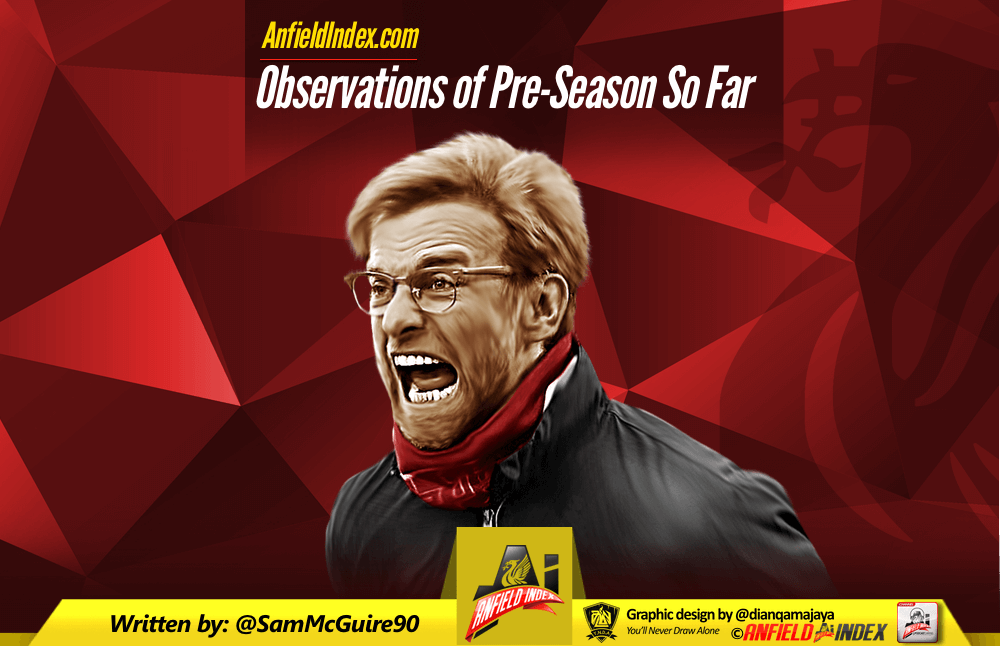 Tweaked Formations
"What'd you mean Jurgen Klopp isn't playing a 4231 system? He's notorious for it.."
Throughout pre-season Liverpool have been using a 4321 system, similar to the one Klopp had the team using when he was originally appointed as manager. When Klopp opted to use this first time around Liverpool looked much more compact and solid defensively (without the ball they'd go to a 4141 system)but at the same time they looked goal shy.
Klopp has signed goals this summer so perhaps he now feels confident in what he has within his squad to be able to play the 4321 system without sacrificing the goal scoring threat his team possessed towards the end of last season.
At times last season Liverpool seemed to prefer to attack down the left hand side so the opposition would overload down that side in an attempt to nullify the attacks. After the Fleetwood Town match Klopp came out and said he wants his side to attack down both flanks. After witnessing Liverpool attack mainly down the left in the first half of that match he made sure in the second half to spread the attacks evenly and Liverpool looked a different class in attack.
He's going about breaking old habits. Liverpool attack mainly down the left because that's where Coutinho plays. It's that mentality he's trying to break. It should be spontaneous and the team shouldn't be reliant on Coutinho.
Talented youngsters
Liverpool fans often overhype youngsters. It's in our nature after seeing talent from the academy breaking into the first team drying up over the years. In this pre-season fans have been treated to impressive individual and team performances from the likes of Trent Alexander Arnold, Ryan Kent, Ben Woodburn, Ovie Ejaria and Cameron Brannagan. Alexander-Arnold looks like he could be a Jurgen Klopp full-back in a few years to come, Ovie Ejaria could be the blueprint for a Klopp midfielder, Brannagan has all the traits to have a role in the squad and Ben Woodburn could be a star in a few years.  Under Klopp's tutelage these could save the club millions in the future.
New signings
Pre-season gives fans the opportunity to see the new signings in Red. Loris Karius, Joel Matip, Marko Grujic and Sadio Mane have all made their debuts for the club this season pre-season.
While Karius has rarely been tested (one really good save against Huddersfield aside) and Matip hasn't had that much to do defensively, it's been Marko Grujic and Sadio Mane who have impressed in the games so far.
Grujic's sheer physicality has been a welcomed sight for most fans. Players have been bouncing off him as he's been rampaging forward. Two games, two goals and he's won a penalty. You can immediately see why Klopp and Buvac wanted to sign the Serbian and he looks like a player that will play a big role over the next couple of seasons.
Sadio Mane's pace has given the attack a different dimension even in these friendlies. His movement and intelligent runs seem to be the perfect foil for Firmino as a false 9. Although he's still yet to net for the Reds he has won the team a penalty and played a huge part in the first goal against Huddersfield. It's easy to see why he's been brought in.