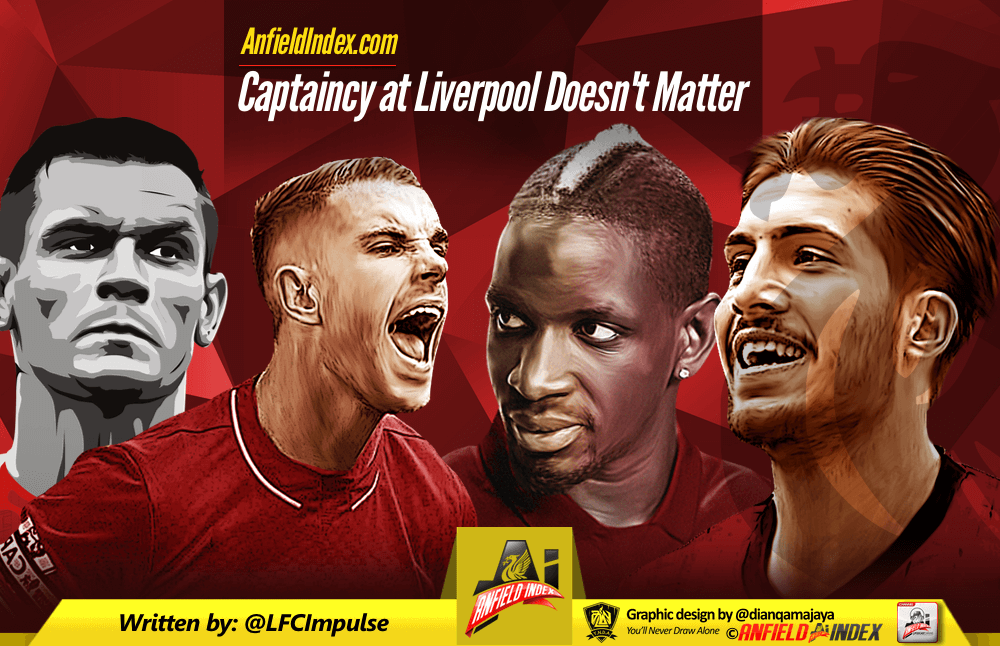 Captaincy at Liverpool Doesn't Matter

…Well, at least for now.
Ever since the armband was awaiting its new bearer, the whole captaincy dilemma has spiked every time something happens on or off the field. When Jordan Henderson was announced as captain by the then-manager, Brendan Rodgers, the decision came under heavy scrutiny as Henderson is despised by a section of fans for his footballing ability (or lack of). From the Balotelli penalty incident, to underperforming in games and lengthy injuries, the reign of Henderson's captaincy is far from a perfect one, deservedly so or not.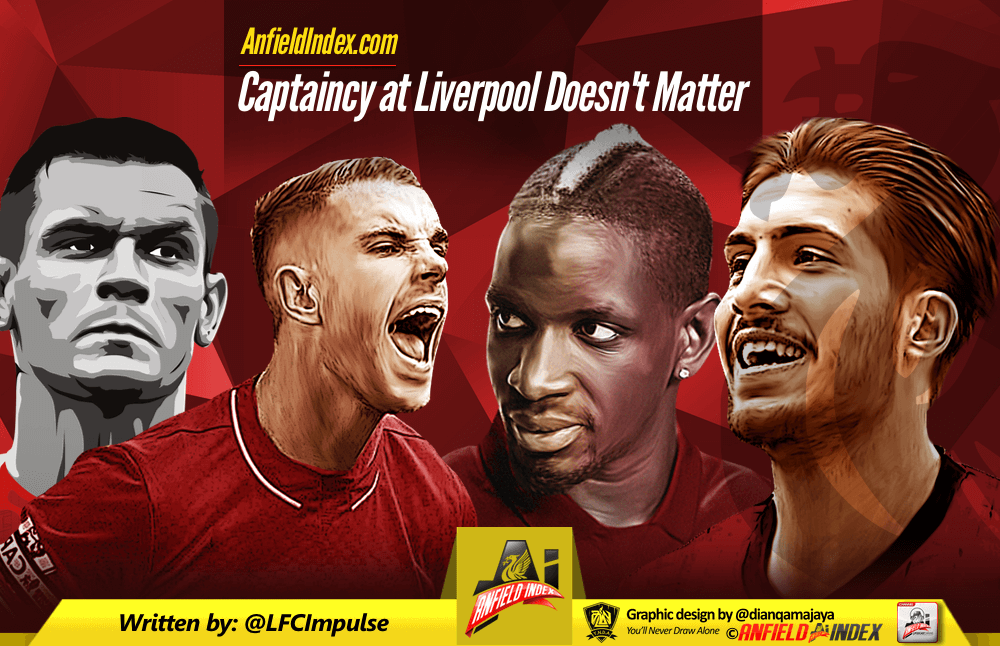 That same section of fans instead advocate for someone like Mamadou Sakho, perhaps because he does most of the defensive organisation of the team. Being touted as one of, if not the best defender in the club, shouts for him being captain surely has its merits (Editors Note: this article was written before news of Sakho being sent home broke). Another candidate is Emre Can who is a staple in the Liverpool side simply because he is a talented player with a lot to show for it. Oh, and don't even get into the topic of vice-captaincy, which branches out into its own set of dilemmas.
But here's the thing though; the fume isn't worth it because the armband is nothing but a mere decoration, at least for now. Let's not kid ourselves here – whoever 'officially' wears the armband will always be compared to Steven Gerrard which entails a sort of leadership by example by performances exceeding standards that are deemed as top notch. Anything short of even a mere silhouette of perfection is failure.
So why does captaincy not matter at the moment for Liverpool?
Best Player vs. Seniority
When it comes to leaders or captains in any context – societies, work places, football – finding one from a relatively large group is going to be difficult. In school, typically the seniors will be in contention for a leadership role; at work, the one running the show is typically the longest-serving employee who got to where he is from good performance. Unless one possesses an exceedingly outstanding work ethic and/or ability, the above two scenarios would lead to a more hierarchal approach.
Football is very different, however. There are hardly any rules or regulations to uphold when appointing a captain of the club. Best practice would indicate that captains should be one of the better players at the club who has been there for a reasonable length of time to gain the respect of his teammates, and is able to show an exemplary attitude when the situation calls for it, on and off the pitch.
Then again, captains are usually debated between someone who is the best player at the club and someone who has been at the club for the longest time i.e. has higher seniority, assuming the two are mutually-exclusive. This, however, seems to be an argument that doesn't always lead to the appointment of the best choice for the club's captain, as the decision isn't driven by the number of years spent at a club nor the level of ability a player has – some clubs are captained by one of their youngest players and not all clubs are captained by their absolute best player.
Liverpool is no exception to the rule. Captaincy doesn't always stem from stellar performances, which means that a club's best player doesn't always get to claim the armband – otherwise it'd be Philippe Coutinho, arguably, or Daniel Sturridge. Captaincy doesn't always stem from being at a club for the longest time – otherwise it'd be Lucas Leiva.
Lack of Squad Consistency
Ideally and to an extent, conventionally, captains are players who would play every game whether it's because they bring something to the team that is desired by a manager, or they are just that good. When Henderson was appointed captain, it wasn't because he was the club's best player – not by a distance, arguably – but it was because Brendan Rodgers saw the value he brought corresponding to the needs of the team in a particular system.
With the recent signings of the much-impressive Marko Grujić and then Georginio Wijnaldum who is touted to have a prominent role to play in the coming season, it may be argued that Jordan Henderson's position in the starting line-up may be in jeopardy – captain or not. Emre Can appears to be a staple in the side, however, which implies two things; Jordan Henderson faces further bottlenecks that could keep him out of the side and the other being that Emre Can himself could be a possible candidate for captaincy.
Mamadou Sakho's injury concerns may also see him get reduced minutes despite being a popular choice for the armband, with Ragnar Klavan being brought in as cover for the Frenchman. Dejan Lovren who was rumoured to be the new captain could also see less time in the starting line-up if Joël Matip claims one of two centre-back spots after performing well in pre-season so far.
Sadio Mané looks likely to be in the starting line-up as well, which dampens the hopes of James Milner. Other players who have been captain so far during Jürgen Klopp's tenure – Danny Ings, Lucas Leiva, and even Jon Flanagan – are unlikely to get it on a permanent basis given that they hardly have permanent spots in the first XI. Even someone as elite as Daniel Sturridge may not get as much guaranteed playing time as expected because of multiple reasons and this again, has an impact on his credentials of being captain.
Where do LFC go from here?
This leaves only Philippe Coutinho and Emre Can who are the true staples among the squad, bar someone like Nathaniel Clyne who doesn't have much competition in his position and is unlikely to be vying for the armband. The Brazilian and the German midfielders are two strong candidates for the captaincy, with Mamadou Sakho being a highly possible, but conditional option. For all we know, Jürgen Klopp may just decide to not fix something that isn't broken and Jordan Henderson remains as Liverpool captain.
The current Liverpool squad is one that is said to be lacking leadership and as a result, composure when the going gets tough. Truth be told, we've been spoiled by having a leader by example in Steven Gerrard for a good decade or so, and the club is definitely feeling some withdrawal symptoms in terms of captaincy. No one is truly consistent enough yet to be a clean-cut, no questions asked captain.
As such, as per the title, I stand by the fact that captaincy does NOT matter for Liverpool at the moment. The squad fluctuations in terms of personnel and performance means that any perceived permanence in captaincy could be a stop-start. Truth be told once again, appointing the "right" captain isn't a top priority at the moment – it is merely a formality for now. What's important at this moment in time is to improve the level of performance of the squad under Klopp's regime and gaining some sort of consistency before even thinking about who truly deserves the armband for a prolonged period of time.
Besides, Sami Hyypia only wore the armband for about a year before Steven Gerrard was given ownership of it for the next 12 years; maybe the "Hyypia phase" is still underway as we uncover the next Gerrard of a captain.
No rush.