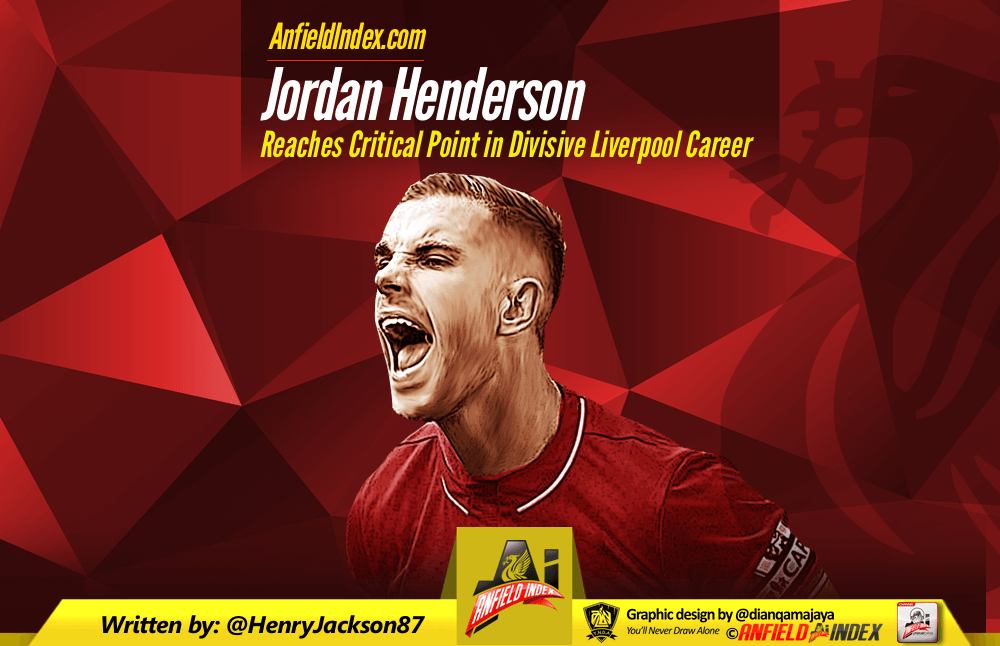 Jordan Henderson Reaches Critical Point in Divisive Liverpool Career

For most footballers, there is a stage at which they come to a potentially career-defining crossroads. Some kick on and reach the level people always expected of them, while others will slowly disappear from the very top level, and finish up plying their trade somewhere mediocre. For Jordan Henderson, 2016/17 is exactly that pivotal moment.
With numerous new signings dominating the headlines, and futures of certain Liverpool players under threat, the Reds' skipper has gone somewhat under the radar so far this summer. He barely featured during England's pathetic Euro 2016 campaign, and has only recently returned from his summer holiday to join up with the rest of the squad for pre-season.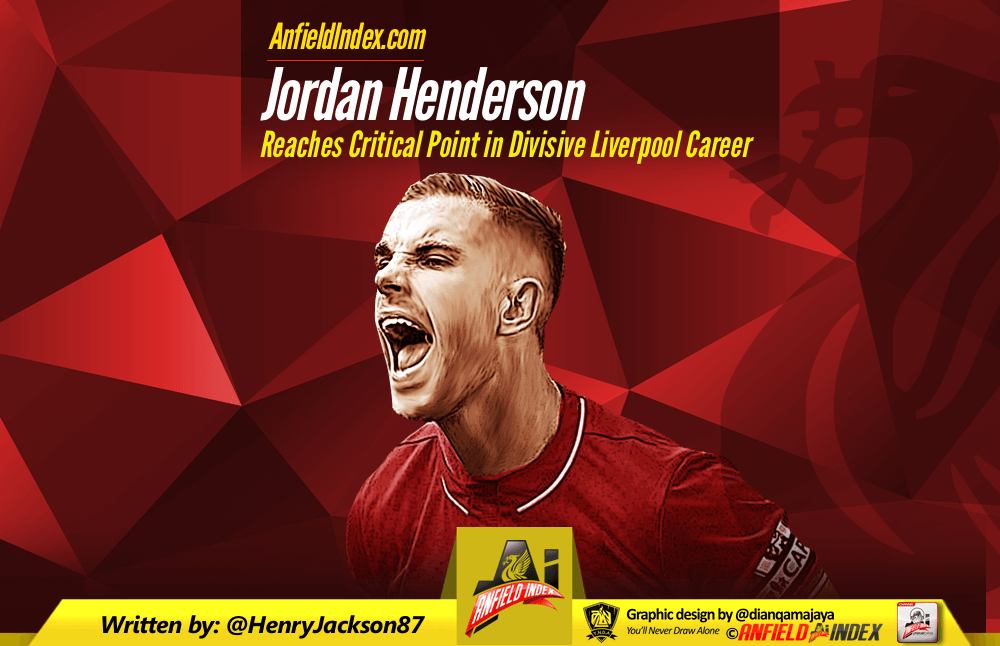 The 26-year-old will know that he faces his biggest challenge at Anfield, and the way in which he divides opinion means the pressure on him to perform is huge. To some, he perfectly symbolises why Liverpool have so often been average since Rafa Benitez's exit in 2010, while to others, he is cruelly underrated in terms of what he can offer. Chances are, Jurgen Klopp is somewhere in between with his opinion of Henderson, and the German will be expecting a big response from his captain, following an injury-ravaged 2015/16 campaign.
Last season's struggles have worked against Henderson, with the modern supporter often very short-term in their assessment of players. There were some extremely forgettable performances, without question, but at no point was he 100 per cent fit, and he got no extended run in the team. 2013/14 and 2014/15 were the real Henderson: box-to-box energy, an intelligent reading of the game and underrated end product. His sending off against Manchester City back in April 2014 really hit Liverpool hard, and his presence was sorely missed in the depressing, season-destroying clashes with Chelsea and Crystal Palace that followed.
Henderson will never win a string of Man of the Match awards, and he will often play second fiddle to most of his teammates, but they will tell you how important players of his ilk are. They do the gritty, thankless things that go unnoticed, and it is far harder for them to receive the widespread praise that fans and media will heap on other more illustrious names. That's not to say Henderson is perfect, by any means.
There is certainly an argument to say that the Reds can do better than him, both in terms of his captaincy and ability in the middle of the park. There are occasions when he can look a little one-dimensional in possession, and he is yet to take matches by the scruff of the neck in the manner Liverpool captains are expected to. Emre Can is a certainty to start, and with Marko Grujic impressing, Gini Wijnaldum sure to slot in somewhere and James Milner and Lucas Leiva also in the mix, a starting berth is far from guaranteed for Henderson now.
At 26, this is his big chance to prove that he has overcome his injury woes, though, and is ready to hit top gear in the peak years of his career. Darren Fletcher is a player I have always compared Henderson to down the years, and like the Liverpool man, he really came into his own in his mid to late 20s. He never earned the accolades of Cristiano Ronaldo, Wayne Rooney, Paul Scholes and Rio Ferdinand, but he became a vital player for Manchester United in his own right. Henderson can be just that for Liverpool, and he can be the perfect foil for more expansive players such as Philippe Coutinho, Roberto Firmino, Sadio Mane and Wijnaldum. He's done it in the past, when his performances have been as key as Luis Suarez, Daniel Sturridge, Raheem Sterling and Steven Gerrard.
Before you yell at me, he's not nearly as good as any of those players mentioned. My gut feeling is that Henderson will shine in 2016/17 and beyond. I've always been an admirer, even if he is not a player who will ever get me off my seat and provide me with endless great memories. He possesses plenty of attributes that Klopp admires in his players, and it is easy to envisage him and Wijnaldum either side of Can in a 4-3-3 formation. That is Henderson's best role, allowing him to get forward and support attacks, but also offer defensive nous when needed. His rather awkward gait and ugly playing style work against him, much like Mamadou Sakho and Blaise Matuidi, but he is a far better footballer than many will ever give him credit for.
He will know more than anyone that his place in the team is now seriously under threat, and Klopp will not shy away from dropping his captain, if required. This is the season when Henderson's career will go one of two ways. He will either go up a significant gear, and begin adding more goals, influence and leadership to his game, or he will get left behind by an ever-improving Liverpool squad.
Henderson will always have detractors regardless of how well he is playing, but he offers Liverpool something different when he is firing on all cylinders. He is not Gerrard, we all know that, but in a team that is seeing more and more flair added to it, Henderson can be the understated glue that holds the Reds together.
This season will be fascinating to see how he progresses, and while many will be desperate to see the back of him, my suspicion is he will become a favourite of Klopp's.