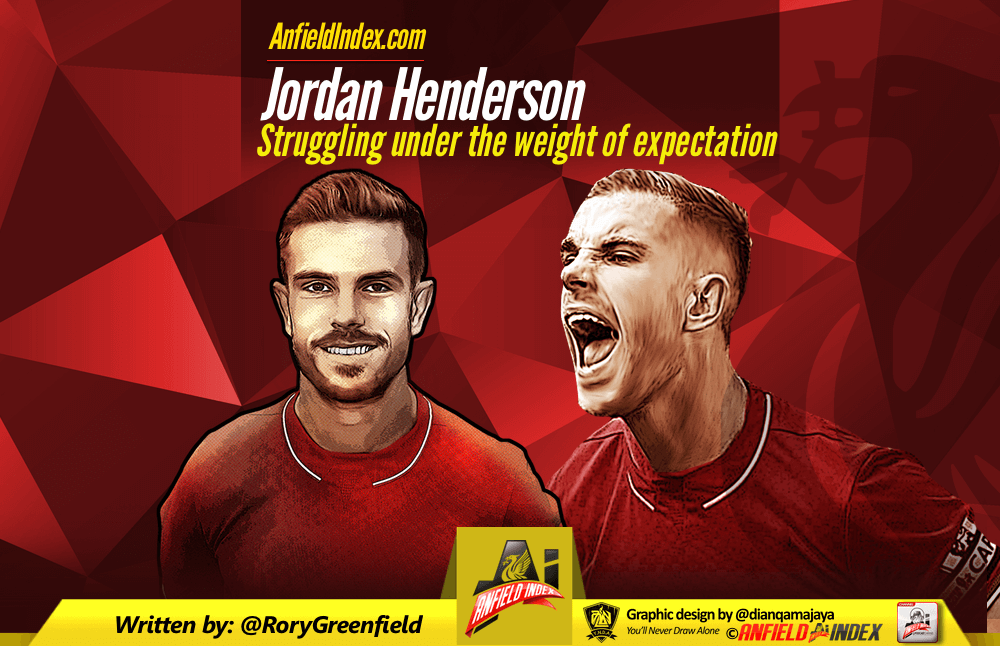 Jordan Henderson - Struggling under the weight of expectation
As Jürgen Klopp makes the final necessary changes to shape and mould his Liverpool squad, ahead of the up and coming season; speculation still remains over the long term future and captaincy of Jordan Henderson amongst supporters. It's a crucial season for everyone connected with the club, but especially Jordan, coming off the back of a frustrating, injury stricken campaign. He'll be hoping to find some form and consistency, whilst establishing and holding onto a place in Jürgen's starting 11. Whether he can, is rightly up for debate.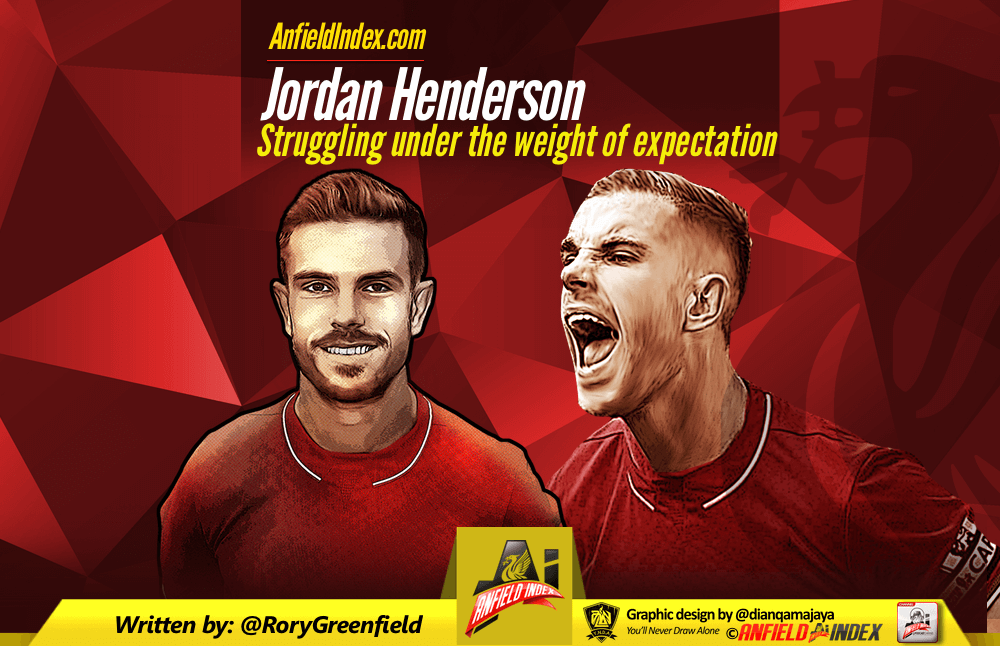 For a player who prides himself on his conditioning and work rate, last season can't have been easy for Jordan. Hampered for the majority of the season with a heel injury, it was clear that his game was suffering as a direct result. There were good games no doubt, but nowhere near the level required to make a significant contribution to the team. His stamina, pressing and mobility all suffered, which as key components to his game, made him look out of place at times, struggling to adapt to Jürgen's refreshed and revitalised side.

Having grown as a player each season since he joined the club from Sunderland, supporters were hoping, some expecting he'd kick on with his development, particularly under the guidance of Klopp. On paper his high octane pressing game, could be ideal, but his flaws in confidence and composure remain a serious question mark. As of yet, we're yet to see any signs of his personal progression since Brendan Rodgers departed the club. Klopp, along with sections of the support will hope he adapts and develops, but many have nagging doubts about his long term future at the club.
Starting just 26 games last season, half that of the previous campaign. It's perhaps harsh to judge Henderson on last season performances, as he rarely was able to play his way into form. As captain however, a weight of expectation is always demanded of the player, rightly or wrongly. It adds a spotlight to a player, it's done this with Henderson. In the latter stages of Steven Gerrard's career at the club, to me it was clear Jordan was modelling, almost mimicking his approach on that of the talismanic Liverpool star. He was trying everything in his power to prove he could become captain, he could lead the club forward into a new era. This naturally led to a burden, the player I'd argue has struggled to carry, but in truth one he placed squarely on his own shoulders.
I think it's fair to say that two traits of Liverpool supporters are impatience and a distinct lack of sympathy. Not many consider external elements that can effect a players fitness or form, so Jordan's last season's performances are seen as a failing of the player, to most. This isn't really fair, but memories are short in football and in sections of support Jordan's stock wasn't that high to begin with. I'm not sure quite how, but can hazard why the players reputation is so low. Has Jordan ever taken a risk with the ball, does he offer anything but reliable, if predictable performances? Fickle or not, his role just isn't glamorous, but that's not to say it isn't crucial to the team.
Jordan Henderson's a safe player, steady and solid, but unspectacular. Unassuming on the pitch and off, essentially he simply doesn't stand out. Yet, what he does for the team, the selfless running, with his incredible engine. The drive and ability to move the team forward, with either his strong passing or direct running, can be vital. Strangely those honest, hard working traits, of a player lacking an ego, is what endeared him to many supporters originally, so why the change of heart? For me it could be partly due to him forcing a change in his own game, for copying Liverpool's former captain. It's the time for Jordan to step out from Gerrard's shadow and become his own player, play his own game.
One gripe when trying to earn the captaincy was his attempts at showing his leadership, by squaring up to opposition players. It was uncomfortable to witness, and to me displays the opposite of strong leadership, I expect to see. It showed fear and that uncertainty is a clear trait of Henderson's. When Gerrard left I was hopeful Henderson would step into the role of captain, in positive and decisive fashion. Sadly at times it's felt forced, false and I desperately want to see the player find his feet, his voice and fulfil his potential, which I believe he can, at this club.
The midfield remains the biggest concern of mine for the season ahead. A top class midfield not only dominates matches, it wins games. The key in any successful midfield is balance. For me, I feel for far too long we've grown to accept mediocrity in a area of the pitch, that demands excellence. With Allen and likely Lucas soon to depart, with the new arrivals of Grujic and Wijnaldum, there are positive changes. Are they enough to transform this team, I'm optimistic they're a step forward, but I remain to be convinced it's enough. The balance is yet to be addressed and without a natural controller, we lack a player comfortable and confident to set the games tempo.
I've recently spoken about embracing the now, not just thinking of the future, or dwelling on the past. However, in this instance you just have to take a look back at the quality of the Xabi Alonso, Javier Mascherano and Steven Gerrard trio, to witness quite what a world class midfield does, to transform a team. By offering strong protection to a defence, setting the tempo of the game, creating space and supply for attackers to exploit, whilst cutting off space and supply of your opponents, a midfield of that level, makes every difference to the success of a team.
In a preferred Jürgen Klopp system of 4-2-3-1, just two central midfield spots are available. Those two players first and foremost need to complement each other and become a formidable pair. If we read into pre season, then perhaps we'll see a shift to 4-3-2-1, offering an additional space. This coincidently plays extremely well into the hands of Jordan, who clearly excels in a 3, with licence and protection to roam. This sacrifice of an attacker leads to concerns around the teams goal return, so it's vital that two of those three, directly contribute to the attack and provide a significant goal return. Wijnaldum can and I think will, can Henderson, Grujic, even Can?
One of the biggest criticisms of Henderson, is his ability to play in a two man midfield. Many argued when he played with an ageing Gerrard, that he was being held back. The 'water carrier' role, whose job is restricted to do all the running, while his partner provides the quality. This stamina and selfless running, lent itself well to supporters, but he had a simple task. He essentially just had to run and press, whilst letting Gerrard control the game and the attackers do the damage. There is no doubt, he has and will have more to show more of his qualities. His passing range is expansive, his technique sound. His goals and assist record are strong, but where he struggles is carrying the ball, taking the ball and turning, lifting his head and confidently transitioning play.
If Klopp adopts a two man system, is Henderson a guaranteed starter, does he do enough to contribute, to shine as Emre Can has done? If Liverpool do buy a deep lying playmaker, Klopp is known to admire, where would this leave Jordan? Surely as club captain and at the age of 26, it's the time in his career that he wants to play each week. Whilst I don't feel he's a player with an ego, he's certainly proud. He's worked extremely hard to enhance his game and I can't see a place on the bench, something he'd accept happily. He'll want to play, to start each week, then establish himself in the England team. Last season will feel like a wasted season, he won't want another.
As we head into the new season, Jordan Henderson will lead the team onto the pitch vs Arsenal at the Emirates. He'll stand tall, stand proud, but will he shrink under the pressure and expectation? I for one hope not. I want him to thrive, by embracing his game and adapting to fit Jürgen Klopp style and tactical approach. There is no doubt he'll work exceptionally hard to do so, he will never stop trying, but is effort enough. Klopp has a vision for this Liverpool team, a particular way he'll want them to play, I just can't help but feel that long term vision, doesn't include Henderson.