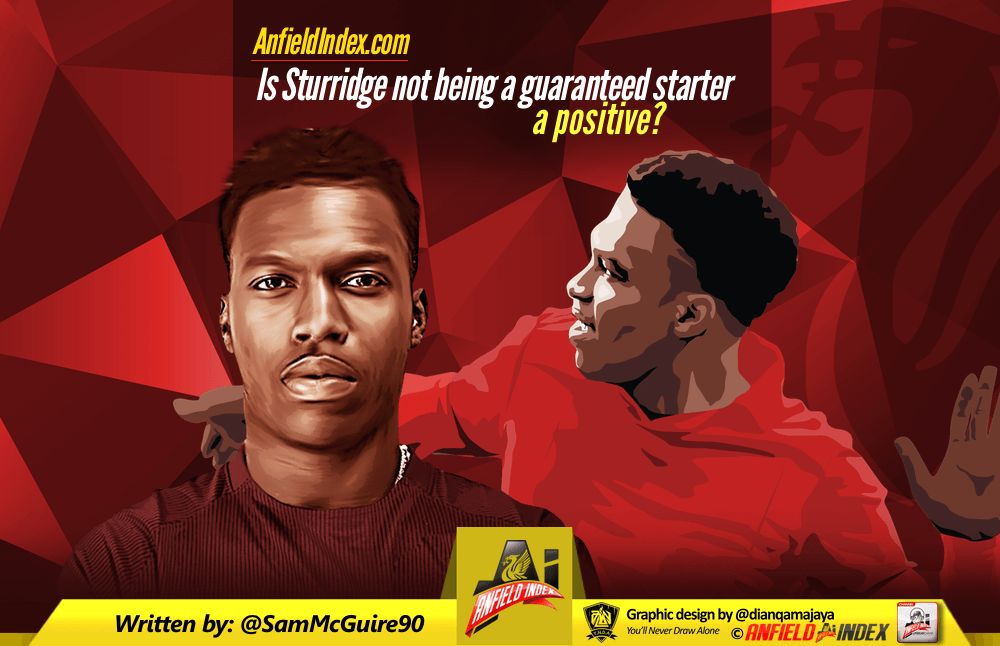 Is Sturridge Not Being a Guaranteed Starter a Positive?

We're less than two weeks away from the start of the new Premier League season and Liverpool fans have no clue who will be leading the line for their opening match against Arsenal. To some this is a downright offensive, there's only one clear candidate and he celebrates his goals by doing a wriggly arm dance.
There's no debate surrounding Daniel Sturridge's ability, he's rightfully considered to be one of the best strikers in Europe. The question marks surround his waning overall influence in certain matches and against certain opposition. As head-scratching as this may seem, goals no longer guarantee a striker a starting position.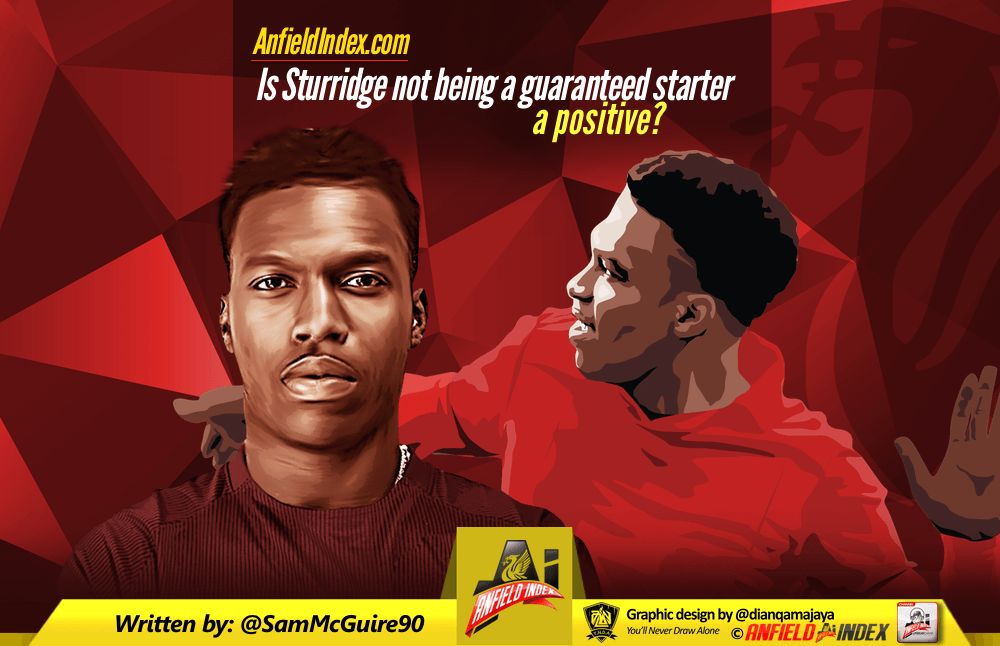 You're stuck between a hard place and a rock if you're a striker these days. In the past strikers were judged solely on their goal returns, now not so much. You can score 15 per season but if you aren't contributing to the team in other ways then it's not enough. Likewise, you could be a striker that scores just the ten times in the forty games you feature in but your influence has an impact on the team who benefit from your work. Two examples of this happen to be Liverpool's own Christian Benteke and Danny Ings.
Benteke arrived with a reputation of guaranteed goals. It wasn't so much about the style and the fit of the player because his record showed he knew where the goal was and that's what a section of fans thought the club needed. On the flip side to this there is Danny Ings, he falls into the latter category of maybe not scoring enough goals but definitely have a positive impact on the team. The ex-Burnley striker arrived at the club having scored fewer goals than Benteke, just the four, but there was a general feeling of 'what's the point?'. Fast forward twelve months and despite finishing the season with a 1 in 2 record, Benteke is on the move primarily because he's a poor fit style wise whereas Ings looks set to stay because his strengths seem to align with what Klopp wants from his strikers.
There's the whole impact vs goals argument and how modern day managers have complicated the job of a striker. Klopp doesn't want a striker like Benteke but he also doesn't want a Fabio Borini type – all running and no end product. However, one thing's for sure, it's rare these days to find an 'Allen key' striker. An all-rounder capable of starting no matter who the opposition. Although Divock Origi does have that potential. Sturridge is deadly and capable of the unexpected at any time, but there are some games in which he scores a goal and for the other 89 minutes of the match he goes missing. Why persist with that when you have other strikers capable of delivering? Why not make the most of the position we find ourselves in.
Not many teams have the luxury of being able to start four different strikers without losing much of their potency. Klopp basically has a strike force for all opponents in the aforementioned Sturridge, Divock Origi, Danny Ings and Roberto Firmino, yet there are some fans desperately want the German manager to come out and say Sturridge is the main man. He won't do that because he isn't. Klopp won't sabotage himself or the team like that.
In a weird turn of events the Reds are no longer reliant on Sturridge and it appears some are having a hard time accepting it. There has been an outbreak of Twitter polls recently asking who you think should start up front against Arsenal. It's a loaded question because, for whatever reason, people assume whomever wins the poll is the main striker for the season. Many seem to finish up with Origi edging Sturridge out and there's even been one or two with Firmino ahead of the Liverpool number 15. This isn't fans declaring that Sturridge is no longer the best striker at the club, just those who voted feel one or Origi/Firmino will do a better job leading the line away at the Emirates.
Just think back to how well Origi performed against Dortmund in the first leg away in Germany in the Europa League quarter-final. Before kick-off it was all about how Sturridge had been dropped and this was the end of him at Liverpool. Not many stopped to think about the fact this isn't Sturridge FC and Klopp was putting out a team he thought was the best to get a result. It worked. Origi did a selfless job of pressing and getting in the face of Julian Weigl from the off as Liverpool looked to stop Dortmund from playing. Sturridge couldn't have done that. You often hear managers say they'll switch up the midfield for tough away games, Klopp just took it one step further and switched up the attack.
Origi's 45 minutes against Milan the other night reminded fans why he's challenging for a starting role next season. He ran the channels, pressed the defence, was a threat aerially and took his goal superbly.
Roberto Firmino hasn't been at his finest in pre-season but he still has goals to his name and there have been signs of link-up between him and new signing Sadio Mane. The Brazilian's CV also boasts playing as a false 9 in victories against Chelsea and Manchester City last season. Just because he's not a natural striker doesn't mean Liverpool lack goals when he plays.
Danny Ings had an impressive few games before picking up the ACL injury last season. In pre-season training he's looked sharp and in the matches he's featured in he's taken his goals well. He does a lot of defensive work, he's aerially impressive and can finish with either foot.
Liverpool at last have depth in their striking department and I for one am happy that there isn't a guaranteed starter. It will lead to the four of them competing with one another to impress Klopp which can only be a positive for the club. If all four strikers are stepping it up then Liverpool will benefit from this. Last season Origi, Firmino and Sturridge all hit double figures despite all having been injured for parts of the season. Liverpool now have goals in their attack no matter who is playing.