I've already written here on Anfield Index about the business that Liverpool have done in the transfer market this summer, but what seems to have become a real bode of contention with a large number of fans is the business not done by the club this summer.
The obvious thing that comes to mind on this subject is the players not signed. The lack of a marquee signing has irked some and worried others, but it is something I do not find hugely surprising. That is not because I believe FSG will not pay high enough wages or they are failing to back the manager, but simply because signing marquee players is not Klopp's style and not really what he's come to Liverpool for. If big money, big name signings were Klopp's desire, he'd have taken up an offer elsewhere with a club looking to splash the cash, rather than build. Like it or not, our manager and owners have a similar philosophy in that regard.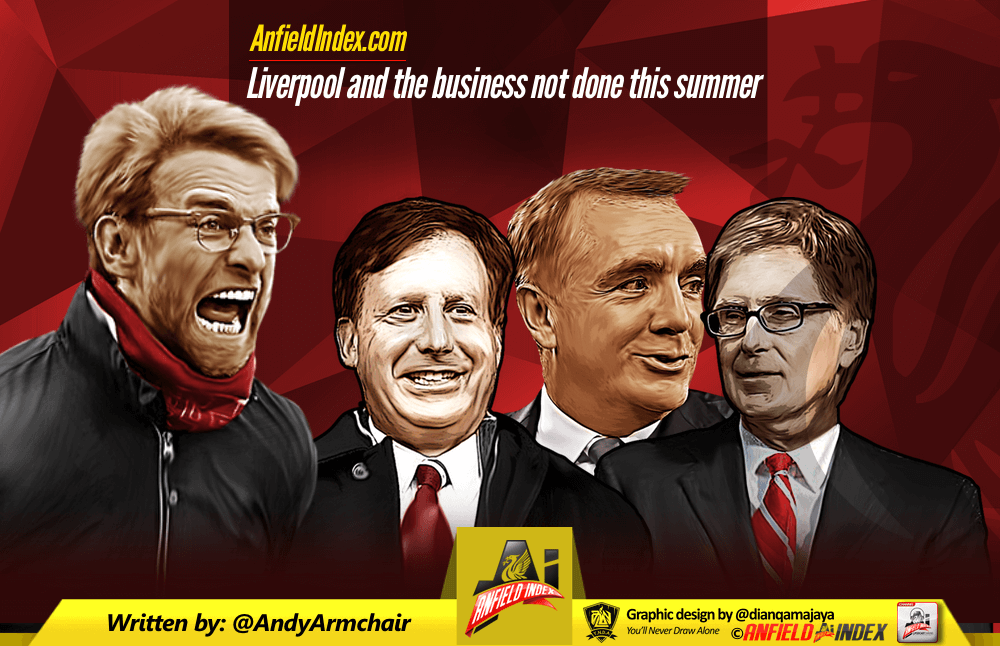 What is of more concern to a growing number of fans is an apparent failure to address the deficiencies in one or two positions. A left-back to either replace or at least give competition to Alberto Moreno appears to be at the top of most people's lists and although I think Moreno is a little harshly treated, I can fully understand the reservations of many. For all his positional brain-farts, there is talent there and having a quality left-back to push him would be good for him and the team.
The other position under scrutiny is in central midfield, whether that be a defensive midfielder or deep-lying playmaker, it's an area of the pitch that remains a concern for many Reds fans. With four weeks still left in the transfer window, it's still possible that something may yet happen, especially with Lucas looking likely to depart. It's equally possible with Jordan Henderson fully fit again, Klopp eluding to Georginio Wijnaldum's versatility in midfield and the arrival of Marko Grujic, that one or even two of them will partner Emre Can in the hub of the team. I can't help but feel that we are still one man light in that department though and over the course of a season and in particular the big games, it could hurt us.
When it comes to fans' disappointment at business not done by the club this summer, it doesn't only apply to incomings, but also outgoings. Everyone has their lists of players to leave, with Christian Benteke heading most, but sometimes that can be easier said than done and the club's insistence of recouping the majority, if not all, of the over-inflated fee paid to Aston Villa last summer has made a quick sale more tricky. It's likely that someone will eventually pay up for him as there is a lot of money swirling around the Premier League and some clubs are desperate to spend it before September. Another player high on the departure wish-list of fans is Mario Balotelli and he is proving even more difficult to shift than Benteke, but for different reasons and I think most fans understand that.
As I've already mentioned, Moreno is a touchy subject with a lot of Reds and it seems many would not be satisfied with just signing another left-back and simply want rid of the Spaniard. Long serving Brazilian Lucas was another and despite his popularity in the dressing room and amongst a lot of fans, he's sadly not close to the player he was years ago and there's no room for sentiment at the highest level. His departure is actually looking more likely and the divided opinion on him can also be said about Adam Lallana, Dejan Lovren and even Jordan Henderson.
I've described Lallana as a 'nearly' player, nearly played a through ball, nearly scored a goal, nearly but didn't. He has improved under Klopp and become a bit more direct and his work rate helps with pressing opponents, but he's unlikely to be a regular starter and for some, he must be sold. Personally, I'm content with him being a squad player and feel the same with Lovren; a player who was a walking disaster on the pitch, but under Klopp has been fairly solid. He is a likeable person and whilst some even see him as a starter, others want him gone. Although fans appear to be one extreme or the other on Lovren, I think the future for him will be more middle ground. The signs in pre-season are that Joel Matip will be playing right centre-back and with Ragnar Klavan, a left centre-back, being brought in, Mamadou Sakho and Matip will be the first choice centre-backs and Lovren will be back up.
The turning opinion on Henderson is curious, after a poor season that was ravaged by injury, his previous two and a half seasons of consistent performances seem to have been forgotten. I've seen fans demand his sale as though he's on the level of Adam Bogdan, something I find puzzling. There are doubts over his ability to play in central midfield two and that is a fair enough reservation, but judging him by by a season where he struggled with injury is harsh and I feel he at least deserves the opportunity to show whether or not he can be a part of the future.
At times, I wonder if some people waste far too much energy on the business Liverpool have not done or have arguably yet to do in this transfer window. However, having said that, I can understand the disappointments of some as before the window, I felt goalkeeper, left-back, centre-back, centre-midfield and a pacey wide player were positions that needed strengthening. Two of those have yet to be addressed, but time still remains and although no transfer window is ever perfect, this one still has the chance to be a positive one.