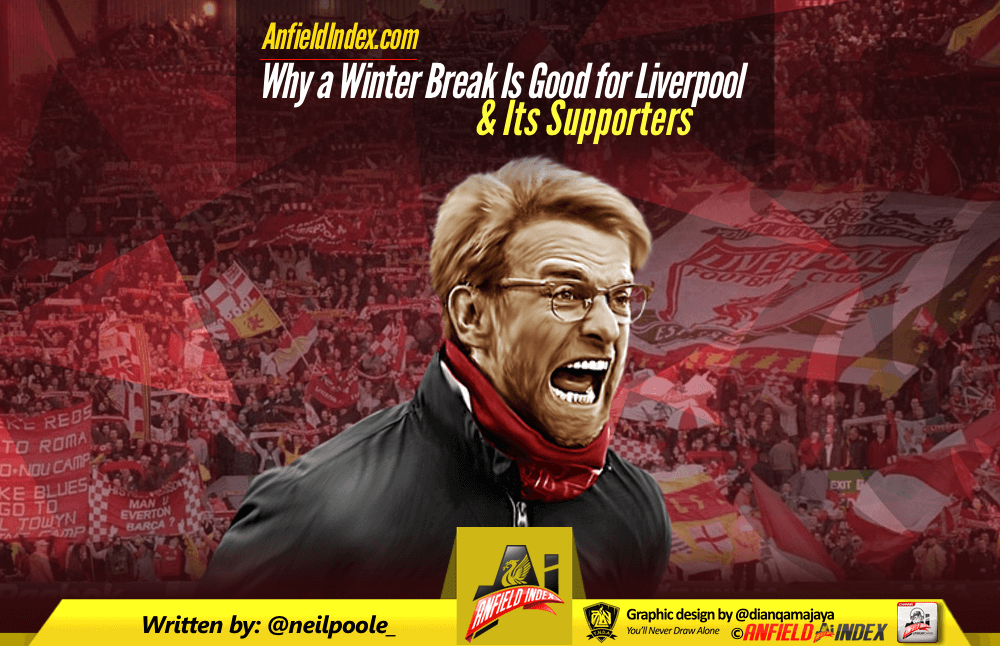 Why a Winter Break Is Good for Liverpool & Its Supporters
Neil Poole discusses why he believes a winter break would be good for Liverpool and its supporters.
A terrible thing happened last week. Sam Allardyce spoke and I actually agreed with Sir Alex's self-styled gimp. His muffled words struggled to breach the zipped mouth of his black leather mask but to me, maybe only me, they made complete sense.
You see, Big Sam is no longer driven to distraction by Rafa Benitez's mocking hand gestures during a game against Blackburn in 2009. And Big Sam's mind no longer meanders as he talks at length during press conferences about how mean Rafa Benitez was in the game against Blackburn in 2009. Big Sam is no longer even occupied by his autobiography, blissfully unaware of the irony of writing, entirely unprompted, six years on from 2009 about how he gets under Rafa Benitez's skin. It's okay Sam… It's okay. Shush now.

No, Big Sam is now England manager. He has bigger fish to fry and he is advocating the need for the Premier League to have winter break.
Like Sam, I agree. And like Sam, my motivations are entirely self-serving.
However, unlike Sam I care as much about enhancing the chances of the England team winning something about as much as I care about the outcome of the next Scottish Men's Curling Championship. In the immortal words of Paul Daniels: not a lot.
Liverpool though? I do care about. A winter break would benefit both the team and supporters.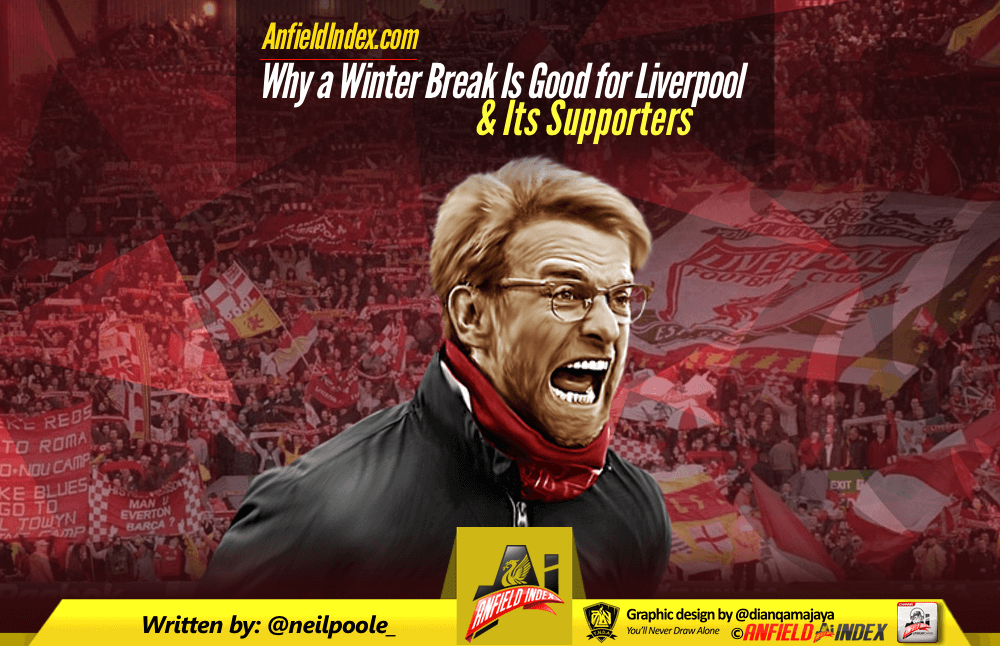 The Parameters
Firstly, let us set the parameters of this scintillating and highly original debate my virtual friends.
The consensus is that a winter break would take place after the much-vaunted Christmas slog-fest and after the 'magic' of the third round of the FA Cup. So chill your beans you philistines. That all remains untouched. This argument is for a two-week winter break taking place mid –January. Or what is commonly known as the sh*ttest part of the year.
Here we go…
Concentrate on the January Transfer Window
We are clearly terribly inept in this transfer window. Yes, we signed Coutinho and Sturridge during the 2013 January transfer window so there is evidence of some success. However, several years later and without repetition of remotely similar success since, it's safe to say we can look at that year as the anomaly rather than the rule.
Of course, we can hark back to the likes of Mascherano, but to do so – and I don't want to be the one to remind you of your own mortality and slipping sands of time here – that is long enough ago to be classed as another 'era'. Or in layman's terms: f*cking ages ago.
I doubt a break will work to be honest, but at least we can stare really, really hard at the telephone waiting for it to ring as we refuse to budge on our valuation without the distraction of, you know, games and stuff. Conversely, on the off chance it does work and we do manage to sign someone, at least there will be more of the season to actually play, allowing time for said superstar and game-changer to bed-in and make an impact.
Injuries
Precedent and statistical analysis tells us that come January not only will our entire team be injured but the double winning Liverpool side of 1986 and Shankly's title winning side of 1964 will be injured too. And all of their mums.
You can only hope that Karius hasn't been touched by the curse of Kirkland in which a promising young goalie suffer injuries at the same rate as Spinal Tap's drummers die. (Ask your dad's kids).
In light of this inevitable – nailed on – put your mortgage on it – injury crisis, a couple of weeks break would allow for limbs to be sewn back on and spleens to be massaged. Either that or they can go touring foreign climes, making what are in no-way annoying videos to fill the time.
Comfort for Klopp
I am all for arming Klopp with whatever tools he can utilise to help us win the league. Simply put, our manager has spent his entire career accustomed to a winter break. I love the man so much I'm happy to rearrange the British football calendar to make him happy. If fans of other teams don't agree than that is entirely unreasonable.
It is now a well told story of how Klopp utilised the winter break during his final season at Dortmund to stop the rot and, as he likes to say, 'push the restart button.' Dortmund's seventh place finish after initially toying with relegation shows that Klopp knows how to work this break to his advantage. Liverpool Football Club needs to maximise every advantage at its disposal.
Fan Fatigue
It's okay to admit it. Sometimes we become a bit tired of football. I absolve you of your guilt my children.
I cannot remember a season in the past few years where tears of joy were not mixed with tears of sheer exhaustion in relief that the season was over. I don't know how you lunatics with two teams do it.
Repetition in sport can suck the enjoyment out of it and leads to apathy. Look at poor Chris Froome. Never has a man winning the Tour de France, one of the most taxing events in world sport, for an astonishing third time led to an outbreak of such lethargic shrugging in the history of man. "Yeah but he hasn't got sideburns and the Mod thing going on has he!"
Same too with Andy Murray strolling to his second Wimbledon title with barely the common decency of a post-match Steven Gerrard sniff from the public. "Yeah, but it's not as good when we had to wait seventy-seven years is it?"
As a great philosopher said, "When there's always biscuits in the biscuit jar, where's the fun in biscuits."
It will be absolute murder as we struggle to cope without the usual two weeks of football we're used to in January, but football treating us mean, could keep us keen right until the end of the season. We'll need all our energy for celebrating number 19.
In-depth Conclusion
Being rubbish at signing players in January. The inevitable injuries. Keeping Klopp happy. Fan exhaustion.
You still don't think Liverpool could benefit from taking some time off in the winter?
Give me a break.