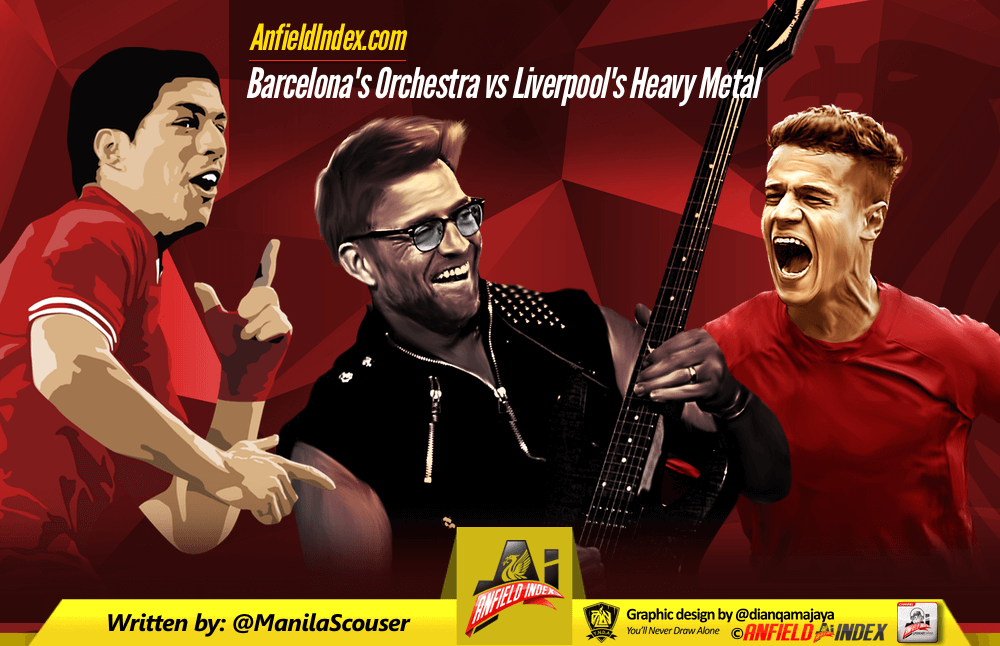 Barcelona's Orchestra vs Liverpool's Heavy Metal

When the Anfield boss said he wants his players to be the fittest in the country, he wasn't joking about.  The Liverpool squad started their preparations for the upcoming season the earliest and participated in the most pre-season games out of any Premier League club, maybe even any European club this season.  Jurgen Klopp and his team will complete their pre-season preparations with its ninth and final match against the manager's former employers Mainz 05 on Sunday afternoon, but first, Liverpool will face possibly the biggest opponent they've had since coming up against Real Madrid in the Champions League two years ago:  Barcelona.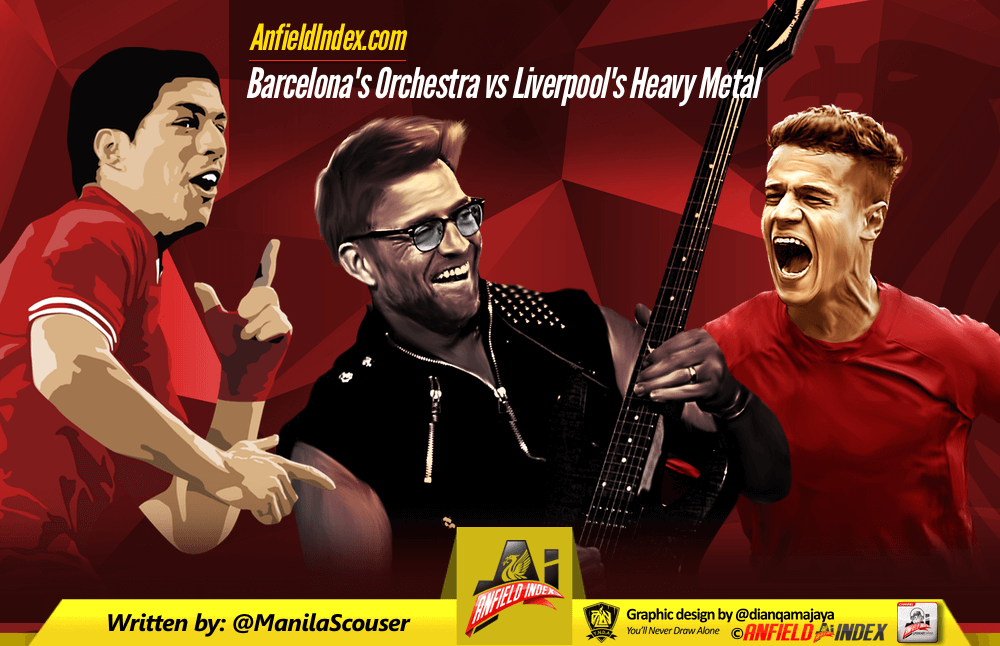 FC Barcelona, one of the most successful football clubs in the world.  A club that's filled with extraordinary players whose names I need not mention, but more importantly, it's a club who maintains an identity on the field regardless of changes in managers and/or coaches.  A team similar to an orchestra who works in harmony and synchronicity to make their style an absolute sight to witness.  Players who are selfless and anticipate their teammates' movements, performing a magnificent sequence of attack which leaves fans in awe of their style of play.
Then there's Liverpool.  A team being reconstructed by Jurgen Klopp, a manager who enforces a 'never say die' attitude, something we've seen on plenty of occasions throughout his first ten months at Liverpool Football Club.  Heavy metal football, full-throttle football, an identity in complete contrast to Luis Enrique's team.  A group of people who should be able to outrun and press their opponents to the death, a system being introduced from the same man who rejuvenated a discombobulated dressing room, and revived the confidence of a group of people that's been shattered into pieces by former managers over the past 6-7 years.
This weekend, these two teams meet face to face for the first time since 2007/08 season in a Champions League tie.  Another reunion will also take place as former Liverpool striker and Kop icon Luis Suarez returns to face his former club for the first time since he left in 2014.
Despite merely being another pre-season fixture, this clash with Barcelona will prove to be the toughest of all games for Liverpool.  As we know, on their day, Barcelona can pulverize any team that stands in their way, and even if it isn't, they can still throw knockout punches with the high-caliber players they have.  But surely the Liverpool players will all be looking forward to play against such a prestigious club? We can expect a very good, intense ninety minutes between the two.
And even with a great occasion for Liverpool fans to say hello to their beloved striker, plus being a great test for Liverpool's upcoming campaign, there's one thing that worries me: Philippe Coutinho.
The game today would be the opportunity for Barcelona scouts to look at how our Little Magician would perform against a real Champions League-caliber team, after the rumours over the past few months previously said that Barcelona were put off from Coutinho due to his lack of experience in the area.  Not the AS Roma or Chelsea, but against a club that can consistently reach the semi-finals of Europe's elite competition on a yearly basis without fault.
While I'm confident that Coutinho will stay after publicly stating he's happy at Liverpool, and it's probably just me being a little tense and uneasy, but the idea of moving to a club like Barcelona is an attractive proposition and it's something not all players would be able to resist. And when Barcelona is interested in a player, more often than not, they get their man.
Regardless of my anxiousness, all in all, this game could potentially be a great occasion for both parties. Klopp's intense, full throttle Liverpool against Luis Enrique's eloquent, graceful Barcelona, it will be a match you'd expect both teams to treat as a competitive one for sure.