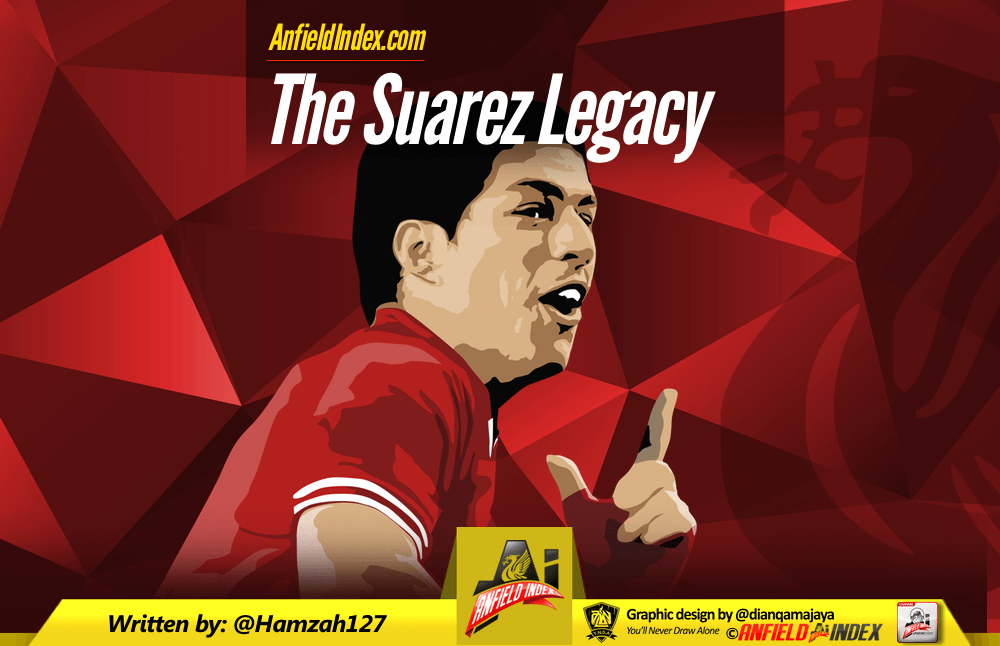 The Suarez Legacy

It seems both an age but also a short fleeting period since Suarez last donned the red of Liverpool. Yet almost three seasons after his departure, Liverpool look no better in their league position despite the reinvestment of the £63m they received for him. With Liverpool facing off against Suarez, and his fellow Barcelona teammates on Saturday, the question remains that after three seasons and heavy investment, why have Liverpool failed to replace Suarez?
It is easier to break this rather complex question up into smaller ones, for instance, "What did Suarez bring to the team?".
For that rather simple question, there is a simple answer:
Goals (82 in 133 appearances)
Assists
Pressing and pressure on opposition teams
On-field motivation & leadership
Yet Liverpool clearly still have goals in their strikeforce, assists aplenty through their wealth of attacking midfield options, and a structured pressing system reinforced through Jürgen Klopp's hands-on approach, in which he also provides the motivation and leadership for the players.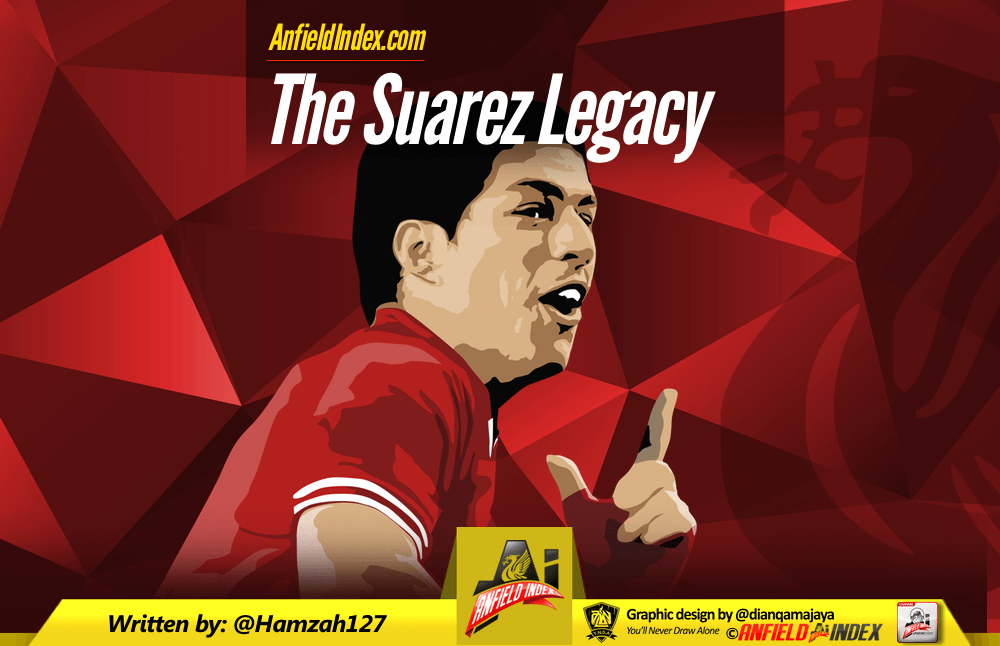 So clearly there is something extra. A factor missing. Why are Liverpool still mired in the mid-table despite replacing those qualities that Suarez possessed? To answer this, we first need to recognise that football is not a science, a black and white study, but rather it is an art; no doubt many of you know this already, that facts and figures cannot account for everything, there are some things that are just unquantifiable. And Luis Suarez is one of those. The artist with a streak of madness. The virtuoso in chief.
Thus the next question that logically follows must be, "What was that something extra?"
There was an aspect to Suarez that set him apart instantly, the 'mark of the genius', if you will, or the 'x-factor', the quality that is almost indescribable and impossible to place a finger upon. The goal against Newcastle at Anfield exemplified this perfectly, both breathtaking skill combined with glorious audacity simultaneously. Players like Suarez come along very rarely, and they bring along an individual quality, exclusive to them, which is why they are almost impossible to replace directly.
His almost childlike attitude to taking on defenders was a source of pure ecstasy for both Liverpool and football fans in general, in which he would always look for the nutmeg, as if he was on the playground or back on the streets of Uruguay. Never have I seen a football player that made me smile or chuckle as much as I did when watching Suarez play for Liverpool. His variety of tricks didn't stop with simple nutmegs though; for example, he employed an infamous and rather comical playground classic at Old Trafford: with the ball up in the air, he shouted "Leave!" tricking Manchester United legend and stalwart Ryan Giggs into leaving the ball for Suarez to steal and run away with, with Giggs looking confused and embarrassed in the middle of the field. This attitude and style to his play is a major factor as to why Liverpool fans miss him so much – it wasn't just the goals that pleased the fans, it was that little bit extra, the feeling of joy that he gave supporters. Whilst players such as Torres or Owen scored goals, they didn't bring something new to Liverpool's overall game, whereas Suarez did – his own unique style, that inspired thousands of young children across the world to want to be like Suarez.
Another one of Suarez's personal qualities was his desire to play on the edge, in order to gain the smallest advantages over his opponents so that the team could win. This was one of the qualities that truly endeared him to the Liverpool faithful, a player who understood the importance of winning as much as the fans. Once again there are a variety of examples of him playing on the edge, but none quite so as humorous as when he went down under a challenge from Cameron Jerome at Norwich, and rolled around in an attempt to win a free kick, just before the ball was recovered by Allen, following which Suarez 'miraculously' rose and sprinted forward in an attempt to score. Moments like this are priceless, and only served to build up the bond between Suarez and the Liverpool fans, in a way which most players today are envious of.
Norwich and Suarez was a curious one-way love affair though. He plundered 12 goals against Norwich, and in the process managed to score goals that were simply outrageous time and time again; indeed he could do no wrong to the Liverpool faithful. Something that held true despite him being on the receiving end of a rather hefty ban from the FA after biting Branislav Ivanovic. In this instance, much like the previous incident of alleged racism towards Patrice Evra, both the club and the fans stood firmly with Suarez – a testament to his quality and adoration, that the fans were willing to look past a rather nasty on-field incident, instead recognising his immense talent and skill. He was almost like the naughty child from school with unbelievable potential, who could achieve it all, if they behaved and tried. The Liverpool fans knew this, and stuck with him, as they felt it would all be worth the pain and frustration. Even now, whilst he plays in Spain, there is a sense of pride amongst the Liverpool fanbase when watching Suarez, as if he was a child of Liverpool itself.
Indeed, Suarez was simply unlike any other player, he wasn't just magical, he was addictive, almost narcotic in nature. The fans had craved for years for a player like Suarez; he wasn't just the best striker since Owen, or the most popular player since Gerrard, he was the best player since The King himself, Kenny Dalglish. He had everything, and more.
Yet his affinity and popularity with the fans does not explain why Liverpool have failed to definitively move on in the post-Suarez era. Some of the blame can be attributed to injuries, some to poor or misjudged signings, perhaps some to poor management, but ultimately, to answer the question, we must acknowledge that replacing Luis Suarez is an impossible task. Players of his quality come once in a generation, and those who have that extra spark, or magic about them are even rarer.
Suarez was not just a one man party though, he formed one of the deadliest Premier League strike-partnerships of all-time with Daniel Sturridge – the 'SAS' – a mix of pace, flair, dynamism and clinical finishing unlike anything since Henry and Bergkamp. Unfortunately, as Suarez flourished at Barcelona, Sturridge was hindered and hampered by incessant injuries, which only now seem to be behind him. Maybe a more mature Sturridge will allow Liverpool to finally reach the heights they did with Suarez, and fill the void left after a tantalisingly but also devastatingly close attempt to clinch the Premier League title.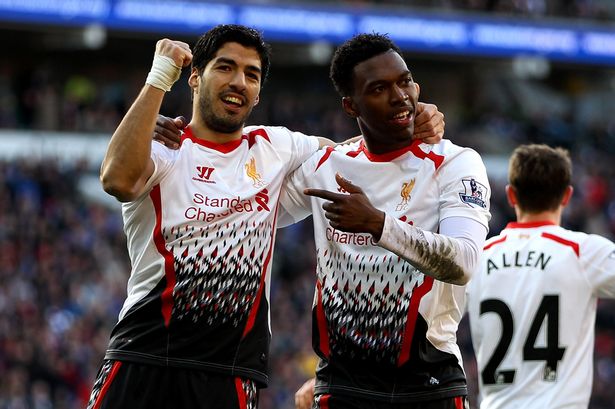 However, a hole remains in Liverpool FC and its hurting fanbase, approximately the size of Luis Suarez, but for Liverpool to move on, they should not be looking for the 'next Suarez', but rather a player who brings their own style and charm to the team. For instance, when Ronaldinho had reached his best at Barcelona, and it was time for a new player to take his mantle, Barcelona did not look for another identical player, as in simple terms, imitations can never be as good as the original, instead they looked for a new player to write his own history, and Lionel Messi was there to do so.
In fact, it is possible Liverpool, and the Liverpool fans have been looking in the wrong area for Suarez's replacement. Perhaps it need not be a single player that makes up for Suarez, but a few: Daniel Sturridge can directly replace the goals that Suarez provided, and also has his individual flair about him, but that magical quality that Suarez had, whilst unique to him, is remarkably alike to a young Brazilian no.10 with more than a touch of flair playing for Liverpool, a player very similar to Suarez in some ways – his quiet nature off the field, and dazzling on the ball skills when on the pitch – yet also different, a creative player rather than a destroyer of opposition teams. Indeed perhaps Coutinho can grow and not just fill some of the void left by Suarez, but also create his own style to earn adoration and plaudits, and maybe become a Liverpool hero too.
Jürgen Klopp himself presents a rather intriguing prospect too, he is very much focussed on the concept of team building, and a collective ethos and spirit, in which the sum of the parts is greater than the value of the individual parts themselves – maybe Klopp will go some way to healing the hurt left from Suarez's departure, as he himself is also immensely popular amongst the fans, but his players will certainly have a key role in that becoming a reality, as ultimately it is performances on the pitch that mean the most to the fans.
It may be impossible to replicate the process that led to Suarez becoming so adored by the Liverpool fans, and also impossible for Liverpool to find another striker like him in the current pool of strikers on the market, but Suarez's departure presents an opportunity for all of the players in the Liverpool squad, and also any players that may join Liverpool in the future – Suarez may now be the benchmark for greatness at Liverpool, but there is a chance for a new player to forge their way into the hearts of Liverpool fans across the world and to write their own story as Suarez did, and Gerrard, Fowler, Barnes, Rush and Dalglish did before him. Who will be the next player to add their name to the list, and become the next player to talk about for years to come?