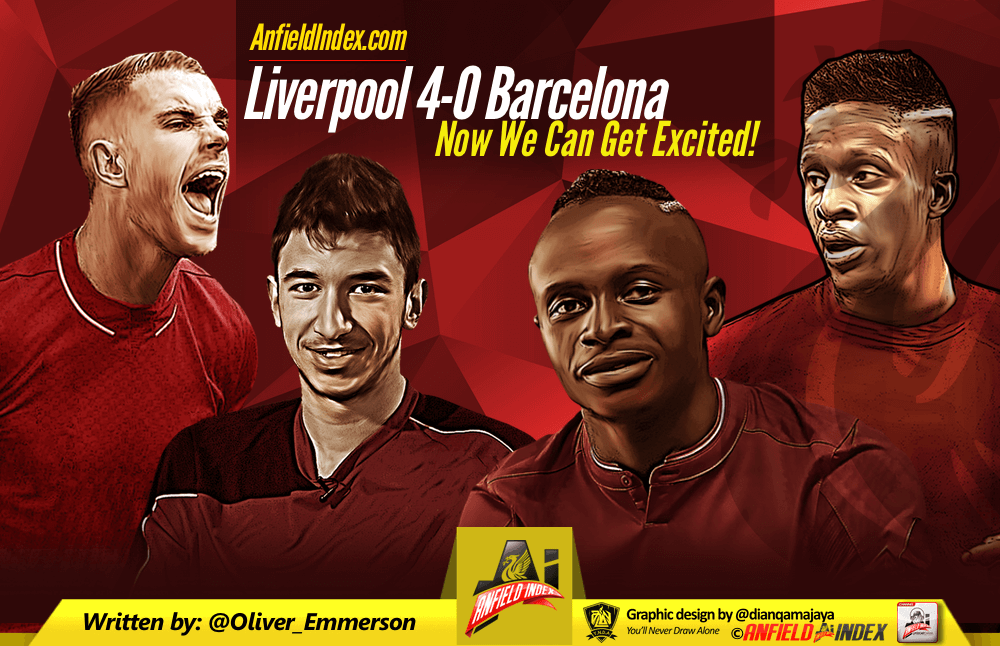 Liverpool 4-0 Barcelona - Now We Can Get Excited!
Liverpool trounced Barcelona, yes… the actual Barcelona, by four goals to nil at Wembley on Saturday evening, and it puzzles me as to why we're not all feeling giddy.
Yes, it's just pre-season, but come on? Four goals against Barcelona. Four goals past a defence protected by the best defensive midfielder in the world. No goals conceded to Luis Suarez and Lionel Messi.
So, why the doom and gloom? Simply, because it wasn't a competitive game. This pre-season malarkey means nothing, and in the history books it doesn't, so in one aspect people playing down the result are right.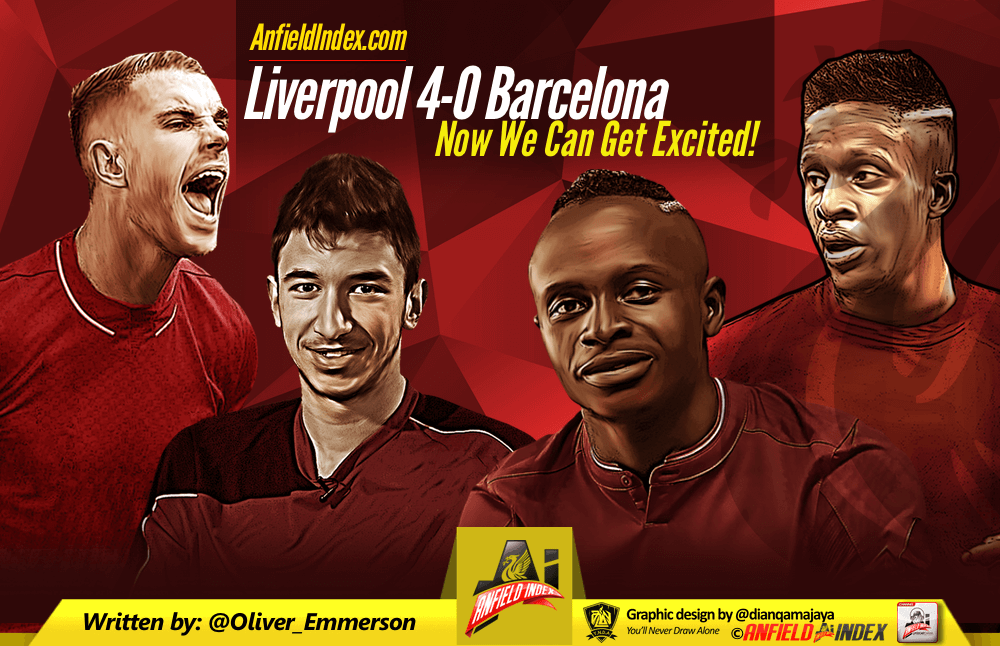 I'm not totally disagreeing with such people. Do I think Liverpool would beat Barcelona 4-0 in a competitive match? Nope, nor do I think Liverpool would beat Barcelona in a competitive match – at this moment in time.
But, there are a ton of reasons as to why this wasn't 'just another friendly'.
Firstly, it wasn't. There was the prestigious International Champions Cup trophy to play for, with Barcelona requiring a four goal win to overtake PSG in the Europe/America section. Who wouldn't take pride in winning such a competition? I certainly shed a tear when we lost 3-1 to that Manchester team a couple of years ago.
Jokes aside, a big problem for me is people comparing the infamous friendly against Borussia Dortmund, nearly two years ago to the day.
After the doom and gloom of losing the title, and subsequently Luis Suarez, delight was restored for a day as Jürgen Kloop's Dortmund were swept aside by goals from Sturridge, Lovren, Coutinho and Henderson. Everyone was united once more, we were ready for the season. A season in which Liverpool would finish sixth.
Therefore, some skepticism over this friendly is allowed, but comparisons with the Dortmund game are silly, really.
The Dortmund team that day contained no Weidenfeller, no Hummels, no Gundogan and no Reus. There were a few key names, but it was an extremely weak side.
Barcelona, too, were without players such as Neymar. But who were they with? Just Ter Stegen, Mathieu, Mascherano, Busquets, Messi, Suarez. Pique came on, Iniesta came on, Bravo came on.
In addition, Dortmund were further away from their season than Barcelona were. The Bundesliga didn't kick-off for a couple more weeks, Barca were preparing for the Spanish Super Cup against Sevilla, a two legged affair taken far more seriously than our Community Shield.
So, Barcelona were more up for it and had a stronger team than Dortmund, yet we still overturned them by four goals to nil.
More on the game, though. What exactly can we get excited by, about those four goals? Starting with Saido Mane seems fair, given that the winger finally got off the mark for the club, scaring Barcelona with his cheetah like pace. In fact, he's probably faster than a cheetah. Around the world in 80 days? Mane could do it in eight minutes. In all seriousness, he was fantastic against the Catalans. Many thought that Mane was acquired in order to help Liverpool stretch teams that are sitting deep with his pace, but he might be of real use against the top teams.
When playing opposition who are more gifted than you, it's often through non-technical, non learnt qualities that get you through, things like physicality and pace. Mane offers the latter in abundance, and could be a real wildcard when playing your Manchester City's and Chelsea's of the Premier League.
Moving onto the third goal, as secret agent Mascherano did his best with the second, Liverpool were so angry at not having a second red on the scoresheet.
Just hours before Origi calmly placed the ball through Claudio Bravo's legs, there was widespread Twitter fume about Daniel Sturridge's minor hip injury. Origi, who was more likely to start next week than Sturridge anyway (in my opinion), calmed that fume within two minutes of coming on. He's so quick, but never seems to look it as he's getting away from defender's, everything seems to slow down before he inevitably places the ball into the net. Let's get excited about Origi.
Goal number four, scored by  peak Frank Lampard  Marko Grujic, was just ridiculous. Was it the goal of the day? Yes. Better than Suarez's header against West Brom? Yes. Better than any other header ever? Yes. Better than any other goal ever? Yes. He seems to have a knack of being in the right place at the right time, young Grujic, something that Liverpool have missed in midfield for years.
Casting our minds back once more to that 2014/15 season, started with the win over Dortmund, and you'll remember the second to last time Liverpool played at Wembley, against Aston Villa in the FA Cup semi-final. That game, which Liverpool lost 2-1, was remembered for Brendan Rodgers changing the formation around 31258339 times.
Liverpool lacked stability when Rodgers made those changes, and mass ones were never needed against a relegation battling Premier League side.
Klopp made switching things around much easier against the best team in the world, in a game where he's expected to see his side lose rhythm, through a number of substitutions.
Changes were made, but the style stayed the same. Liverpool went from a 4-3-3 in the first half to a 4-2-3-1 in the second, but you didn't notice anyone struggling to adapt tactically. Origi came on and did the same pressing job Firmino did, whilst Kevin Stewart stepped in for Can and marshalled the defence excellently.
Everyone has spoken about how the improvement in the quality of Liverpool's depth has given Klopp more options for starting lineup's in the coming season, but it's the changes in games which may be even more important, and it appears that Klopp has got them nailed down to a tee.
There is so much to be excited about, all going off one game. No, I'm not saying it's going to be our year, and I don't think I'm getting carried away. I'm just celebrating an excellent win, and so should all Liverpool fans. It looks like something we'll have to get used to this season.
Up Jürgen's-Barca-Thumping-Reds.