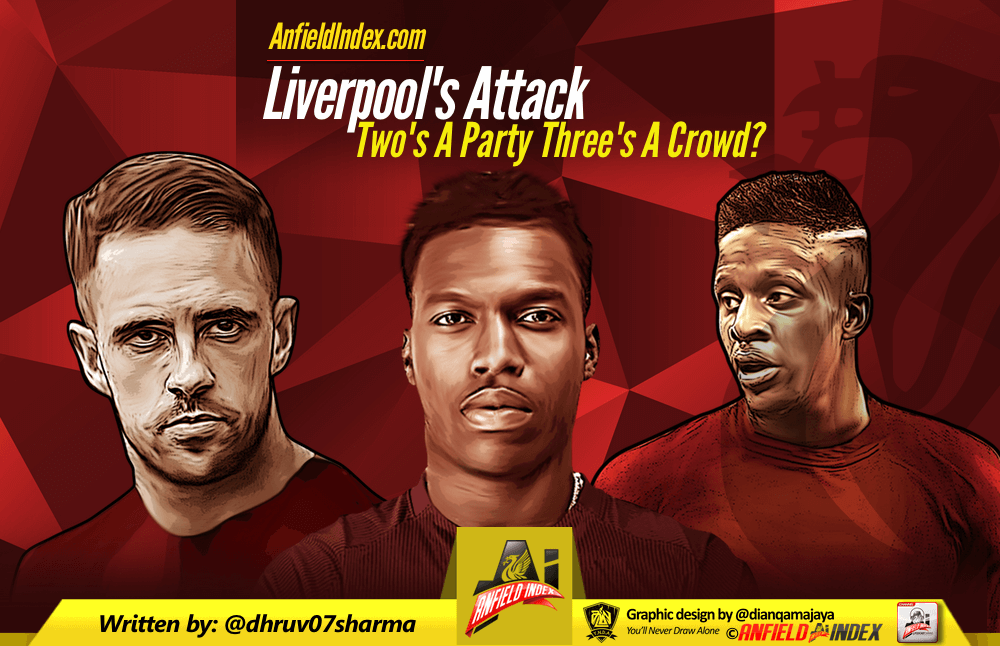 Liverpool's Attack: Two's A Party Three's A Crowd?

As the season draws closer, there is a certain situation not many are talking about…
With the signing of Mane and early captures of Grujic and Matip, Klopp has most of his team settled down with places earmarked for all personnel. But the one position where Liverpool truly have a conundrum is the spot for the solitary striker and no-one seems to be heeding to this issue of who this lone number 9 is going to be throughout the season.
Back in February, Liverpool started an away league game with Daniel Sturridge leading the line. In that 6-0 mauling of Aston Villa, two LFC strikers got on the scoresheet, giving Klopp a very different kind of headache from there on.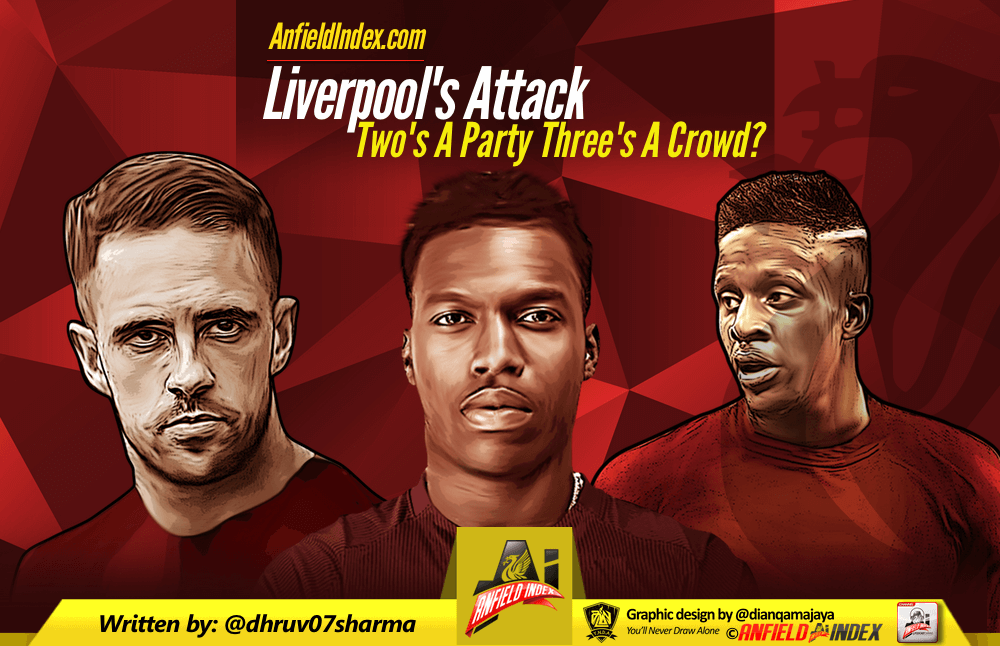 Ever since Klopp took charge of Liverpool until that outing in February, Klopp had one persistent problem: of not having an out-and-out quality striker. Benteke was just not made for Klopp's high pressing system, Ings was out for the season and Sturridge was being himself, while Origi was highly unreliable. Even though Firmino deputized admirably in the make-shift role of a false nine, but his talents are somewhat wasted in that role. Following the trip to West Midlands, he had a much more welcome headache to deal with: choosing between Daniel Sturridge and Divock Origi to lead the frontline.
With Sturridge enjoying a sustained period of fitness (fingers crossed his scare is nothing serious), Origi having built himself for the English topflight and Ings returning from his ACL injury, Liverpool have three strikers vying for a solitary spot in Klopp's preferred 4-2-3-1 formation. With no European football to deal with, rotation will be at a bare minimum. Thus, it is highly likely the choice for a focal point in attack will be down to the opposition, venue and situation.
The Long Ball
In Matip, Lovren and Sakho Liverpool have decent distributors of the ball from the back. None of them shy away from playing a long ball into an attacker. With Matip and Lovren in pre-season showing signs of going route one frequently, don't be surprised if Divock Origi is Liverpool's front man against Arsenal on the opening day. While the Belgian lacks the composure and class of Daniel Sturridge in front of goal, he more than makes up for it with his hold up play and ability to get Liverpool's attacking midfielders into play. His qualities are best suited in cases where the opposition has greater quality than the Reds have in their ranks and in games where Klopp's men need a frequent out-ball. The 21 year old's pace and strength make him ideal for a counter-attacking setup. Thus he is highly likely to thrive in away games where Liverpool will be focused on defending and breaking from the back.
The Home Game
Over the past few years, the stronghold of possession based football has ended bit by bit which has encouraged teams that travel to Anfield and other metaphorical fortresses to sit back and invite pressure. Under such circumstances where chances are at a premium and the Reds need to make the most of the precious little that comes their way, Sturridge should be ideal. He is not only a taker of chances, he is a creator as well. His tricks, flicks and clever little passes are important in creating space for his fellow attackers. The Englishman is thus suited to situations where Liverpool need to break down defenses.
Diamonds Are Forever?
The only way one can see Liverpool line up with two strikers is in a diamond formation that was supremely effective at times last season. However, the only way one can expect to see this formation is when Liverpool are chasing a game. Moreover, the diamond setup means that Liverpool need to play three midfielders, thus usurping one of Coutinho, Firmino or Mane. Owing to these reasons, it is highly unlikely that fans will see the Reds start with this formation in any Premier League outing.
Where does Ings Fit In?
Danny Ings, it has to be said, recovered rather well to be involved at The Hawthorns, last season. However, it is hard to see him as a starter anytime soon, especially if Sturridge and Origi both maintain their respective fitness. Despite this, Ings will have a crucial part to play from the bench. His enthusiasm is infectious, and his work-rate incomparable. Too often in games last season, Liverpool were caught short as they had no impetus in play, especially in second halves of games. However, in Ings, Klopp has a player who can provide the team with an adrenaline injection of pace and power if and when they need it. His energy galvanizes the entire team and can prove to be crucial to pull Liverpool across the line in many encounters.
Liverpool are lucky to have a bundle of attacking options in their ranks this season, however they are perhaps even luckier that they have Jürgen Klopp taking charge of these abundant options. The Premier League this season will be more competitive than any other season known before, but Liverpool, for the first time in many years have got an attack where they perhaps need not beef up: and that's without Benteke!