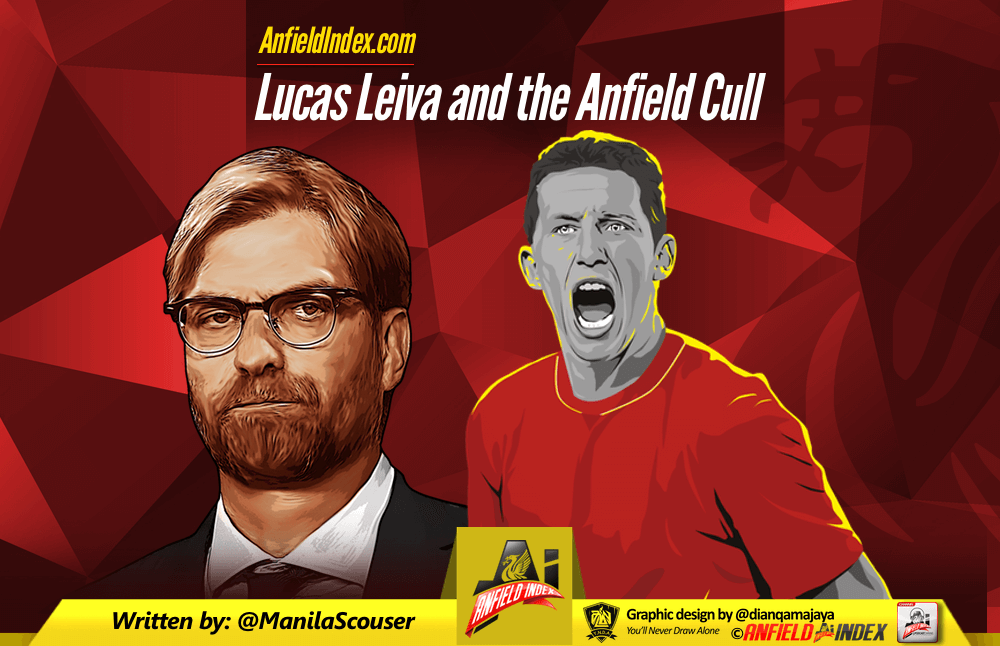 Lucas Leiva and the Anfield Cull
We all knew when Klopp arrived at Liverpool Football Club, we had unanimous agreement that a massive clearout of players was in order. There was the likes of Jose Enrique and Martin Skrtel that needed to be moved on from the club. Today, even without any European competition this season, the manager has found his Liverpool squad too crowded for a team that would play fifty-odd games this season, at most.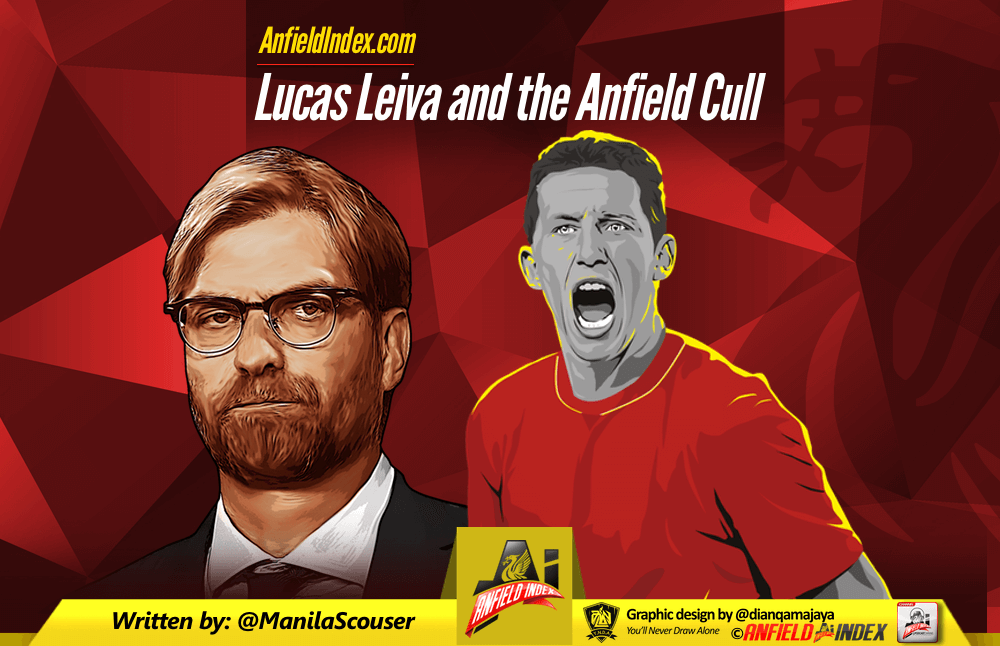 As things stand, there are already a number of players who have left Anfield, including the likes of Jordon Ibe, Brad Smith, Joe Allen and Martin Skrtel. Even then, we can expect more departures, as Christian Benteke, Mario Balotelli, Luis Alberto, are expected to leave the club. There's also Lucas Leiva, or the invincible player as some Liverpool fans call him. The last man standing in the Rafa Benitez era, who is heavily linked with a move to Turkish side Galatasaray.
Apart from all the arrivals this window purchased by our new manager, the rest of the players at Liverpool have been brought in by former boss Brendan Rodgers now manager of Celtic Football Club. That's a sheer amount of signings from a manager who's been at the club for a little over three years, over twenty players have been brought in and only a fair few have left during his term.
Liverpool is a city (or country) that lives and breathes football. While some criticise other supporters to calm down because it's merely a game, there's just been so much time, money, and emotion invested by us to the club that it becomes a huge part of your life.
Having said this, you can't help but take a step back and look at our current Liverpool squad. Every supporter is aware of the difference between Liverpool and any other club in the world. I'm not talking measuring the success the club has had over the years compared to others, rather the sheer difference when it comes to the support the club receives from its fans, the 12th man, if you would. Players who have been at the club for a lengthy period understood the massive expectation from the fans. And even though some of those players are dubbed "not good enough" by fans (i.e Lucas Leiva, Martin Skrtel), they still performed to the best of their abilities, because they understood what the Liverpool rivalry between Everton and Manchester United meant to the faithful.
There's more than rivalry to understand Liverpool as a club. There's a deep connection within the players, managers, and fans. And not a lot of players will fully understand and immerse themselves in the traditions of the club until they've spent a fair amount of time at Liverpool Football Club.
With Martin Skrtel's recent departure, should Lucas complete a move away from Merseyside, there would be only one regular squad player remaining on Liverpool's payroll that have been at the club who comes close to the length of service Lucas and Skrtel have given: Jordan Henderson, who arrived in 2011, now captain of Liverpool Football Club.
Despite the majority of fans judging a player based on their output and performance on the pitch, I think Lucas has done a great service to the football club. And while I agree their verdict is based on his performances because that's what they're being paid to do, there's much more to being a senior player at a club than just performing. Being honest, you need skill, talent, and a good attitude to play regularly. Because there are some extremely talented players *cough Balotelli cough* who are not being given the light of day due to an apparent poor attitude. But the key for these senior players is to find how they could give back, apart from playing 70-80% of the games.
It could be a number of small things such as welcoming a player to the club, making them feel welcome, and ensuring they settle quickly. Just do things and take on things that you think would help the club off the field. And you can probably give some credit to Lucas when Coutinho, Firmino, and Allan's move to Liverpool was quite smooth. They had him as a big brother figure to turn to.
Keeping in mind Lucas was also originally a box-to-box midfielder while he was playing for Gremio prior to his move to England, he looked like a bright player when he first signed for Liverpool. But injuries took a toll on him, adding the move to a different role at the club, he was unable to return to the form he showed when he arrived.
Whatever happens at the end of transfer window, should Lucas leave, he's done a tremendous service to the fans of Liverpool. Despite him not being the best player at the club, he's one who I think will muster up all that he's capable of to make the fans happy, and is one who I think should be given a departure filled without negativity, rather an abundance of appreciation.