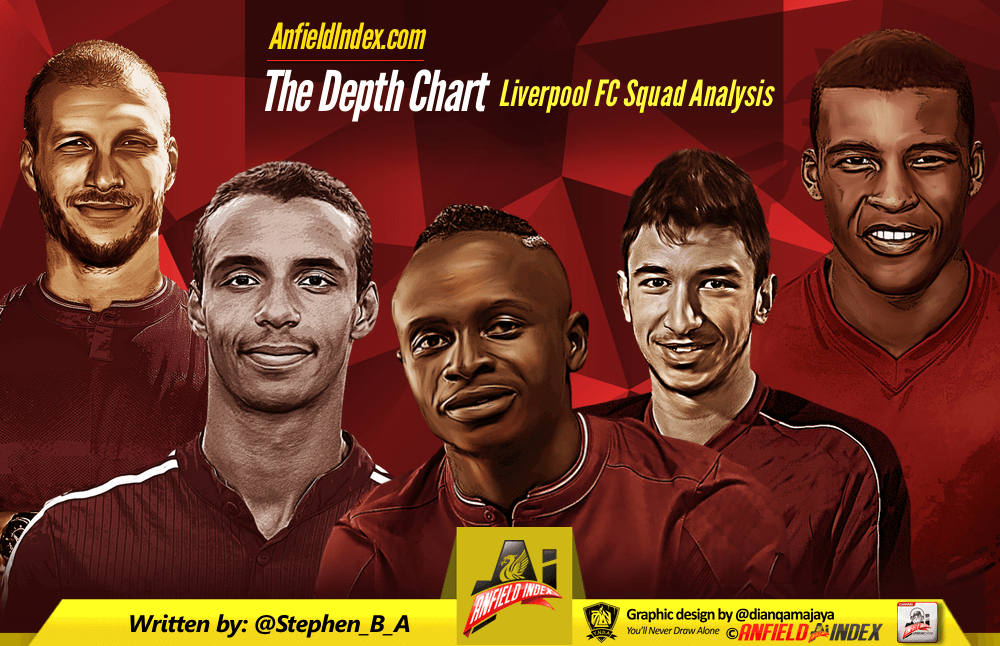 Liverpool FC Squad Analysis: The Depth Chart
During his first summer transfer window Jurgen Klopp is slowly shaping the Liverpool squad to fit his tactics, his style of play and the personalities he wants in the dressing room.
We've seen stalwarts such as Skrtel moved on and Mignolet marginalised, with more departures expected in the coming weeks and maybe one or two new faces coming in.
With less than one week to go before the Premier League season kicks off, how is the newly shaped team looking?

If you've listened to Anfield Index 116, you will have heard Dave Hendrick and Karl Matchett discussing the line ups with Gags. There are also plenty of articles on specific formations and tactics that Klopp could be looking to use this season.
So, with that in mind here's a look at the depth chart of the roles we could see Klopp need this season. This isn't a first XI and includes the various roles that make up Klopp's preference for 4-2-3-1 as a basis and 4-3-3 and 4-4-1-1 as tactical options. There are going to be a few players who will cover several roles and maybe even a few odd ones out.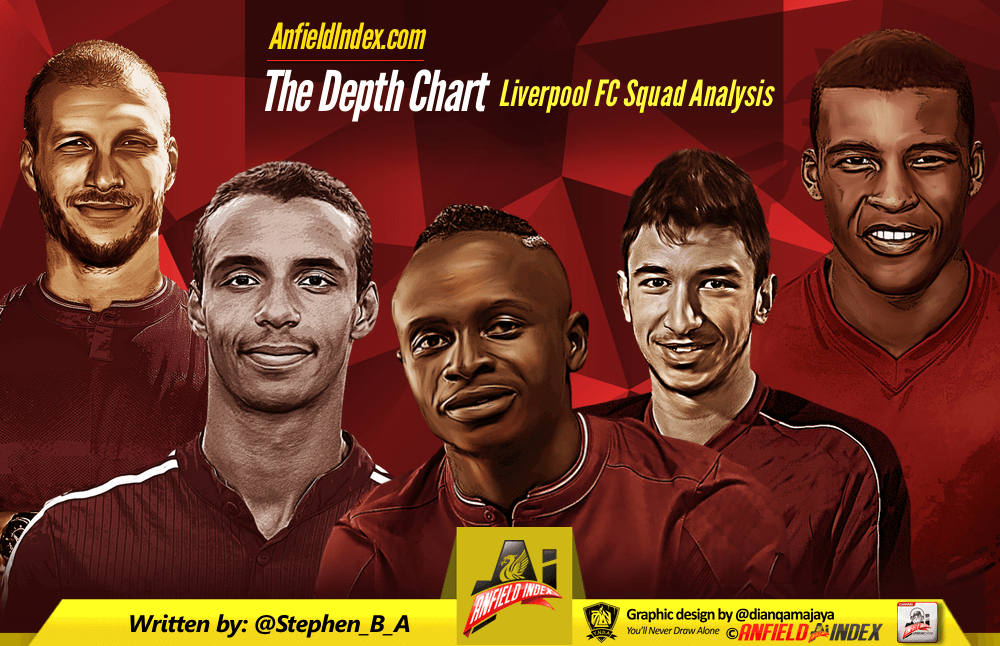 Goalkeepers:
Let's start with the goalkeeper. So far we've seen Danny Ward given a new contract and loaned out – one hopes he is doing so for his development as he looks a solid prospect for a long term number 2 and cup 'keeper. We've also seen two new faces at either end of their careers.
Loris Karius is surely the new number 1, as per his shirt number. Though his injury keeps Migs in the frame for now, Karius has an opportunity to give Liverpool a 'keeper with potential to match Reina in his pomp (who is still my favourite player in goal).
Simon Mignolet will start the season in goal, he's staring at a long season of bench warming and cup games. It's never really worked out for Migs and LFC and you'd imagine he'll move on this summer.
Alex Manninger has never been a spectacular 'keeper and most certainly coming to Liverpool to finish his career. He's been in winning dressing rooms and his experience could be a huge help in developing Karius over the course of the season.
Defence:
The back four at Liverpool has been a constant debate with Liverpool fans. Sakho, Moreno, Lovren all have their fans and haters for starters and we've seen the addition of two centre backs and Enrique finally leaving.
Right Back: 
Nathaniel Clyne is the obvious first choice here. He's a sold 7/10 player most weeks and offers balance to Moreno's attacking instincts.
The back up position  is between two players at the moment. Trent Alexander-Arnold has enjoyed an impressive pre-season as both centre midfield and right back, which is surely his most natural position. He's quick, strong, composed and intelligent and hopefully he'll break though as the number two this season and potentially first choice further down the line.
James Milner also looks to be pencilled in as an emergency right back going off comments from Klopp this summer.
Right Centre Back:
A position where we lack a real specialist in my opinion. Though looking at pre-season new boy Joel Matip looks like he' Klopp's first choice. Typically a left sided centre half who can also play as a defensive midfielder. Lets hope he fills this long standing whole.
As things stand Dejan Lovren is slated in as the number two right centre back. Joe Gomez's aim this season has to be to put pressure on Lovren for the backup role with a view to becoming first choice once he's ready in a few seasons.
Left Centre Back:
One for the Sakho v Lovren fans. But anyone with any real sense can see that Sakho once fit (and back in Klopp's good books) is the starting left sided centre back and potentially a future captain or vice captain.
Ragnar Klavan has shown he is a solid player thus far and look like Klopp will prefer him to Lovren or Matip as Sakho's understudy.
Left Back:
Alberto Moreno looks to have the role nailed on again this season. Again a controversial pick for some fans, but his attacking prowess seemingly suits Klopps plan. Clyne's more defensive nature offers balance and Sakho (when fit) often makes up for his defensive frailties.
The back up options here are currently rather thin. James Milner played a solid 40 mins against Barca before injury forced him off – though his lack of pace could prove an issue in some games. Clyne and Klavan have both played at left back in the past and may have to fill in this season.
Centre Midfield:
Midfield is one area where the depth of the squad is much better. Though still lacking in some areas, such as defensive midfield or a deep lying controller, Klopp has some interesting options.
Defensive Midfield: 
Emre Can has this position nailed down for the season. His centre back worthy physique, intelligent play and superb range of passing could lead to him becoming one hell of a brutally imposing regista.
Other options here are limited. Lucas isn't good enough anymore and seems to be a backup centre  back, Hendo's game is flawed as DM or in a two. Grujic has a physical presence but seems more suited as a box-to-box midfielder and Kevin Stewart is no more than a mid table quality player.
Centre Midfield:
Here things get more interesting. As the Club captain Jordan Henderson seems fairly certain to start more games than not. In a midfield two he struggles, but when playing in a three with Can at the base and alongside a creative player he shows his strengths as the box-to-box midfielder – look at Mascherano's own goal on Saturday.
Marko Grujic is another who is impressing in preseason. Like Can his has an imposing frame and he seems to have the knack of popping up in Lampard-esque positions to get a goal. I can see him both covering Henderson or Can in some games, but also complementing them in a three against some teams.
The other options here are also interesting. Lallana enjoyed 45 mins in a deep role and pressed and hassled the Barca midfield on Saturday. Gino Wijnaldum could play minutes here as could (but hopefully not) James Milner. Long term Allan and Cameron Brannagan also look promising.
Attacking Midfielder (#8):
I'm going to break this into two roles. Firstly the number 8 position when played in midfield three, then the number 10 for the 4-2-3-1.
Attacking Midfielder (#8):
Georginio Wijnaldum appears to have been bought in with this role in mind. Alongside Henderson he could form a potent midfield and with 11 goals this season he has a track recored of getting into the box at the right time.
Behind him many would like to see Countinho play here, but under Klopp his future seems destined to be further up the pitch. Gjuic again could offer a psychical presence in the role and depending on Brannagan's loan he could see minutes here too
Advanced Playmaker (#10):
Roberto Firmino looks to be getting a lot of game time at the most advanced attacking midfielder and as a striker this season. With Origi and Sturridge also fighting it out for the striker position Firmino's running and vision could make him lethal as the man playing off them.
Lallana, Gino, Coutinho and Markovic can all offer something in the role, be it pace, finishing or creativity.
Forwards:
Assuming Balotelli and Beneteke depart this summer the forward positions are another one of strength at Liverpool.
Right Wing:
Lazar Markovic should have this role nailed down when Klopp wants width. Though many see him as a 10 or an inside forward his pace, intelligent attacking play, range of passing and ability to beat a man on the inside or outside makes him a real option for Klopp here.
Left Wing:
I don't think we'll see Klopp play and out and out winger on the left too often, but Sheji Ojo, Mane, Markovic and Lallana are all options if required here.
Right Inside Forward: 
Saido Mane, having come in for a big fee, looks the likely starter here. He's proven to be quick, direct and a decent finisher so far in pre-season. Given time he could be an important player for LFC this season.
We could also see Origi, Sturridge and Markovic given minutes on the right this season, cutting in and looking to play in the striker or get off a shot.
Left Inside Forward:
Phil Coutinho has made this role his own. Many are hoping he's going to be Klopp's new Gotze or Reus, but he's a different prospect. His flair and intelligence make him a dangerous playmaker cutting in from the right, and he'll also score goal. But most of all the opposition always have to plan for him as given too much space he'll destroy teams.
Striker:
A position of real strength if Klopp can keep his forwards fit.
Roberto Firmino looks like he'll be the first choice striker on a regular basis. His movement, pressing from the top, finishing and game sense fit the way Klopp is currently playing. He's not a typical 9 nor a false 9, but he's getting better and better the more he plays here. It also says something that Brazil like to play him as the 9 in front of Neymar in some games!
Daniel Sturridge is a player that gives Liverpool the X-Factor, when fit. He's a natural goals scorer with an insane minutes to goals ratio. He's quick, unpredictable and can finish from anywhere. But we all know his fitness record.
Divock Origi is starting to look a real talent, raw yes but certainly a long term replacement for Sturridge. He plays on the shoulder of the last defender when asked, he's quick, strong and direct and will look to score instead of pass. Finger's crossed he's another Torres in waiting and not another David N'Gog
The odd men out:
Danny Ings works tirelessly and before blowing out his ACL was one of the few bight sparks of the start of last season. Unfortunately for him, however much the fans love his wok ethic he's not got the talent of the forwards around him.
Lucas Leiva is another looking to miss out. He may yet move on and I hope he does. He's given his all for the club and deserves to be a starter somewhere, but he's not good enough to play anything more than trash minutes this season.
Lastly, James Milner is going to be looking at a season of filling holes. We've heard from Klopp that he'll fill in at full back, he might fill in on the wings and he'll want to play centre midfield too. But Milner is not first choice in any of these positions and will soon have to accept he's not a starter or move on.
The squad's not perfect, but looking at what Klopp and assembled from the mess he was given and Liverpool look overall the most balanced they have in years. Let's hope Jurgen can work his magic and give the fans some silverware!
Depth Chart:
GK: Karius, Mignolet, Manninger
RB: Clyne, Milner, Alexander-Arnold, Gomez
RCB: Matip, Lovren, Gomez
LCB: Sakho, Klavan, Matip
LB: Moreno, Milner, Clyne
DM: Can, Stewart, Grujic
CM: Henderson, Lallana, Grujic, Wijnaldum, Milner
AM (8): Wijnaldum, Coutinho, Lallana
AM (10): Firmino, Wijnaldum, Coutinho, Lallana
RW: Markovic, Origi, Lallana
LW: Ojo, Origi, Markovic
RIF: Mane, Lallana, Markovic,
LIF: Coutinho, Wijnaldum, Firmino
ST: Firmino, Sturridge, Ojo, Ings