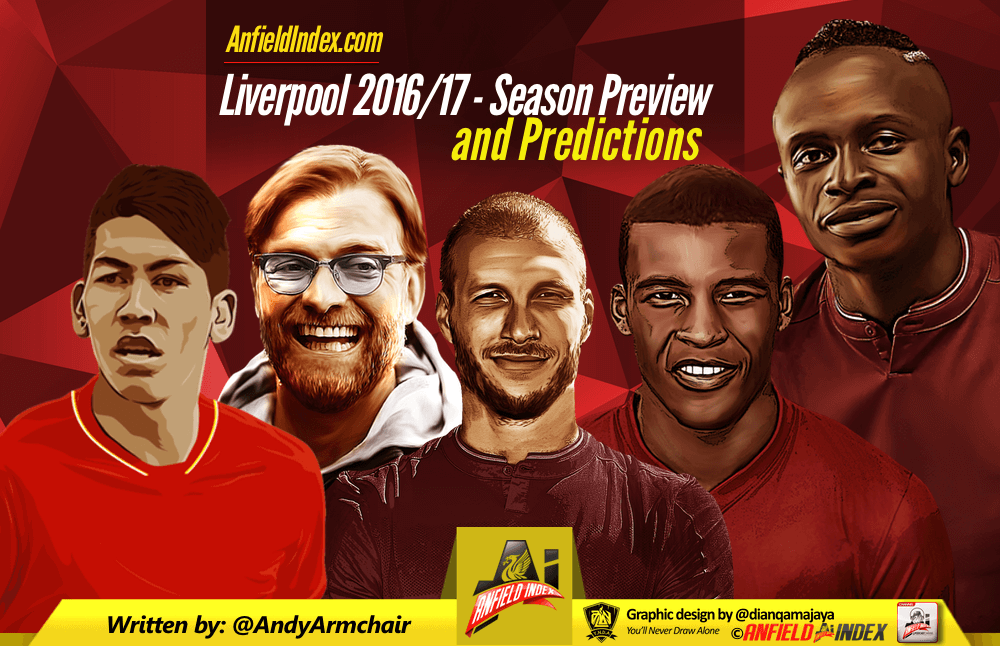 Liverpool 2016/17 - Season Preview and Predictions
Going from "we're going to win the league" after beating Barcelona 4-0, to the outlook being doom and gloom within just 24 hours after losing to Mainz by the same scoreline is precisely why I try not to read too much into pre-season friendlies. They are essentially just for fitness, integrating new players and coaches trying out things from the training pitch in a match situation. Some things can be taken from pre-season, good and bad, but the opening Premier League match of the season is when it really begins; so how prepared are Liverpool for the season ahead?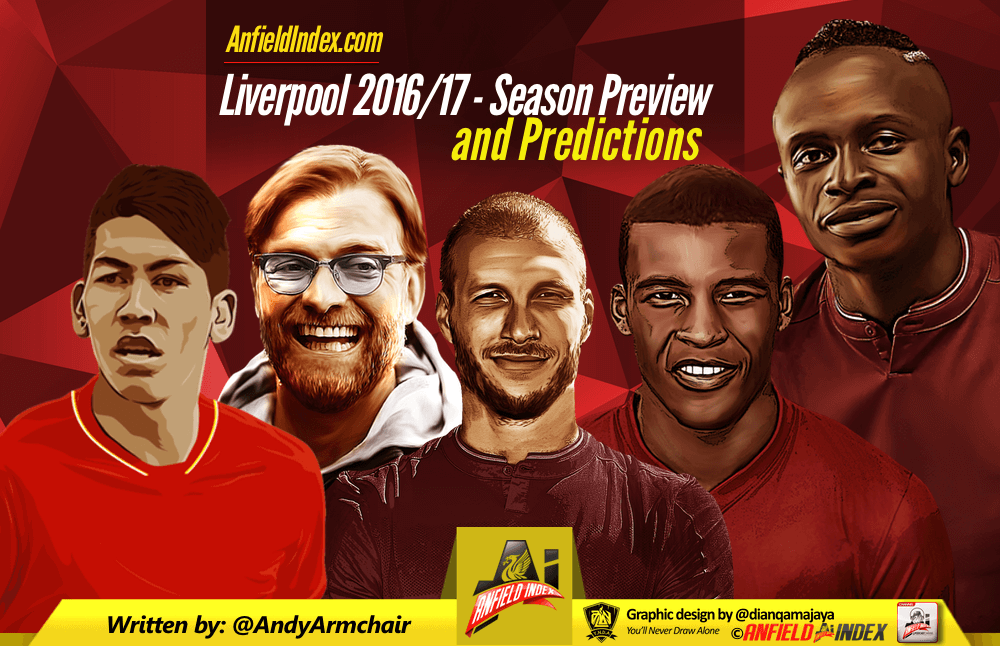 Here, I take a look at how we are shaping up in the various departments on the pitch and how I feel we will do in the competitions available:

Goalkeeper       
A key position on the pitch, the goalkeeper sets the tone for the team in front of him. A strong, confident goalkeeper adds confidence to a defence, whereas a nervous keeper can unsettle them. Sadly, Simon Mignolet fell into the latter of those two categories, despite his shot-stopping ability at times. Getting rid of the woeful Adam Bogdan and bringing in the confident and very promising German Loris Karius to replace Mignolet is a positive move that should bear fruit over time.
Defence
This is an area of the pitch that is still a mixed bag; Kolo Toure was a charismatic and experienced option to call on but was released. Martin Skrtel and Brad Smith were simply not up to the required standard and have been moved on for a combined £11.5m. Bringing in Joel Matip on a free is good business and an upgrade on Skrtel to partner Mamadou Sakho, whilst Ragnar Klavan will provide experienced centre-back cover alongside the improved Dejan Lovren. However, the lack of depth at full-back is an issue and someone to either push or replace Alberto Moreno is still needed.
Midfield
This is another area that has seen improvements, but still lacking a quality addition in the holding position to help protect the back line and dictate the play. Marko Grujic coming in from the end of his loan looks promising and is certainly physically imposing, whilst Georginio Wijnaldum should help the team score more goals. Hopefully, Jordan Henderson is recovered from the injury that plagued him last season, so that we can again see the player who performed so consistently for over two years. This season could see Emre Can step up even further to emphasise his growing influence on the team. It was sad to see Joe Allen leave and nice player though he is, I'm not sure he'll be missed too much as our style of play becomes more aggressive and perhaps the influential Coutinho can even slot in deeper, as he's done so effectively before.
Attack
This is where I feel we've improved, despite not buying another striker and still trying to sell Christian Benteke and Mario Balotelli. Dare I say it, but Daniel Sturridge's fitness has become more reliable, Divock Origi continues to improve and grow in confidence and Danny Ings has all the ingredients to be a very useful member of the squad over the course of the campaign. Add to this that Roberto Firmino has had a year to settle in and should do even better than his impressive debut season. There is also the addition of Sadio Mane, a signing I was less than sure of as when I watched him at Southampton he could go from being unplayable to looking like he'd never played the game before. He has been impressive during pre-season with his speed and aggression and despite the £34m price tag, could prove to be a good signing under the tutelage of Jürgen Klopp. Lazar Markovic could be another useful member of the squad with his pace and skill; I feel he is still lacking in confidence, but it will be interesting to see how he performs this year because his Liverpool career could be on the line.
Predictions
As much as the Barcelona friendly was fun and our pressing was excellent, the friendly against Borussia Dortmund two years ago is an example of why friendlies should not be used as barometers for the season ahead. I do think we'll improve over the course of the season, but not quite enough and will still have issues with consistency. When you add the established level of competition for those top spots, my belief is that top four will be just beyond us, despite a lack of European football, but not by much and should act as a platform to improve further the following year. So, my prediction for Liverpool in the Premier League is to finish 5th or 6th. I can see us winning a trophy though and if I was to place a bet, I'd probably edge for the FA Cup over the League Cup, which would be a nice way to end the season and another good day out for Kopites at Wembley!