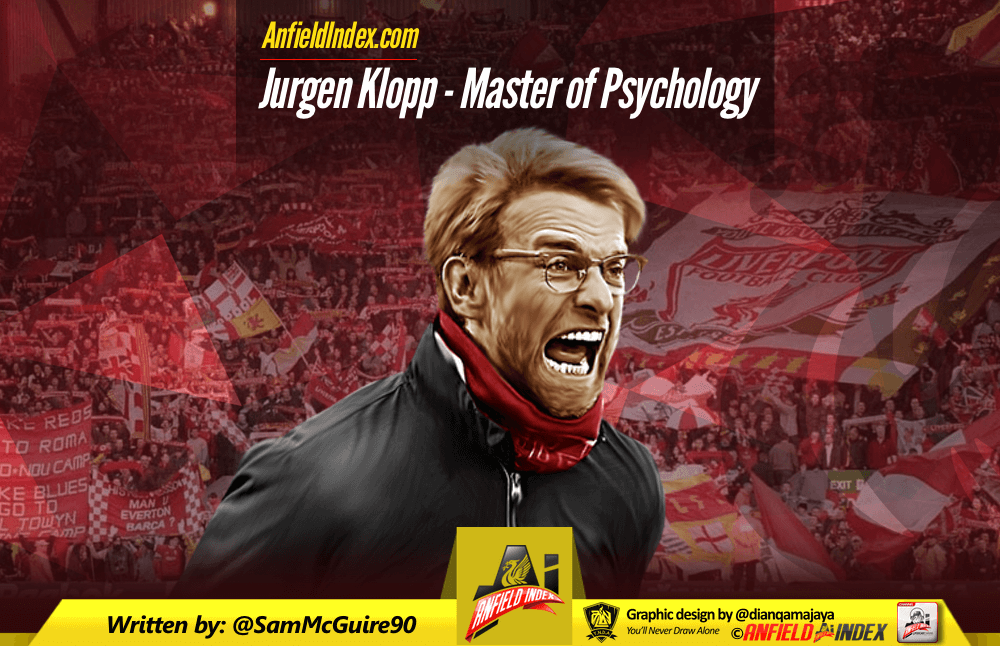 Jurgen Klopp - Master of Psychology

"Lying is a common communication strategy" (Zuckerman)
All managers are liars. They have to be if they want to be a successful manager in the modern game. These days they're expected to keep the fans on side, win the game of chess against the media and keep their players happy.  It's a juggling act that some struggle to balance. The more conniving they are, the more successful they tend to be.
It's not a bad thing, after all, honesty isn't always the best policy.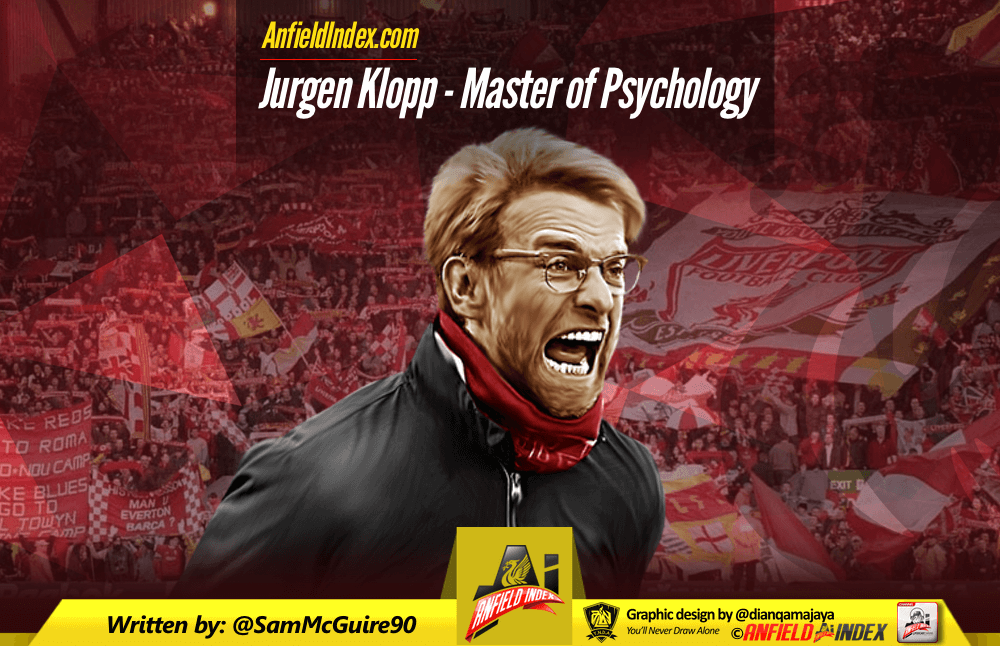 As lovable as Jurgen Klopp is he's no different to the likes of Alex Ferguson and Jose Mourinho. He's by no means an open book and whatever he reveals is done through choice. He tells people what they want to hear. It's this which nullifies whatever he says in press conferences and interviews with regards to players.
Fans are still smitten with Klopp and like to hang on his every word. Social media is currently filled with fans putting up their starting XI's for the Arsenal match and many of these fans will say they've included particular players because they're a Klopp favourite. The German raved about them in an interview so he's automatically a Jurgen Klopp guy. Why would he big up a player he didn't like?
Fans had become accustomed to Brendan Rodgers' bias towards certain players. He had no issue calling out a player for a poor performance. He was unfazed when literally talking down the price of a player on the books simply because he didn't want them there. Fans and players knew where they stood with Rodgers. He wore his emotions on his sleeve. The sort to have a big smirk on his face when he was dealt a good hand in a poker game.
On the other hand, Jurgen Klopp has a poker face. He knows how to play games, he's not going to talk down a player in an interview and he's not going to talk the club out of millions by publicly declaring that he doesn't want the player or the player doesn't have a future at the club. It's unprofessional, naive and amateurish. Honest managers don't make successful ones. There are plenty of examples as to why Klopp's words should be taken with a pinch of salt.
Towards the end of January Simon Mignolet signed a new five year deal with the club. The day after it was announced Klopp was quoted as saying the Belgian was "perfect" for the club and "he's young enough to develop over the next few years". Less than six months later Loris Karius had been signed by the Reds and was set to start as first choice 'keeper before breaking his hand in the friendly against Chelsea. If a player is perfect do you really go out and buy one to replace him?
Brad Smith is now a Bournemouth player having signed for £6 Million. The deal happened just a few weeks after Klopp said the young Australian would not leave the club unless a replacement was signed and he was expected to rival Alberto Moreno as the starting left-back.
Jon Flanagan has recently signed for Burnley on a season-long loan despite Klopp saying he "wants him to be part of Liverpool's future". A loan move doesn't spell the end for Flanagan's Liverpool career, Flanagan does need first team minutes after recovering from his spell on the sidelines, but does such a move not imply Klopp doesn't rate Flanagan as highly as people thought?
Then there's £32.5 Million man Christian Benteke. When Klopp was asked about the future of Benteke in January he said "Of course he has a future, that is not a question. He is a goalscorer and makes chances and so on, that is all good. He is a complete striker, but you have to work for it". Fast forward six months and Klopp has said the big Belgian would be best off looking for another club. This after persistently saying he has a future here so not to impact Liverpool's platform to negotiate with interested clubs.
It's all mind games. He keeps the players on side and gives them an incentive to perform and at the same time the message that goes out to interest clubs is along the lines of "this guy has a future here and if you want him you'll have to pay" as opposed to the club basically announcing the player has no future which enables buying clubs to low-ball the club knowing full well they want rid. Hard to charge big money when every man and their dog knows you don't want him.
Fans can try to second guess the manager, we all attempt to, but it really is futile when Klopp is a man who keeps his cards close to his chest. Stating he has favourites because they played a lot last season or because he's praised them in an interview is flawed. You're perching up your opinion with brittle beams.
It's all well and good saying it was clear the likes of Benteke, Mignolet and Smith didn't have long term futures with the club but Klopp did come out and say those things. There's no stopping him from doing similar with other players. Players you may like. Just because you're fond of the likes of Daniel Sturridge, Adam Lallana and Jordan Henderson doesn't mean Klopp won't pull the rug from under them like he did those other players. What he says about players publicly shouldn't be taken as gospel, he's just playing the game like all successful managers do.