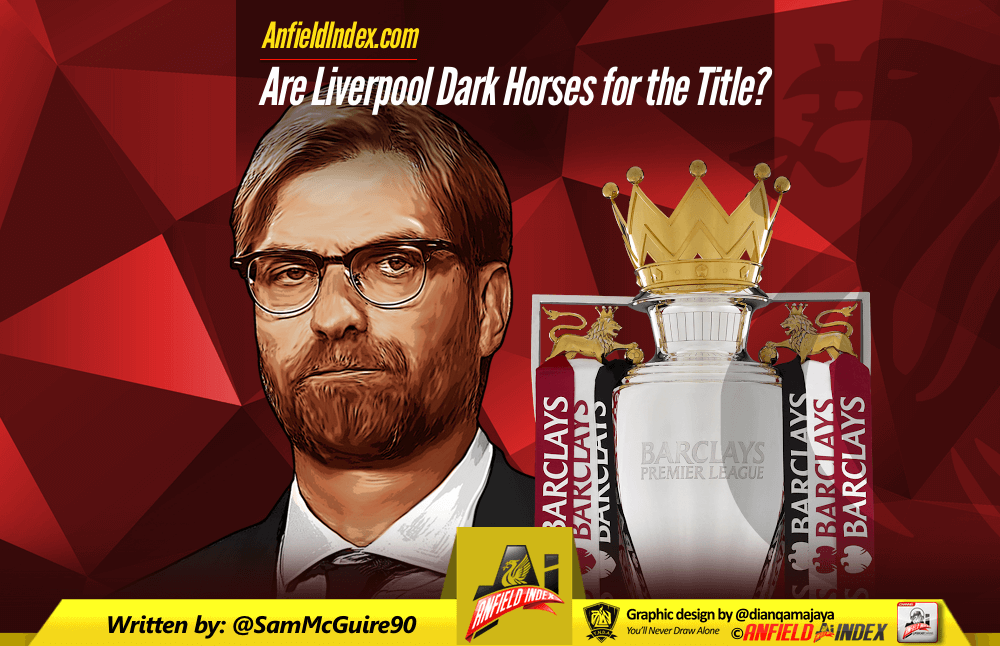 Are Liverpool Dark Horses for the Title?
It's a new dawn in the Premier League.
Not just in terms of more money than ever being pumped into the league effectively evening the playing field somewhat, but more importantly, never before have people been able to find a collection of the most influential managers in world football today within the same league at the same time. It's a who's who of managers as Antonio Conte and Pep Guardiola join Jurgen Klopp, Jose Mourinho, Arsene Wenger, Mauricio Pochettino, Slaven Bilic and Ronald Koeman to make up the all-star cast. The latter three names may divide opinion but they all know how to put together a team that can successfully navigate its way through the rigours of a Premier League season. Claudio Ranieri also deserves an honourable mention after his exploits last season.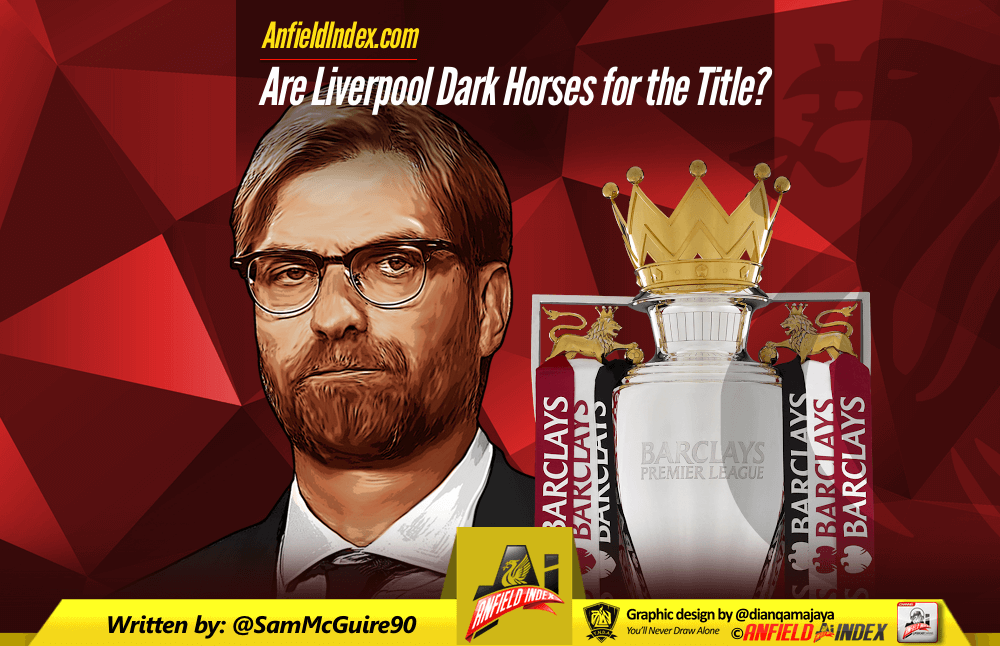 There's been a lot of talk with regards to just how competitive the EPL is going to be and the fight for a Champions League position will be its fiercest to date. The general consensus is Manchester United, Manchester City, Arsenal and Chelsea will fight it out for the title. You can understand why –
Mourinho and his millions have certainly turned Manchester United into a much more appealing prospective. Paul Pogba joins the likes of Eric Bailly, Zlatan Ibrahimovic and Henrikh Mkhitaryan as the red side of Manchester look to get back into the Champions League.
Pep's revolution at City has seen the club sign an array of young attacking talent in Leroy Sane, Marlos Moreno, Oleksandr Zinchenko and Gabriel Jesus. So far their first team has been boosted by the arrivals of Nolito and Ilkay Gundogan with further reinforcements on their way in John Stones.
Arsenal are shoe-ins for the top 4, they basically live there. Arsene Wenger has looked to address his Achilles heel by finally signing a much needed defensive midfielder in Granit Xhaka. Linked to many attackers it's almost certain one more will arrive before the transfer window shuts as Arsenal look to build on last season's second placed finish.
Conte may be new to the league but his style can be replicated wherever he pitches up to manage. His Italy squad, on paper at least, was one of the most underwhelming teams ever but he picked a squad who had the best chance to execute his game plan and they did just that. There's no reason his Chelsea team won't do exactly the same and look to dig their heels in to be almost impossible to break down.
Not many in the media are giving Liverpool much of a chance but they could be this season's dark horses and here's why.
The media, because it wouldn't suit the narrative that the Premier League is unparalleled and the best in the world, are choosing to ignore the inevitable bedding in period of the likes of Guardiola and Conte. The English league is different to every other league. It's frantic, it's unforgiving, it has an abundance of playing styles and it's the most competitive league out there.
In both Spain and Germany many teams will try to play pure football. You won't often find a team like WBA in either league, or a team that literally turns up and keeps all ten outfield players in their own half.
Similarly, in Italy there is only really one team these days; Juventus. Conte did build that side but as they've shown since he left it wasn't overly reliant on him. Allegri was able to come in and carry on where he left off. How are both Guardiola and Conte going to fare when there are 8/9 teams challenging for 4 positions?
Jose is an experienced pro in the Premier League but for some reason playing Thursday – Sunday seems to have a negative impact on teams. He also has the challenge of meshing his new signings with the squad already there and establishing a tactic and a style that gets the best out of the players. It might not be as easy given just how many egos there are in that dressing room.
All of these things work in Klopp's favour.
The German isn't new to the league. He was afforded the luxury of both the owners and the fans effectively writing off the league season in 2015/2016. Results weren't the be all and end all and he was able to learn the ways of the league without the added pressure of must-win matches. He has the experience of the Premier League as well as positive experiences against both Pep and Jose in previous matches.
He's quietly went about his business this summer upgrading the squad. He may have 'overpaid' for the likes of Gini Wijnaldum and Sadio Mane but with the way the market is at the moment just over £50 Million for the pair isn't that bad. Loris Karius, Joel Matip and Ragnar Klavan arrived for a combined £10 Million. These five players are upgrades on the players they've replaced; Simon Mignolet, Jordon Ibe, Kolo Toure, Martin Skrtel and Joe Allen. It's slowly morphing into Klopp's team.
He's refused to give in to the temptation and buy names and reputations for the sake of it like other Premier League clubs have. Gotze being the name but Mane making sense. Gotze did reject Liverpool but in the same scenario other clubs would have just thrown more money at the player. Klopp wasn't going to bed, he just looked elsewhere and the difference Mane has made to the attack is already visible.
No European football means Klopp can concentrate all his efforts on the Premier League matches. It's not often a team with so many talented players is afforded the luxury of playing just the one match every week. Before you say it I know Barcelona was just a friendly, but imagine Liverpool putting in that type of performance every single week. There aren't many teams that would be capable of withstanding such an onslaught.
There's not much pressure on Klopp's shoulders given he's not went out and spent £50 Million plus on a single player like United have and Chelsea (Lukaku) and City (Stones) look set to do. It could well be the perfect storm of a season which allows Klopp and his team to be in the eye of the hurricane. Klopp's Liverpool shouldn't fear anybody.