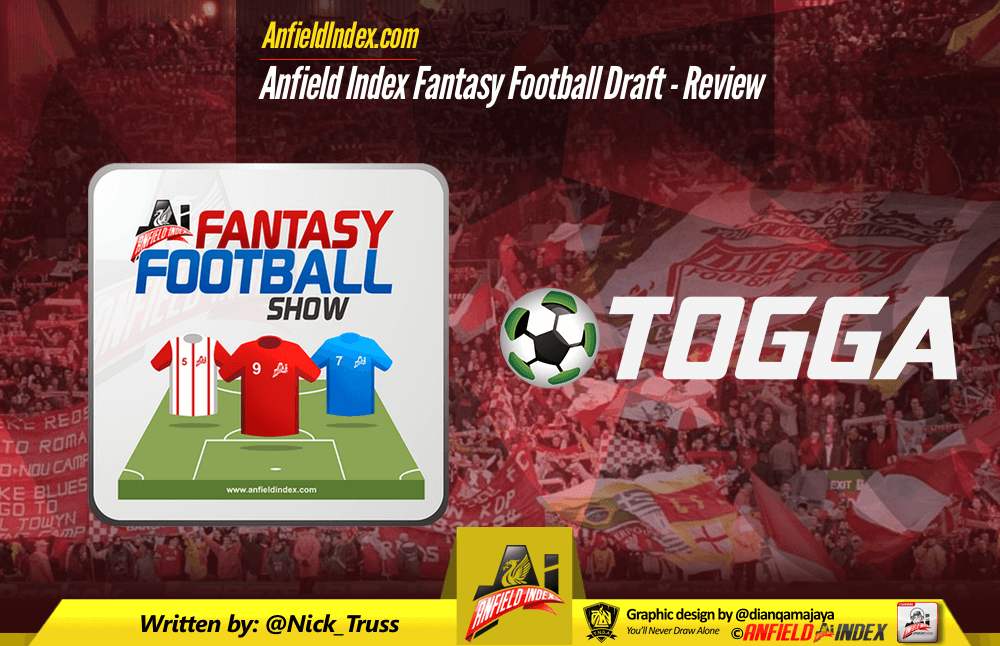 Anfield Index Fantasy Football Draft - Review

It's that time of year again, the season's curtain raiser has been played and the Premier League is less than a week away! It's also the time where fantasy football leagues all over the globe begin to take shape, whether it's for office bragging rights, money from your mates or an online community league, (join ours here: https://fantasy.premierleague.com?autojoin-code=352091-107093) you will be tinkering with your teams over the coming days to create your perfect 11 for the opening matches.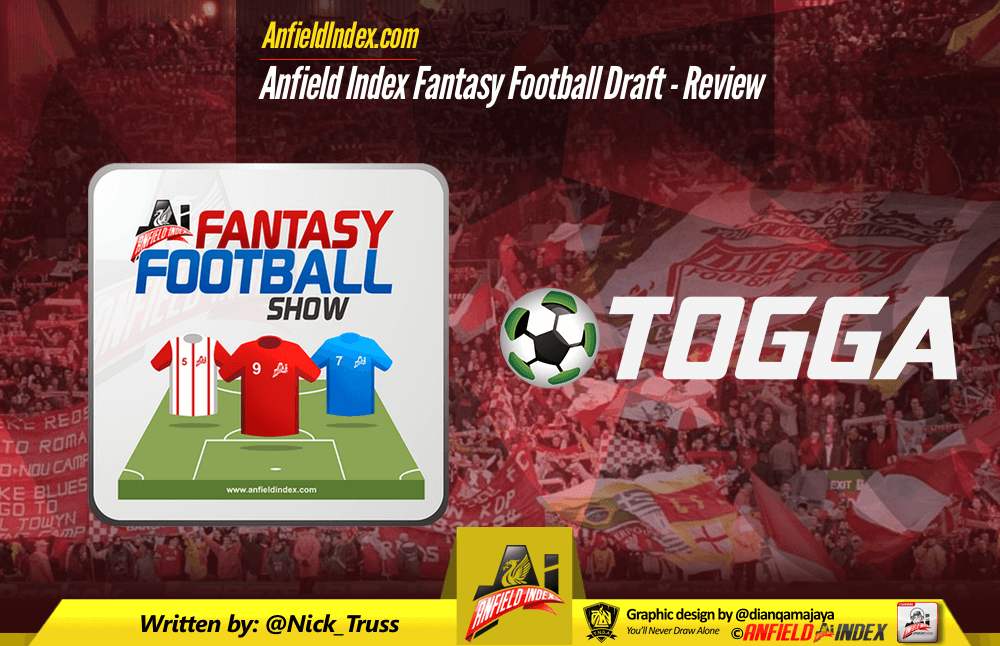 As the AI Fantasy Football podcast celebrates its first birthday we are announcing many new features to improve our offering! One of those features is brought to us by Togga (https://www.playtogga.com), a fantasy football draft tool which aims to remove the issue of a million Sergio Aguero's, Jamie Vardy's and Riyad Mahrez's in order to enhance the competition and provide a different aspect to your fantasy football experience. We were delighted when the guys at Togga asked us to review their app which can be downloaded on IOS and Android for free. 10 teams entered our draft from all over the results can be found at the bottom of this page. Please give us your thoughts on the squads, which teams do you like and which teams don't you like, are there any surprise picks or players that have been overlooked?
Play Togga Fantasy Draft App Review
Ease of use (4 Stars)
Downloading the app couldn't be easier, just follow this link (htog.ga/draft ) or search for Togga in the relevant mobile store and it will be on your phone in seconds (depending on network speed of course) Sign up is a pretty simple process just pop in a username and password answer a few quick questions and you are done. You can also sign up with Facebook if that is your kind of thing. Once you have got yourself a league code just enter that into the app and you will be straight in and ready for the hard part, preparing for the draft.
Why only 4 stars? Well this is due to the after draft experience, the app talks you through the draft process but gives very little guidance over what to do afterwards, which leaves you in a bit of a mess. First of all it is vital you refresh the app once you have finished your draft (completely close and reopen) this is to enable the subs feature on the line-ups page. It is also worth noting that although in the rules it says you can choose from 7 formations, if you are using an IOS device this feature will not be available until Monday or Tuesday (8th / 9th August 2016**). Something else that caught a few of us out was the drop from team option when you tap a player, this DOES NOT mean just drop him from your starting XI to the bench, it means drop him from you squad completely! Luckily I am in a league with good people who will not contest me when trying to redraft these players. Maybe a change of text is due here and maybe a warning message!
** An update has been released for IOS but at the time of writing I am still yet to test this
The Draft Experience (5 stars)
Overall a brilliant application for drafting fantasy football teams, Anfield Index ran a members draft for Euro 2016 but that was done using WhatsApp and Excel. The Togga app removes the needs for almost all admin involved in creating a draft league and makes the experience for the host so much easier. The app allows you to create a shortlist of players you would like to draft; I would definitely recommend this for two reasons. Firstly this feature makes it easier to find the players that you want and are still available when the draft has begun, each players gets 90 seconds to make their pick which is plenty of time as long as you are prepared. Secondly if for any reason you miss the draft Togga will select players from your list to create the best team for yourself, if you are going down this route please order your preferences in the list. Failing to create a list means you are automatically selected the next best available player based on previous year's scores.
The draft follows a snake order, this means the player who gets first pick gets the last pick in the following round (pick 20 in a 10 team league), and the player with the last pick in the first round gets the first pick in the next round (pick 11 in a 10 team league). This route is a pretty fair way of doing things however it would be a good feature if the draft was a little more random for example if everyone got a pick in each position in the draft. Although with no programming/app development experience I wouldn't know if this was possible to do.
Time Dedication (5 stars)
I think a few people were worried that they would have to give up a large proportion of their time in order to get involved in the draft. If you simply take the time each player gets to make a pick (90 seconds) multiply that by the number of picks (16 picks) you get 24 minutes to pick a full squad, now your league size will determine the next step, originally we planned for 8 teams so the maximum time it could have taken was 3 hours and 12 minutes. You can see why this was putting people off, however, we started the draft with 10 teams and it took just over an hour for us to complete. I believe that preparation and participation is the best combination to get the draft complete in a timely fashion. I do wonder if having to do the draft all in one go is the best way to go about things, maybe if you could split it down into smaller sections over a few days / evenings more people would be interested. Having a league with people all over the world doesn't make the logistics of it all any easier, however I can hardly blame Togga for this and the fact we managed to get it done in the time frame that we did suggests that it is not much of an issue.
Scoring and Match ups
The leagues take on a head to head format, this means that freak weeks cannot completely ruin the competition in the league, each week is a new challenge against a new team and all of your players have to perform in order to get the 3 points. Togga's scoring metrics add a whole new dimension to picking your fantasy football teams, no longer is it the case where centre backs and defensive midfielders are the players to avoid when choosing your squad. Togga has no fewer than 18 metrics from which you can earn points, based on Opta stats they are able to offer a live scoring system which I am looking forward to seeing in action this weekend.
Final Rating (4.5 Stars)
This app is shaping the future of Premier League fantasy football, drafting has been increasingly popular for many U.S sports over the past few years and it's about time (real) football had a platform to take this format forward. I shall post a second review of the app once the season have progressed a little and we have had the chance to use some of the other exciting features of this app. In the mean time you have a week until the start of the premier league season, so get your friends, family and twitter followers into a Togga league and get your draft organised, you know it makes sense!
App Link: http://tog.ga/draft
Cheat Sheet: http://cheatsheet.playtogga.com
Now for the official AI draft results (team managers will be kept anonymous please let us know who you think has made the best team and the worst!)
Team 1
Team 2
Team 3
Team 4
Team 5

· Butland

· Foster

· Gabriel

· Bellerin

· Shaw

· Dann

· McAuley

· Ayew

· Kouyate

· Zaha

· Imbula

· Noble

· Kane

· Martial

· Rooney

· Giroud

· Hart

· Walker

· Stones

· Huth

· Sagna

· C. Dawson

· Willian

· Alli

· Albrighton

· Bolasie

· Dembele

· Firmino

· Bojan

· Ighalo

· Costa

· Benteke

· Adrian

· Otamendi

· Baines

· Van Aanholt

· Pieters

· Zuniga

· De Bruyne

· Tadic

· Barkley

· Khazri

· Gueye

· Elmohamdy

· Lukaku

· Defoe

· Hernandez

· A. Gray

· Forster

· Francis

· Soares

· Ivanovic

· G.Johnson

· Daniels

· Ozil

· Fabregas

· Redmond

· Oscar

· Gundogan

· Downing

· Deeney

· Depay

· Pedro

· Arnautovic

· Courtois

· Heaton

· Alderwiereld

· Lovren

· Bailly

· Bertrand

· Flanagan

· Mkhitaryan

· Sigurdsson

· Feghouli

· Milner

· Ibe

· Janssen

· Carroll

· Deulofeu

· Llorente

Team 6
Team 7
Team 8
Team 9
Team 10

· Schmeichel

· Karius

· Monreal

· Clyne

· Cahill

· Fuchs

· Wimmer

· Mahrez

· Kante

· Cabaye

· Mata

· Sane

· Vardy

· Nolito

· Ings

· Iheanacho

· Cech

· H. Gomes

· Van Dijk

· Koscielny

· Fonte

· Morgan

· Eriksen

· Shaqiri

· Drinkwater

· Lallana

· Markovic

· Ibrahimovic

· J. King

· Sturridge

· Bony

· Rondon

· Lloris

· Valdes

· Moreno

· Vertonghen

· Coleman

· Sahko

· Kompany

· Coutinho

· Lamela

· Allen

· Toure

· Mendy

· Sanchez

· Batshuayi

· Negredo

· C. Wilson

· Boruc

· Rose

· Clichy

· Williams

· L. Kone

· Robertson

· Hazard

· Payet

· Silva

· Fernandinho

· Ramsey

· Welbeck

· Long

· Musa

· Gradel

· Berahino

· De Gea

· Fabianski

· Smalling

· Azpilcueta

· Matip

· Klavan

· Mane

· Wijnaldum

· Can

· Xhaka

· Henderson

· Grujic

· Aguero

· Origi

· Walcott

· Sterling