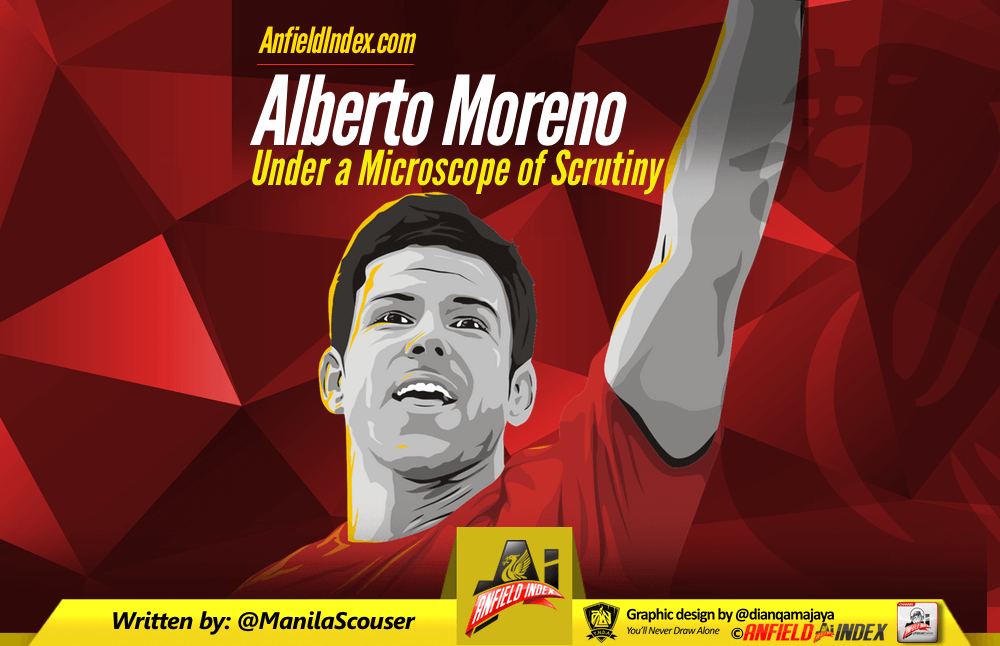 Alberto Moreno: Under a Microscope of Scrutiny
The Spaniard has been under severe criticism since he's joined the football club, and the honeymoon period between Moreno and fans have long been over. The times where his recovery tackles and ability to burst forward was an asset that left fans raving about have long gone, and no longer will you hear positivity in the same sentence with 'Alberto Moreno' or 'left back' from the vast majority of Liverpool fans.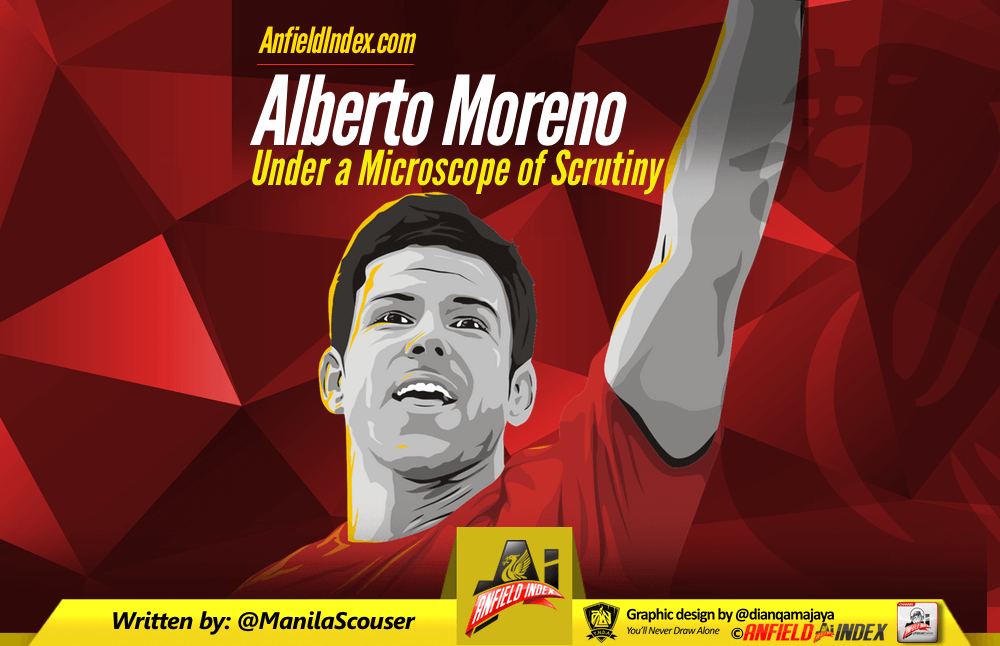 Moreno is a great attacking-minded full back. There's no denying that. Defensively, it's hardly a cut-and-dry case that he's not the defensive full back we all wish for him to be, especially compared to his counterpart, Nathaniel Clyne.

Jurgen Klopp has always encouraged his full backs to join the attack, and we've seen Alberto Moreno last season as a huge contributor in our offence last season with the numbers he's put up. We've witnessed that during preseason as well, especially against AC Milan in California. He provided the pass for Origi's goal, and nearly got another assist, releasing Divock once again for something that looked like a simple tap-in. But majority don't care or do not notice because currently, Liverpool's #18 is under a microscope of scrutiny.
It's not only Klopp's system that full-backs find themselves moving forward more often, even Bayern Munich under Pep Guardiola, who uses a 2-3-5 formation when they're in possession.  It's also a formation you expect from a high counter-pressing team. More bodies further up the field to immediately regain the ball, as you can see in this photo below.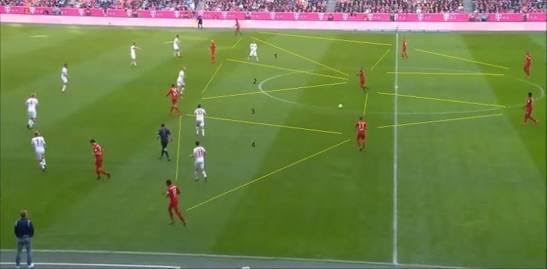 With Bayern Munich having excellent defenders available to them such as Jerome Boateng and Mehdi Benatia, great central midfield players in Xabi Alonso, Thiago, and Vidal, it's no surprise David Alaba and Philipp Lahm can move further up freely and comfortably, having guaranteed cover behind him.
It's the same for Schmelzer and Piszczek, who had Gundogan and Bender in Klopp's previous squad at Borussia Dortmund.
Full backs are defenders. At least that's where they are categrorised. But in this era of football, among various systems, full backs now hold a lot of responsibility on the other side of the pitch too, which is to provide width in the attack and stretch the defence. There are plenty of uses for a full back in the attack other than providing crosses, which is what most argue with against Moreno apart from his poor defensive performances. Full backs could also be used for overlapping or cutting inside the ball handler to create space and opportunities.
So is it really Moreno's fault for all the defensive errors? There's one thing for sure. Moreno has made personal mistakes, things that protection can't help him with. But the lack of help and cover from Coutinho doesn't help his image either, which is something Clyne gets from James Milner. However, the biggest deficiency in the squad that doesn't help Moreno at any situation is the absence of a defensive midfielder, someone you would expect to drop down between centre backs who then drift wide to cover spaces left by both full backs.
What baffles me today is somehow there's a number of Liverpool fans who seem to prefer James Milner or Jon Flanagan, prior to his loan move to newly promoted side Burnley, as first choice left back to start the season over Alberto Moreno. Jon Flanagan has had a tremendous 13/14 season without a doubt, and surprised majority of us. But other than his hard tackles we all love, he's the most dribbled past full back in that season and it's not like he has the pace to track back either.  It also doesn't shout confidence to have Milner in that position.
The squad is in need of reinforcements for both full back positions. Connor Randall is far from a viable option based on my personal opinion, and there's literally no one at Kirkby who can fill in for Alberto Moreno. There's Trent Alexander-Arnold, a seventeen year-old scouse who's impressed us all during preseason, and Joe Gomez making his way back through a tough first season at Anfield, the latter who can play the both sides. But we can merely speculate if Klopp's plans for Gomez, whether he would play a role as a full-back, or continue his development to become a fine central defender we all know he could be.
It remains to be seen whether it's someone to compete with Alberto Moreno, or someone to take over as first choice, but the need bring in another full back or two on both sides is evident. There's a scarcity within the team in that area. We lack quality players who can fill in for our starting full backs should they be injured or rested.
That being said, I'm inclined to think that even if we bring in a new left back, the need for another defensive-minded central midfielder would still be an underlying issue. A new left back would solve the personal errors Alberto Moreno makes, but not the bigger issue within the whole squad.
But it all depends on what formation Jurgen Klopp would use this season.  With the manager recently fielding a 4-3-2-1 system, you could portray Emre Can or Jordan Henderson to play deeper and provide cover for both full backs.  But in a midfield two with no regular defensive midfielder in the team, it's hard to imagine how we would rid ourselves with the same mistakes we had last season.