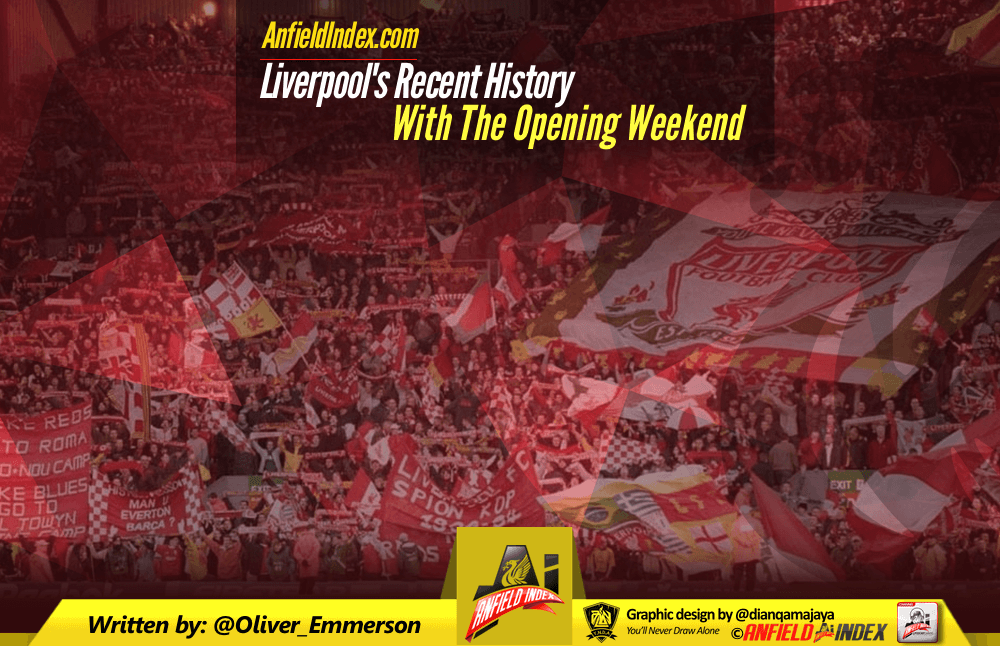 Liverpool's Recent History With The Opening Weekend
This weekend, Liverpool get back into the swing of competitive action with their 'opening day' fixture against Arsenal.
Of course, it's not the opening day, as the Reds meet the Gunners on Sunday afternoon, making it more of an 'opening weekend' game. Still, the excitement and buzz will be there to see as Premier League football returns once more.
There's something special about the opening weekend though, in the sense that results are harder to predict than any other time in the season, with players not fully fit, manager's overseeing their first competitive games, and sometimes new referee's and grounds to play a part.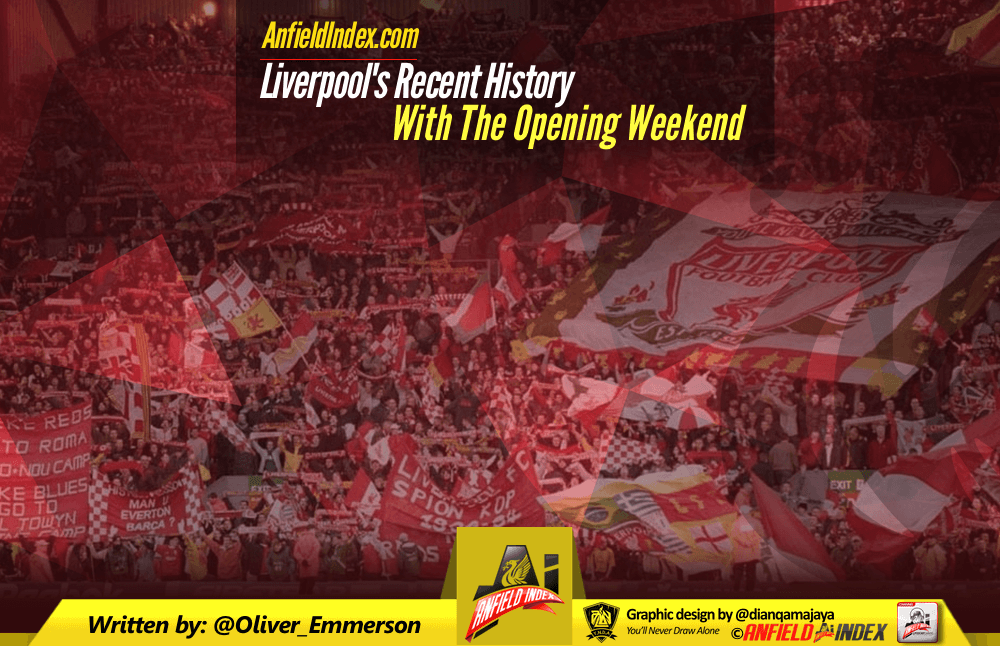 So, with all this in mind, it's worth taking a trip down memory lane and looking at Liverpool's recent history with their Premier League curtain raiser, and to see if anything can be gained from it in terms of making predictions for Sunday's game.
Let's look at some statistics first, and then we'll go in depth on some of the recent games. I'm counting 'recent history' as the past 10 years, because Brgoing much further back to dig out all the first game results would get rather tedious.
Looking at it purely with numbers, Liverpool have a rather good record in their past 10 opening games.
10 games
5 wins
3 draws
2 defeats
11 scored
10 conceded
As you'll see, there don't tend to be that many goals on the opening day for Liverpool, an average of just 2.1 per game in the last 10 years – the PL average last season was 2.7 goals per game. Why, you ask? Players, especially strikers, feeling rusty. You also get teams that don't want to lose on the opening day, possibly meaning they don't attack quite as much as the fans would hope.
There's the quantitative bit out of the way, let's get stuck into some actual matches, starting with… the low's, the Liverpool way.
The worst of the worst in terms of opening days in the past 10 years? It has to be Brendan Rodgers' opening game. We'd been excited all summer about what the revolutionary would bring is, tiki-taka football, Suarez finally storming onto the scene. We'd even signed Xavi, well, not quite. Cue a 3-0 defeat to West Brom at the Hawthorns, complete with a Zolton Gera worldie.
After that, in terms of disappointment? It'd be easy to go for the other loss on the list, 2-1 to Tottenham Hotspur in 2009-10, but the match possibly most relevant to this piece, is surely the one that left a more bitter taste in the mouth of fans.
We've discussed Rodgers' first game, but what about Roy Hodgson's? Nope, you've not managed to eternally block it from your memory, the Owl did once have a first game for Liverpool, and it wasn't actually a bad one. At home to Sunday's opponents, Arsenal, at Anfield, the game finished 1-1, something that would be viewed as a solid result for many. But it was the way that the game went.
After Joe Cole, infamously regarded as signing of the summer for years to come, pulled the strings in the first half, he managed to get himself sent-off briefly before half-time. It didn't matter though, as David N'Gog gave the Reds the lead, one which they kept until the dying minutes thanks to some dogged defending. It looked like three points were going to be kept at Anfield, until Pepe Reina threw a Chamakh header into his own net in injury time. Who know's, maybe things could have been different for Hodgson had he managed to win that one?
Moving onto the brighter of opening days, and you'd struggle to find a more relieving one than last season, as we edged to a 1-0 victory away at Stoke City, thanks to another Coutinho screamer. It wasn't so much the result, or the performance, that was pleasing, but the character shown given Liverpool's last competitive game before that day, a 6-1 loss to the same team, at the same ground.
In fact, Liverpool have won their last three opening day fixtures. The season before the Stoke game was a 2-1 win over Southampton at Anfield, which offered some joy after the disappointing summer that followed the 2013-14 season. Raheem Sterling opened the scoring, in times where he was looked at a little fonder, whilst Sturridge bagged the winner after an equaliser by none other than Nathaniel Clyne. If you don't remember, the 2013-14 season also began against Stoke, a 1-0 win at Anfield – thanks again to Sturridge.
That's three of the five recent opening day wins ticked off, meaning the Reds only managed 2/7 in the years previous. One of those came in 2008-09, when Fernando Torres scored the only goal of the game at Sunderland, a year after a late screamer from Gerrard secured a 2-1 win at Villa Park to kick the season off.
Rounding up the rest of the results? Kenny Daglish's only full season in charge, at the second time of asking, started with a 1-1 draw to Sunderland, whilst Robbie Fowler (yes, he was still playing at this point) scored our goal in another 1-1 draw, against Sheffield United 10 years ago. The second lost in the last 10 years was away to Tottenham Hotspur in 2009-10, Gerrard netting for Rafa Benitez's side in a 2-1 loss.
So, what is there to be taken from all of these opening weekend results? Not much, to be honest. Everyone's first game is unpredictable, and although we seem to have a good record, it can go drastically wrong for anyone. Let's hope that isn't the case on Sunday.
Liverpool's last 10 opening weekend results
Sheffield United 1-1 Liverpool (06/07)
Aston Villa 1-2 Liverpool (07/08)
Sunderland 0-1 Liverpool (08/09)
Tottenham Hotspur 2-1 Liverpool (09/10)
Liverpool 1-1 Arsenal (10/11)
Liverpool 1-1 Sunderland (11/12)
West Brom 3-0 Liverpool (12/13)
Liverpool 1-0 Stoke City (13/14)
Liverpool 2-1 Southampton (14/15)
Stoke City 0-1 Liverpool (15/16)