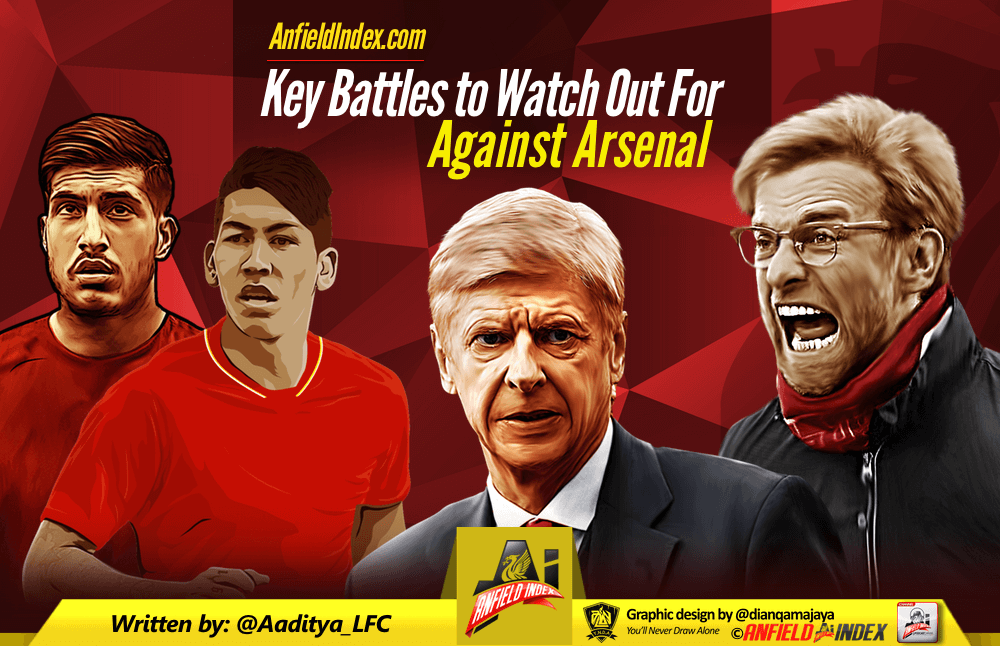 Key Battles to Watch Out For Against Arsenal
The drama of pre-season is done. It's now time for serious business. And what better (!?) way to start than a trip to the Emirates to play Arsenal.
Over the weekend, the highs and the euphoria of the 4-0 thrashing of Barcelona were negated by the loss by the same scoreline to Mainz. That is exactly what we need to weed out this season – inconsistency.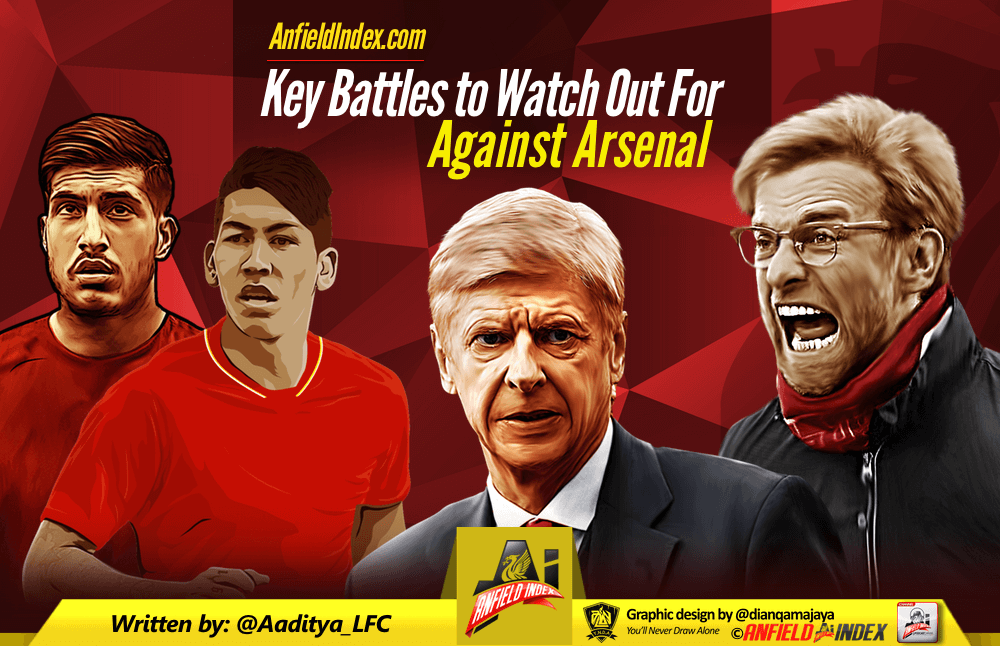 As for our opening game, we couldn't have picked a better time to play Arsenal. They have shown in recent seasons that they are slow starters, and this time, it is made worse by the fact that they will miss a few key players – Laurent Koscielny, Per Mertesacker, Gabriel Paulista and Mesut Ozil are all likely to miss out, as will Jack Wilshere, who has returned to his permanent spot on the treatment table.
With that, and our players having a month and a half of proper Jurgen Klopp conditioning, one should think that we couldn't be in a better position to get a good result.
Here are some individual battles that could decide the outcome of the game.
Aaron Ramsey v Emre Can
Ramsey was in stunning form throughout the Euros, with his performances being hugely influential in Wales's progress to the semifinal. For Can, the summer was more about warming the German bench, but now he is possibly the most influential cog in the Liverpool wheel. He will probably be the one lying deepest of our midfielders and with Arsenal's prowess on the counter attack, his role becomes hugely important. In addition, Can would also have to provide cover to Alberto Moreno, who is under huge scrutiny at left-back, and needs the midfield to cover him defensively, if his attacking capabilities are to be utilised fully. Ramsey, on the other hand, will be the man moving forward the most from Arsenal's midfield looking to provide support to Alexis Sanchez and co.
Granit Xhaka v Roberto Firmino
Firmino's strength lies in his ability to find pockets of space in between the midfield and defence. Xhaka, who will be making his competitive bow for Arsenal, will be the man tasked with minimising that space. If Firmino does find that room, his ability to bring others into play will come to the fore. Sadio Mane and Philippe Coutinho will look to benefit from what Firmino manages to achieve in that central role, which he will take up, be it behind the striker or as the striker himself. Xhaka has had time to recover from his penalty miss that sent Switzerland out, and he will be itching to prove to everyone that he is the world class talent Arsenal had in mind when they signed him very early this summer.
Alexis Sanchez v the Liverpool Defence
Our defence is likely to consist of Nathaniel Clyne, Dejan Lovren, Ragnar Klavan and Moreno. All four of them will have to be alert to the threat of Sanchez, whose most prized ability is his elusiveness, his ability to roam across the forward line and wreak havoc. Klavan has been solid as a rock in pre-season and Lovren has had enough games to iron out any rustiness. Of course, Moreno is a concern for us, but if we can get our midfield players to cover for him when he goes forward, his weaknesses will be less pronounced. Clyne has had a solid return, as he has been his usual self in the pre-season games that he has played. The defence needs to stick together as a unit for even one lapse can be lethally punished by Arsenal, especially himself.
The Demons v Simon Mignolet
Loris Karius's injury means that Mignolet has had a lifeline thrown at him. Now it is up to him to make use of the opportunity. The demons have surfaced from time-to-time in pre-season as Mignolet could never seem to make up his mind on what he had to do. His shot-stopping is still outstanding, and that is probably because it is something that happens instinctively. When Mignolet falters, it is when he has time to think over something and has to make decision – something that he always finds himself in a dilemma over. For Liverpool's sake, one can only hope that the big Belgian can be a calming influence behind the defence and not become another worry that plays on the likes of Lovren and Klavan.