Since his arrival from Benfica two summers ago for a healthy £20 million, the word which best describes Serbian wide man Lazar Marković has almost universally been "frustrating."
In his debut season he struggled to break into the first team, despite inconsistent performances from fellow new-boy Adam Lallana. While Lallana struggled to get into promising positions and his touch too often let him down, Lallana worked tirelessly and his work ethic was never in doubt. Marković, meanwhile, struggled to affect play and create goal-scoring opportunities, due largely to a seeming lack of work ethic and a concerning willingness to give up on the ball once it had gone.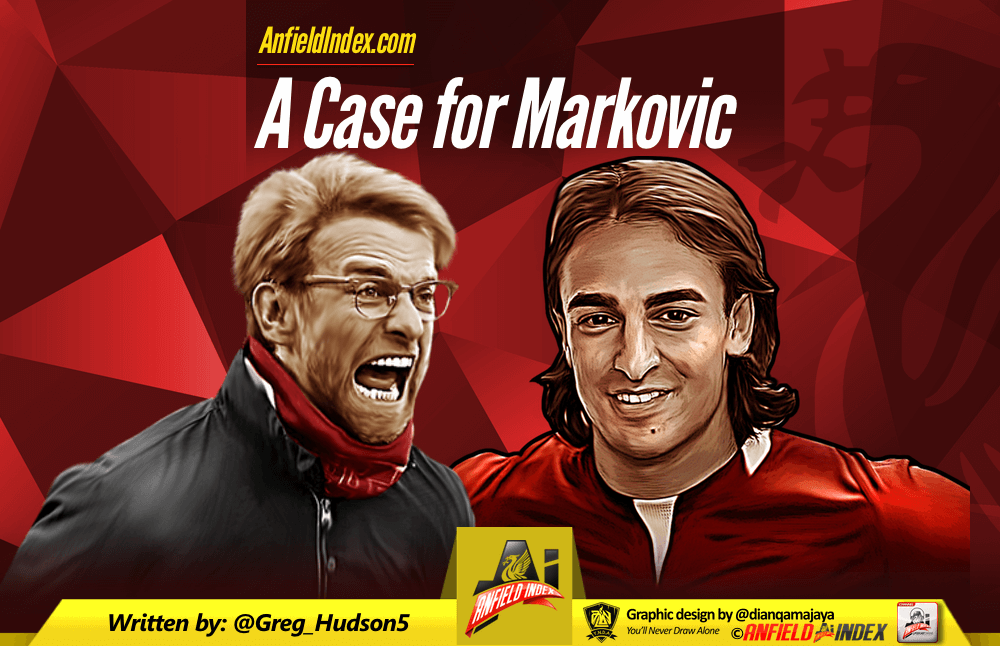 The arrival of Jurgen Klopp seemed to serve as a stimulus for Lallana, who became one of Liverpool's most consistent players during the second half of last term, while Marković, on loan at Fenerbahçe, cemented his reputation as a player with dribbling skills and pace and little end product. The summer additions of Sadio Mané and Gini Wijnaldum for a combined £55 million showed Klopp's intention to bolster the attacking midfield, and, by extension, his seeming – and thus far justified – belief that Lazar Marković would not be part of his Anfield plans.
But is Marković getting short shrift?
His physical profile matches the mould Brendan Rodgers used when he acquired his attacking midfield players: somewhat short, very quick, with the ability to score goals and the dribbling skills to set them up. His physical build is quite similar to Coutinho and Lallana, two signings with the same skill set mentioned above. They can create and finish scoring opportunities and their physical speed makes up for their vertical impairment: Coutinho, Lallana and Marković stand in at 5-foot 7-inches, 5-foot 8-inches and 5-foot 9-inches respectively. New signings Wijnaldum and Mané also measure up at 5-foot 9-inches, adding credence to Rodgers' philosophy that wingers and number 10's should ideally be pacy, energetic attackers who can pass as well as shoot.
And when it comes to passing – crossing, in particular – there are few who do it as well as Marković.
And while crossing has become an increasingly rare occurrence since the departure of Kenny Dalglish and Andy Carroll, it's something which should not be overlooked. Because while Liverpool's attack midfield players tend to be on the shorter side, most of the other players in the squad are reasonably solid aerial targets. Strikers Sturridge and Origi both stand at more than six feet tall, while centre midfielders Emre Can and Jordan Henderson are of a similar height. Mamadou Sakho and new centre-half Ragnar Klavan eclipse the 6-foot mark, while January deals for Serbian midfielder Marko Grujić and Cameroonian centre-half Joel Matip bring great height to the squad, the duo measuring 6-foot 3-inches and 6-foot 5-inches respectively.
Set pieces offer the Reds a real chance to create goal scoring opportunities, and since the absence of Steven Gerrard, corners and free kicks simply haven't looked as threatening for Liverpool. While clubs like West Brom and Stoke City seem to specialise in dead-ball situations, Liverpool have not done in recent terms, and having Marković as either a set piece taker or a first man who can whip the ball in dangerously could help create the goal-scoring chances Liverpool might need in close games.
But the questions will linger over Marković's belief in himself and his dedication to Klopp's gegenpressing. In pre-season he continued to both impress and frustrate with his ability to distribute the ball and his total willingness to give up on it if he loses possession. His late run and sublime chip to Grujić for Liverpool's majestic fourth in a romp over Barcelona at Wembley showcased the quality Marković can bring to the table.
While the quality of Liverpool's other attacking midfield players has relegated him to not even appearing on the bench to begin the season, you'd think it makes sense for Klopp to name Marković as a substitute, particularly in games when attacking substitutes might be of higher priority.
There's a case to be made for Lazar Marković to be given a chance to prove his value under Jurgen Klopp. And knowing Klopp's willingness to make adjustments to accommodate player fitness, ensure tactical supremacy and keep things fresh, there's little doubt he will feature at some point this season. But only one man can really make the case for Marković's Liverpool future, and that's Marković himself. Will he rise to the occasion? Or – pardon the pun – will he miss the mark?