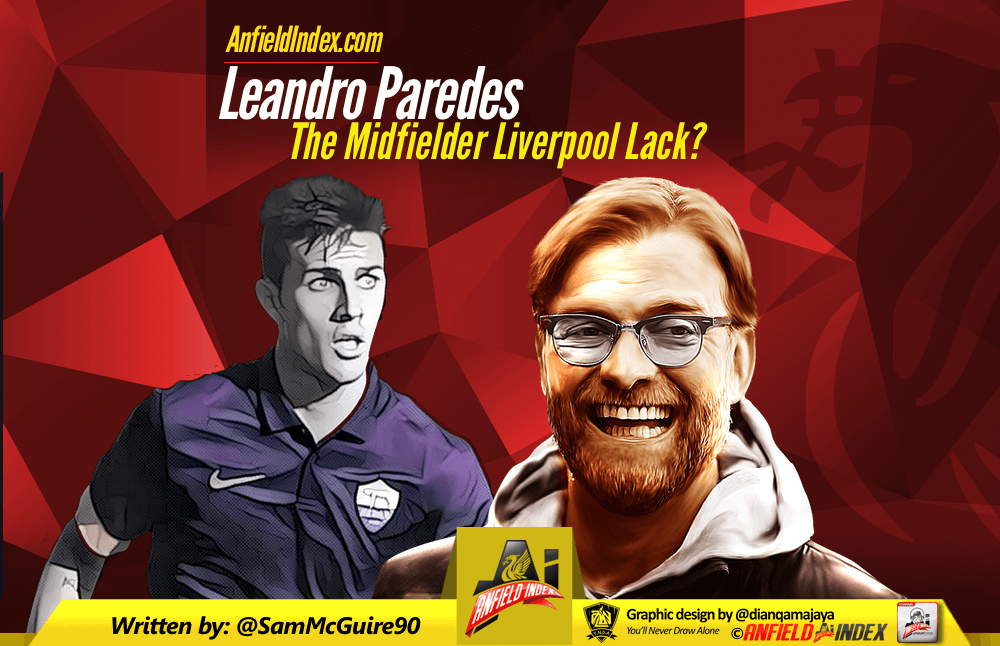 Leandro Paredes - The Midfielder Liverpool Lack?
Jurgen Klopp has refused to rule out any incomings between now and the end of the transfer window. There's still hope within the fan base that the Reds will bring in a left-back to displace/challenge Alberto Moreno as well as a controlling/tempo setting midfielder to turn a 7/10 window into a potential 9/10 window. The latter seems less likely given Liverpool are pretty stocked when it comes to midfielders.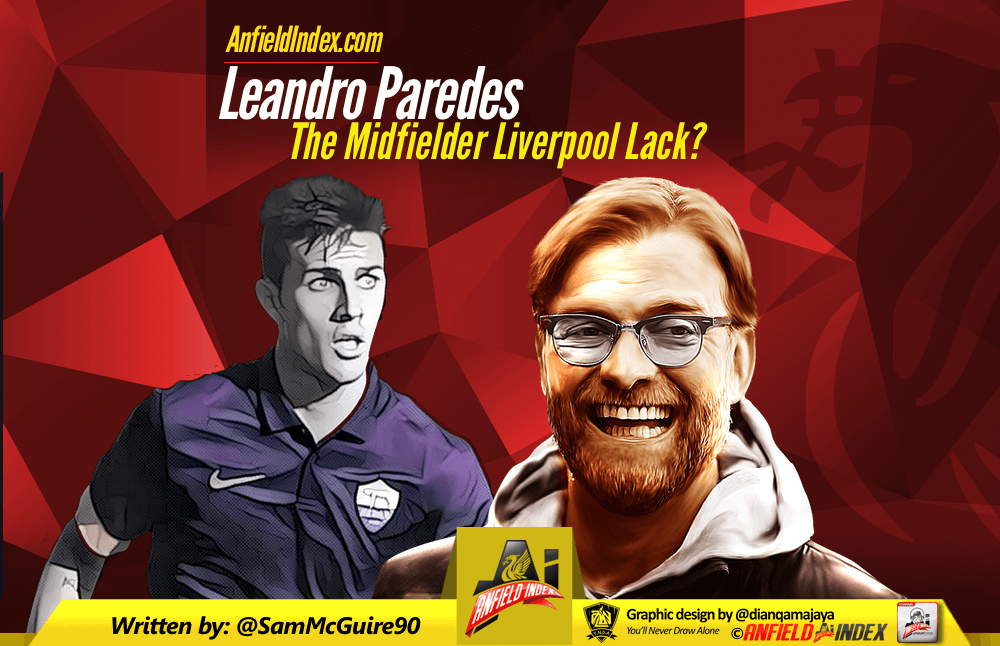 Depending on what formation Klopp decides to go with will see Jordan Henderson, Emre Can, Gini Wijnaldum, Adam Lallana, Kevin Stewart, Lucas and Marko Grujic all potentially battling it out to fill just the two positions in midfield. Adding another body seems unlikely unless one of the aforementioned players is sold.

However, links to Roma's Leandro Paredes have once again resurfaced over the last couple of days. The 22 year old was tentatively linked in January but the attention quickly turned to his Empoli (where he was on loan at the time) teammate Piotr Zielinski.
After the brief flirtation with Liverpool the rumour quickly dissipated with the general thought being Roma would keep the Argentine and use him as the replacement for Miralem Pjanic when the Bosnian was eventually sold. After all, he was a readymade replacement. Another reason the link was quickly dismissed was because Liverpool seemed to be, at the time at least, in the market for a box-to-box midfielder and not a deep lying playmaker. The link was initially believed to be lazy journalism/clickbait with the media seeing Liverpool representatives at Empoli games and just linking the club to the standout performer at the time. In this case it was Paredes but at one stage it was Empoli attacking midfielder Riccardo Saponara.
Even after acquiring Gini Wijnaldum Liverpool journalists implied Klopp was still in the market for a controlling midfielder. Having been linked with Gladbach's Mahmoud Dahoud for months now it seemed as though that was the player in the clubs crosshairs but reports from Italy suggest Liverpool, along with Manchester City and Leicester City, are in for Paredes with Roma being prepared to sell the talented midfielder for close to £20 Million.
If Roma were to cash in on the midfielder they only signed permanently last summer, for just over 6 Million Euros, then it will mark an amazing turnaround in the players career. He broke through at Boca Juniors and was tipped to be Juan Roman Riqueleme's heir. The player himself said he learnt a lot from Riqueleme. Both were attacking midfielders with the ability to execute passes 90% of other footballers didn't even see.  Paredes toiled at Roma simply because they didn't use a formation that warranted a number 10. Then, after a move to Empoli, he made the Andrea Pirlo switch from an attacking midfielder into a much more withdrawn role and it all seemed to fall into place. He seemed to excel in this much deeper role and with the whole pitch ahead of him he was able to pick passes off at will.
Why Paredes?
Liverpool failed to replace both Xabi Alonso and Javier Mascherano when the players left for Real Madrid and Barcelona respectively. Not to put too much pressure on Paredes but he has the ability to fill both of those holes to some extent. He's a midfield maestro with a whole bunch of snide mixed in. He has Xabi Alonso's passing ability and Javier Mascherano's tackling.
He's everything right now that Liverpool fans hope Emre Can will be in a few years. The shield in front of the defence who just so happens to be able to play an incisive pass forward. That's Paredes. There's a lot of pressure and responsibility being placed on the young Germans shoulders. The midfield almost hinges on him being fit because Liverpool don't have any other players with his ability from deep. If they were to sign Paredes then he would play that disciplined role from deep and Emre Can would be unleashed. Then if a game doesn't require such a specialist midfielder Klopp could use Emre Can there and get more of a goal scoring threat in midfield. It gives Klopp an added dimension to his midfield.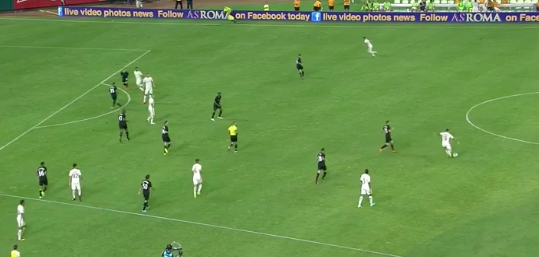 The screenshot above is taken from Roma's pre-season friendly against Liverpool. Paredes picks the ball up and immediately looks to ping the the ball wide and open up the narrow Liverpool defence. We've seen Liverpool midfielders try this sort of pass many times and a lot of the time it's overhit. It's a lot harder than it looks but Paredes seems to have a knack for putting on enough back spin so that the full-back isn't troubled when trying to keep the ball in play and the attack alive.
The two stills above are from Empoli's match against Inter Milan. Paredes picks the ball up and you can see Inter have two compact lines of four ahead of him. Difficult to really play your way through that when they're so deep. Instead he plays a perfectly weighted pass to the right-back who is able to earn Empoli a corner. You can clearly see just how effective he is against deep sitting teams in these pictures. Inter look comfortable but then in the second picture they look fairly stretched and if the ball is played in first time Maccarone is free in the middle of the penalty area.
A different sort of pass this time. He once again picks the ball up deep but instead of the big diagonal he has the vision and the ability to play the pass through two lines of the Juventus defence and inside the midfielder and the left-back. It's perfectly weighted. The opposition once again go from looking comfortable and well set-up to looking stretched with one swift movement of Paredes' right foot.
His ability on the ball is clear for all to see. He finished the season with an 84% pass success rate having attempted 58 passes per 90. As you can see from the pictures he's not exactly playing it safe with his passes either so such a high completion rate given the sort of passes he's attempting is impressive.
Not only does he bring creativity to the side his tackling ability often goes under the radar. For Empoli he averaged 2.8 tackles per 90. It's not Ngolo Kante levels of good but it is impressive. However, what's really note worthy is just how effective he is when he goes sliding in. You won't often see him go to ground to win the ball and not come away with it. He doesn't go in with studs showing either, it's usually fair and he does it in such a way that he's able to keep possession.
Along with these skills he would automatically arrive and be first choice set piece taker. He has the ability to score directly from free-kicks and he's a bit of a fiend when it comes to corners. Puts the ball plum in the danger zone.
Another aspect of his game which would make him an attractive proposition is just how well he seems to cope when playing out of a press. As the dictator of play for Empoli teams often targeted him as they looked to stop them playing out from the back. Teams would sometimes double up on Paredes and he's play his way out of trouble. A combination of quick feet and confident dribbling aided him with this. In the Premier League teams would look to press him and if he's forever having to play it backwards it would soon nullify his threat. Not a problem for Paredes, he's always looking to go forward. A proactive player as opposed to a reactive one.
Weaknesses?
There are question marks with regards to how he would transition from Italy to England. The game over there is played at a much slower pace and he wouldn't be afforded as much time in the Premier League as he is in Serie A. That's not to say he wouldn't adapt but there is a history of players who have arrived in England from Italy and just failed to settle. The concern isn't unwarranted.
While his tackling is a strength it's also a weakness when coupled with the pace of the Premier League. He picked up 11 yellow cards in Italy, he would more than likely pick up there or thereabouts in England due to his style, going to ground more often than not, and the quickness of the players he's up against. There's a bit of a clash there and it would be something he'd have to temper in his playing style to suit England perhaps.
He's by no means prolific, only scored twice last season and assisting once but that's not his job so reading into those numbers is pointless.
Should Liverpool make the move?
If reports are true and Liverpool are looking for a controller then by all means the club should go all in for Paredes. At a rumoured £17 million he would hardly break the bank and he'd give Liverpool much needed creativity from deep. He's played with quick dribblers in Zielinski and goal scoring playmakers in Saponara so would be able to cater his game to the likes of Henderson, Wijnaldum, Firmino and Coutinho. His style would suit Liverpool's style and it's easy to envisage him dictating play from deep in Red.