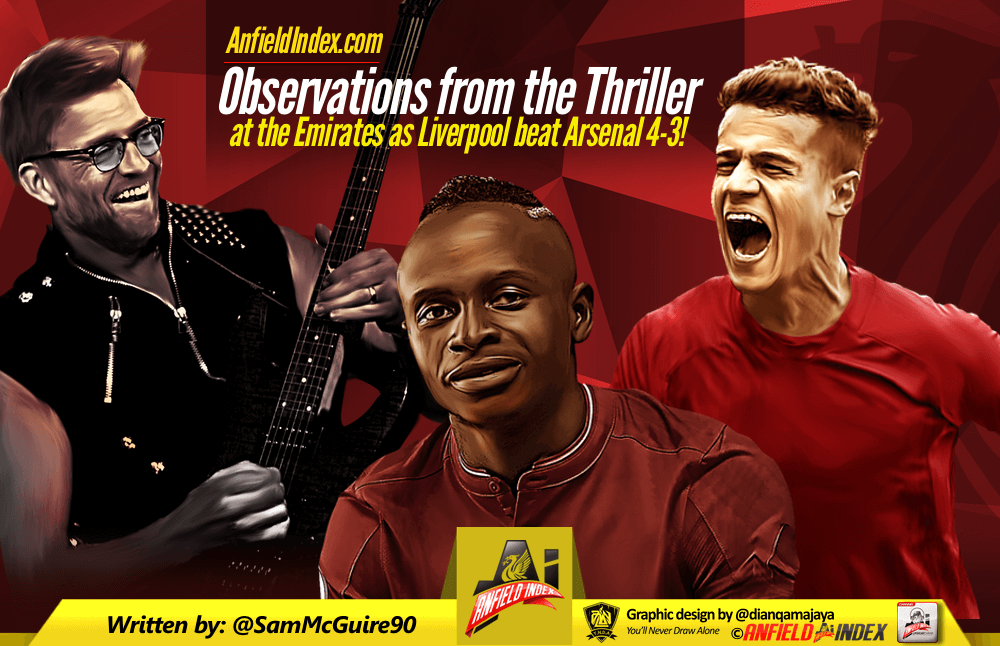 Observations from the Thriller at The Emirates as Liverpool win!
The Premier League is back with a bang and in typical Liverpool fashion the Reds made their fans sweat on a result when it could've been much more comfortable. You could look at the negatives if you're that way inclined but, for me at least, it was a performance filled with positives and they're what should be taken away from such a result. A 4-3 victory away at the Emirates should be milked for all it's worth. It's a bogey ground and, if we're being perfectly honest, for the first 45 minutes Klopp's Liverpool didn't show up. When they did show up though, well they were breathtaking as they tore through Arsenal for their three goals in the second half.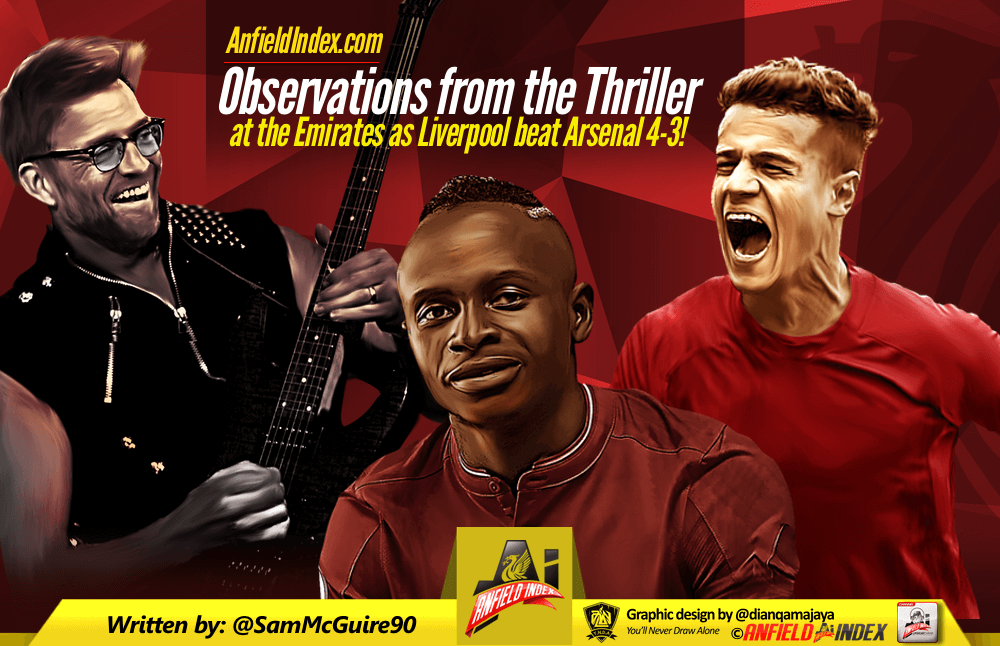 Coutinho's magic – Lil' Phil did it again. He's surpassed Houdini with how he's perfected his vanishing act only to reappear in the most extraordinary way. None of the Liverpool players excelled in the first half and it all looked disjointed but Liverpool's no.10 looked a little lost and off the pace. Then he announced himself with a 30 yard free-kick that no 'keeper in the world was saving. Not to rest on his laurels he followed that goal up with a superbly taken goal in the second-half to put his side 3-1 up. It wasn't what Liverpool fans have come to expect from the Brazilian, it wasn't 1 minute of magic and 89 minutes of nothing. It was encouraging to see.

Mane Madness – The annual signing from Southampton is different from the rest. He seems to be a killer. He has confidence bordering on arrogance and he backs it up. It felt like deja-vu against Arsenal having watched him do similar to Barcelona a week prior to this. An impressive performance with a superbly taken goal. He caused Arsenal all kinds of trouble with his direct style and his goal is arguably better than the Coutinho free-kick.
Goals, Goals, Goals – Liverpool once again showed why you don't need a recognised striker to score goals. If your style suits the players then goals will flow, and that's exactly what happened today. Firmino, Mane and Coutinho worked as a unit and the runners from deep, Lallana and Wijnaldum, backed them up. Not many Premier League sides will score 4 goals without any recognised strikers in their starting XI. Liverpool aren't reliant on the odd player these days.
Squad Depth – We went to the Emirates minus Mamadou Sakho, Daniel Sturridge and Loris Karius and we were able to start the match with Divock Origi and Emre Can on the bench and still managed to come away with all three points. That's the spine of many supporters' first choice XI's right there yet Liverpool were able to put together a system and a team without any youngsters. Klopp's pieced together a good squad this summer and it showed today.
Explosive on the counter – Make no mistakes Liverpool weren't at their best but three of their goals came after they were able to go up a gear in attack. Wijnaldum and Mane's pace, power and movement from deep really gave Liverpool that extra level as they went forward, something that was missing last season in the attack.