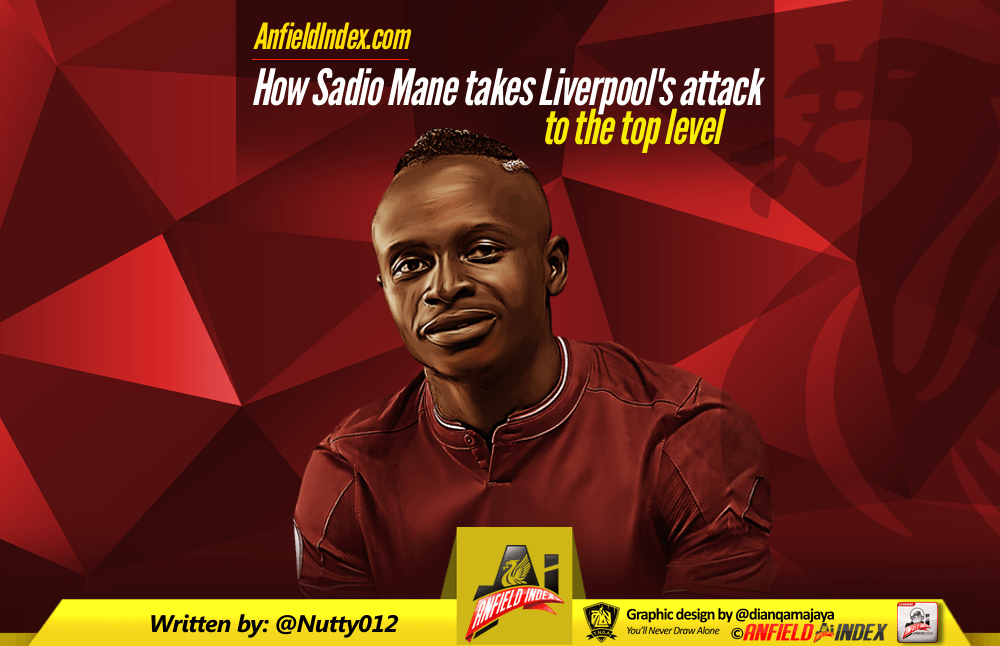 How Sadio Mane takes Liverpool's attack to the top level
Liverpool have a habit of scoring some pretty damn good goals on the opening day of the season, but not many will surpass Sadio Mane's effort against Arsenal.
In a hybrid midfield role, Adam Lallana won the ball inside the Liverpool half near the right flank, and without looking up, instinctively chipped a pass in behind Nacho Monreal. Sadio Mane, on his debut, could have come short for a pass to his feet ahead of the Arsenal left back, but had instead gambled and launched into a sprint in that right channel, before Lallana had even played the pass. Mane's first touch must have been over 40 yards from the Arsenal goal, just inside the touchline, but his next three touches managed to beat both the covering Arsenal centre-halves. First he gained the advantage with his raw pace, and then by skipping inside both defenders with some excellent close control – having used his speed on the outside, he showed his comfort coming inside too. He finished by lacing the ball with his left foot from a tight angle across Cech and into the top corner, a sign of how he managed 11 goals last season for Southampton from out wide.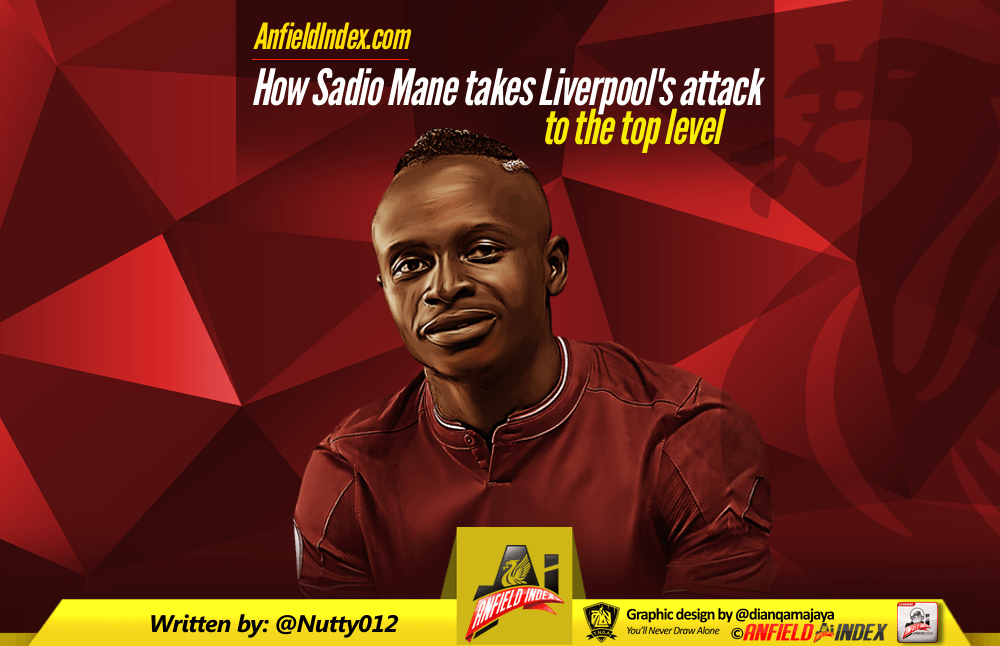 It was a breathless goal, it was a feat of athleticism, pace, directness and composure that Liverpool have not seen in one player for many years. Liverpool scored four fantastic goals against Arsenal, but Mane's goal is the one that will strike fear into domestic rivals rivals.
Under Jurgen Klopp, Liverpool have habitually managed to blitz top opponents for periods of a match, with a blitzkreig passages of play characterised by pace, forward passing and running, and ruthless finishing. Liverpool have scored the most goals of any English club in 2016, which shows that they are doing something right already, but the introduction of Mane will
have made it almost a habit to slip into a blitzkrieg offense against the very best teams, pummelling them with aggressive and direct attacking play for a short period, culminating with a ruthlessness in front of goal. But, the attributes of Liverpool's personnel had always meant that Klopp's side attacked with a particularly distinctive style of play.
Adam Lallana and Phillipe Coutinho like to come deep and central to pick up the ball from midfielders. Sturridge and Firmino both have the capacity to make forward runs past defenders, but (perhaps due to Sturridge injuries) neither do it with the sort of explosive pace that puts doubts in defenders' minds, and both players also feel most comfortable with the ball at their feet. Origi bloomed late in the season, and will certainly contribute with pace in attack, but as a lone striker he will often be forced to play with his back to goal, or forced to make wider runs into channels.
As a result, Liverpool had quite a narrow attack last year, often trying to work the ball through the middle of the pitch and using the wings more as reference points than outlets. When Liverpool were hot, the intricate passing between players was fantastic to watch though. The goal that illustrates this best is Origi's goal against Dortmund, the result of fantastic one touch passing through the centre of the pitch, culminating in a through ball between the centre-halves.
However, such dynamic and fast paced build-up play is difficult to consistently replicate to such effect, particularly in packed areas in the middle of the pitch. Even the likes of Barcelona or Bayern Munich do not regularly score such perfectly transitioned goals through midfield.
The downside of Liverpool constantly playing short in midfield was that the opposition could pack one area of the pitch, defend deep, and know that their full backs would never be thoroughly challenged by anyone except for occasionally the opposing full backs. Perhaps certain teams with more ambitions of beating and outplaying Liverpool would not set up like that, but definitely the more miserly and disciplined sides made it difficult for Liverpool, despite our good goal record overall. Sevilla's defensive display in the Europa League final is a perfect illustration of how a top team might set up to defend Liverpool's effective but two-dimensional attack last season.
However, with Sadio Mane, Liverpool have added a dimension that will take their attack onto another level. By having Mane alongside another striker, Liverpool will score more goals for three reasons.
Firstly, against other teams who manage to retain possession well against Liverpool, we will be able to break with longer balls out of defence into the space behind their defenders; we will transition faster and be a greater threat even from our own half. It will also have the knock on effect of forcing attacking full backs like Monreal to think twice about joining attack, knowing that Liverpool have pace out wide to exploit any space left over.
Secondly, against teams who defend deep against Liverpool, Mane's insistence to play on the last shoulder of defenders, coupled with another striker who does the same, will mean that defenders are less willing to step up and intercept or tackle players, with the fear of the ball being nipped behind them to a Liverpool attacker. Thus, space is always available in front of pinned-back opposition defenders for the likes of Firmino or Lallana to operate in.
Thirdly, it will allow Liverpool to create overloads in wide areas, to use modern football coaching jargon, which is something that we have rarely done prior to Klopp. When there is only a single threat attacking wide threat on your side, a full-back can naturally tuck in closer to his centre-back, thus reducing space for strikers and making goals harder to score. With Sadio Mane and an overlapping Clyne, left backs may have to detach themselves from their defensive unit more due a threat further out wide, either leaving an ability to overload outside with an overlap (see: Clyne assist vs Arsenal), or, leaving a pocket of space for a striker or midfielder to move into in between the full back and centre back.
Mane's impact on the Arsenal result and his impact on Liverpool's prospects cannot be underestimated. People may have been despondent about the fee initially, but Mane could work out to be the perfect purchase to take Liverpool's attack to the next level, because he offers an attacking dimension that Liverpool have been lacking. Whisper it, but the cogs of another great Liverpool attack are slowly starting to turn.