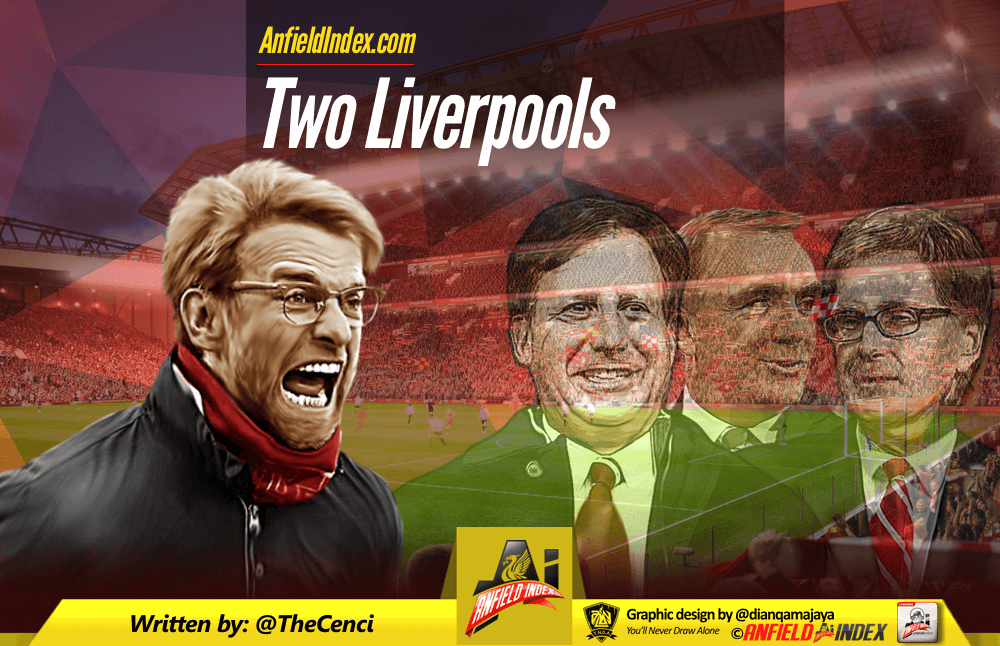 Two Liverpools

How was it for you?
I won't lie to you. I'm still in shock. I'm not sure what happened at the Emirates yesterday, but when things calm down and the bruises on my toes fade (Alberto Moreno/skirting board incident) I'll hopefully be able to wrap some reason and sense around Arsenal 3 Liverpool 4.
Personally, the biggest change was my level of arsedness. I'm a man who enjoys his summer and accompanied break from everything that is LFC. Oh, I'll cast a glance over the odd game and listen to the odd podcast, but for me the summer is a time for relaxation and Vitamin D. Partisan football has no place. Maybe I'm getting a bit old for all this.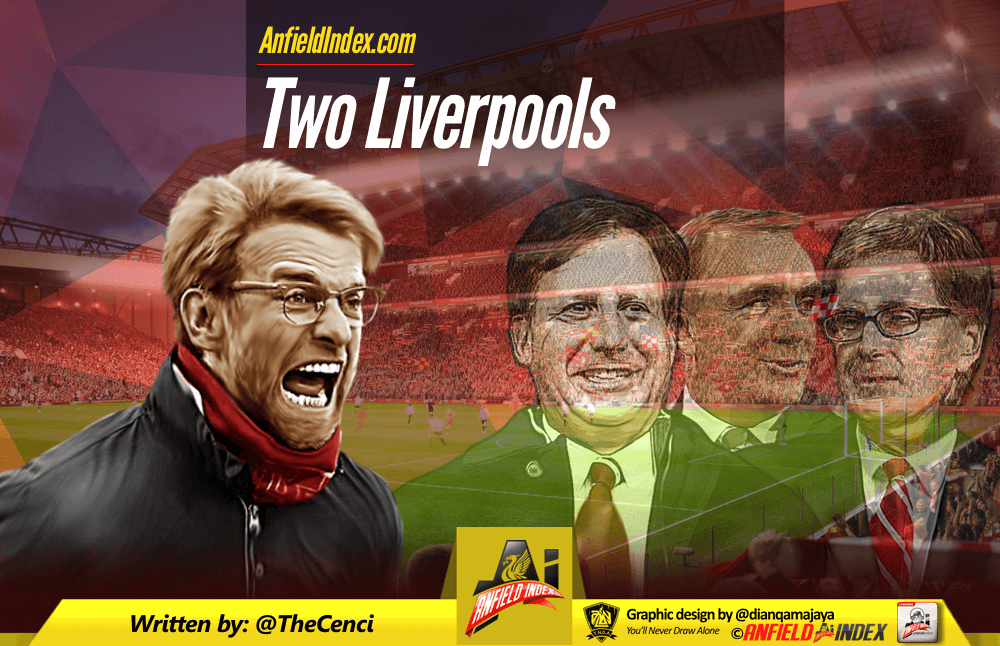 Come late May my nerves just can't take it anymore and my vital organs scream for recuperation. Remember when we beat West Ham in 2014 to set up the final games of that magical season? That late penalty for the foul on Flanno? I bet you were leaping around for hours, scarcely unaware of the room you were in. A word on a page of our history. Not me. I was spent. A husk. A shell. I had to sit down in the corner of a pub and wonder what all this was doing to my already LFC addled brain. Any certified doctor would have locked me in a well-aired white room and let me simmer down to a workable temperature rather than persuade me to do it all again the following week. You can guess what I did next. Yep. Organised tickets to the City game at Anfield.
So I like a rest.
When the team skulked off the pitch at Basel I went home with the tiniest percentage of me thankful that I could at least take the worry pot off the stove for a bit. The remainder wanted to drive to Liverpool Airport and await the lads with a large vat of tar and a lorry-load of feathers.
There was still football on, of course. The Euros were great but, as that was England, it didn't really count as real football. Then the friendlies came and I let them pass without comment. Glorified training sessions for us, the most important three weeks of the year for the manager and team. They can do without me for that bit. Just give me a shout for opening day and I'll climb out of my hammock for you. It's the least I can do.
I was reluctant to do even that this year as Liverpool Football Club – the business that is, and not the team – had severely tried my patience.
Last week the HJC campaigner Gerry McIver passed away peacefully at the age of 81. He had dedicated decades of service to the justice campaign and behind the counter of the HJC shop which faces the Kop. I contacted the club to ask if they could run a small piece – as little as six lines – to mention him so that our global fanbase can hear his name and maybe learn of a local hero's dedication to a campaign that was ignored for years and years. At the time of writing they are 'getting back to me'. That was ten days ago. They are not getting back to me.
Granted, this is a personal thing but I can't see how a club can boast of a motto of 'You'll Never Walk Alone' and then summarily ignore someone who did so much while being literally a stone's throw from the ground. It's not as if they had a surplus of stories that day and couldn't fit him in. The site led with a video of Klopp doing the Sturridge dance.
After that I began to wonder if there aren't two Liverpools. The one which get my support on the pitch and form the opening thought of every day and the other thing sat behind desks which has lost all sense of community in its own city.
The club bears the name of the city and thus bears a responsibility to it. It's fine – great even – to have universal coverage but the heartbeat of the club beats in the miles surrounding it. That should be encouraged, not shunned in favour of banter lols and anyone in the world with online shopping capabilities.
Would you like another example? Well, if you'd like your kids to meet a player at a training session you've no chance if you're from Liverpool. You need to wait till next year's pre-season tour and get on a plane. Unless you're a new fan the doors are closed.
That's not my Liverpool. My Liverpool would at least send a representative to the funeral. That one wasn't even arsed enough to do that.
A friend recently told me that the only time the club visited the shop was to check that they weren't selling official merchandise. That was the limit of their concern.
This may read as club bashing but as a son of the city and someone who grew up feeling that the club was a cathedral where people met, it's galling to see things turn out this way. I don't think this is a direct policy as such. It's just, as Morrissey once said, no is always easier than yes.
So, my Liverpool love has dissipated somewhat. We want different things these days. If they treat people like that why do I bother?
The answer came on Sunday afternoon in the shape of Philippe Coutinho, Sadio Mane and those ten second half minutes.
That's why we do it – that exhilaration. Arsenal can finish second, can have their world superstar up front and we can give them the luxury of our left back practicing the long jump in our penalty area but there will be times when we just do THAT.
The Reds, hunting in packs, simply tore them apart. Ripped them to shreds.
That was the most extraordinary opening to a season I've ever seen. Arsenal away usually means a spirited performance and a narrow defeat or we just get battered. I expected a 0-0 or tense 1-1. I didn't see that coming. Neither, given the events of the summer, did I expect to be on my feet urging the lads on and kicking every ball. Fighting for everything.
How long were those last ten minutes? A couple of epochs?
Arsenal continue to confuse me. For a club with the world at its feet and with some glorious quick, clever players they never seem to be that interested in a concerted effort to take the title and the evidence was on display again yesterday. For the first twenty minutes with them attacking a very deep Jordan Henderson, they wouldn't let us rest. The penalty was coming as was the inevitable brain freeze when we got away with it but after that – nothing. Just sloped shoulders and shrugs.
They came out for the second half and ceded their half to the men in black, almost taunting us to come and attack their backline. Well, okay, if that's what you want. 1-4.
Of course, when they can't possibly win they became interested again and a couple of goals seem inevitable albeit one was very lucky. At that point – not at 1-2 their blood is up and the pressure was off. A really strange team.
Anyway, we held on. We've surrendered a two goal lead there before but this time the Reds were all about protecting the narrow lead thanks to some clever play by Emre Can and some quality hoofing by Kev Stewart. There is always a time when aimless hoofing is welcomed.
No overview of that game can be complete without addressing the man-bun in the room. I've read views stating that Moreno's AWOL antics for the first goal were justified by the manager's insistence on pushing his full backs to break but, well, come on! You've given away a penalty and the next thing you do is leg it past your midfield when the ball is still in a 50/50 area? Sure, breaking is fine but not while possession is not a certainty. That's not tactics. That's brainless and a liability that we can do without.
There's clearly a talent there but it's unlikely that it's at full back. On the other flank Nathaniel Clyne was imperious and offered a genuine end product going forward. Moreno is nowhere near at that level yet and I'm not sure my heart can take watching him try to reach it. If Jurgen keeps a To Do list on his desk it must have the words 'New Left Back' at the top, next to 'Buy straps to hold on specs'.
Starts don't come any bigger than a win at a top four rival's ground. That should be a statement as well as a foundation to build on. The Emirates joins the Etihad and Stamford Bridge in being grounds where Liverpool have scored four times. We can do it when we want to and the planets, or whatever, align in such a way that the opposition haven't got a clue what's going on.
Don't blow it against Burnley now. This has to be the dawning of a new, relentless Liverpool. If they can score goals like Sadio Mane's then anything is possible. If they can pass as they did for Coutinho's second then expect the impossible. That was obscene and showed a passing team how to pass.
The club may be bloody awful, soulless money-grabbing monolith, but when days like that come you remember why you will always love the team. Always.